Boxing:

New York State Athletic Commission
November, 22, 2013
11/22/13
1:30
PM ET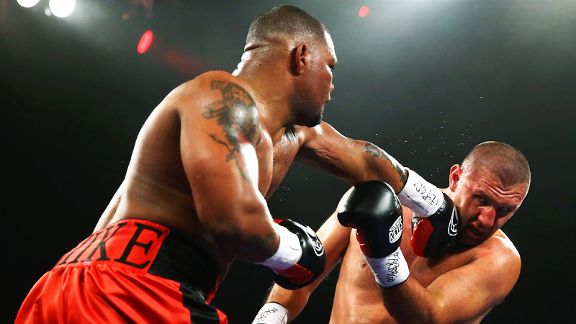 Al Bello/Getty ImagesMagomed Abdusalamov is lying in an induced coma from injuries suffered in his bout with Mike Perez.
If it bleeds, it leads.
That old adage holds true in the news biz today, just as it always has. Blood, carnage, horror -- these are ingredients for news, and stories featuring those elements are reliable eyeball magnets. Always have been, always will be. It is the way we are built.
We are fascinated, horrified and compelled to pay attention when
the news is bad
.
The reasons are both simple and complex. Bad news typically equals drama, as the principals involved usually have to answer difficult questions or tests bestowed upon them by fate. Because of that, our innate curiosity kicks in. How will they react, we wonder? And how would we react in the same situation? Soaking in bad or distressing news can also serve to buffer our ego -- better them than me, we may subconsciously mutter. My life isn't so bad in comparison, we might infer.
The sport of boxing frequently
finds itself inserted into the "if it bleeds, it leads" axiom
. Over the past three weeks, the sport has experienced an uptick in prominent coverage from news outlets, and not because warm and fuzzy Hallmark moments came to the attention of news gatherers. No. One New York tabloid featured boxers on the cover of its Nov. 10 edition, because one of those featured in the front-page photo was lying in a coma in an NYC hospital after sustaining injuries during a Nov. 2 contest at MSG Theater.
The fallen fighter is Magomed Abdusalamov. The 32-year-old Russian-born boxer is in a bed at NYC's Roosevelt Hospital and on Thursday began breathing on his own, was taken off breathing support, was
brought out of his induced coma
, but not long after, was placed back into a coma by docs.
During such times, reporters cover the event and the aftermath and then opine. People involved in the event seek to comprehend the sad reality, process it and make some amends with it. That can be hard, depending on what sort of conscience you have.
To be involved in this sport -- and I don't call it a game, I can't, not when the ultimate price to be paid for participation can easily be death or severe disability -- one most engage in
at least a certain amount of rationalization
. The fighters know what they are getting into, we tell ourselves. Crossing the street can be a fatal act, we note. Life is short, and some choose risky endeavors because they want to maximize their existences during their span on this plane, we declare.
All these rationalizations pass the sniff test for authenticity, I believe, but that doesn't mean we, the people who make a living off the sport, this oft savage science, shouldn't continue to
examine events
like the Mago incident, labor mightily to process them and move on with increased knowledge and the expectation of preventing such a tragedy from occurring again.
Days and weeks following such an event, time and effort is spent by some involved to minimize their culpability, legally, morally, and this case is no different. But all in all, I feel like maybe the most fair reading of those campaigns is this: Magomed Abdusalamov was fighting Mike Perez at Madison Square Garden for every minute of all 10 rounds of his fight and in fact winged a hard left hand that just missed with three seconds remaining in the fight, and none of those involved had the benefit of a peek into the future. Knowing what we know now, different decisions would have been made. But that isn't the way this deal works. People mostly do the best they can with the instruments and understanding they possess at that moment. By and large, I believe that all involved in the Mago situation
did the best they could
with the instruments and understanding they possessed at that time.
May, 13, 2013
5/13/13
3:57
PM ET
The freelance sport of boxing was the only professional sport, I dare say, that would have let an inveterate truth-teller like Johnny Bos, the legendary agent/matchmaker extraordinaire who died Saturday in Clearwater, Fla., be part of the club for any length of time.

Bos, age 61, suffered from congestive heart failure for many years. No cause of death has been released as yet.

He grew up in Sunset Park, Brooklyn, and learned to love the sport while sitting on dad's lap, watching the Friday Night Fights on the TV.

Bos saw holes that needed patching whenever he ruminated on the game, which was almost every waking moment. His inclination to ponder the negatives in the sport meant that he was on the other wide of the suits who ran things and profited off the status quo; and thus, his place in the grand scheme of the sweet science diminished over the decades. In the past decade-plus, his weariness at the state of the game, and his place within it, ate at him.

Bos, born "Bosdal," hawked mimeographed newsletters in front of arenas starting in the late '60s and was a gym rat who found out pretty quickly that he'd get further with his mind than his body. "I remember my first fight in New York, I didn't go in," he told me a few years back. "It was Feb. 12, 1965, Hurricane Carter against Luis Rodriguez. I was 12. I'd stand outside the arena, get autographs. I didn't have money to get in."

He got his first matchmaking gig in 1977 or 1978 with Tiffany Promotions, run by Long Island attorney Sam Glass. Bos found many of Gerry Cooney's victims early on, and did his thing for other mid-level promoters like Frank and Nancy Sciacca, who ran many shows in Queens.

Europe became Bos' go-to zone, and he offered his wisdom to promoters like Mickey Duff, the Polish-born British mainstay, and also made matches for top dog Main Events from 1982-92.

"Between me and Lou Duva, we were the most powerful one-two matchmakers that ever lived," Bos told me, with characteristic ego, followed by his patented candor. "A matchmaker is a con man. He has to con both sides, so they think they can win the fight."

His high-water mark was 1992: Joey Gamache, Tracy Harris Patterson and Tyrone Booze, guys he advised, all won crowns. Bos moved to Florida, a move he came to regret, as he removed himself from the mainstream. He knew he'd become fringe, he realized, so he came back to NYC. He and Gamache were a two-man crew, and the Maine resident looked to make some noise against Arturo Gatti in 2000. That fight hastened Bos' slide out of the big time, however. Bos accused the NY commission of botching the weigh-in, allowing Gamache to be in over his head. Lawsuits were filed, and Bos never again set his foot inside the walls of the castle.

Check back for some reminiscences from friends, colleagues and family members of the fight-game lifer who were touched by this complex character who stood out as a character in a sport filled with them.
May, 1, 2013
5/01/13
12:09
PM ET
Confession: My thoughts on Peter "Kid Chocolate" Quillin's chances in his title defense against Fernando Guerrero were impacted by his difficulty making 160 pounds on the day before the fight. Quillin was 1 1/2 pounds over and I really wondered if he was even going to bother trying to carve off that weight in a scant hour, which was granted to him by the NY State Athletic Commission. He waved to photogs, posed, did an interview with Steve Farhood for Showtime and I truly thought he was willing to give up his WBO title on the scale. But the 29-year-old surprised me, to the upside, when he came back in a hour, and made 160. But, I wondered, would this process take something out of him, leave an opening for the Marylander Fernando Guerrero? That question was answered at Barclays, when Quillin showed himself to be an immensely strong middleweight as he whacked the challenger around until the fight was stopped in Round 7.

After the weigh in, Quillin told me he was still getting used to a new eating regimen, put together by new strength and conditioning coach Rob Garcia, who used to work with Oscar De La Hoya. I chatted with Garcia at Gleason's a few days before the faceoff and noticed that he had the press cred for the Pacquiao-De La Hoya fight on his gym bag. Why? Because, he said, he keeps it around to remind himself to keep control, as best he can, of what he can. "That was a nightmarish night as a coach," Garcia told me. That's because De La Hoya worked with trainer Nacho Beristain for the first time, and was over-worked by the trainer, Garcia told me.

Garcia said he was actually picked to work with Manny Pacquiao before his last fight with Juan Manuel Marquez, but on again-off again strength and conditioning coach Alex Ariza hopped back on board Team Pacquiao instead. Garcia bonded with Quillin, who like Pacquiao trains at Freddie Roach's Wild Card in California. He stuck with Quillin and blew off an opportunity, he said, to work with son of the legend Julio Cesar Chavez Jr., because his dad Ed Garcia sensed that Junior wasn't ready to focus fully on training.

Garcia and I chatted about the use of illegal PEDs in boxing, among other subjects. He said his guys are clean. "If you use illegals, you might rely too much on your strength in fights, instead of your intelligence," he said. Garcia said he has Quillin off all supplements and just eating organic foods.

This is the second fight Garcia has been with Quillin and the boxer has exhibited a noticeable bump in power; he dropped Hassan N'Dam N'Jikam to win the belt last October, and Guerrero twice in the second and seventh. Garcia told me that he only wants to work with coachable people and that he sees similarities in De La Hoya and Quillin. "They both work really hard and came from nothing," he said.

With many sensing Sergio Martinez nearing the end of the line, people are adjusting their view of the middleweight division; Quillin is on the rise and that leaves me that much more curious what is the next challenge for him.
March, 28, 2013
3/28/13
11:45
AM ET
California-based boxer Robert Guerrero, set to fight Floyd Mayweather on May 4, was arrested for gun possession at JFK Airport on Thursday morning,
the New York Daily News reported
.
Guerrero (31-1-1) was in New York,
doing media to hype the forthcoming welterweight showdown
in Las Vegas.
Guerrero, who turned 30 on Wednesday, was catching a flight to Las Vegas, where he will train for his bout against the 43-0 Mayweather, regarded as the top pugilist in the world. Mayweather holds the WBC welterweight crown, and is around a 9-1 favorite to beat Guerrero, who has said he feels he has been tapped by God to knock Mayweather "off his pedestal." Guerrero has publicly taken issue with Mayweather's public persona, stating that he believes Floyd worships money as his main god, and thus needs to be humbled.
This comes five weeks after Tampa Bay Buccaneers defensive end
Da'Quan Bowers
was arrested at LaGuardia Airport and charged with criminal possession of a firearm. A weapon was found in Bowers' carry-on bag.
NYFightblog reached out to Guerrero's manager, Bob Santos, to learn more, and left a message on his voice mail.
New York-based attorney Keith Sullivan, who has handled affairs for several fighters, told us the state has the stiffest gun laws in the nation. If Guerrero's gun was loaded, or ammunition was within reach, state law calls for a mandatory stint of 3½ years in lockup, Sullivan said.
"There have been rare circumstances where the DA and the courts have agreed to plead the charge out, to a lesser offense, with no jail time," Sullivan said. "Factors that could impact a case include: Was he licensed to carry in another state, was the gun loaded, and did he volunteer that he was carrying, or was it discovered upon a search?"
Could the fight be in jeopardy? "He'd be arraigned today or tomorrow," Sullivan said, "and I don't anticipate the arrest would impact the fight because the wheels of justice turn very slowly."
A status conference would quite likely take place around six weeks after such an arrest, but Sullivan said it is likely the court would accommodate the scheduled fight, and that it would be set for after the bout.
January, 25, 2013
1/25/13
9:28
PM ET
On the outside chance you only come to ESPNNewYork.com for the NYFightblog, you may not have seen
the story posted on the home page earlier, which touched on the letter sent by the Association of Boxing Commissions to the top politicians
in New York, including Governor Cuomo. The ABC is asking for the New York State Athletic Commission to be able to regulate amateur MMA events in NY, because right now, events run which are sanctioned and overseen by a myriad of bodies, some of them fairly obscure.
An attorney from the firm which helped draft the letter, Justin Klein, checked in with NYFightblog about the letter and the desired response: "The Association of Boxing Commissions trusts that responsible government officials in New York will take action in response to the serious safety concerns arising from the virtually unregulated nature of mixed martial arts in the State," he said.
Certainly the fans who travel from the city to see UFC events in New Jersey are hoping that Klein's optimism is warranted, that NYSAC will be tasked with regulating the sport properly, and that pro MMA will get the thumbs up in the legislature before their session ends in June.