September, 9, 2013
9/09/13
2:09
PM ET
Tuesday is an election day in New York City, as voters can cast a ballot in the party primaries.
For the big seat, the Mayor's chair, Brooklyn resident Bill de Blasio is ahead in the polls. Voters consider different criteria, of course, but I thought some of you, like me, might like to know what the man who could well be the head of NYC's executive branch, the 109th mayor of the Big Apple, thinks about boxing.
So, I cornered the 52-year-old de Blasio on Saturday afternoon and queried the man as he attempted to entice voters near the entrance to J.J. Byrne Playground on Fifth Ave. in Park Slope.
Does he like boxing, I wondered?
"In truth, it's not my sport," de Blasio said. "I'm big into baseball, big into football. Boxing's not my thing, honestly." De Blasio, who grew up in Cambridge, Mass.,
is a Red Sox rooter
, it turns out.
What about, say, Muhammad Ali? Watch him growing up?
"I appreciate Ali as a historical figure, a hundred percent, I appreciate what he achieved, and I respect it, but it's just not my sport," he said.
I informed de Blasio about the burgeoning fistic scene we have going on in New York, what with regular fight cards being held at Barclays Center and at Madison Square Garden. Could we see a Mayor de Blasio attending a card, maybe to see Manhattan's Peter Quillin, the WBO middleweight champion, if he were to headline at Barclays?
"It's just not my thing, I'm happy to see the Barclays Center doing well, in general, but it just isn't the thing I put my time into," he said.
What about mixed martial arts? Would de Blasio support the New York State Assembly voting to make professional MMA legal, paving the way for UFC to promote events in the city? Yea or nay on that?
"I'm nay on that, honestly, for a variety of reasons I don't think we need that in New York," he said.
I pressed for the primary reason.
"I think there's symbolism in terms of violence and certainly some allegations of other types of things, messages sent that I think is unhelpful, wouldn't be the thing that I want to see," he said, in closing, as an aide requested I wrap things up.
So there you go ... If being pro-pugilism and MMA is your litmus test for a mayor, you will not be pulling the lever for de Blasio. But you gotta give the man credit for not pandering.
Follow Woods on
Twitter.
July, 25, 2013
7/25/13
11:44
AM ET
No professional boxer, that I know of currently practicing, uses his legs as much during a bout as Yuri Foreman, the junior middleweight from Park Slope, Brooklyn.

When his right knee betrayed him fully during his June 5, 2010 Yankee Stadium title defense against Miguel Cotto, the boxer was left with a diminished arsenal which sapped his effectiveness and much of his desire to compete. But Foreman, now 32, had surgery and took time to heal. He now has his legs under him. It was evident on Wednesday evening at Roseland in Manhattan.

Foreman (31-2 with 8 KOs) looked to be pretty darn close to where he was when he was in the mix as one of the best 154 pounders on the planet in earning a unanimous decision win over Jamaal Davis (14-9-1) of Philadelphia on a show promoted by Lou DiBella along with 50 Cent.

The fight was all Foreman. Davis didn't win a round and never switched up his attack enough to change the tone of the bout.

"I felt good, I felt fluid," Foreman told NYFightblog after the eight rounder, which was seen by celebs, including superfan Rosie Perez, Burt Young aka Pauly from "Rocky" and actress Susan Sarandon. "I feel a lot better working with trainer Pedro Saiz."

The former professional fighter Saiz, who fought from 1990-2002 and finished with a 25-9-3 mark, thought highly of Foreman's effort versus Davis.

"I give Yuri an A," Saiz said. "He was disciplined, he's a hard worker, never complains."

Saiz wanted Foreman to use his main strength, his ability to move constantly and smartly, which enables him to land but be extremely elusive and avoid return fire. "He knows the best defense is to stay busy," Saiz said.

So, is Foreman at or near his pre-surgery peak?

"He's there," the trainer said.

And if promoter Dibella set up a scrap with IBF champ Ishe Smith or WBO titlist Zaurbek Baysangurov, would Saiz advise Foreman, after his third comeback bout following a two-year hiatus, to take the opportunity?

"I would take it," Saiz said. It looks like, however, that Team Foreman will book another eight rounder and then take stock. Another ten rounder could be booked or, perhaps, by the end of the year, DiBella will look to make a deal for a most meaningful fight for Foreman.
July, 23, 2013
7/23/13
11:52
AM ET
Comebacking boxer Yuri Foreman and promoter Lou DiBella sat down before Foreman emerged from a two-year hiatus. They plotted out a course for the former junior middleweight champion.
Both agreed that the comeback shouldn't be a rushed affair, one or two rust-shedders, and then a trip back into the deep waters. Both agreed, it would be the wisest course for Foreman (30-2 with 8 Kos), who suffered a nasty knee injury in a title defense against Miguel Cotto in 2010 at Yankee Stadium, to take the comeback slowly and deliberately.
Foreman will glove up on Wednesday night in New York City at Roseland Ballroom on a show promoted by DiBella, along with entrepreneur 50 Cent.
The 32-year-old Park Slope, Brooklyn resident, who is nearing the completion of studies to become a rabbi, meets Jamaal Davis, a durable journeyman with a 14-9-1 mark.
"Davis is a mild step up for Yuri," DiBella told NYFightblog. "Yuri and his wife just had a baby, so he had some time off. He's looked better in his second fight [in April] than in his first [in January]. His health is holding up, his stamina is there. After a long layoff, you expect to see rust. He's less rusty, and I hope to see a little more action, and him more in the flow, with good rhythm."
How far is Foreman from a title crack in a division which leaves room for a name ex-champ looking to make another mark?
"I think he'll have one more comeback fight before we take a major step," DiBella said. The fight with Davis is set for eight rounds or less. A ten rounder against someone a bit better than Davis would make sense if Foreman passes his Wednesday test, the promoter said.
Follow Woods on Twitter
.
"I don't want Yuri to get a big fight just to get paid," he said. "I want him to win it, or have an opportunity to win it. His injury was really severe, and he showed tremendous courage against Cotto. He deserves a proper comeback, and to be as close as possible to where he once was, when he gets the shot."
July, 2, 2013
7/02/13
4:44
PM ET
Back in July 2010, when the people from the Brooklyn arena that hadn't been built yet, Barclays Center, announced they were getting into boxing, with an exclusive deal with California-based Golden Boy Promotions, it's fair to say the reaction wasn't shock, awe and optimism across the board.
After all, the topic was boxing, that much-maligned throwback sport whose best days were in the rearview mirror of the Camaro. A niche sport, they sniffed, relevant once or twice a year -- and probably for not that much longer, once Floyd Mayweather Jr. and Manny Pacquiao packed it in.
I confess, I had doubts myself, whether the NYC region would sustain the demand for regular dates at the Barclays Center. At the time, I recall asking Brett Yormark, the CEO of Barclays Center and the
Brooklyn Nets
, if the arena would have a micro-arena built, a theater to accommodate 5,000 or so fans, max. The implication of my question was clear: I don't think you can find enough boxing fans to fill up the barn on a regular basis. He assured me then that there would be no mini arena and that the fans would come.
Fast forward to today; I admit my skepticism was misguided. Barclays and Golden Boy has put on four boxing shows, the most recent one taking place on June 22, topped by a Paulie Malignaggi-Adrien Broner welterweight tussle. The attendance for each event has been healthy, and
11,461 people watched Broner
take a split decision from the Brooklyn native.
I sat down last week for a chat with Yormark and asked him to reflect on the journey, getting boxing back to being more of focal point, not just a side dish, in the region.
"In some respects I feel vindicated," he said. "We've been able to do exactly what we hoped for, and more, and that's to bring an incredible sport back to Brooklyn, where it has a heritage, and have it flourish. And in less than a year we've been able to do that."
The grumblers, the tear-down artists, were out in force at the start. Boxing debuted on Oct. 20, 2012 at Barclays, and the "I told you so" crowd noted that they saw ticket markdowns and package deals available everywhere in the weeks leading up to opening night. They cited that as proof the endeavor would fail. In fact,
audience response has been quite respectable
, Yormark said. The
first show
drew 11,112; the second, on
March 9, 2013
drew 12,293; the third,
on April 27
, drew 13,048. All the main events and select undercard bouts were televised on Showtime.
Critics mumble under their breathe that those figures represent a large dose of "comps," or freebies, to paper the house. Not so, Yormark told me.
"We did not comp," he said. "We're not comping. There are very few comps. The first two fights we discounted probably a little more than we wanted to, but we have not comped. We don't believe in comping here. One of the things we had to learn, we had to learn price it right, and in the last two fights, I think we really priced it right."
Follow Woods on
Twitter here
.
April, 24, 2013
4/24/13
12:18
PM ET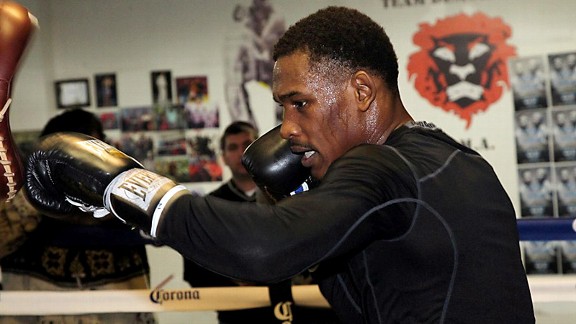 Tom Casino/ShowtimeAfter a recent scare, Danny Jacobs was determined to be cancer-free and ready for Saturday's fight.
Danny Jacobs, the middleweight prospect from Brownsville who will fight Saturday night at Brooklyn's Barclays Center against 36-year-old Keenan Collins (15-7-3, 10 KOs), of York, Pa., felt a lump in his back a few weeks ago and an alarm bell went off. A tumor on his spine nearly killed the 26-year-old Park Slope resident two years ago.
So about a week ago he went to see a doctor, who did tests and came back with the immensely gratifying news: no cancer. The lump arose just from the stress of training, Jacobs (24-1, 21 KOs) told NYFightblog on Tuesday at the Judah Brothers Gym in East New York, during a press event to hype Saturday's Showtime card topped by Danny Garcia-Zab Judah.
"I'm glad I got it checked out; now I can go into the fight with a clean mind," said Jacobs, who has been working hard to get his Get in the Ring Foundation -- which targets cancer, childhood obesity and bullying -- off the ground.
I asked Jacobs, does the possibility of a recurrence stick in your head? "Every day," said the man who was diagnosed in May 2011, with admirable and appreciated candor. "Every day."
January, 24, 2013
1/24/13
10:49
AM ET
The man had his head down, chin tucked in a manner to best mitigate a tiny breeze that made the 12-degree temperature feel like 5. Upon drawing closer to the gent walking up Sixth Avenue in Park Slope, it became apparent that the man with the chin tucked was the same man I saw with his chin tucked while in combat the night before, at BB King's in Manhattan.

"Hey, Yuri, what's going on?"

It was Yuri Foreman, the former junior middleweight champ, out and about at 9 a.m. Thursday, looking none the worse for wear, save for a tiny scratch on his right eye.

"Going to buy diapers," he told me and my wife as we walked our 2-year-old to play group. "My son uses a lot of them."

The adults all nodded at that, on the same page. If there is one thing little tykes all do with efficiency, it is diaper-soiling.

There will be more diapers needed in the near future, Foreman informed us. Wife Leyla is due in a month. Another boy is on the way.

Foreman said he will trust in promoter Lou DiBella to set up another bout as he looks to get back into top form following 22 months away from the ring. The 32-year-old pugilist/diaper-changer upped his record to 29-2 with a UD6 win over Brandon Baue at BB King's.