Boxing:

sampson lewkowicz
October, 30, 2013
10/30/13
8:59
PM ET
Could we see Sergio Martinez, the Argentina-born hitter who holds the WBC middleweight crown, fight his next scrap in Madison Square Garden against Puerto Rican superstar Miguel Cotto?

We will if the suits at MSG get their way.

On Wednesday, during a media presser to hype the Saturday card at MSG -- which is topped by a Gennady Golovkin WBA middleweight title defense against Curtis Stevens -- MSG executive Joel Fisher checked in and said hello to Martinez's adviser, Sampson Lewkowicz. Lewkowicz handles a heavyweight, Magomed Abdusalamov (18-0 with 18 KOs), who tussles on the Saturday undercard, against Mike Perez (19-0 with 12 KOs).

It would be great to have the 51-2-2 Sergio fighting Cotto, 33, in a sold out Madison Square Garden, Fisher told Lewkowiz. Sampson nodded, yes, it would, but noted that Sergio is a wanted man. He drew 50,000 fans at a stadium in Argentina in his last outing, a 12-round unanimous decision win over Martin Murray on April 27. That's great, Fischer answered, but there's nothing like the vibe that is summoned when about 20,000 fight fans roar in MSG. Lewkowicz nodded in agreement.

Martinez, who turns 39 years old in February, beat Matthew Macklin in The Theater in March 2012. And Cotto (38-4), of course, sees MSG as a home base. He is 9-1 in MSG.

Lewkowicz told me in the best-case scenario, he'd like Martinez, getting back to full strength after suffering some injuries in the Murray bout, fighting in April, against Cotto. But Cotto has other suitors; promoter Golden Boy would like to snag him and pair him with Mexican heartthrob Canelo Alvarez, and that would mean Martinez would settle on a Plan B. Plan B would take place on June 7, when HBO has a date.

"There are two or three possibilities," said Lewkowicz, who will be huddling and burning up the phone with Martinez' promoter, Lou DiBella, to nail down particulars, fairly soon.
September, 18, 2013
9/18/13
12:05
AM ET
I've been mocked in the not too distant past for suggesting that Floyd Mayweather is such a ring talent that it would be wise to widen the scope of the search for future foes beyond the 147-to-154-pound region. I got whacked around like a piņata at a kids party for suggesting super-middleweight Andre Ward may be the only person anywhere near Floyd's weight class to test him. I was dismissed for being a Floyd hater, with the critics deeming me a lunatic for suggesting that Mayweather, really best suited to fight at welterweight, tangle with Ward, even if Ward offered to make a catchweight of say, 162 pounds. And what if Ward's contract called for him to gain no more than two pounds post weigh-in, he could come in to the ring weighing about what Canelo weighed on Saturday? I still think I'm not a lunatic.
We should not, I don't think, dismiss potential matchups like Mayweather-Ward or Mayweather-Bernard Hopkins, because I still don't see anyone at or near the 147-154 pound class giving "Money" problems. But, what about 160 pounds? How about Peter "Kid Choclate" Quillin? Maybe Floyd could be persuaded to edge up to 160 pounds and challenge Quillin for his WBO strap? They could do the bout in Brooklyn, and the fantasy matchup gets one step closer to reality with the knowledge that Quillin is a Golden Boy fighter, and fights on Showtime, which is the company Mayweather signed has his mega-deal with.
I reached out to Quillin's co-manager, Jon Seip, and broached the subject with him. Could he see a Mayweather-Quillin faceoff?
"I can't see Floyd going to 160," he told me. "Not when Sergio Martinez and Gennady Golovkin can go to 154."
OK, but if an overture were made, would Quillin do it?
"We will listen to any fight," he said.
And would Quillin shrink down to, maybe, 156, to even the playing field?
"No," Seip said.
Regarding Martinez and Golovkin, both those gents work under the HBO umbrella and I don't see that relationship switching. Just to be sure, I reached out to Team Martinez's Nathan Lewkowicz; his dad Sampson Lewkowicz advises Martinez, who is promoted by Lou DiBella. "Sergio has a contract with HBO and he's loyal to HBO and HBO has done right by him," Nathan told me.
Sort of sounds like as of now you can shelve the Mayweather-Martinez meetup, eh?
Readers, you dig a Mayweather-Quillin scrap, if "Money" signed off on it, and liked the idea of questing for a middleweight crown?
Follow Woods on
Twitter.
July, 2, 2013
7/02/13
3:37
PM ET
Sergio Martinez looks forward to proving he is the man who still holds the baton as the best middleweight on the planet. The Argentine pugilist (51-2-2) has heard fight fans elevate Gennady Golovkin to all-time great status.

Not so fast, according to WBC middleweight champ Martinez.

But before the 38-year-old can prove doubters wrong, he will probably undergo a right knee surgery, according to Sampsonboxing Promotions executive Nathan Lewkowicz, co-promoter of Sergio with New York's Lou DiBella.

"When I was with him in New York [two weeks ago], his leg kept getting swollen from walking," Lewkowicz said before describing the knee issue as minor. "He should be one hundred percent after [surgery]."

The rough estimate for Martinez' ring return is still March 2014, he said.
July, 1, 2013
7/01/13
4:30
PM ET
You might be wondering what Sergio Martinez thinks of fellow middleweight titlist Gennady Golovkin, the detonator from Kazakhstan who stopped Matthew Macklin in Round 3 of their clash Saturday night in Foxwoods.

Martinez had faced Macklin himself, last year in New York, and in that scrap the Macklin corner kept their man on his stool rather than send him out for Round 12.

I reached out to Team Martinez and touched base with Nathan Lewkowicz, whose father Sampson Lewkowicz promotes Martinez, along with Lou DiBella. "Sergio is a fighter and he's not scared of fighting Golovkin at all, and he knows he has the style and experience to beat him," Nathan told me. "I think if Golovkin, who I think is a nice guy, a great fighter and the future of HBO, continues to build his name and become more mainstream then we could see them in the ring in the future. Sergio's next fight will be pay-per-view and you need another solid, mainstream fighter to sell it. I spoke to my father, and he says that Sergio would toy with Golovkin."
June, 6, 2013
6/06/13
4:29
PM ET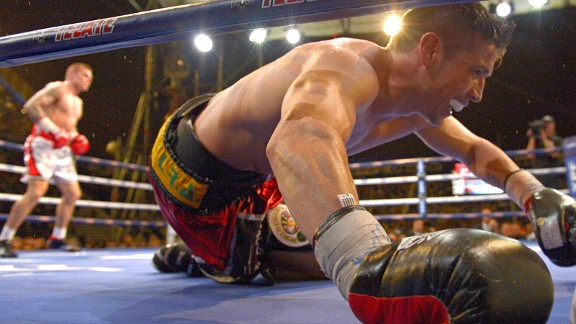 Juan Mabromata/Getty ImagesSergio Martinez may be on his last legs. Just don't tell him that.
Sergio Martinez is, as I write this, driving from NYC to Canastota, to take part in the 24th International Boxing Hall of Fame induction weekend. And he took some time to chat with NYFightblog about lessons learned from his most recent fight, how many fights he has left in him, and when -- and against who -- he will fight next.
The 38-year-old craftsman drove with advisor Sampson Lewkowicz, who translated, and Lewkowicz' son Nathan, who helps promote the Argentina-born pugilist who beat Martin Murray on April 27 in front of 50,000 adoring fans in his home country.
That scrap was no walkover, as the weather and Murray proved tougher to deal with than many predicted. It rained all day, and the fight was pushed to 8:30 PM from 11 p.m. local time, for fear of thunderstorms. Sergio hit the deck in round eight, from a right hand that caught him as he was shifting his weight, and won a 115-113, 115-113, 115-113 victory on the cards. I asked him about lessons learned from the Murray bout.
"There is no easy enemy in boxing," he stated. Does that mean he underestimated Murray? No, the 51-2-2 Martinez, who is co-promoted by Lou DiBella, said. He implied that those who hadn't given Murray much of a chance underrated the challenger. "I wanted to prove to everybody that said I would fight an easy opponent in Argentina that instead I'd pick the biggest available challenge in the division, and I'd win."
He needed knee surgery last November, for a torn meniscus in his right knee, from an injury sustained in his previous bout, against Julio Cesar Chavez Jr. in September. But Martinez refused to point a finger at a slow rehab. He told me he was in fine form for Murray. If not, he would not have taken the bout, he said.
Martinez said he didn't pay attention to the critiques from naysayers who thought they saw a man on the downside, a fighter with only a fight or two left in him, against Murray. "In boxing, that is very common, you have the negative and the positive," he said. "All the negative stuff does is motivate me to continue fighting. Not every time everything will be perfect. This is boxing, you cannot win every round. You win some, lose some, in the end I was the winner."
I tried to get a sense if Martinez is sensing his career mortality. He turns 39 in February.
How many fights do you think you have left? "I'm only thinking of the next. I don't think further than that," he said.
I tried again to delve into his soul. Will he watch the induction ceremony now, at 38, differently than he would have at 28, with more of a sense that his career might end soon? Sergio didn't take the bait; he said that every fighter wants to win a title and enter the Hall, and he is no different.
Team Martinez had dinner with HBO Sports boss Ken Hershman on Wednesday night. Did they figure out a date and foe for Martinez's next outing?
It is likely he will glove up in February or March next year, he said, but no foes are up for discussion. In August or September, Sampson said, the team will convene and choose a route.
The super middleweight division will not be in the mix, Sampson said, for those wondering if a rematch with Julio Cesar Chavez Jr. might occur there, or a fight with Andre Ward is a possibility.
"It will be 160 pounds only, or 154 pounds, but only for Floyd Mayweather," Sampson said.
With that, the road trip to Canastota continued. If Martinez allowed himself to drift into more poignant philosophical territory, he wasn't going to share the mulling with ESPNNY.com. I'm not that surprised; he showed the same discipline in answering questions as he does in training, and as he does by and large in the ring. There will be time, eventually, to expand on emotional topics. But not now.
September, 17, 2012
9/17/12
12:34
AM ET
Many of us fight fans still felt the after-efffects of the buzz we felt on Saturday night, when Sergio Martinez dominated the son of the legend, Julio Cesar Chavez Jr. at the Thomas and Mack Center in Las Vegas, but nearly got smacked down in an 11th hour assault, hitting the deck with over a minute left in the 12th, and just barely surviving to reach the final bell. Martinez, a 37 year-old Argentine, looked like the stellar pugilist, the pound for pound ace pundits deemed him, for 35 minutes, and acted like the ultimate gutty warrior as he tried to swing his way out of deep trouble in the home stretch.

Boxing fans debated deep into the morning on Twitter whether or not we'd see Martinez-Chavez Jr. II; we checked in with Nathan Lewkowicz, the VP of Sampson Promotions, and son of Martinez advisor Sampson Lewkowicz to get some intel.

Firstly, he told us there is no rematch clause in the contracts for the first fight, so there is nothing automatic about a sequel, though promoter Bob Arum said Cowboys owner Jerry Jones has shown interest in bringing the re-do to his stadium.

I asked Nathan if Sergio didn't get his chops gently busted post-fight by trainer Pablo Sarmiento for not clutching and grabbing and running out the clock after getting dropped. "No, Pablo said they trained for that, to possibly get hit and get knocked down, but also to get up from knockdowns like that," Nathan told NYFightBlog. "Personally I think Sergio wanted to take him out and not just win on the cards. Sergio makes exciting fights, people should give him more credit for entertaining crowds." And, I'd offer, credit for not showing that he was compromised during the tussle. He suffered a broken left hand, in round four, and torn ligaments in his right knee when he was knocked down, Nathan told us.

Many were struck by what they saw as a noticeable size differential in the ring Saturday. We don't know what that differential was, because Junior declined to step on a scale for PPV producer HBO. I asked Nathan what he and Team Martinez thought Junior weighed on fight night, with an educated guess. "Junior was probably 185 pounds," he said. "Sergio was 167."

Perhaps time to return back to day-of weigh ins, and set limits on weight gain, perhaps to no more than ten pounds, on the day of the fight?