November, 20, 2013
11/20/13
2:21
PM ET
Sunset Park, Brooklyn, product Gabriel Bracero is pulsing with desire. The welterweight is coming off his career best win, and it is quite clear he feels he is in a preordained position, his time has come and the spoils of his toil and combat are soon to be his.
It remains to be seen, however, who he can fight to claim that pot of gold he desires so fiercely, the one that will make the pain of being a pugilist, and the sacrifice and the 4:30 a.m. wake-up calls to do roadwork, and the time spent away from family pursuing the belts and compensation worth it.
But the 32-year-old with a 24-1 record who
beat ex-title challenger Dmitriy Salita
(via UD10) in a "Best of Brooklyn" showdown Nov. 9 at the Aviator Complex in Marine Park, has some ideas.
"Danny Garcia or the winner of Malignaggi-Judah, those are the two that I am looking at," said the Puerto-Rican born Bracero, who fights for promoter Lou DiBella and is trained by Tommy Gallagher.
"I have no problem fighting at 140 where I am world-rated or at 147 where my last fight took place and I am also world-rated. I feel great at either weight, I just want my shot. I want the biggest fights out there, and at 140, that is Danny Garcia. He is the best in the division right now in my eyes, and to be the best, you have to beat the best. I have nothing but respect for him and it would be an honor to fight him."
Bracero talked more about Garcia, the 25-year-old Philly-Rican with a 27-0 mark. "He has been putting on great performances, two of which recently took place in my hometown of Brooklyn. We both have similar aggressive styles. We are both Puerto Rican. We each have a huge fan base. Hands down, this is a great fight. It wasn't long ago that Danny was in the same position that I am in now, waiting for his big shot. I am hungry and I am ready to go."
Garcia is on a short list of viable foes to fight Floyd Mayweather, though, so if the story line arcs in that direction, Bracero has a Plan B, as any smart pugilist does.
"If the bout with Danny can't be made, why not fight the winner of Paulie versus Zab?" he said. "We are all Brooklynites. We all have big fan bases. It would be a perfect fight for Brooklyn and a perfect fight for the Barclays Center. I just want my shot. I want to prove to the world that I am one of the best fighters in my division and if given the opportunity, I know that I will not disappoint."
November, 8, 2013
11/08/13
10:26
PM ET
Gabriel Bracero and Dmitriy Salita both made weight on Friday for their Saturday clash at the Aviator Complex in Brooklyn, a welterweight faceoff, which will have Brooklyn bragging rights up for grabs. Bracero, the Sunset Park, Brooklyn native who fell in with the wrong crowd, then became the wrong crowd, but righted himself after a jail stint, was 145 pounds.

The Flatbush resident Salita, who had a disappointing early night against in his debut on the megastage, against Amir Khan (TKO1 loss), in 2009, and has struggled to clamber back for another crack, was 147 pounds.

Lou DiBella will promote the card topped by the 22-1 Bracero and the 35-1-1 Salita. I expect to see a high volume scrap in this ten rounder, a distance fight, which I see as up for grabs. Salita has had good work in camp, heading to Detroit to get some Kronk nurturing from "Sugar" Hill, Emanuel Steward's nephew. Bracero has stuck local, with trainer Tommy Gallagher. But the way he's been talking has me wondering if his eye of the tiger isn't a shade fiercer.

"Woods, I'm not the fighter I was a year, or even six months ago," he's said. "I WANT this."

He said he gets it that the promoters and the networks reward heavy-duty aggression, and he knows a mere win isn't enough. He is seeking to put a stamp on it, a violent one, one that will leave a buzz bubbling among watchers and on Twitter days after. That is the way, he realizes, that he can scramble up some notches in the rankings, and get the sort of opportunity Salita had against Khan.

I expect the Aviator to enjoy one of the biggest and most electric crowds for boxing it has seen. Heather Hardy, formerly of Gerritsen Beach, now living in Williamsburg, puts her 6-0 record on the line against 4-3 Mexican Laura Gomez. Also, Charlie Ota, who makes Japan his home-base, puts his 23-1-1 mark up against 17-7 Mike Ruiz of Freeport, N.Y. Another local, a kid who puts butts in seats, Joe Smith (12-1), gloves up against Lamont Williams. of Cali. Phenom Junior Younan has his pro debut, against Ken Schmitz of St. Louis, as well.

I think so much of the card I'm DVRing HBO's triple-header tomorrow, for the record.
November, 8, 2013
11/08/13
12:21
PM ET
Everyone in the room at the Friar's Club stops their chatting and looks up expectantly as
Heather Hardy
comes back into the room after spending a bit over 20 minutes with the Amazing Kreskin during a Tuesday afternoon session.
What did he do, we ask.
"He had me sit in a chair, with my eyes closed, and count to 50," said the 6-0 super bantamweight, days out from her Saturday bout at the Aviator Complex in Brooklyn, on a card promoted by Lou DiBella. "Then he asked me how long I thought that took. I said maybe five minutes. Kreskin said no, it was 18 minutes. I guess I was counting really, really slow," the Williamsburg, Brooklyn resident said, chuckling. Also, Kreskin had Hardy, in a trust exercise, fall back into his arms, she reported.
We all wondered if Hardy got anything from the session.
"He got me to relax, so I was thinking about only what's important," she continued. Hardy said that normally, fight week is super stressful. She is juggling ticket sales, and picturing competing, and raising her daughter and work--she trains people at Gleason's--and bills etc etc.
"Usually, I want to kill everybody the last three days before fight. I don't know if it's because I'm female or..," Hardy said. No, Gabe Bracero's trainer Tommy Gallagher said, all fighters get homicidal like that. He sounded open-minded about Kreskin's angle, and said it is beneficial to be able to adeptly block out intrusive thoughts, and negative popups in your brain.
Shemuel Pagan, a 3-0 135 pounder, comes back from his session and gives it a thumbs up. Kreskin's power of suggestion helped him relax, he said.
Bracero (22-1 with 4 KOs) said he was already on Kreskin's page. "The mental strength is already there," he said, knowing I'm mindful of the fact that he's turned his back on the seductive thug life, after spending almost six years in jail for attempted murder. After the session, Bracero, who headlines the Saturday show against Dmitriy Salita (35-1-1) said he was thankful for the opportunity, but, "I'm already that person."
Kreskin asked for contact info for the three boxers, hoping he could follow up with them, and continue to inject them with positive suggestions and follow their progress. "I believe that all three fighters are future champions, they have the capacity, they have the mindset to be," Kreskin said, to wrap up. "I wish we had in politics together some of the attitudes we have in some of the athletes today."
November, 6, 2013
11/06/13
1:21
PM ET
Gabriel Bracero, Shemuel Pagan and Heather Hardy are set to fight at the Aviator Complex in Brooklyn on Saturday night. Each boxer was in warrior mode already, on Tuesday, with game faces indicating that soon, it will be time for combat and all mental energies must be focused on the task.
On Tuesday afternoon, they each took some time out from physical and mental prep for their forthcoming tussles on the Lou DiBella card to hear out famed mentalist The Amazing Kreskin, who was asked by promoter DiBella to impart some of his motivational techniques and tips to the fighters.
"I grew up like so many millions of others watching Kreskin on the Tonight Show with Carson and pretty much everywhere else," DiBella told me. "I always thought he was truly amazing. When I was told that he is still performing and doing what he does, I jumped at the chance to have him work with three of my fighters."
Kreskin, a New Jersey native who had a TV show which ran for five seasons in the early 70s, frequently appeared on every prominent daytime and nighttime talk show, and continues to be a popular guest on programs ranging from The Jimmy Fallon Show to various offerings on Fox News, burst into a room at the Friars Club in Manhattan and made an immediate impact with his signature handshake.
Kreskin took the hand of each boxer, and shook it as if he was testing the connective tissue in their shoulder. His vigor, at age 78, was impressive, as was the aura of optimism. It looked to me like the boxer's were open to hearing what he had to say, and hopeful that they could derive an edge, even a slight one, that could aid them in their bouts on a card topped by a welterweight face-off between Bracero and Dmitriy Salita.
"On Saturday night, you'll be fighting against somebody else, but in reality, you're competing against yourself," Kreskin said to his rapt audience, which also included press agent Jules Feiler, a Friars Club member, Bracero's trainer and mentor Tommy Gallagher, Annie Wagner, Hardy's nine-year-old daughter, and Robert Pagan, Shemuel's father and trainer. The mentalist, who also offers his services to law enforcement to help solve crimes, explained that he didn't use hypnosis, which he doesn't believe is real, and stated that he'd offered to cut a $100,000 check to anyone proving it is. Gallagher immediately offered that he was in a trance at that moment, and asked to provide his address so the check could be sent. Kreskin, a seasoned entertainer used to parrying wiseacres in Vegas casino showrooms, slipped Gallaghers' launch and continued his set.
He wanted to meet each fighter, individually, "for maybe 22 minutes," and then follow up with them, again, before their bout, to maximize his impact on their performance. Check back later for the rest of our tale on Kreskin's session with Hardy, Pagan and Bracero.
Follow Woods on Twitter. He's more mental than mentalist, but anyway...
August, 23, 2013
8/23/13
6:00
PM ET
Tommy Gallagher of Howard Beach in Queens has been in the boxing game since the 1950s, and he's feeling like the time to end his run is getting closer. He is working with a young boxer from Ecuador, Ytalo Perea, a heavyweight he calls "my last hurrah."
[+] Enlarge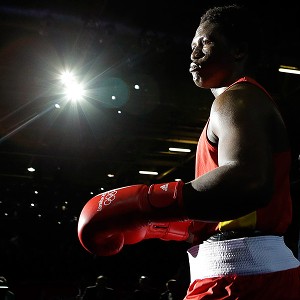 AP Photo/Patrick SemanskyYtalo Perea
Gallagher is the consummate no-nonsense sort. He doesn't suffer fools gladly. The trainer, now 72, doesn't try to present Perea -- who appears Saturday on a card in Fallon, Nev. -- as the second coming. Gallagher isn't certain he has all the tools to keep jumping levels.
"Is he going to buy into the old-school s---? He sees these HBO: 24/7s and thinks the stuff on there is going to make him a better fighter. But mentally, he's what I want. He thinks, 'If I can hit ya, I can knock ya out,'" said Gallagher, who soaked up the training methods of Sugar Ray Robinson and the methods of the master tutors at the famed Stillman's Gym.
The Nevada card is being promoted by the Lane brothers, Terry and Tommy. They are the sons of Long Island resident Mills Lane, the famed referee who just
entered the Boxing Hall of Fame in Canastota, N.Y.
This is the sixth installment of Fallon Fights -- Rural Rumble, and the card will unfold at the Churchill County Fairgrounds.
"This show we have coming up is very unique," Terry Lane told ESPNNewYork.com. "It is an annual show in the small town of Fallon, Nev. It's unlike any other live boxing event. It is held outdoors in a rodeo arena. It's a throwback to the days when small mining and farm towns in the West would have live boxing. It's such a fun show to do every year."
Gallagher talked about the Lane brothers, who he thinks could be major players in the coming decades.
"The sons, they're two super kids; I don't know them well socially but they're very intelligent, they know what they're trying to accomplish. Hopefully I can be their scout, bring some good talent to the table for them," he said.
Gallagher is, yes, a throwback. He thinks pad work is a choreographed waste of time. He recalls when boxers smoked a pack a day but still did their road work, and even if they huffed in late rounds, they made damn sure they made you pay for a mistake, painfully. He said New Jersey's Dino Duva, a promoter who's been out of the mix for a few years, might be signing Perea, so we could see Gallagher's last hurrah more often in the near future.
April, 5, 2013
4/05/13
3:07
PM ET
Yuri Foreman got his second win after almost two years away from the ring, on Thursday evening in New York City at Roseland ballroom. On the card, promoted by Lou DiBella, Foreman boxed smartly and won a unanimous decision over six rounds against foe Gundrick King, from Alabam.

The three judges saw it 60-54 for Foreman, who rose to 30-2 (8 KOs) with the W. King slid to 18-10.

I wasn't able to attend, so I texted congrats to my Park Slope neighbor.

"You free for a quick chat?" I asked Foreman this morning. "A bit later," he responded, "I'm busy with the boys at the moment."

Love it.

Yuri and his wife Leyla welcomed a baby boy, little Elijah, into the world on Feb. 24. And here you have a fighter, the morning after a six round scrum, knee deep in diaper duty. Elijah's brother Lev, age 2, is also in the mix.

NOTES AND NEWS

A DiBella welter, "Jo Jo" Ion Dan, rated No. 6 by the WBC, crept closer to a title shot with a UD8 win over Damian Frias.

Another Brooklyner, Gabriel Bracero of Sunset Park, also inched closer to a most meaningful scrap, with a UD8 win over Pavel Miranda.

His trainer Tommy Gallagher told NYFightblog that he's heard people are "looking at us to fight Mike Alvarado in Denver. It would be a good fight," Gallagher said of the possible faceoff against the man who won the interim WBO 140 pound crown against Brandon Rios on March 30. "Gabe will try, he'll bleed, it'd be a good fight."

We chatted in the early AM, but Gallagher didn't sound like he needed a drop of coffee to get jazzed about another one of his fighters, Ecuadorean heavyweight Ytalo Perea, who won his pro debut March 23 in Maryland.

"I've never see a fighter like the kid from Ecuador, 19 years old greatest ... puncher, he's a big Frazier or Marciano, no definition, this is the kid," he said. Expect to see Perea on a DiBella show in May, he said. "I have never been so ... excited, what a pure natural puncher. Since 1965 I've been in the gym business, I worked with Michael Dokes, Tim Witherspoon, Michael Bentt, Riddick Bowe a couple fights, Perea has more natural ability than I ever met. He hits the heavy bag, people stop to watch him."


June, 15, 2012
6/15/12
3:27
PM ET
Promoter Rich Komissar's Italian welterweight Floriano Pagliara got it done on Thursday night's Broadway Boxing show, put on by Lou DiBella, at the Roseland in NYC. He scored a UD6 win over Rynell Griffin, and rose to 13-4.

Komissar was happy with his effort, but the effort on Sunset Park's Gabriel "Tito" Bracero, who won a UD8 over Jermaine White, really got him jazzed.

Komissar says Bracero, who was coming off his first loss, to Chop Chop Corley, deserves a money fight, "He turned pro with Luis Collazzo, Paul Malignaggi, Yuri Foreman, Dmitriy Salita, etc. They got their chance. It is no secret that Tito did some time in a correctional facility to pay the price for being a silly youth.

He has paid his dues.

He's always in the gym and dedicated to being a better person; he goes to church, helps charities, does fundraisers. He has five children to support.

He brings hundreds of people out every time he fights. He gets hundreds of responses on his Facebook and Twitter page from people all over the country.

I think he can go with any of these guys from 138-143. Especially, Brandon ["Bam Bam"] Rios. Just give him the opportunity. He is what this game is about, redemption. Bam Bam is a bully and in my opinion we will beat his butt.

Tito is a true warrior. He fears no one but his God. His Sunset Park fans will intimidate that little punk Bam Bam and we will own him before they weigh in. He is a punk. Let him try and disrespect Tommy Gallagher (Bracero's trainer and pal of Komissar's) the way he did with Freddie Roach. He will get slapped in the mouth.

We will bring 100 people from Brooklyn to Vegas if we fight in Vegas."

It's not clear if the 31-year-old Bracero will get Rios, who has battled weight problems and has now pulled out of a scheduled fight, against Mauricio Herrera, on July 7, because of an elbow injury.

But yes, Bracero should get a shot at someone, because the longer he's on these club shows, against rugged vets, and subject to being butted and cut, the more scar tissue he will accumulate.

June, 12, 2012
6/12/12
12:40
PM ET
One of the things I like best about living in NYC is the way I get a regular dose of perspective medicine from immigrants. Chatting with cabbies who come from places where food and work is much harder to come by, and rulers frown harshly on free speech, to the point where you might get locked up -- or worse --for talking too candidly, I am reminded that while there is much to improve in our society, there are many things about our nation to be proud of.

I got a little dose of perspective last week while listening to Italian immigrant Floriano Pagliara, age 33, who fights on Thursday night at the Roseland Ballroom in a show promoted by Lou DiBella and headlined by a Seanie Monaghan-Romaro Johnson fight. The super featherweight Pagliara (12-4-1), in halting but completely understandable English, oozed sincerity and humility at Marco Polo restaurant in Carroll Gardens, which hosted the press conference to hype the card.

"Four years ago when I left Italy to come here, I was no speak English," he said. "I was no friends, I was no home, I was no job, I was no money, I was ... problem. I wanted to go to the best place to become top boxer." So he headed to New York, to the only destination name that stuck in his head: Gleason's. The gym and the city welcomed him with open arms, and Pagliara returned the favor, striking up friendships with people like WBA welterweight champion Paulie Malignaggi, trainer Tommy Gallagher, and his promoter, Rich Komissar. Pags will aim for his 13th win on Thursday, against 6-9-2 Rynell Griffin, a Louisiana resident.

Komissar has been in this business since the crib; his dad Stanley was a big hitter in the '50s and '60s, as a promoter-trainer-manager, so he grew up with fighters crashing out on the family's sofa. He has seen all sides of fighters, up close. "Floriano's not a con artist," he said. "He's so genuine, real, gullible. Wherever he goes, people gravitate to Floriano."