December, 17, 2013
Dec 17
10:18
PM ET
Funny thing, this boxing. One might think that a loss would set Adrien Broner back a few steps, puncture his momentum bubble. But it's a fair bet that there won't be a dropoff in viewership in the next Adrien Broner fight, simply because fans are now ultra-curious to see how the Ohio-based 24-year-old bounces back. Or, to be more specific, IF he bounces back.
I put that question to Paul Malignaggi, the boxer-Showtime analyst, who fought Broner in June, and called his fight Saturday against Marcos Maidana. Will Broner bounce back from this fight, which saw him get manhandled at times by the Argentine?
[+] Enlarge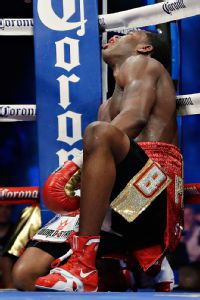 AP Photo/Eric GayWill Adrien Broner bounce back?
"Yeah, but maybe 140 pounds would be better for him," said the 33-year-old, who is mulling options for his next tangle, after downing Zab Judah in an intra-borough battle of Brooklyn Dec. 7. "But there's a risk his confidence won't be the same, only time will tell."
Those hoping to see a chastened boxer, to have some of that cocky 'tude diminished by the loss, they were out of luck, as Broner drew scorn for running from the ring, and not doing a postfight interview in the ring. Also, when he did talk post-fight in the dressing room, his ego seemed fully intact. He boasted about his plan to party it up that night, like he won, and he solicited a payday from a club owner, whoever purchased his appearance at their establishment.
I have grave doubts, I confess, about Broner, because of the panicky manner in which he responded to being yanked into deep water with a lead-filled life-jacket makes me wonder if he can obtain the calmness needed to act smart when he gets buzzed. Malignaggi told me he thinks he maybe could, but because he was rushed, he didn't learn that skill, that grace under severe fire.
"He never throws punches when he's in a tough situation," the ex-WBA welter champ told me, "where he's got to think his way through. He's too stationary and overall just not very intelligent as a decision maker when the heat is on. He's good, he's just not the guy everyone made him out to be."
Malignaggi admitted he's still mildly steamed that Broner, on camera, said he didn't take their bout seriously, a contention shown on Showtime's "All-Access" documercial series. "He's in a lot of denial, maybe Maidana beat some sense into him," he said.
And what if Golden Boy tried to make Malignaggi-Broner II next?
"Nah, I have nothing to gain fighting him now," he answered, "but in the future if he won some fights I would do it. He's better off dropping down to 140 pounds though."
What about a crack at Maidana, who has the belt Broner took of Malignaggi? Or maybe Danny Garcia, the 140 pound champ who is soon to graduate to 147? "Garcia is a great fight," Malignaggi said, "he and Maidana are great opponents, and it would be a tremendous fight with either one of them."
October, 23, 2013
Oct 23
12:14
PM ET
The lady who might be the biggest boxing fan of the bunch, alas, missed the cut Tuesday at Mendez Boxing Gym in NYC. Model Jasmina Dzurlic tells me that she's a tremendous Canelo Alvarez fan, and has worked out at a boxing gym in the Bronx for six years. Like any credible competitor, the loss doesn't dampen her fire. "I'm a little bit disappointed, but there's always another chance," she says after learning that three other gals will be informing fans at the MSG Theater on Nov. 2 what round is forthcoming.
[+] Enlarge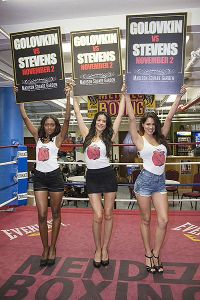 Angela Cranford/ MSG PhotosThere really were no losers at the Mendez Boxing Gym on East 26th Street.
Top three-er Alexis Lilly tells me that she digs boxing, and in fact, her mom boxed as an amateur in Kentucky. The fave fighter for the Kentucky transplant who lives in NYC? "Mike Tyson," she tells me. "My dad replays his fights."
Winner Vanessa Ratnavich also describes herself as a fight fan. Her main man is Manny Pacquiao, the Congressman from the Philippines who next gloves up on Nov. 23, in Macau, against Brandon Rios. "I'm half Filipino and half Thai," she informs me. Her experience -- she's been a ring card girl at MSG twice -- seemed to have paid off. I queried her on the presence of card girls during fights. Why did she think they have a role at events? "The majority of the fans have been men, and sex sells," she said. Give her an extra point for candor.
My favorite of the three prizewinners, if I may be candid, was Tarale Wulff. Not for her aesthetics, but for her world view. For one thing, she proudly parted with her age, 37, though she's in an industry which doesn't typically prize the presence of a longer CV. Wulf has done this before, she tells me; her first card gig came about 15 years ago, at Cipriani's. The Long Island native, who resides in Bed-Stuy, said it "would be cool if guys held up the cards too" but noted that usually two men are doing the fighting. She said she's proud that she and the other two won't be strutting in bikinis on Nov. 2, but will be clad in "tasteful, sexy dresses."
The experience allowed me the setting to answer a question that has long nagged me. Do the fighters ever get distracted during a fight by a sultry strutter? I asked fellow judge John Duddy. Did he ever get distracted during his in-the-ring career? "No, never," he answered, with the sort of certainty only an Irish accent can muster. "I never took boxing for granted. I only reacted to things, like the audience, after the fight."
Word is this might be an annual event. I liked Duddy's suggestion for a possible added judging component for next time. "The ladies can put a glove on, and punch me, and we can see who punches the hardest," Duddy said.
Better he than
me
!
June, 20, 2013
Jun 20
5:01
PM ET
[+] Enlarge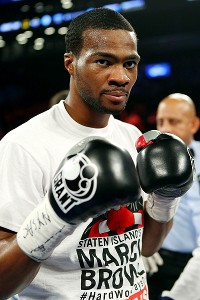 Elsa/Golden Boy/Getty ImagesStaten Island's Marcus Browne meets Ricardo Campillo on Saturday at Barclays Center.
It was reunion time Thursday at Barclays Center, as New York-based members of the last US Olympic boxing squad, Marcus Browne and Jamel Herring, checked in with each other, two days out from their respective appearances on the card topped by a Paulie Malignaggi-Adrien Broner welterweight showdown.
At the final press conference, they paid respects to a third Olympian, Rau'Shee Warren, who also takes part in the festivities.
Browne, the Staten Island-based light heavy with an engaging personality, and a breadth of knowledge, which includes an impressive understanding of geoeconomics, talked about the get-together.
The Olympics, the 22-year-old said, was a fine chapter, but in truth, it could have been much better had some medals been taken home from London 2012. "Hopefully, we'll get some hardware in the pros," said the 4-0 hitter, who meets 7-6 Ricardo Campillo. "Anyway, now we are on our own journey. It's not a team thing anymore."
Junior welter Herring, who grew up in Coram, Long Island, told me he expects 50 or so rooters to come to Brooklyn to see him fight 2-3 Calvin Smith, and attempt to rise to 4-0.
His trainer, Mike Stafford, who also tutors Broner, said he's pleased with the 27-year-old Herring's progress since turning pro last December. "He's learning to set down on his punches," Stafford said.
June, 18, 2013
Jun 18
5:20
PM ET
Adrien Broner's trainer, Mike Stafford, predicted his kid would stop Paul Malignaggi in the main event Saturday night at Barclays Center no later than Round 6, but Broner left some wiggle room for himself during a Tuesday news appearance at Gleason's Gym for the show promoted by Golden Boy.

"We shall see," said Broner, who, like his role model, Floyd Mayweather, mixes mostly brash pronouncements of his superiority with the occasional curveball of humility or contradiction from a previously espoused take.

"I might knock Paulie out, or maybe I beat the s--- out of him."
February, 17, 2013
Feb 17
1:08
AM ET
The drumbeat to sign on against a superstar -- or at least a name guy with a more-than-solid résumé -- will beat louder after Adrien Broner knocked out Gavin Rees on Saturday night at Boardwalk Hall in Atlantic City, N.J.

Broner, from Cincinnati, dropped the Welshman Rees in the fourth round and then again in the fifth. Rees, who had never been down in a fight -- even in sparring -- rose but took more shots, and his corner waved a white flag with a second remaining.

Afterward, Broner termed Rees tougher than an overcooked steak -- that he was, and more. In Round 1, the massive underdog showed mobility and pop. But Broner assessed him, got his joints lubed and got to work in Round 2.

Broner, 23, retained his 135-pound crown and upped his record to 26-0. Rees, 32, dropped to 37-2-1.

More people are lumping Broner in with Floyd Mayweather Jr., while others compare his skills to those of Sugar Ray Leonard. Maybe it's too early for that, as Rees' best wins are against fighters U.S. fans might not even know. But certainly we are closer to the time when we would like to see Broner find a dance partner who will get him closer to answering that question. Ricky Burns will meet fellow lightweight titlist Miguel Vazquez on March 16, and Broner might get the winner of that tangle.

But moving forward, more people will be suggesting names such as Juan Manuel Marquez, Brandon Rios, Yuriorkis Gamboa and Amir Khan.

Readers, what say you? Is Broner the next face of boxing, or do you need more time to determine that?