September, 19, 2012
9/19/12
11:10
AM ET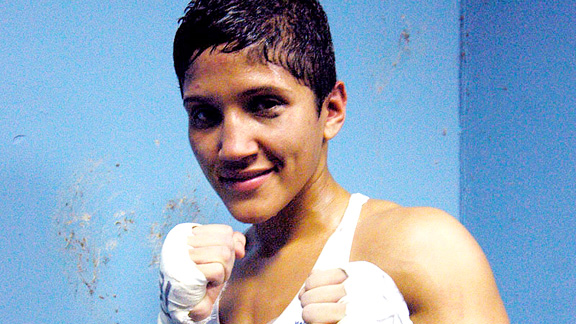 AP PHOTO/Chris Lopez
Will Brooklyn's Cindy Serrano step into the ring against her own sister?
Amanda and Cindy Serrano have signed a promotional deal with Bob Duffy's Ring Promotions and event producer David Schuster's Winner Take All Productions.
"We are thrilled to be promoting the Serranos," Duffy said. "I've watched them mature as fighters over the years and they are completely world class. They are capable of beating anyone in the world within their weight class."
Cindy Serrano, 30, is 17-5-2 with 8 knockouts and holds the WIBA International lightweight belt. Amanda Serrano, 23, is 15-1-1 with 10 knockouts and is the former IBF super featherweight world champion. Both fighters will be campaigning at 130 pounds.
The ladies live in Brooklyn and train out of the International Boxing and Fitness Gym in Ridgewood, Queens.
Both have expressed interest in fighting each other, which would be a first for females in the boxing world. Might this move get them closer to that goal?
November, 4, 2011
11/04/11
10:28
AM ET
The pound-for-pound list has been in existence for more than a half-century, and no doubt from the start has spurred many a barroom brawl as folks defend their theories and stances on who the best boxers are across all weight classes.
Let the shot glasses fly, people, because here comes the debut of the
NYFightBlog Top 20 Pound-For-Pound
list. These are the best and brightest New York boxers campaigning today, in the opinion of me -- and a couple other sharp-minded boxing people who know what they're seeing when they watch a scrap and have been kind enough to act as consultants.
Now, some of the boxers on the list don't currently have an NYC area code. Some have been longtime New York residents who have moved to other locations, whether it be for personal reasons or to juice up their career. This ground rule for the NYC P4P list might not work for you, which is fine. Feel free to drop your own P4P list in the comment section, using criteria that makes sense to you.
We will update the NYC P4P list regularly, typically around the first of the month. And it must be said, please know that it is my belief that any and all persons who glove up, step into the ring and offer their best in competition deserve props. Perceived shortcomings are offered with the implicit understanding that even to make it this level is a monumental success.
Here are numbers 15-20.
20) Dmitriy Salita:
No touted New York pugilist in recent memory went down in a hotter ball of fire than did Dmitriy Salita when he was demolished by
Amir Khan
1:16 into the first round of Khan's junior welter title defense in December 2009. Salita had enjoyed piles of press and had a documentary filmed on him, so there was pressure to live up to all of that. He didn't, but he didn't give up. Salita (33-1-1; age 29) went back to the grass roots, and is promoting his own shows in Brighton Beach, Brooklyn, making his way back up the ladder, where redemption awaits him.
19) Amanda Serrano:
This one loves and lives to fight. She doesn't own a cell phone because she says she has no use for it; it would only take away from her training. The 12-0 super featherweight who lives with her parents in Bushwick just picked up the vacant IBF crown with a TKO2 victory over
Kim Connor
on Sept. 10. More titles are to come.
18) Luis Del Valle:
He has the fewest wins of anyone on the NYC P4P list, but maybe possesses the most longview future upside. Now 14-0 with 11 KOs, the Newburgh, N.Y., super bantamweight is polished, patient and could be in the NYC top 10 by the second half of 2012.
17) Edgar Santana:
This Manhattan resident has some ground to make up after being on the shelf for 2009 and 2010. Now 26-3 with 17 stops, the Puerto Rico-born junior welter went off the rails when he was busted as part of a cocaine ring which authorities said conspired to bring coke from Puerto Rico to NYC. He served four months in prison, and got out in January. At 32, he's not a pup in his weight class, where quickness and hand speed are more important than at, say, heavyweight. He's done his time, and now time isn't on his side. He has to hustle to achieve what he wanted to achieve when he got into the hurt game.
16) Luis Collazo:
This Queens hitter gave
Ricky Hatton
, back when he was prime Hatton, fits in a 2006 loss, and did the same with
Andre Berto
in 2009. Collazo even bathed in the glory of a championship when he beat
Jose A. Rivera
for a welterweight crown in 2005, before defending it once against
Miguel Angel Gonzalez
and then dropping it to Hatton. But his story has been of missed opportunities, squandered momentum and
Don King
freezeouts. He enjoyed a pop when he signed with Golden Boy this summer, but the 30-year-old Collazo has to wonder after losing a UD10 to
Freddy Hernandez
three weeks ago how much more fickle fate can be.
15) Hector Camacho Jr.:
With a 53-4-1 record, you might be thinking this fighter should be up a few ticks. But, sad to say, the son of Macho has largely floundered in the pro game. He's 33, so we suppose there is time for the 33-year-old New York southpaw to make a late-inning run, but our breath won't be held. He fights 40-year-old
Andrew "Six Heads" Lewis
, who last gloved up in 2008, in Guyana on Dec. 17, so it doesn't look like Junior is seeking out compelling challenges for himself. But NYFightblog likes to believe in the ability of all of us to see the error of our ways, soldier on and attain the goals we are capable of capturing. Junior, our services as motivational guru are available, please see contact information below.
Thanks to consultants Zach Levin, "Manager X," Kevin Rooney and Ryan Songalia for their input into the NYC P4P. Follow me on Twitter here. Send suggestions or hatemail to FightblogNYC@gmail.com.
September, 30, 2011
9/30/11
11:24
PM ET
NYFightblog readers know about the
Fighting Serrano Sisters, Amanda and Cindy
.
The Brooklyn residents are hoping to be the anti-Klitschkos, and actually sign a contract to fight each other.
Older sister Amanda Serrano (age 29; 15-3 record with 7 KOs) is set to fight Frenchwoman
Anne Sophie Mathis
(24-1 with 21 KOs), a welterweight champion, in Moselle, France today.
I received an email update from her trainer,
Jordan Maldonado
, late Friday. I'm sharing it with NYFightblog readers. He also texted me, and said he's working on getting a date for Amanda and 22-year-old Cindy, who is 12-0 with 8 KOs, to scrap.
Hi Mike,
We are here in France, got here Thursday afternoon. Weather is nice! The weigh-in was today, Cindy weighed 145, Anne Sophie Mathis weighed in at 145.5, both right under the scheduled 147 mark. We fight for three titles, the WBF,WIBF & the WIBA welterweight titles, all owned by Sophie. Fight is tomorrow, we are ready although a little disappointed... once again the ref & two judges are from here, the other from Germany. No American judge, but that usually is the case when you fight in someone's backyard. All that can be said is as always we will fight hard & leave it in God's hands! Everything else will be geared against us. She is a big star here! Enough said.
Thank u & will talk soon.

Jordan

September, 12, 2011
9/12/11
4:33
PM ET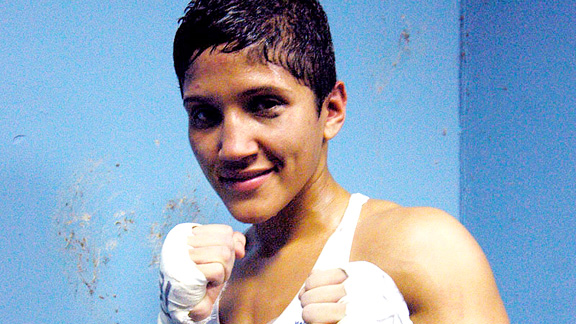 AP Photo/Chris Lopez
Cindy Serrano (pictured) and her sister Amanda are both professional boxers, and want to fight each other.
It wasn't too easy getting in touch with
Amanda Serrano
, to ask about her title fight last Saturday night, which unfolded at the Aviator Complex in Brooklyn.
She does not, you see, own a cell phone. Not because she's on a strict budget or what have you.
No, Serrano, a 22-year-old Bushwick resident, doesn't have a phone because she sees no need to get a device to communicate within her social circle. That is because, she tells NYFightblog, her social circle consists of her older sister
Cindy
, age 29, and her trainer/manager
Jordan Maldonado
.
Amanda, promoted by
Boxing 360
, a newish local outfit headed up my
Mario Yagobi
, beat
Kimberly Connor
by KO-2 on Saturday. She offered her take on the bout, which yielded to her the vacant IBF female super featherweight crown: "It was a good fight, Connor was tough. She was the bigger girl but the opportunity was too great to pass up." The fight was held at a catchweight, at a max of 128 pounds, and Serrano felt the power of her foe in the first. She listened to her corner, and went to work on combos in the second. She scored a knockdown, knew she had Connor in a bad way, and finished off the night at 1:45.
So, what's next for the younger Serrano? Just maybe, a brawl with big sis.
Cindy takes on welterweight
Anne Sophie Mathis
on Oct. 1 in France. After that, she'll likely come back down to Amanda's weight range, and the two will sign a contract to fight each other.
The
Klitschko brothers
, Vitali and Wladimir, have sworn that they'll never face off to see who this era's best heavyweight is. Amanda is contemptuous of that decision.
"Why did they get into the same sport, and the same division, if they don't want to fight each other?" she said. "If the money is right and we have the opportunity, it's going to be tremendous. We want to do the unthinkable. We don't want to be like the Klitschkos."
They spar regularly, and Maldonado told us that he marvels at the intensity on display. "I tell them, if they fight other people the way they do each other, they'll never lose."
So, who'd win?
Amanda laughed, and told me they have different styles. She's a brawler, big sis is a boxer. "In sparring, I think, 'I'm not the little sister anymore,' and she thinks, 'My little sister is not kicking my butt.' ''
Would the brawler be able to look to take her foe's head off if her foe is her sister?
"We spar that way," Amanda said. "In sparring, she tries to take my head off, too."
So wait ... the sisters live at home, with their parents? Are the parents aware of this plan? Will they go along with it, or threaten eviction if the sis vs. sis scrap happens?
"My dad heard about the plan and wasn't that happy, but he said he'll support it. We'll make up a shirt for him, half me and half my sister."