January, 3, 2014
Jan 3
12:33
PM ET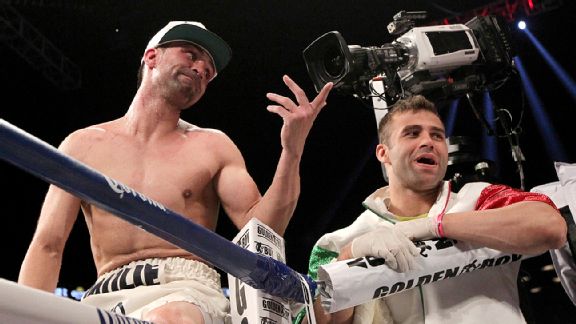 AP Photo/Mary AltafferPaul Malignaggi gets our nod for Fighter of the Year.
Here's the last part of my look back at my favorite posts of 2013.
July:
Transition time for newlywed Amir Khan
Who's next for Floyd? That question can dominate endless news cycles, as we keyboard tappers and the social media mavens speculate and opine on who should be graced with one of two lottery tickets "Money" dispenses every year.
Last July, amateur Sherlocks thought they were receiving a hint on a near-future Floyd foe with a flurry of Amir Khan sightings in NYC. On July 16, NYFightblog talked about Khan's recent marriage festivities, and guess what, six months later, we're still speculating. Khan seems to be the front-runner to fight Floyd on Mayweather's forthcoming May date.
August:
Mike Tyson reveals sobriety slip
Some folks dismiss Mike Tyson's third act as a promotional ploy, and insist that he simply manufactures and manipulates his personal drama as fodder for the masses. Me, I admire the former heavyweight champion and Baddest Man on the Planet for laying out his foibles and not presenting himself as a totally rehabbed character who has seen the light and is now a perfectly actualized being.
On Aug. 24, I touched on Tyson's public admission that he'd had a sobriety slip. The confession rang true for me, because I've seen Tyson act in movies, and he isn't an Oscar-worthy talent.
September:
Malignaggi: Floyd Mayweather is best ever
Paul Malignaggi is not shy. Never. The man will tell you what is on his mind, even if it means you might be offended.
On Sept. 16, Paulie told us that he thinks Floyd Mayweather is indeed the best of all time, better than the Sugar Ray, Henry Armstrong, et al. "I think Floyd beats everyone in history, and anyone who doesn't realize that by now is stubborn, blind, stupid or all three," he told NYFightblog. "He is the best ever." This came after Floyd made Canelo Alvarez look like a prospect-level pugilist in Las Vegas enroute to a decision win. There is no doubt the "how good is Floyd?" debate will rage on as long the Earth keeps spinning.
October:
Tissues needed at Gatti-Ward screening
For my birthday, on Oct. 16, the wife and I went to a screening of "Legendary Nights: The Tale of Gatti-Ward" at HBO's headquarters in Manhattan.
I, like every single person who tuned in, adored the effort, which reminded viewers of just how different some souls are built than us regular folks. Fighters like Arturo Gatti and Micky Ward have a reservoir of willpower and competitiveness which needs an outlet, which they find in the ring. We're lucky to be able to witness it.
November:
Thoughts on the Abdusalamov tragedy
It was one of the better heavyweight bouts you'll see in this age of subpar talent in the highest weight division. The Nov. 2 Magomed Abdusalamov-Mike Perez bout at the MSG Theater, however, will be recalled as the night Mago was too brave for his own good.
Perez got the better of it over ten rounds. After the fight, Mago was taken to a hospital, where he underwent emergency surgery for brain damage.
We continue to follow his story, which today leaves him in an upstate rehab facility, where his warrior resolve is being put to the test as he tries to regain the ability to walk and talk.
December:
Malignaggi tops Judah to plant his flag
Paul Malignaggi is the 2013 NYFightblog Fighter of the Year.
Yep, he only went 1-1 in 2013, losing a tight decision to Adrien Broner before finishing up with a win over Zab Judah. But his output this year went beyond in-ring exploits. Importantly, he showed, with his reflexes and still superb command of the ring, that at 33 he remains a world-class fighter. Also, his work on Showtime, as their lead analyst, has drawn universal raves. Even those who might have been disposed to give him a thumbs down, for that New Yawk accent, have to concede he has a gift for making smart points during fights. Congrats, Paulie.
And thank you, readers, for making this little niche on this fine website a regular destination.

I wish you a happy, healthy, bountiful New Year.
July, 17, 2012
7/17/12
5:21
PM ET
The USA boxing squad made it to England, and thus far, have been so focused on getting gold. They haven't even managed to indulge in any sightseeing. But, Team USA PR head
Julie Goldsticker
reports the boxers aren't just tightly-wound balls of tension. When the person who oversees the gym they are using in Bolton walked in to greet the squad on Monday, he caught them dancing en masse.
"This team is very bonded," Goldsticker told NYFightBlog. She has a basis for comparison, having done PR for USA Boxing since 2001, "Their cameraderie is evident."
Goldsticker reports that both the New Yorkers on the squad, co-captain
Jamel Herring
(age 26) and
Marcus Browne
(age 21), show leadership qualities.
Herring, having served two tours in Iraq in the Marines, is a vocal leader and seen as a guiding light. Young Browne isn't afraid to pump up the others in the crew, and push them to push themselves. If you
follow Browne's Twitter feed
, you get the feeling he is the slightest bit homesick. I asked Goldsticker about that, and she chuckled. "He's enjoying England a lot," she said. "But he misses his family. Everybody does. Marcus is ready to fight."
The squad is looking forward to meeting the man who owns the gym in Bolton, junior welterweight pro
Amir Khan
. The Brit had some hard luck Saturday, when he was stopped in Round Four of his title defense against
Danny Garcia
in Las Vegas. "There is a press event Wednesday," Goldtsicker said. "We're looking forward to lifting Amir's spirits." The whole team, she said, was beyond pleased to see the gym in Bolton plastered with American flags, and all have been impressed that they haven't felt an ounce of territorial tension. "Everyone has been kind and welcoming. And, we haven't seen any sense of rivalry," she said.
The squad will leave for London on July 24, will enjoy the opening ceremony on July 27, and then will get their game faces on. The light heavy Browne will fight July 30, and light welter Herring will fight the next day. Their foes will be determined after they make weight, and the brackets are completed.
Ultimately, the amount of dancing done by USA boxing will be determined by how far they advance in the tournament.
July, 13, 2012
7/13/12
9:52
PM ET
Our man Paul Malignaggi is off his Twitter duty, momentarily, prepping to work BBC radio for Saturday night's Amir Khan-Danny Garcia junior welterweight showdown in Las Vegas. The Bensonhurst-bred boxer is doing double duty in Vegas, working that media gig, and also checking in with promoter Golden Boy, figuring out what's next on his to-do list.

We've heard rumors that Ricky Hatton might not have shrugged off his boxing jones, that the Manchester hitter, who retired following his KO2 loss to Manny Pacquiao in May 2009, might be lacing up again. And that he might tap Malignaggi, whom he defeated via TKO11 victory six months before the Pacman loss, to be his comeback dance partner. Any truth to that, Paulie?

"I am curious about Hatton," he told me. "I spoke to (Golden Boy's) Richard Schaefer and right now the Hatton stuff is strictly speculation but Golden Boy matchmaker Robert Diaz is in England for the David Haye-Dereck Chisora fight and he is looking into it."

In my mind, Malignaggi would be the favorite going into that bout, as I think a rust-dusted Hatton would have a hard time with his speed this time around.

And who does Paulie like in the Khan-Garcia scrap? Keep in mind Khan had his best night as a pro when he beat Malignaggi in May 2010 (TKO11), in NYC.

"I think Khan's speed will be too much but Garcia is no punk, he will come to fight," the WBA welterweight champion told me.

Readers, who do you like in the Khan-Garcia tangle, which will run on HBO?
May, 12, 2012
5/12/12
11:54
AM ET
The
U.S. Anti-Doping Agency
took issue with assertions made by
Victor Conte
in a May 9 NYFightBlog post (
"Peterson-Khan II off; Victor Conte told us so"
).
Conte was introduced to the sports world when his BALCO empire was busted in 2004. He was indicted for distributing steroids and had to serve four months in prison in 2005 and 2006. The California resident, who now runs a nutritional supplement company, has of late been vocal about what he says is the rampant use and abuse of PEDs in the sports world. He has been working with several boxers, including ex-welterweight champion
Andre Berto
and current super bantamweight champion
Nonito Donaire
, advising them on training methods and supplement use.
After junior welterweight champion
Lamont Peterson
(30-1; age 28; from D.C.) tested positive for a banned substance on Tuesday, NYFightBlog checked in with Conte, the man who helped create a number of designer performance enhancers and admitted he crafted PED intake plans for some of the world's foremost athletes.
Fight fans were amped to see if Peterson could perform as well on May 19 as he did on Dec. 10, when he beat WBA and IBF champion
Amir Khan
via split decision. We asked for Conte's take on the positive test, and the ramifications when the disappointing news hit the wires.
Conte, not one to shrink into the background following his stint of ignominy, weighed in.
In the May 9 post, he applauded the outfit that oversaw the Peterson-Khan tests,
VADA
(Voluntary Anti-Doping Association), and opined that it was to VADA's credit that Peterson was flagged for what turned out to be usage of synthetic testosterone. Conte took heavy shots at the testing giant USADA (U.S. Anti-Doping Agency), the national anti-doping organization for the U.S. Olympic team, named by Congress the official anti-doping agency for Olympic, Pan American and Paralympic sport in the U.S.
Specifically, Conte said the USADA might not have caught Peterson because, Conte maintained, it does not use the CIR (carbon isotope ratio) test on every sample.
"If USADA were doing the testing, he said, the CIR test would only have been done if a red flag was raised from their testosterone-to-epitestosterone test, or T/E ratio, test," the original post read. "Under USADA rules, if the T/E level breaches a 4-1 ratio, a CIR is then administered."((
USADA reached out to NYFightBlog to dispute the Conte claims about when it uses the CIR test. I should have reached out to USADA earlier. ((USADA furnished a statement to this writer disputing much of what Conte said in the blog post.
"CIR is a regular part of the USADA testing program for all athletes under USADA's jurisdiction, as well as a routine part of the anti-doping programs conducted by USADA in the sport of professional boxing," USADA said. "It is completely inaccurate to say that CIR testing would only be done if a T/E ratio is 4-1."
Conte told NYFightBlog that VADA flagging the Peterson specimen will result in the embrace of the CIR test by testing entities, and the jettisoning of the T/E ratio test, which he disputed as a loophole you can fit a Mack truck through.
USADA countered that CIR has, in fact, been embraced in the testing community:
"CIR has been used by anti-doping organizations internationally since the early 2000s and there have been many athletes sanctioned by USADA and other national anti-doping organizations around the world as the result of CIR testing. CIR is an important tool in our toolbox and we use it strategically and effectively."
Conte, in the May 9 post, didn't hide his take that he thinks VADA's screen are superior to USADA's. USADA reached out to NYFightBlog to rebut what it says are erroneous assertions by Conte, and assure sports fans that their protocol and test plans are top grade.
"USADA also collects longitudinal data that allows us to monitor any fluctuations in an athlete's own biological parameters and closely examine any changes or indicators," USADA said. "(USADA) can also confirm that for the (May 5) Mayweather vs. Cotto fight, all of the samples collected from both fighters underwent CIR testing."
The fallout from the Peterson positive, shocking to the fight game community since we heard that he'd been the one to push hard for stringent testing, continues to ripple. Khan (26-2; age 25; living in England) issued a statement after word dropped that the fight was scrapped.
"No one was more shocked and upset by the cancellation of next week's fight than me," he said. "I had been training hard for almost eight weeks and was ready to put on a dazzling performance and win my belts back. I know many of you purchased tickets for the fight and had planned to make the trip to Las Vegas next weekend. For any inconvenience or hardship this cancellation has caused, I am truly sorry."
Team Peterson also put out a statement: "We still stand behind the fact that he did nothing wrong and he was more than ready to go through with the May 19 fight."
They insist that Peterson had extremely low levels of testosterone in his system, and a physician prescribed testosterone supplements in November 2011, before his fight with Khan.
May, 9, 2012
5/09/12
8:48
PM ET
Tuesday was a nice day for
Victor Conte
. For starters, he wasn't in jail. Not being flippant; the former
BALCO
bad boy, among athletes the most notable face of steroids and chemical transgressions in pursuit of performance and loot, spent four months locked up at the end of 2005 and into 2006 for distributing steroids.
Beyond being free, he was feeling a sense of satisfaction and vindication, because something he'd been railing about had, seemingly, been proven correct. It had been announced that D.C. boxer
Lamont Peterson
, who on December 10, 2011, had beaten
Amir Khan
and lifted Khan's two junior welterweight belts from him in the process, tested positive for a banned substance.
Peterson was counting down to a May 19 rematch title defense, a re-do with Khan in Las Vegas, and had agreed to a stringent prefight testing regimen. In fact, he'd pushed for the regimen.
It emerged that a sample taken on March 19 came up dirty, for an anabolic steroid chemical; ESPN's
Dan Rafael
reported that Nevada athletic commission chief
Keith Kizer
told him that Peterson's counsel in fact admitted that the substance which caused the red flag was synthetic testosterone. Another sample, from the same specimen, was tested, and also was red-flagged by
VADA
(Voluntary Anti-Doping Association), the outfit run by ex-Nevada ring doc head
Margaret Goodman
.
Peterson provided another specimen on April 13, which passed muster, as clean. But he didn't make it out of the woods; he would've had to provide an explanation to the Nevada commission to maintain his license to fight in Nevada. Before the specifics of that hearing coalesced, the plug was pulled on the whole card, by promoter
Golden Boy
. One could have seen where it might have been hard for the commission to give him the go-ahead, considering that the testosterone could give him an unfair advantage over Khan, who has not submitted an unclean specimen (as far as we know).
I reached out to Conte, who is quite likely among a handful of the most knowledgeable folks on this subject matter because of his nefarious past, though he maintains he is through with any dark-side behavior.
He said that yes, Peterson could achieve an unfair advantage by using synthetic testosterone ahead of a fight.
"That would enhance recovery, accelerate healing and tissue repair, and you can train harder and recover quicker," Conte said, "and it helps build lean muscle mass as well. I believe usage is rampant, and has been for a very long time."
He addressed the cancellation, word of which dropped a bit before 9 p.m. ET Wednesday, hammering Peterson for the debacle and for what he deems reckless behavior. "Hopefully the boxing world as a whole will learn some valuable lessons from this very unfortunate situation."
We note that Rafael reported that Peterson's attorney told Kizer that Peterson admits he used a testosterone supplement before the December bout, on the recommendation of a physician, to bolster a low count. So it appears the boxer will be defending himself with the explanation that a doctor OK'd the drug use. As of this posting, we have not heard from Team Peterson for its take on the cancellation, or further clarification of the admitted usage.
Conte was in an almost buoyant mood Tuesday, not because he has anything against Peterson. Indeed, I asked him up front if he had any dog in the hunt, considering he has consulted with boxers like
Andre Berto
and
Nonito Donaire
. No, he said, he has no vested interest in the (now DOA) Peterson-Khan rematch.
He said he was pleased because this positive was proof of what he's been harping on for a few years, that PED usage is higher than most think, and that athletes are gaming the system because they know the existence of loopholes. Conte has said that testing heavyweight
USADA
(United States Anti-Doping Agency), which does the testing for U.S. Olympians, doesn't have tough-enough standards, especially as compared to VADA. (Conte did have discussions with USADA years ago about being a consultant, but those broke down amid acrimony.)
VADA's methods caught Peterson, Conte said, while USADA's might have deemed the specimen clean. The Peterson sample detected a banned substance because a CIR (carbon isotope ratio) test was done, as per VADA's typical protocol. If USADA were doing the testing, Conte said, the CIR test would only have been done if a red flag was raised from their testosterone-to-epitestosterone test, or T/E ratio, test. Under USADA rules, if the T/E level breaches a 4-1 ratio, a CIR is then administered.
But Conte insists that the smart cheaters know not to breach the USADA T/E ratio, so they can, say, triple the amount of synthetic testosterone in their system, and yet still not trip a USADA warning buzzer.
"Knowing the 4 to 1 ratio is a huge loophole," Conte told me. "This is in my opinion biggest loophole in drug testing." (Note: I haven't seen official documentation regarding what the Peterson T/E ratio was. Conte's sourcing indicates that it was low enough that it would not have breached the USADA 4:1 acceptance level, or the 6:1 level allowed by the Nevada commission.)
Conte thinks that VADA flagging the Peterson specimen will result in the embrace of the CIR test, and the jettisoning of the T/E ratio test, which he dismisses as a loophole you can fit a Mack truck through.
"This is historic," he exulted, noting that the technology to flag such specimens as Peterson's have been around since the '90s, but has not been used to correct effect. (He has railed in video you can find on YouTube that testing methods aren't used properly because many entities do not want to catch athletes, for the record. That makes for compelling theory, but without proof, it's not my place to go there. Though my pal
Ron Borges
sagely just Tweeted that the cancellation of the event makes one understand that at the very least it
might
not be so high on the list of some of the sports' powers-that-be to have testing right up to an event date. Might we see language inserted in contracts putting dirty athletes on the hook for revenue lost if a card is scuttled?)
"It will have an impact at what they do at the Olympic games. The important message is people need to understand the difference between VADA and USADA testing," Conte said. "People must realize what I've been saying for years is the truth."
UPDATE: Team Peterson put out a statement, which Dan Rafael
posted here
. The fighter is maintaining that he suffers from low testosterone, and that is why he supplemented his testosterone. If he provides ample, irrefutable lab results from rock-solid sources, that would go some way in restoring his credibility, in my opinion. Why he didn't know, or chose not to, apparently, inform the Nevada commission of this condition and the treatment is not fathomable to me at this time.
May, 8, 2012
5/08/12
5:36
PM ET
PED scandals haven't tainted boxing the way they have baseball and football but the sweet science is smack dab in the middle of a situation which imperils one of the most anticipated bouts of this half year.
Lamont Peterson
is set to rematch
Amir Khan
on May 19 in Las Vegas; the DC-based junior welterweight is looking to beat Khan more conclusively than he did when they gloved up in DC last December. In that effort, Peterson won a split decision and came away with Khan's WBA and IBF junior welter titles. Controversy attached to the win because Peterson won on the cards of two judges by a single point, and during the course of the contest, the Brit Khan had two points taken away by the ref for pushing Peterson.
Now, more controversy has arisen.
On Monday, word came out that Peterson had tested positive for a banned substance, after submitting a sample during pre-fight testing he agreed to do. More specifics emerged today, with Khan's promoter
Richard Schaefer
holding a conference call to shed some light on the Peterson positive. The Golden Boy chief said he got word Monday from Nevada athletic commission head
Keith Kizer
that Peterson tested positive for a chemical that indicated he used an anabolic steroid. A specimen taken March 19, the 'A' sample, Schaefer said, tested positive, and was reported on April 12 to the outfit doing the testing,
VADA
(Voluntary Anti-Doping Association). VADA told Peterson of the positive the next day. As is his right, he asked that a second sample, the 'B' sample, also from the March 19 specimen, be tested. It was tested by VADA on April 30, and also came back positive, Schaefer said. A sample furnished by Peterson on April 13 was reported as being clean on May 2. Schaefer explained that the matter is in hands of the Nevada commission, because the rematch is to be held in Las Vegas. Ring's
Lem Satterfield
spoke to Kizer after that conference call, and he said he was told by Peterson's counsel that the positive test came from the usage of testosterone pellets, and that the fighter acknowledged using them, a banned substance in Las Vegas, before the December bout with Khan. Kizer said that could well be grounds for having the win overturned.
ESPN's Dan Rafael
reported
that Peterson's attorney will argue to Kizer and company that the positive came as a result of being treated for an undisclosed medical situation.
On the call, Schaefer, who says as of now Khan is still training and the fight is on, expressed annoyance that he wasn't told initially that Peterson tested positive.
The president of VADA, ex chief ringside physician of the Nevada Commission
Margaret Goodman
, released a statement in response to the Schaefer call.
It is important for VADA to carry out its mission consistent with respect for the privacy of the athletes who are tested.
VADA notified Lamont Peterson and his attorney, Jeff Fried, immediately after Mr. Peterson's "A" sample tested positive.
VADA felt that it would be inappropriate for it to notify third parties of the positive test result at that time because there had been no confirmation of it.

It appears as though Mr. Peterson and Mr. Fried also chose not to notify third parties at that time in the hope that Mr. Peterson's "B" sample would test negative.

As soon as Mr. Peterson's "B" sample tested positive, VADA notified Mr. Peterson, Mr. Fried, and the Nevada State Athletic Commission.


Neither Golden Boy Promotions nor HBO was a signatory to the VADA contract.
One wrinkle some folks find curious is that it is believed that
Team Peterson pushed hard
for strict testing on Khan; his strength and conditioning coach
Alex Ariza
has been accused, mostly in whispered tones, of illegally aiding his client.
Welterweight champ Paul Malignaggi
, who has been quite vocal about what he believes is widespread use of PEDs in the sport, spoke on the matter to me: "It is tough to judge until all the proper info is made public. It seems strange as Lamont was the one who wanted the random tests...so no opinion until more info is public."
Check back for reaction from the Notorious VIC,
Victor Conte
, the former PED bad-boy
who has redesigned himself into a primary agent
of cleaning up sports of illegal doping.
March, 18, 2012
3/18/12
12:17
AM ET
Matthew Macklin has nothing to be ashamed of, according to ex junior welter champ Amir Khan. He had Sergio Martinez ahead by two points or so when Macklin got dropped twice and stopped at the end of the 1tth round. So, does Khan see any deterioration in Martinez, age 37? "No, if I fight half as good at 37 I'll be happy," he told ESPN New York.
March, 17, 2012
3/17/12
7:25
PM ET
Ex-junior welterweight champion Amir Khan took in the boxing show at the Madison Square Garden Theater, sitting in press row and watching bout No. 1, heavyweight Thomas Hardwick's four-round unanimous decision win over T.J. Gibson on Saturday night.

Khan (26-2 with 18 KOs) told ESPN New York that he's here for some R&R, specifically to spend some quality time with his fiancee, a Staten Island girl named Faryal Makhdoom. The 20 year-old Pakistani-American, who studies at Rutgers, met Khan about a year ago in New York City, and they hit it off. The pair got engaged in January. He said they will get married in NYC, probably next year, in the summer months.

The Brit-base boxer said he's not looking to relocate to NYC, though he said he loves spending time here. He'll leave the city Sunday, and fly to L.A. to begin training for his May 19 rematch against Lamont Peterson. The fighters clashed in D.C. on Dec. 10, and Peterson won a split nod, snatching Khan's crown. Khan had points deducted for pushing in Rounds 7 and 12, and some called it home cooking from the ref, as the bout took place on Peterson's home turf. Khan is confident he'll take the rematch, telling me that he thinks Peterson fought as well as he could fight, while he was in B-form. Khan said he had to drop weight late in training, and that it sapped him somewhat. He also cited unnamed "distractions" during camp.

"I'm not focused on the way Peterson is going to come out," Khan, 25 said. "I'm coming out as the challenger, and I'll be so hungry, I'll be on my A-game."

Khan will again work with strength and conditioning coach Alex Ariza, contrary to some rumors floating about the Twitter-verse.

The Brit boxer said he thinks we could see an upset in Saturday's Sergio Martinez-Matthew Macklin main event, with Macklin being emboldened by the masses of Irish at the Theater, and that he'll likely have some decent luck if he gets Martinez into a rumble.

"Macklin's got the heart of a lion," Khan noted. "He's going to be hungry. But Martinez has had more world-class fights."
March, 3, 2012
3/03/12
10:45
AM ET
The scale, apparently, still looms large in his life, as much as any foe does. Joan Guzman, the talented but calorically troubled 35-year-old ex-titlist who lives in Bushwick, N.Y., weighed in a quarter-pound over the contracted max for his Friday night bout against Jesus Pabon, but skipped some rope and made weight on Thursday.

Guzman's rep tumbled when he couldn't make weight for high-profile bouts against Nate Campbell and Ali Funeka, and in the past couple years, he has struggled to rebuild. His skills still looked world-class at times against the underdog Pabon, who was stopped in his last outing. The Puerto Rican hitter went down four times, for the final time in Round 8, on a harsh left hook that starched him big-time.

Guzman's promoter, Henry Rivalta, told me that the scale at the gym said his fighter was 140 and that the Florida commission's scale was calibrated differently. Looking ahead, if I were Team Guzman, I'd try like the dickens to weigh a bit under the max, just so this situation doesn't occur again. If Guzman wants a marquee cashout bout against a Manny Pacquiao, Amir Khan or someone still relevant who is a step down from there, he'd do well to show the world that he takes training ultra-seriously. It's more likely that he'll get a gig as a steppingstone for a young lion, but this being the fight game, the theater of the unexpected, one never knows.
January, 13, 2012
1/13/12
9:22
PM ET
After the first two episodes of "On Freddie Roach" were screened at HBO headquarters on Wednesday night, a panel of Roach, director-producer Peter Berg and producer Jim Lampley fielded questions.

Perhaps my favorite part of that came when Lampley responded to a query about the existence of the sport, about whether or not it should exist with all we know about head trauma these days.

Lampley responded that it is a pipe dream to not consider that men and women give up their health and well being, and put their bodies on the line every day, to provide for themselves and their families. In the coal mines, for example, guys compromise their health without the attendant possibility of great earnings, adulation and acclaim that can come with making it in the fight game. He'd rather his son take up boxing than football or hockey, as a matter of fact, Lampley said.

Roach pointed out that "there are more deaths every year in horseback riding" than in boxing, and that he reveres the freedom that exists in our society, which allows man to assume such a risk if he chooses to. Headgear, he said, isn't the answer, because that allows for more sustained punishment. In fact, he'd be for smaller gloves, so KOs come more rapidly.

I asked the panel if they knew all facets of Roach's personality which were on display, especially that dark intensity and remoteness which is seen when he interacts with his ex Marie and while his brother has a health scare. Lampley said he didn't really know the breadth of Freddie's personality, but Berg had a pretty solid idea of his varying traits. Back a ways, he was acting in a film with Roach's buddy Mickey Rourke. They were all in a bar, and a loudmouth was flapping his lips. Berg boiled, but held himself together and looked away. Next thing he knew, the yapper was out on the floor. Roach had dropped him, out cold, with a single shot and gone back to his glass.

Roach flushed slightly when I mentioned his intensity, especially in connection to Marie. He pointed out that those closest to us often bear the brunt of our ire when our emotions are off keel. He told all that he apologized to Marie for being a bear at times. I left the theater with a few lingering questions, one of them being that I wanted to know how and why Freddie and Marie split and why she sticks around and if she's all good with the status of the relationship.

The ex fighter said he wants viewers to come away with the belief that they can work through anything. Funny, on Friday I was walking my almost five year old daughter to school. We live in Brooklyn. Her school is seven blocks away so the walk takes about fifteen minutes. Five minutes in, she saw a dead pigeon on the sidewalk, and started riffing about death.

"Daddy, if mommy dies, you'll be with me, right?" she asked. "Yes, I will," I told her.

I then explained that we can help ourselves feel better when we worry about bad things happening by reminding ourselves that we have the capacity to deal with anything. Anything that happens to us, we can make it through. I may not have responded in the manner I did, strong, and positive, if I hadn't seen this screener.

During the panel session, Roach mentioned about four times that he didn't realize how much he shook. That struck me. I have a theory that the world would actually be a better place, or the US would be anyway, if everyone had a reality show. Because then we'd all see ourselves in our full glory, on a screen, and we'd be made aware of some of our bad habits. Roach's shaking is no habit that he can control, though; it is his Parkinson's acting up, and he doesn't know if the symptoms will worsen, or will stay contained as they are with meds. I was left feeling for the man. You watch the show and realize how much boxing is his life, how much his identity stems from being in boxing, and from holding the pads that Manny and Amir and all of them batter. If he isn't able to hold the pads the way he thinks he should, it will be a sad development.

The panel session yielded more fruit. Lampley said that the Parkinson's angle is most meaningful to him. He has Parkinson's in his family, and saw it up close as a young person, when he caddied for a lady who had Parkinson's. Her mouth didn't close, and her tongue hung out. Caddies shunned her, but Lampley didn't. "She was one of the most courageous people I'd met," he said, choking up noticeably.

Next up, I'll share what Freddie told me after the event. We talked about his temper, and of course, about Mayweather-Pacquiao. Will it happen? What about The Cut? Check back…
December, 12, 2011
12/12/11
2:13
PM ET
Ashley Theophane, the Brit who is living in Brooklyn and getting some Stateside seasoning, got a W on Saturday. It didn't come easy for our No. 12 NYC P4Per, but the 31-4-1 fighter scored a TKO11 win over Ben Murphy at the Peterlee Leisure Center, in Peterlee, Tyne and Wear, England. He retained his British junior welter crown.

Murphy (8-5-1) wasn't seen as world class when he got the fight three days before fightnight, after original foe Nigel Wright (24-6-1) had to pull out because a brain scan showed an irregularity. But he made the world class Theo sweat enroute to the victory. We asked Theo for his take on the bout, which wasn't offered in the US onscreen:

"They were opposite styles. Wright is a stand off southpaw boxer and Ben is an orthodox brawler with little style. They are total opposites. My plan was to let Ben burn his self out and take over. The plan worked and I won in the end. I was happy with my performance. My defence was excellent and I picked him of as the rounds went by. I showed I am a world class operator," he said, via Twitter message.

So, what's next for the BritYorker?

"Hatton Promotions will decide what is next but Lamont Peterson, Erik Morales and Tim Bradley are the fights I want," he said.

I also asked who he had winning in the controversial Khan-Peterson fight on Saturday in DC. "I thought that Khan v Peterson was close but I had Peterson winning. He fought to his strengths and Khan looked uncomfortable at times," Theo said.

Boxing is a funny sport in that a fight you fought a year or more ago can make you look a heck of a lot better many moons after it occurred. Cases in point..Theophane dropped a close decision to Danny Garcia in February 2010, and also beat Delvin Rodriguez in July 2010. Garcia is coming off a superb win over tough vet Kendall Holt in October, while Rodriguez mightily impressed watchers in his Dec. 3 rematch victory over Pawel Wolak. In retrospect, those outings seen in the far rear-view mirror elevate Theophane that much more.
December, 11, 2011
12/11/11
1:06
AM ET
Junior welter champ Amir Khan and his team got props for taking on challenger Lamont Peterson in his hometown of DC before the two men scrapped on Saturday night. After the bout, the Twittersphere was asking what the hell Team Khan was doing fighting on Peterson's home turf.

They had a point, actually, as Khan had two points deducted by the ref for pushing, and if those iffy calls hadn't been made, he would have been the victor. Peterson got the nod by scores of 113-112, 113-112 and 111-114.

I texted Khan's trainer Freddie Roach after, and asked him if Khan shouldn't have gone for the KO big-time as the fight went late, given the distinct possibility that the judges would lean away from the Brit. Freddie said he told Amir to gun for the stoppage. I did hear him ask Amir to put Peterson, a 7-to-1 underdog, on his ass after round 11.

Our NYC P4P No. 1, Paul Malignaggi, worked the fight for BBC radio. How'd he score it? "I had it 114-111 for Amir, but that's giving all the close rounds to Amir. I have no problem with Lamont winning, I just didn't expect him to get any close rounds, so I didn't give him any either lol."

NYFightBlog readers, who did you score the scrap, which ran on HBO?
October, 11, 2011
10/11/11
11:06
AM ET
Joan Guzman
will have to prove to himself, his team, his fans and the industry power players that he has his head screwed on straight before he'll get another shot at a meaningful (i.e. lucrative) fight.
He will be presented with a hurdle on Nov. 18, in
Armando Robles
, a 17-1 Mexican-born Utah resident who hasn't met much in the way of world class competition. If he gets over that medium-high hurdle in the Dominican Republic,
NYFightblog
wondered, who in the top tier is Guzman targeting?
"Me in good shape, no one beats me at 140 pounds," says the boxer, who lives in Bushwick, Brooklyn. "
Amir Khan
(the WBA and IBF 140 pound champ), he's a good fighter with an amateur style. He hasn't changed as a pro, he's the same as when he was amateur.
Marcos Maidana
(who holds another WBA junior welter belt, which is a whole 'nother sad matter) is a good fighter, but he only comes forward. My style is dangerous for everybody."
But we get ahead of ourselves when we traffic in future plans. Making 140 for the Nov. 18 bout has to be Guzman's primary goal. He talks the talk on the phone, and seems motivated by the fact that his pride has been punctured.
"I know my fans miss me," he says. "I know they say, 'He has so much talent' ... now I'm different."
He says that he misses the well-wishers coming up to him, calling him 'champ.' "I like the fans, I like the kids coming up to me. But I understand people are mad at me. People say, 'Guzman has no respect for the sport.' I feel bad for that. I change everything. They say, 'Guzman had a lot of talent, he didn't respect that.' "
Guzman found out a hard lesson, that one is not so magnetic when some of the luster comes off, when people perceive you as being on a downward slide. "I had a lot friends that are not friends anymore," he says. "I have a couple of friends now, they are good friends."
I'm not going to tell you the reader how to react to the Guzman story. But I can lobby a bit ... Who among us hasn't messed up in a big way, many of us more than once? Don't we appreciate a second and third chance? Hey, I can identify with going for the easy crutch in the fridge. So I'm especially rooting for Guzman to get his head screwed on straight, solve his scale issues and show the boxing world that he is what we all thought he could be.
Follow me on Twitter here. Send suggestions or hatemail to FightblogNYC@gmail.com.