February, 10, 2014
2/10/14
2:15
PM ET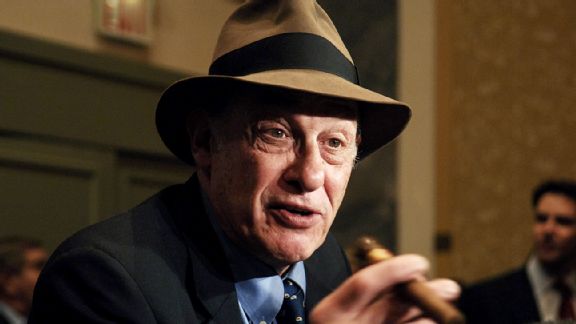 AP Photo/Louis LanzanoBoxing writer and historian Bert Sugar, known for his fedora and cigar, died on March 25, 2012.
He was one of the icons of the sport. He was a throwback link with his appearance and admirable command of the sport's rich history. Two years later, the hole left by the passing of raconteur extraordinaire Bert Sugar has not and I dare say will not soon be filled.
The prolific author who, I think, wore his trademark fedora in the shower. Sugar, who was never without a soggy stogie, left us on March 25, 2012, at age 74.
A Mount Kisco resident, he honed his bonafides and his schtick in the "Mad Men" era of advertising. He made his early mark on the fight game as the editor of Boxing Illustrated in the early 70s, and then The Ring.
His way with words, both written and spoken --he was a go-to talking head for mainstream media when they did their occasional pop-ins to pugilism, for the odd megafight -- was celebrated with a 2005 induction into the International Boxing Hall of Fame.
Now his friend, producer Jules Feiler, has helped put together a proper homage to Sugar, with a half-hour program to run Monday, Feb. 10, on MSG +.
The Sugar tribute features luminaries Lou DiBella, the promoter, Larry Holmes, the former heavyweight champion and Randy Gordon, boxing broadcaster, gather at the downtown Italian joint Ecco, a Sugar fave, and share Bert stories, while host Fran Healy steers the chat on the show titled "
The Game 365
."
"I realized that there were so many of his friends that missed him," Feiler told me. "We all still talk about him a lot. I thought that it was time someone did something about Bert, nothing had been done and it was overdue. Getting everyone together and telling Bert stories brought all the thunderous laughs back, and for a moment, it was like he was sitting there at the bar and had never left."
May, 23, 2013
5/23/13
7:18
PM ET
Matchmaker and New York character extraordinaire Johnny Bos died May 11. Traditionally in our business, we will write about someone's death and then, a few days after, run one or two follow-ups about that person, if he or she was newsworthy. I've never been quite right with that structure. It's as if we have a quota to adhere to.
I'm here to admit that Bos' death is still on my mind, and
I find I am not alone
. He was a powerful persona in the game, within a tight sphere. Bos, who was 61, had an XL personality, was charismatic and passionate about the sport, and could push buttons on you.
One of his most enduring relationships, in the adviser-to-boxer realm, was with Queens native Chris "The Mechanic" Smith. Smith last fought in 2008 and finished with a 21-6-1 record. I chatted with him on the phone Thursday, and we shared memories about Bos. I asked Smith for his favorite anecdote about Bos. He paused, and it was clear he was having a hard time choosing one. "He used to tell me he was proud of me, and not for boxing," Smith said. "It was about not doing stuff, about staying in school. He wanted me to be successful. He was more like family, because you'll have a squabble with family and then always come back to each other."
HBO analyst Max Kellerman spent a good deal of time with Bos back in the day. Bos, a Sunset Park, Brooklyn, native moved to Florida in 2008, but Kellerman, a Manhattan native, will not soon forget the trail he blazed. He recalled that he and his little brother Sam would talk boxing in Johnny's bachelor pad, which was often decorated with laundry, and boxing memorabilia, strewn about.
"He was one of those guys, and Bert Sugar was another, I used to tell Brian Kenny [who hosted 'Friday Night Fights' with Kellerman] that when I was around them, that was the good old days," he said.
Bos had battled heart issues for about 20 years, but still, Kellerman said, Bos' death got to him.
It's been a brutal run the past couple of years, with some of the people most passionate about the sport, including Angelo Dundee, Sugar, Emanuel Steward and Bos, leaving us.
April, 2, 2012
4/02/12
3:17
PM ET
He is 80 years old, and if I get to that place, and I told this to his face when he was in Brooklyn watching the ring action at the Aviator Complex on March 24, I do hope I am close to as vibrant, as with it, as in the game, as Don King still is.

Yes, boxing's Barnum isn't as busy as he once once. He runs shows few and far in between, none of them the blockbusters which he put his stamp up, like the The Thrilla in Manilla and the Rumble in the Jungle. His wife passed away in late December 2010, and we hear periodic stories of his own health woes, but in the flesh he is still a considerable and magnetic presence.

NYFightblog asked The Don what brought him to Brooklyn as we waited for ex heavyweight titlist Sergei Liakhovich to stride to the ring, where he would take the kind of whupping which makes man consider a new vocation, ASAP, at the hands of Bryant Jennings.

"I'm with this young man Vernon Paris, I want to see if the transition is going to take place, the old going on and the young taking their place, coming on," King told me. Alas, his man Paris showed himself to not be quite ready for prime time, as Judah, faster, stronger, more seasoned and skilled, stopped him out in round 9.

When I referenced ole PT, King said it was a pleasure to be referred to at all, and noted he didn't take umbrage at being lumped in with the man (erroneously) credited as living by the credo, "There's a sucker born every minute."

"The mere fact that they call my name is compliment to me," King said. "I feel good about that. I'm a promoter, of the people, for the people, and by the people."

It was Barnum who used to say, "Without promotion something terrible happens... Nothing!"...and I was reminded of that saying as I pondered the sad possibility that megastars Floyd Mayweather and Manny Pacquiao might never give the people what they want, and sign on to fight each other. King has taken periodic stabs at aligning himself with Mayweather, and injecting himself into the equation as a lubricant to getting the deal done. But he's had no success. So I asked him why. Why hasn't the Super Bowl of the sport, which would be the top-grossing fight of all time, been booked?

"Give the people what they want and they will respond," he said. "It's about two things: inclusiveness, and respect. That's why they're losing the ballgame. They're arguing about money, as if money is more important than the fighters. Respect the guy, and you'll get him in there for less. When you disrespect them, it don't even be about money...They're too busy worrying about their feelings being hurt, and being talked to condescendingly, and patronizingly, rather than respectfully."

Money isn't the be-all, en- all, King said. "People are the most important asset."

Whenever I see King, I try to tease him about his political leanings. He backed George W. Bush in 2000 and 2004, and helped tip crucial Ohio, which Bush won by three million votes, to the incumbent with his stumping. In 2008, he backed Obama, and in Brooklyn, he exulted in the win for racial harmony that was Obamas' 2008 victory. He noted that "we aren't there yet," however, and the subject of the slain Florida teen Trayvon Martin came up. "For the man who shot him, right or wrong, to be still free, it's like the old Western days. It's very sad," he said, before shifting to an upbeat conclusion about the racial strides the US has made.

It's good to see King, yes somewhat humbled by the great equalizer that is time, still in the game. We've lost so many legends and icons and characters lately, Joe Frazier, Angelo Dundee, Bert Sugar just a day after I chatted with King, that I find myself embracing the remaining cast-members a little bit more fiercely.
March, 31, 2012
3/31/12
11:22
AM ET
Ex Current anchor
Keith Olbermann
on Monday, when he was still with Current, saluted his first boss,
Bert Sugar
, who died last Sunday. The tempestuous talker recounted how Sugar, then a young admen on Madison Ave., threw his boss through a window, onto a balcony of the high-rise they work in, paving his way for a career as a boxing historian-analyst. Check out the tip of The Hat
here
.
Olbermann, let go by his bosses, which include
Al Gore
, on Friday, refers to Sugar as one of his heroes. Turns out Sugar hired then 15-year-old Olbermann as a researcher in 1974 to work on the book "The Sports Collectors Bible." The combustible Keith will be present at today's Sugar sendoff service in Chappaqua, for the record. May not want to mention the words "current," or the word "gore" in his presence, just to be safe...
March, 30, 2012
3/30/12
1:54
PM ET
A service for
Bert Sugar
will be held tomorrow, Saturday, March 31, at the First Congregational Church of Chappaqua, starting at 2:30 PM.
Bert's old pal
Jules Feiler
, the press agent who is known for his inventive stunts which get pub for clients like Mike Tyson, Dennis Rodman, the Sopranos and the Friars Club, to name but a few, tells ESPN New York that he is quite certain that there will not be another like the ace raconteur. They were fast friends for the past 20 or so years, and Feiler asked his buds, like Boom Boom Mancini, and Larry Holmes, and Chuck Wepner, to get on the phone and check in with Bert the last couple months, while the author-editor was fighting cancer.
I asked Jules if Bert was resigned to his fate, because to me, it's helpful to those left behind when they know a loved one, or friend, or someone they admire, is OK with meeting the end of the road. Jules told me that Bert was a fighter to the end, and last Friday, on the phone, Bert told Jules they'd talk Monday, about a new project. Bert died Sunday.
"Bert was old school, there will not be another like him," Feiler told me. "People talk about him as this Damon Runyon character who knew stories about boxing. But more importantly, he was loyal in a way that is old school, that doesn't exist today. He never did a bad thing to me. He was as loyal a friend as I've ever known.
"
The Church
is located at 210 Orchard Ridge Road. Their number is
(914) 238-4411.
March, 29, 2012
3/29/12
3:39
PM ET
I was on the phone today with
Mark Taffet
, who runs HBO's pay-per-view department, and asked him how he was doing to start off.
OK, he said.
He sounded sort of glum, actually. I asked why, and he admitted he was a little down because of the death of
Bert Sugar
. It turns out Sugar made quite a first impression on Taffet back in 1991, when he and
Lou DiBella
started the HBO pay-per-view arm, TVKO.
"Bert walked into my office, unexpectedly," Taffet recalled. "I had never met him. He was wearing that white basket weave fedora, a seersucker blazer, red and green plaid pants, loafers with no socks. And I thought to myself, 'How did this guy get past security?' He said, in that Bert Sugar fashion, "Uncle Mark, glad to meet you." And he then launched into an impromptu ditty.
TVKO, pee pee vee/Boxing the way it used to be
Taffet remarked that was a catchy jingle, and Sugar replied that that was no surprise, as he had written the most catchy Nestle jingle, "N-E-S-T-L-E-S, Nestle makes the very best." (
http://www.retrojunk.com/details_commercial/721/
)
Sugar was part of the HBO PPV crew for many years after that, doing radio interviews for more than half the day to hype a fight, and writing for HBO.com, and the like. "It wasn't a big pay per view unless Bert was there," Taffett said. With Bert, you didn't even know it was work. He had a great gift of gab, and we were proud to have him as a member of the pay per view team. He was a lovely, wonderful guy, and we will miss him dearly, forever."
March, 26, 2012
3/26/12
2:08
PM ET
In the summer of 1979, Bert Sugar hired Randy Gordon, whom he called "a clean-cut little guy," to be his right-hand man at The Ring magazine, which was swirling down the drain after being front and center in a ratings scandal.

Gordon edited The Ring after Sugar left, was commissioner of the New York State Athletic Commission, did announcing gigs for ESPN and USA, and these days does a radio show with Gerry Cooney on Sirius as he finishes up an autobio ("Glove Affair") about his tenure in the fight game. But, Gordon tells NYFightBlog, out of all his gigs -- even the more high-profile and lucrative ones -- he will most fondly remember his time with Sugar at The Ring.

Gordon recalls that he had been working for Stanley Weston, who put out boxing and wrestling mags on Long Island, for seven years, and in the summer of 1979 he got a call from Sugar. Sugar wasn't then the iconic figure he is now, hadn't yet figured out how to parlay his raconteur persona into being a personality who became as well or better known than many of the world-class pugs he talked and wrote about. Sugar told Gordon he wanted to offer him a job, and this being a different time, they met at a bar to talk turkey. Gordon accepted the gig, and the joint erupted, with Bert offering a round on the house to all.

"We were together for five years, and every day was an adventure," Gordon told me. "Every day something happened that was not the same day as the one before."

The pace was hectic ("We did everything on typewriters, people would mail us results from Japan and Thailand, everywhere. … It cost me my first marriage; we never stopped working, we were working well over 100 hours a week."), but Gordon loves recounting vintage Bert-being-Bert tales: Sugar giving his from-the-night-before poker winnings, $2,500, to a bum, and that resulting in a mass of panhandlers rushing the Ring's office; Sugar trying to brain a famous boxer's dad out of a fifth-story office window for stealing Ring gear and record books during an office visit; Sugar, in a bid to convince crusty columnist Dick Young that he always wore "The Hat," greeting Dick at a hotel room door dripping wet from a shower, wearing nothing but a fedora, damp stogie in mouth; Sugar starting a food fight on a flight back from Vegas when he hurled a piece of cheesecake at fellow writer Michael Katz after the Leonard-Hearns fight. Basically, he did stuff that would get you labeled a gambler, or buy you a pink slip from a concerned-about-PR bossman, or earn you a visit from an air marshall in these different times.

About a week ago, Gordon spoke to Bert on the phone, and his old pal told him he knew the end was near. They had brought The Ring back, but there would be no comeback this time around. Gordon tried to rally the raconteur.

"We'll go to the next big fight in Vegas!" Gordon said.

"Wouldn't that be nice? Wherever I am, maybe I can watch," Sugar replied.
March, 26, 2012
3/26/12
12:37
PM ET
Bert Sugar used to crack that he gave wife Suzanne "the best 10 minutes of her life." The wisecracking author-editor-raconteur joined her on the rollercoaster that is marriage, with more ups than downs, for 51 years.

Suzanne Sugar was kind enough to quickly touch base with me early Monday afternoon, just a day after the stogie-puffing, fedora-wearing fight historian passed away from cardiac arrest following a battle with lung cancer, at a hospital near their Chappaqua home. "I'm in a little bit of shock," said Suzanne, her voice clear and strong.

She said she didn't have much time, as she was busy planning services. Bert's loads of pals and admirers should know that a service is set for Saturday, probably around 2 p.m., with details to come shortly.

Significant others of writers and other artistic types know that the artist can be something of a bear when in churn-it-out mode. Suzanne stood by her man during those times, and there were loads of them, as he put out over 80 books, and was always but always working on one, so she deserves an extra measure of gentle pity during this trying time.
March, 25, 2012
3/25/12
6:16
PM ET
He was quick with a joke and to light his own smoke, an omnipresent stogie, was
Bert Sugar
. And he was the man to go to when you wanted some historical background on the sweet science, preferably delivered with a couple of wry cracks. Author-editor-historian Bert Sugar, for whom the word "raconteur" definitely applies,
has died
from cardiac arrest after a battle with lung cancer.
Sugar, age 75, was surrounded by family at Northern Westchester Medical Center. Our condolences go out to his wife,
Suzanne
, especially.
NYFightBlog is thankful to have chatted with Sugar, who entered the International Boxing Hall of Fame in 2005, for a good 45 minutes back in the middle of December, when he told us he was fighting the good fight against cancer.
"I sort of fell apart," the writer-editor-lawyer-adman-madman told me. "I had everything but terminal acne. You live like hell for all those years, it's going to be hell at the end. It was the end of November. ... My wife is going to correct me; she says it was October. The days start fading into one when you're housebound. I've learned that getting older means you get aches in places you never knew you had. I had radiation, chemotherapy, chemo-sabe. The cancer is in remission. It's over, I've won. I'm back, by unpopular demand. I'm coming along."
Here is our story
from mid-December.
Our thoughts are with his wife and children. Please use the section below to share your comments, condolences or favorite Bert Sugar stories. We look forward to reading them.
December, 16, 2011
12/16/11
11:59
AM ET
He was in the hospital for 15 days last month, and he got the sense from the people coming to visit that the doctors didn't think he'd be leaving the hospital of his own volition. But Bert Sugar, the 74 year-old fightgame raconteur extraordinaire, has defied the docs, and the lung cancer and pneumonia which put him in the hospital. He is back home at his residence in Chappaqua, lovingly sparring with his wife of 51 years, Suzanne, and told NYFightBlog that he is "feeling better every day," and doing some writing.

"I sort of fell apart," the writer-editor-lawyer-adman-madman told me. "You live like an idiot, it catches up with you. I had everything but terminal acne. I gathered they'd given up on me. You live like hell for all those years, it's going to be hell at the end.

"It was the end of November...My wife is going to correct me, she says it was October. The days start fading into one when you're housebound.

"I've learned that getting older means you get aches in places never knew you had. I had radiation, chemotherapy, chemo-sabe. The cancer is in remission. It's over, I've won. I'm back, by unpopular demand. I'm coming along."

Sugar was attracted to the fightgame because of the colorful personalities who live existences which fertile novelists couldn't invent, and over the years, the man with the omnipresent fedora and stogie became one of those characters. After graduating from Maryland, and then obtaining a law and business degree from University of Michigan, he passed the bar. ("Only bar I ever passed," he likes to say.) He came to New York, and soaked up the atmosphere, and whiskey, on Madison Ave. "You've seen Mad Men on AMC?" he asks me. "We were worse." He decked his last boss, and got deeper into the boxing scene. From the late 60s through the 80s, he edited Boxing Illustrated, Ring, and Boxing Illustrated again. In 1998, he edited Bert Sugar's Fight Game magazine, and along the way, he churned out books. He was elected to the International Boxing Hall of Fame in 2005, and made Hall head Ed Brophy chuckle when he took the call informing him he'd gained entrance. He asked Brophy to call back, because he was watching Michigan in the Rose Bowl against Texas. Reverence has never been his bag.

Today, he is working on a book of essays, called "The Best of Bert Sugar, The Worst of Bert Sugar, Don't Worry, It's the Same Thing." But he's not puffing stogies while composing. Ironically, he had given up cigars a few weeks before he was admitted to Northern Westchester Hospital in Mount Kisco. When I asked about his lung cancer and if he was a serious puffer, he answered, "Does Dolly Parton sleep on her back? Yes, I smoked."

In fact, the day he went to the hospital, he got in the mail a box of "Bert Sugar Premium Cigars," available at the finest retailers everywhere. So, does he still recommend people purchase a box? "Oh yeah," he said. "I just can't smoke right now, doctor's orders."

Fightgame people had noticed that Sugar hadn't been at some recent big fights, and wondered what he was up to. He said he'd aiming to get back into circulation, but is working to regain his strength. "If you don't walk for a few weeks, you have to reorient to walking, fer chrissakes," he said.

Sugar is one who looks for the laughs and doesn't dwell, at least publicly, on deep philosophical matters. But he does go there, a bit anyway, during our 20 minute chat.

"Half the people are rooting for me to recover, half are not," he said, perhaps joking somewhat. "I've been an editor, lawyer, adman, writer, announcer. I've gotten away with things. This has been fun but maybe I'm paying for it. Somewhere, some way, somehow, it's going to come back and revisit you. But I don't regret a step."

He intends to keep on hammering away, add to the 80-plus books he's put out, and won't concede to any inevitable deterioration. "A couple years ago, my son was asked about me retiring. He said they let me drink, smoke and bullshit, and I get paid for it. He said, what was I going to do, drink, smoke and bullshit, and not get paid for it? This is fun. I still got my writing boots on, I'm going to continue. I've spent lot of time becoming a pain in the ass, I don't want to relinquish that."