January, 3, 2014
Jan 3
12:33
PM ET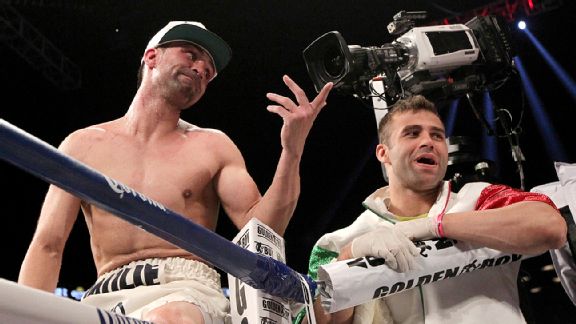 AP Photo/Mary AltafferPaul Malignaggi gets our nod for Fighter of the Year.
Here's the last part of my look back at my favorite posts of 2013.
July:
Transition time for newlywed Amir Khan
Who's next for Floyd? That question can dominate endless news cycles, as we keyboard tappers and the social media mavens speculate and opine on who should be graced with one of two lottery tickets "Money" dispenses every year.
Last July, amateur Sherlocks thought they were receiving a hint on a near-future Floyd foe with a flurry of Amir Khan sightings in NYC. On July 16, NYFightblog talked about Khan's recent marriage festivities, and guess what, six months later, we're still speculating. Khan seems to be the front-runner to fight Floyd on Mayweather's forthcoming May date.
August:
Mike Tyson reveals sobriety slip
Some folks dismiss Mike Tyson's third act as a promotional ploy, and insist that he simply manufactures and manipulates his personal drama as fodder for the masses. Me, I admire the former heavyweight champion and Baddest Man on the Planet for laying out his foibles and not presenting himself as a totally rehabbed character who has seen the light and is now a perfectly actualized being.
On Aug. 24, I touched on Tyson's public admission that he'd had a sobriety slip. The confession rang true for me, because I've seen Tyson act in movies, and he isn't an Oscar-worthy talent.
September:
Malignaggi: Floyd Mayweather is best ever
Paul Malignaggi is not shy. Never. The man will tell you what is on his mind, even if it means you might be offended.
On Sept. 16, Paulie told us that he thinks Floyd Mayweather is indeed the best of all time, better than the Sugar Ray, Henry Armstrong, et al. "I think Floyd beats everyone in history, and anyone who doesn't realize that by now is stubborn, blind, stupid or all three," he told NYFightblog. "He is the best ever." This came after Floyd made Canelo Alvarez look like a prospect-level pugilist in Las Vegas enroute to a decision win. There is no doubt the "how good is Floyd?" debate will rage on as long the Earth keeps spinning.
October:
Tissues needed at Gatti-Ward screening
For my birthday, on Oct. 16, the wife and I went to a screening of "Legendary Nights: The Tale of Gatti-Ward" at HBO's headquarters in Manhattan.
I, like every single person who tuned in, adored the effort, which reminded viewers of just how different some souls are built than us regular folks. Fighters like Arturo Gatti and Micky Ward have a reservoir of willpower and competitiveness which needs an outlet, which they find in the ring. We're lucky to be able to witness it.
November:
Thoughts on the Abdusalamov tragedy
It was one of the better heavyweight bouts you'll see in this age of subpar talent in the highest weight division. The Nov. 2 Magomed Abdusalamov-Mike Perez bout at the MSG Theater, however, will be recalled as the night Mago was too brave for his own good.
Perez got the better of it over ten rounds. After the fight, Mago was taken to a hospital, where he underwent emergency surgery for brain damage.
We continue to follow his story, which today leaves him in an upstate rehab facility, where his warrior resolve is being put to the test as he tries to regain the ability to walk and talk.
December:
Malignaggi tops Judah to plant his flag
Paul Malignaggi is the 2013 NYFightblog Fighter of the Year.
Yep, he only went 1-1 in 2013, losing a tight decision to Adrien Broner before finishing up with a win over Zab Judah. But his output this year went beyond in-ring exploits. Importantly, he showed, with his reflexes and still superb command of the ring, that at 33 he remains a world-class fighter. Also, his work on Showtime, as their lead analyst, has drawn universal raves. Even those who might have been disposed to give him a thumbs down, for that New Yawk accent, have to concede he has a gift for making smart points during fights. Congrats, Paulie.
And thank you, readers, for making this little niche on this fine website a regular destination.

I wish you a happy, healthy, bountiful New Year.
January, 2, 2014
Jan 2
12:30
PM ET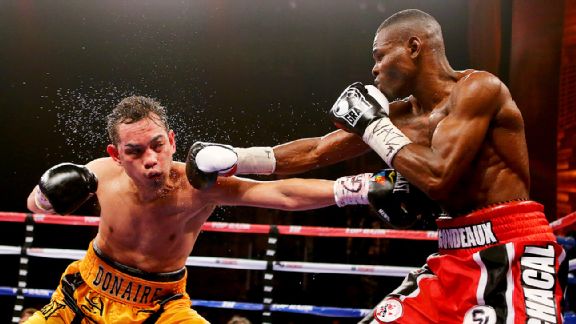 Al Bello/Getty ImagesGuillermo Rigondeaux beat Nonito Donaire at Radio City in April.
The Big Apple fight scene was pretty darned vibrant in 2013, with Barclays Center further emerging as a go-to player in the mix as Golden Boy placed pretty compelling fights in Brooklyn -- even if Vegas, California and Texas sometimes got more love than the hippest borough it the world. But that didn't mean Manhattan receded, or became the Podunk borough -- no way.
April:
Rigondeaux beats Donaire at Radio City
Maybe the most surprising result of the year occurred at Radio City Music Hall on April 13, when 12-0 Cuban Guillermo Rigondeaux made Nonito Donaire look like the level of boxer he'd had his way with while amassing a 31-1 record. Rigo won a UD12, via scores of 116-111, 114-113 and 115-112, and this sport of ours, the theater of the unexpected, once again showed us that you can go from the penthouse to the outhouse in the span of a half hour. Donaire, the 2012 Boxing Writers Association of America's 2012 Fighter of the Year, went from pound-for-pound ace to someone who needed to prove his worth to be mentioned in the same breath with the best and brightest.
May:
Roach: Mayweather is a little bit boring
2013 was yet another year in which fight fans discussed the possibility and probability of a clash between Floyd Mayweather and Manny Pacquiao. This is by design, of course, as savvy marketer Mayweather knows that legions of Twitterheads and gullible media sheeples will discuss this theoretical faceoff ad nauseam. On May 7, Pacquiao's trainer Freddie Roach weighed in and critiqued Floyd's winning effort against Robert Guerrero on May 3, getting in a knockdown slapdown on Floyd for being boring.
June:
Don't quickly dismiss Malignaggi vs. Broner
Paul Malignaggi, the Brooklyn-bred boxer who doubles as an analyst on Showtime, had a tremendous year. Not just in the local scheme of things, but overall. Yes, he went 1-1, losing to Adrien Broner on June 22 and then finishing the year with an easy money win over desultory Zab Judah on Dec. 7. Many folks thought Paulie would get his hat handed to him by Broner, but I told you on June 16 that Paulie was a most live 'dog.
Malignaggi showed his intelligence everywhere he went, utilizing superb ring generalship against Broner en route to winning on one of the three judges' cards. That, and he emerged into the consensus pick as the best analyst on the tube today, showing an ability to communicate incisively, in manageable chunks, without being repetitive or too cheerleadery.
January, 2, 2014
Jan 2
11:38
AM ET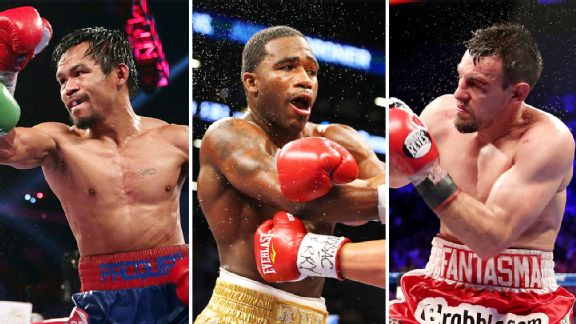 Getty ImagesManny Pacquiao, Adrien Broner and Robert Guerrero gave the blog some extra punch in 2013.
We had a real nice year here at NYFightblog, if we -- OK, me -- do say so ourselves. I had a humongous blast covering the local scene, and I was so happy with the response from you fine folks, especially the increased traction on social media, especially Facebook. I thought it would be a fun exercise in proving just how bad my memory is if I looked back at last year's posts, and chose one favorite from each month.
Here you go:
January:
Should Pacquiao fight on?
On Jan. 19, I pondered if Manny Pacquiao, dropped and stopped a month before in his fourth tangle with Juan Manuel Marquez, should fight on or call it a day. Well, Manny did continue with the sweet science and proved that any folks suggesting he exit gracefully needed to re-evaluate.
February:
Broner says Mayweather fight won't happen
On Feb. 13, Adrien Broner's confidence level splashed over the rim, with the Cincinnati-based boxer boasting -- yep, always boasting -- a 25-0 record as he headed toward a clash with undersized Brit Gavin Rees in Atlantic City. I asked Broner if he'd be willing to glove up against the best in the biz, Floyd Mayweather, and the man who told us his initials stood for "About Billions" put his foot down firmly in the "no" camp. Talk of a Mayweather fight isn't in the air now, not after, as many experts scream, the cocky scrapper was exposed as having more flaws than he let on against Marcos Maidana, on Dec. 14.
March:
Guerrero: God chose me to humble Floyd
If you needed another lesson that the Almighty doesn't play favorites, or maybe even pay attention, to prizefights, it came in May, when Robert Guerrero got schooled by Mayweather. Guerrero, the crusader for Christianity, told us on March 26 that he was a chosen one who'd been put in this situation to humble the mouthy Mayweather. Er, it didn't come off that way. Me, I've always assumed that any higher power has bigger fish to fry than who'll win a boxing match or a football game, and I dismiss all "look how blessed I am" pronouncements by athletes as so much narcissistic humble-bragging.