March, 6, 2013
3/06/13
7:09
PM ET
The ballots have been counted, and the results are in. All-time heavyweight great Jack Dempsey and promoter Bob Arum top the second New York State Boxing Hall of Fame class, and they'll be feted during an induction dinner on Sunday, April 28.

"This is an exceptional group of inductees," NYSBHOF and Ring 8 president Bob Duffy said. "We are inducting legitimate New Yorkers in the New York State Boxing Hall of Fame. All of these inductees have a significant impact on New York State boxing during their respective times."

Others to make the cut include featherweight Johnny Dundee (83-32-20, 17 KOs); two-time world featherweight champion Sandy Saddler (144-16-2, 103 KOs) and light heavyweight champion Maxie Rosenbloom (207-39-26 (19 KOs). Living boxers heading into the Hall include middleweight Joey Archer (61-6-9, 50 KOs), three-division world champion Iran Barkley (43-19-1 (27 KOs); Mark Breland (35-3-1, 25 KOs), light heavyweight Bobby Cassidy (59-16-3, 27 KOs); world heavyweight challenger Doug Jones (30-10-1, 20 KOs), Junior Jones (50-6, 28 KOs), James "Buddy" McGirt (73-6-1, 48 KOs) and Eddie Mustafa Muhammad (50-8-1, 39 KOs). Non-participants heading into the Hall include managers Shelly Finkel and Tony Graziano, analyst Larry Merchant, matchmaker Teddy Brenner, announcer Don Dunphy, and promoters Mike Jacobs and Tex Rickard.

All boxers needed to be inactive for at least three years in order to be eligible for NYSBHOF induction, and all inductees must have resided in New York State for a significant portion of their boxing careers.

Tickets for the induction dinner are priced at $150.00 per adult ($125.00 for Ring 8 members in good standing) and $50.00 for children, and includes a complete brunch and cocktail hour upon entry, starting at 12:30 p.m., as well as dinner (prime rib, fish or poultry) and open bar throughout the evening. Tickets are available to purchase at the Waterfront Crabhouse (2-03 Borden Ave in Long Island City), or by calling Tony Mazzarella at 718-729-4862 or Ring 8 president Bob Duffy at 516-313-2304.
November, 15, 2012
11/15/12
5:06
PM ET
Promoter Bob Duffy considered canceling his fight card, set to unfold at the Plattduetsche Park Restaurant tonight, in Franklin Square, when Sandy and LIPA dropped a hammer on the island. The event was originally scheduled for Nov. 1 and was nearly canceled after the storm.

"I felt we owed it to the boxers and the Long Island community to have this show," Duffy explained. "These kids work so hard. Even though many of them were without electricity and were struggling to put gas in their cars, they never broke training. They found a way to get it done."

Hicksville's Tommy Rainone meets Missouri Golden Gloves champ Robbie Cannon in the main event, and lightweight Mike Brooks, Cindy Serrano, Rich Neves, Anthony Karperis and Nick Argyris will do battle underneath.

Argyris' home in Babylon and his car were both destroyed by the storm, so perhaps his foe should be ready for the fighter to be extra ready to rumble.
September, 19, 2012
9/19/12
11:10
AM ET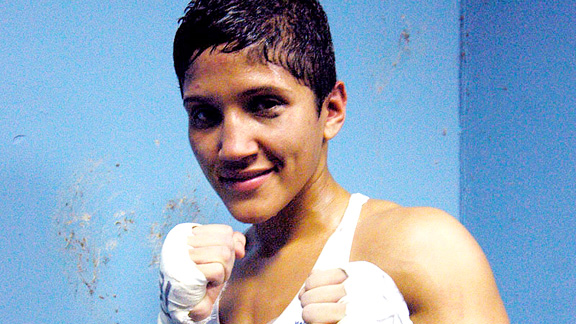 AP PHOTO/Chris Lopez
Will Brooklyn's Cindy Serrano step into the ring against her own sister?
Amanda and Cindy Serrano have signed a promotional deal with Bob Duffy's Ring Promotions and event producer David Schuster's Winner Take All Productions.
"We are thrilled to be promoting the Serranos," Duffy said. "I've watched them mature as fighters over the years and they are completely world class. They are capable of beating anyone in the world within their weight class."
Cindy Serrano, 30, is 17-5-2 with 8 knockouts and holds the WIBA International lightweight belt. Amanda Serrano, 23, is 15-1-1 with 10 knockouts and is the former IBF super featherweight world champion. Both fighters will be campaigning at 130 pounds.
The ladies live in Brooklyn and train out of the International Boxing and Fitness Gym in Ridgewood, Queens.
Both have expressed interest in fighting each other, which would be a first for females in the boxing world. Might this move get them closer to that goal?
July, 10, 2012
7/10/12
4:55
PM ET
Boxing promotions often -- OK, usually -- come off as dated, antiquated, behind the times. Especially at the arena, during a big card which is being shown on HBO or Showtime, the fans can be left twiddling their thumbs for loooong stretches while waiting for another fight to begin.

Me, if I ran things, I'd try to fill the time. Singing, dancing, juggling, something. But sadly, the fans at the arena are often blown off, because promoters are most taken with the fat $ chunk the TV network throws at them, and thus, cater to TV over the true fans. It ain't right ...

That said, I like what promoter Bob Duffy is putting together for his Aug. 11 show at the Plattduetsche Park Restaurant in Franklin Square. He will present fights, including a NY State junior middleweight title fight between Brooklyn's Cindy Serrano and Kerri Hill of Little Rock, Arkansas. But before the bouts kick in, Duffy will offer a staging of "Kid Shamrock," the play written by Bobby Cassidy Jr. based on the life of his dad, ex-contender Bobby Cassidy Sr.

"This is a once-in-a-lifetime event," said former heavyweight champion Michael Bentt, director of "Kid Shamrock." "I've seen some of these prospects fight and I am telling you the future looks bright for them. The cast is ready, the fighters are ready, don't miss this."

The "Shamrock" cast includes Mark Breland (Olympic gold medalist, two-time welterweight champ), John Duddy (ex-IBA middleweight champ), Seamus McDonagh (fought Evander Holyfield), Mark McPherson (ex-world ranked junior middleweight) and Junior Jones (five-time champ).

December, 19, 2011
12/19/11
12:25
PM ET
Every now and again, especially after I've watched two guys whale away at each other, and I ponder the loss of brain cells and potential long-term damage, I need to be reminded about the best elements of boxing. I got some of that on Sunday afternoon, at the annual Ring 8 holiday gala, which unfolded at Russo's on the Bay in Howard Beach, Queens.

Ring 8 is an organization which honors boxing old-timers, focusing on guys who did their thing decades ago, of whom time may have passed by, but still deserve to be remembered and lauded. Ring 8 also exists to give some of these guys a financial hand-up when needed. And as I was reminded Sunday, the organization does a swell job at getting the word out that boxing can be an absolute lifeline to a directionless kid whose career and life options are likely limited to jail or death. Kids who have an iffy home life are often seduced by the street, embraced by other dead enders who haven't been properly nourished by solid role models, and indulge in antisocial and/or illegal acts.

Roy Jones, who fought on Dec. 10, winning a UD10 over Max Alexander. He will turn 43 in January, and lost three straight before beating journeyman Alexander. But he reminded the attendees that he loves the sport, and will do it as long as possible, because he isn't "afraid to get knocked down.

"Boxing taught me more about life than anything," said the future Hall of Famer. "Every little kid needs to know about boxing, especially little boys." He was given the Fighter of the Decade Award. Wiseguys cracked that no one is sure what decade that is.

Trainer-manager-TV analyst Manny Steward gave Ring 8 a shoutout, calling it "maybe the best organization in boxing" as he received his Trainer of the Decade award.

Teddy Atlas, present to give Marcus Browne the Amateur Boxer of the Year award, told the crowd how important it is for aimless kids to receive direction and boosts in self esteem that boxing can give. "It's an opportunity to not just win the Golden Gloves but to become better people," he said. Brown, a 20 year-old light heavy from Staten Island, won at the Olympic Trials and can secure a berth at the 2012 Games if he enjoys success at the US Nationals in March.

John Ruiz, who just wrote a book for kids ("Hook and Jab"), and opened a gym in Massachusetts, looked fit and trim. But the ex heavyweight champ, who was honored as the First Hispanic Heavyweight Champion, told me that he is done. He turns 40 on January 4.

Attorney Keith Sullivan won Member of the Year, and received a loving testimonial from pal Jack Hirsch, the president of the Boxing Writers Association of America. Hirsch said Sullivan, who does a huge amount of pro bono work, is almost single-handedly helping the reputation of lawyers in the region. Sullivan helps Ring 8, and the Atlas Foundation, and doesn't get a dime for his expertise. He told me he is happy that Ring 8 membership has seen a huge spike in recent years and that the organization is thriving.

David Diamante acted as emcee, and was congratulated by partygoers when it was announced that he beat out hundreds of contenders to win the spot as voice of the Nets, who will play in the still-being-built Barclays Center. Diamante, who emcees Lou DiBella's shows, owns a cigar lounge in Fort Greene, so his vibe will be a good fit for the team. "It's a blessing," he told me. "I was the last man standing."

Also present at the bash: NYSAC commission chair Melvina Lathan, Tommy Gallagher, his guy Gabriel Bracero, another kid saved by boxing, promoter Rich Komissar, Ring 8 president Bob Duffy, Tomasz Adamek, Delvin Rodriguez, Vinny Maddalone, and Vito Antuofermo.