January, 25, 2013
1/25/13
1:21
PM ET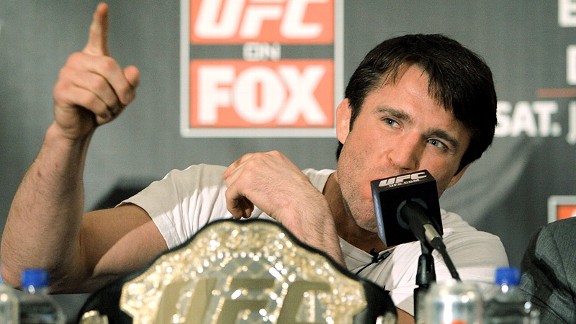 Josh Hedges/Getty ImagesChael Sonnen is known as much for his soundbites as his takedowns.
Several times throughout the Wednesday UFC media luncheon put on to hype the April 27 clash between light heavyweight champion
Jon Jones
, a New York native, and challenger
Chael Sonnen
, I found myself pausing after taking in a Sonnen soundbite, and asking myself if he was putting me on. The guy has a rep for being a button pusher, a master provocateur, a wordsmith who delivers soundbites with a theatrical intensity unmatched in mixed martial arts. Like when he said on a conference call leading up to his 2010 fight with
Anderson Silva
at UFC 117, "I'm the toughest guy in the company, period ... whether it's Anderson or any other opponent," he said. "There's never been a guy with earrings that can out-tough me and he's not going to be the first."
The certitude, combined with the splash of humor, the delivery that seems tailor-made for Vince McMahon's WWE, leaves me craving more Sonnen when he gets going.
As when the Oregonian told me at the luncheon, which was held at the Italian eatery Carmine's in the theater district, that he had never laid eyes on a televised basketball, football or baseball game, and didn't know that the 49ers were in the Super Bowl until days after they won their conference final... I wondered: Is this guy pulling my leg?
I'm still not fully clear on that, but no matter, that's part of the fun, mulling his word choice, trying to decipher his intentions. He and Jones were fully cordial during the chow session, and there was no venom on display from the 35 year-old wrestling specialist. At one point, Sonnen brought his cell phone over to Jones, and handed it to him, explaining that he had a kid on the line who was contemplating giving up wrestling. Want to give him a pep talk, Sonnen asked Jones? Jones took the phone, asked the kid if he was for Team Sonnen or Team Jones when watching the FX reality show "The Ultimate Fighter," which features those fighters as coaches during the current season, which kicked off this week. Jones said, "Wrong answer, call over," with a chuckle when the kid said "Sonnen." (Sonnen later explained that the kid said he thought Sonnen was impersonating Jones).
Sonnen (28-12-1) shows zero fear at trafficking in potentially dicey or controversial material. He told me he liked Bill O'Reilly of Fox News, and had made no secret of being a Republican, knowing full well that the "liberal media" could well be inclined to stir that pot, and focus on that factoid.
I also wondered if I was being ribbed when he said that 99 times out of 100, the tougher man wins in a fight. No, not the more skilled guy, not the man who owns a superior technical arsenal, the fighter whose footwork was the difference-maker. That's all blah blah blah stuff, grist for the mill for the writers, he said. The tougher man gets his hand raised, he declared. This means that Sonnen believes that 12 times he's been the weaker man? I found it fascinating that a man who exhibits such an aura of belief in self would make such an admission. That stance made me better understand his Twitter bio, in which he labels himself a "dual master in dominance and modesty."
His ability to skillfully juggle this duality, and share beliefs that others are too shy or reticent because of an intellectual inferiority complex to say aloud* makes him my favorite MMAer in the game. He's a superb fighter, and an even more compelling character.
* Sonnen had this to say in the leadup to his UFC on Fox clash against
Michael Bisping
, last January: "You know, these guys want to talk about God. 'Oh, I want to thank God. I want to thank God.' Listen, I'm a God-fearing man, go to church every Sunday and have since I was a boy. But if I ever found out that God cared one way or another about a borderline illegal fist-fight on Saturday night, I would be so greatly disappointed that it would make rethink my entire belief system."
Note: Check back for more from Jones, who talked about his DUI, and how that has affected him, and possibly fighting in Madison Square Garden in November.
January, 25, 2013
1/25/13
1:08
AM ET
You could tell who were the writers and who were the fighters during an intimate media luncheon put together by the UFC at Carmine's in NYC's Theater District on Wednesday. As pound-for-pound ace
Jon Jones
, the 25-year-old Ithaca, N.Y., resident and 35-year-old
Chael Sonnen
, the wrestling and trash-talking and hype-building wiz, turned their nose up at platter after platter of penne a la vodka, and glistening garlic bread, as the media shoveled in forkfuls of eats. The fighters talked about their April 27 scrap, which will unfold at the Prudential Center in Newark, N.J., and the six weeks they spent as coaches on the FX reality show "The Ultimate Fighter."
For regular readers of this space who may not be that familiar with the product, Jones is one of the top handful of MMA fighters on the planet. He burst out on radars everywhere when he beat light heavyweight champ
Mauricio "Shogun" Rua
in August 2011, becoming the youngest UFC champ ever. He downed
Quinton "Rampage" Jackson
, and then
Lyoto Machida
, and then former pal
Rashad Evans
at UFC 145. His basically unblemished run hit a slight bump, though, when he got busted for driving while intoxicated after he drove his Bentley into a pole in Binghamton, N.Y., and then turned down a bout with a replacement, Chael Sonnen, who would have subbed in for injured
Dan Henderson
, eight days before fight night.
Jones sparred with UFC chief Dana White, who said the refusal to fight Sonnen was a "disgusting decision" when he pulled the plug on the whole card.
Some of those who sided against Jones got back on board when he showed a mile-wide heart to shrug off a
Vitor Belfort
arm-bar in round one of their UFC 152 faceoff on Sept. 22, and came back to win via an Americana.
Sonnen first appeared in UFC in 2005, and has stayed with the company since 2009. His magnetism came to the force before he took on
Anderson Silva
at UFC 117 in August 2010; who was this guy with a pile of losses on his ledger saying he was going to retire the best mixed martial artist on the planet? He actually led going in to the final round, before the Brazilian finished him with a Triangle choke. The goodwill evaporated when Sonnen's system showed excessive testosterone, and he was suspended by the California State Athletic Commission for almost a year. This came after a vague reference to a "legal issue" he cited for pulling out as a candidate for an Oregon House seat a few weeks before the Silva fight. The "legal issue" turned out to be his involvement in a real estate mortgage scam; a part-time realtor at the time, Sonnen pled guilty to one count of money laundering and received two years probation in early 2011. Things smoothed out, and he came back to the Octagon.
A rematch with Silva started well at UFC 147, but "The Spider" stopped Sonnen in Round 2. Critics, some of them fellow fighters under the UFC umbrella, accuse him of being a better talker than fighter, and squawked when White picked Sonnen to be a coach on "TUF" and to fight Jones. He'd been campaigning at middleweight (185 or less) and light heavies like Lyoto Machida and Dan Henderson felt passed over by someone who didn't have a track record at light heavy (205 or less). "I guess I should just quit training to win fights and to be exciting for the fans and just go to s--- talking school," Henderson Tweeted after getting the news.
All due respect to Henderson, a marvel at 42, a real John Wayne-y throwback in the
Randy Couture
mold, but Sonnen gets it that athletes today get extra points -- and money, and media exposure -- if they are entertainers as well as sportsmen. That side of Sonnen was on display less than expected at Carmine's, and I saw charisma from Jones as well, though not the same variety. Check back for part 2, and hear what Jones had to say about his brush with Johnny Law and get Sonnen's picks in the Super Bowl.