September, 19, 2012
9/19/12
11:10
AM ET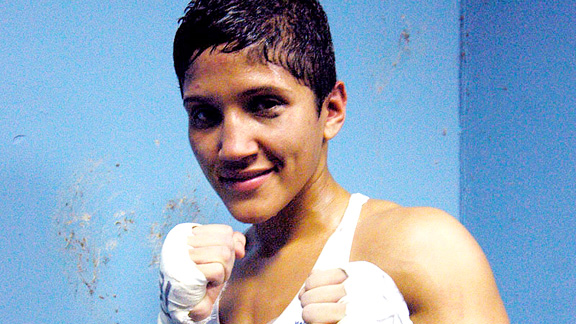 AP PHOTO/Chris Lopez
Will Brooklyn's Cindy Serrano step into the ring against her own sister?
Amanda and Cindy Serrano have signed a promotional deal with Bob Duffy's Ring Promotions and event producer David Schuster's Winner Take All Productions.
"We are thrilled to be promoting the Serranos," Duffy said. "I've watched them mature as fighters over the years and they are completely world class. They are capable of beating anyone in the world within their weight class."
Cindy Serrano, 30, is 17-5-2 with 8 knockouts and holds the WIBA International lightweight belt. Amanda Serrano, 23, is 15-1-1 with 10 knockouts and is the former IBF super featherweight world champion. Both fighters will be campaigning at 130 pounds.
The ladies live in Brooklyn and train out of the International Boxing and Fitness Gym in Ridgewood, Queens.
Both have expressed interest in fighting each other, which would be a first for females in the boxing world. Might this move get them closer to that goal?
October, 2, 2011
10/02/11
10:49
PM ET
Fighting Serrano Sister Cindy Serrano went overseas to attempt to take French welterweight champion Anne Sophie Mathis' crown Saturday night.

NYFightblog heard from Cindy's trainer Jordan Maldonado Friday, when he expressed concern that the wind was in their face in Moselle. He weighed in again late Saturday, after the Brooklyn gal, now 15-4-2, fell short, losing a unanimous decision to Mathis.

Here's his email report:

"Hey Mike, like I said we would, we fought the judges and the ref as well as Mathis. She was hitting us behind the head and shoving and the ref did nothing. He threatened to remove me from the corner for yelling at him for not doing his job. The girl was 24-1 with 21 KOs, and thought we would be number 22. Not in this lifetime. Ten round decision loss. I pretty much knew it when I took the fight. --Jordan

C'est la vie.
September, 30, 2011
9/30/11
11:24
PM ET
NYFightblog readers know about the
Fighting Serrano Sisters, Amanda and Cindy
.
The Brooklyn residents are hoping to be the anti-Klitschkos, and actually sign a contract to fight each other.
Older sister Amanda Serrano (age 29; 15-3 record with 7 KOs) is set to fight Frenchwoman
Anne Sophie Mathis
(24-1 with 21 KOs), a welterweight champion, in Moselle, France today.
I received an email update from her trainer,
Jordan Maldonado
, late Friday. I'm sharing it with NYFightblog readers. He also texted me, and said he's working on getting a date for Amanda and 22-year-old Cindy, who is 12-0 with 8 KOs, to scrap.
Hi Mike,
We are here in France, got here Thursday afternoon. Weather is nice! The weigh-in was today, Cindy weighed 145, Anne Sophie Mathis weighed in at 145.5, both right under the scheduled 147 mark. We fight for three titles, the WBF,WIBF & the WIBA welterweight titles, all owned by Sophie. Fight is tomorrow, we are ready although a little disappointed... once again the ref & two judges are from here, the other from Germany. No American judge, but that usually is the case when you fight in someone's backyard. All that can be said is as always we will fight hard & leave it in God's hands! Everything else will be geared against us. She is a big star here! Enough said.
Thank u & will talk soon.

Jordan

September, 12, 2011
9/12/11
4:33
PM ET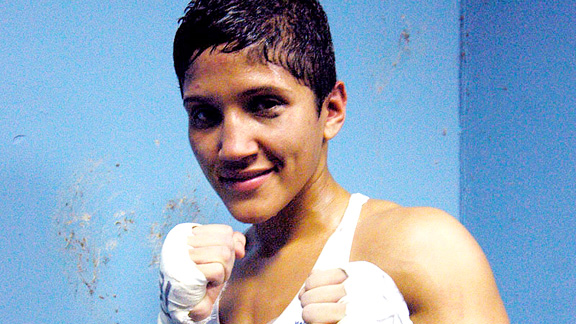 AP Photo/Chris Lopez
Cindy Serrano (pictured) and her sister Amanda are both professional boxers, and want to fight each other.
It wasn't too easy getting in touch with
Amanda Serrano
, to ask about her title fight last Saturday night, which unfolded at the Aviator Complex in Brooklyn.
She does not, you see, own a cell phone. Not because she's on a strict budget or what have you.
No, Serrano, a 22-year-old Bushwick resident, doesn't have a phone because she sees no need to get a device to communicate within her social circle. That is because, she tells NYFightblog, her social circle consists of her older sister
Cindy
, age 29, and her trainer/manager
Jordan Maldonado
.
Amanda, promoted by
Boxing 360
, a newish local outfit headed up my
Mario Yagobi
, beat
Kimberly Connor
by KO-2 on Saturday. She offered her take on the bout, which yielded to her the vacant IBF female super featherweight crown: "It was a good fight, Connor was tough. She was the bigger girl but the opportunity was too great to pass up." The fight was held at a catchweight, at a max of 128 pounds, and Serrano felt the power of her foe in the first. She listened to her corner, and went to work on combos in the second. She scored a knockdown, knew she had Connor in a bad way, and finished off the night at 1:45.
So, what's next for the younger Serrano? Just maybe, a brawl with big sis.
Cindy takes on welterweight
Anne Sophie Mathis
on Oct. 1 in France. After that, she'll likely come back down to Amanda's weight range, and the two will sign a contract to fight each other.
The
Klitschko brothers
, Vitali and Wladimir, have sworn that they'll never face off to see who this era's best heavyweight is. Amanda is contemptuous of that decision.
"Why did they get into the same sport, and the same division, if they don't want to fight each other?" she said. "If the money is right and we have the opportunity, it's going to be tremendous. We want to do the unthinkable. We don't want to be like the Klitschkos."
They spar regularly, and Maldonado told us that he marvels at the intensity on display. "I tell them, if they fight other people the way they do each other, they'll never lose."
So, who'd win?
Amanda laughed, and told me they have different styles. She's a brawler, big sis is a boxer. "In sparring, I think, 'I'm not the little sister anymore,' and she thinks, 'My little sister is not kicking my butt.' ''
Would the brawler be able to look to take her foe's head off if her foe is her sister?
"We spar that way," Amanda said. "In sparring, she tries to take my head off, too."
So wait ... the sisters live at home, with their parents? Are the parents aware of this plan? Will they go along with it, or threaten eviction if the sis vs. sis scrap happens?
"My dad heard about the plan and wasn't that happy, but he said he'll support it. We'll make up a shirt for him, half me and half my sister."