Boxing:

cornelius bundrage
June, 5, 2013
6/05/13
11:13
PM ET
Miguel Cotto needs a dance partner for his next fight. Who will take a twirl with the Puerto Rican future Hall of Famer, who is wearing his promoter hat and overseeing a show at Turning Stone Casino in Verona, N.Y. on Friday night?

How about Gabriel Rosado, the Philly based rumbler with a so-so win-loss record but a fellow who fight fans know will test anyone and give the fans their money's worth? I asked Russell Peltz, who promotes him, if that could be a makeable fight.

"Rosado has been trying to put together him and Austin Trout on the internet," Peltz told me. "Is that a good style matchup for Gabriel [Rosado]? I like the weight class, 154. I don't like the style. I'd like to see him fight Miguel Cotto."

We've heard that the 32-year-old Cotto could be gloving up with Cornelius Bundrage, but the whispered word on the street is that Showtime might not be keen on Bundrage as a Cotto foe, so maybe Rosado (21-7) does have a shot.

"It would be easier to make if he had his hand raised in Las Vegas," said Peltz, referencing Rosado's disappointing split-decision loss in 10 rounds against J'Leon Love, who is promoted by Floyd Mayweather. "A choice for the fight fan, between Rosdao or Bundrage? C'mon."

Fans, what do you think? Cotto could use an opponent who is a half step under the caliber of his last foe, Trout, who he lost to last December in a unanimous decision after 12 rounds. I think Rosado fits that bill. But Rosado has lost two straight, to Gennady Golovkin, and then lost to Love. Does that remove him from the running in this fantasy matchmaking exercise? And by the way, Cotto is on a two-fight slide himself.

Weigh in!
May, 29, 2013
5/29/13
4:53
PM ET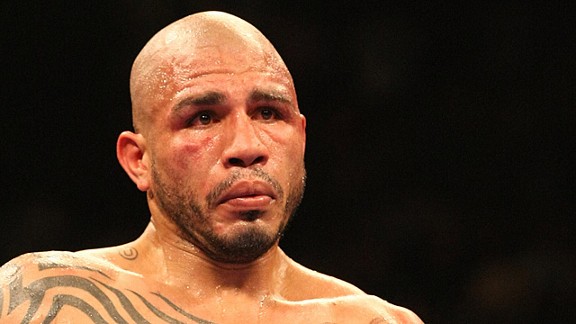 Al Bello/Getty ImagesFor Miguel Cotto, who has been one of boxing's biggest cash cows since 2006, the end appears near.
Miguel Cotto has been a consistent revenue driver for the sport of boxing since at least 2006.
He could be counted on to pack Madison Square Garden every year, in concert with the Puerto Rican Day Parade in New York City, and he could bring a few hundred thousand PPV buyers to the table as a "B side" when gloving up against the Mayweathers and Pacquiaos.
But he's 32, has lost his past two bouts, and fans who have appreciated his willingness to butt heads with the best -- and generally be a low-maintenance sort who simply shows up, gives his all, then rinses and repeats -- are cognizant of the possibility that the end is near. Yes, one of the sport's most consistent performers and cash cows can see the finish line, and it isn't far off.
He's given signals,
ramping up his promotional business
. But Cotto, who is putting on a fight card June 7 in Verona, N.Y., insists that boxing is still present in every vein and that he's still a top-tier player.
Word on the grapevine is that he's going to come back to the ring in late September, against Cornelius Bundrage at Barclays Center. I asked him to confirm that rumor.
"I don't know yet. It's speculation," Cotto told NYFightblog.
Cotto is never one to indulge in a lengthy soliloquy about his hopes, dreams and plans. So I delved deeper with his best buddy, Bryan Perez, who helps run Miguel Cotto Promotions.
Perez said no foe or specific timetable has been set for Cotto's in-ring return. "We're working on some different options, and in the next couple weeks there will be an official announcement," Perez said. "Miguel will be in the ring by the end of 2013."
Perez wouldn't hazard a guess on how many fights Cotto has left in him. "He will tell us when he wants to stop fighting," he said. "He feels healthy, still has the hunger, and still wants to be a world champion. He's the boss."
Would it be fair to say that Cotto will first see how it plays out in negotiations between Floyd Mayweather and Canelo Alvarez, the Mexican phenom, as they might square off on Sept. 14?
"No, Miguel Cotto doesn't need to wait on anybody," Perez said. "He's his own promoter."
And speaking as Bryan Perez the fan, would you like to see a Cotto-Canelo fight?
"A Cotto-Canelo fight is a great fight for boxing," he said. "It is a possibility, yeah."