January, 16, 2014
1/16/14
5:51
PM ET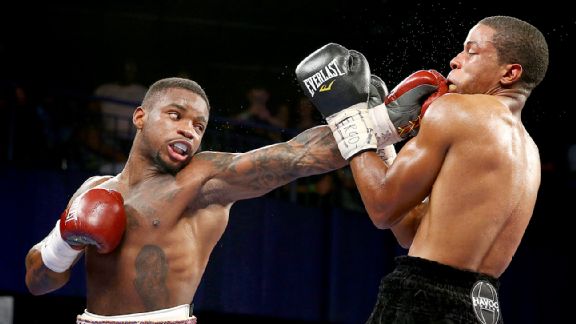 Al Bello/Getty ImagesEddie Gomez, who lives with his parents in the Bronx, packed a punch in a win last August.
They are packed into spare bedrooms, ensconced in basement lairs, and some are sleeping under the same roof, and in the same bed, they did for their whole existence. Millennials, some 36 percent of those Americans aged 18 to 31, are living at home with their parents, making the smart if occasionally demeaning move considering the job market is so barren, and the rents are so damn high.
Eddie Gomez, a 21-year-old Bronx-based junior middleweight who gloves up Jan. 30 at Barclays Center, on a card topped by a Victor Ortiz-Luis Collazo welterweight title fight, is one of the 36 percent.
The 15-0 (10 KOs) hitter -- who looked ready to at least make an attempt to leap from prospect to contender when last seen in a ring, busting up Steve Upsher Chambers (TKO4) on Aug. 19 in New York -- meets Daquan Arnett (11-0, seven KOs) of Florida.
I chatted with Gomez on the phone Thursday afternoon and asked him about the upcoming scrap and where he seems himself pound-for-pound in the New York area, and also for a little info on his out-of-the-ring life.
"I'm not really focused on what Arnett can do, because I beat him before, in the amateurs, and knocked him down about three times in the fight. I have the better record and have beaten the better guys, and I feel like it'll be, 'Whose O is gonna go?'" Gomez told me, referring to the two boxers' undefeated records.
Gomez said he sees himself as one of the top boxers in New York right now, and he hopes to headline a card later this year, maybe even in his next fight.
Gomez said he's in a zone of sharpness, and attributes part of that to the stability he derives from living with his mom and dad at their home in the Bronx, in the East Tremont section. He's one of seven kids, but the only one who is still under his parents' roof. Part of the draw is mom's stellar cooking. "I'm not in a rush to leave," he said. "She still cooks for me; she's the best cook -- seafood, shrimp, anything I want."
We know what you're thinking: Could there be a "scale fail" in his future because of mom's stove-top skills? Nope, he told me, he's all about portion control.
Come Jan. 30, Gomez said his power and speed will be the difference-makers.
"It's not going more than four or five," he declared.
August, 18, 2013
8/18/13
9:57
PM ET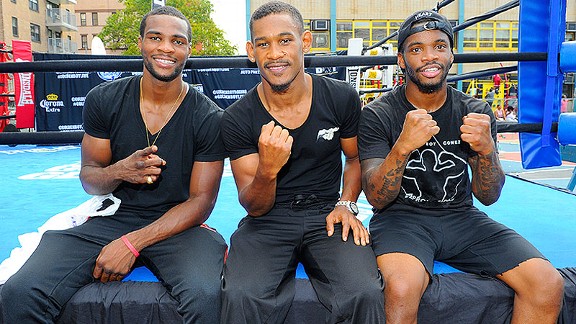 Rich Kane/Hoganphotos/Golden Boy PromotionsDanny Jacobs, middle, Marcus Browne, left, and Eddie Gomez all take their next steps on Monday.
Danny Jacobs and Giovanni Lorenzo both made weight Sunday afternoon, so it looks like we're a go for the Monday clash between the middleweights at the Best Buy Theater in New York City.
Jacobs (25-1, 22 KOs), 26, the Brownsville native who kicked cancer's tail in 2011 and is nearing the cusp of a title shot, needs to get past perennial challenger
Lorenzo (32-5, 24 KOs), a 32-year-old Dominican-born Yonkers resident
.
Check out
this video I shot of Jacobs
, back in October 2012, in which he talks about growing up in Brownsville, which has a rich boxing history, boasting alumni such as Mike Tyson, Zab Judah, Floyd Patterson and Riddick Bowe. "It's not a place you want to grow up, but it makes you ... Brownsville made me who I am today," Jacobs said.
Prospect Eddie Gomez (14-0, 9 KOs), of the Bronx, will get a step-up fight against Steve Upsher Chambers (24-2-1, 6 KOs) on that card, and Marcus Browne (5-0, 5 KOs) seeks to continue his rise against Robert Hill (1-1, 0 KOs), a Louisiana resident who we expect will not see Round 2 in his third pro tussle. Browne, a Staten Islander, has stopped all of his foes and has gained more buzz with every outing. He looks to finish, not dawdle to "get experience," and local fight fans have begun to notice and spread the word.
Follow Michael
Woods on Twitter
.
December, 31, 2012
12/31/12
4:25
PM ET
Boxing in New York picked up the pace in 2012. The new series at the Barclays Center took off, and the debut in October was a success. Having a focal point is an immense boost to the local scene, as young fighters can know that they have a stage ready for them when they're ready to rock. Madison Square Garden has taken notice and is getting more active booking fights cards, with a slate booked into the Theater Jan. 19. All these men can benefit from the amped-up buzz in NYC.

Ladies and gents, here is your 2012 NYC Top Ten Pound-For-Pound List.

1) PETER QUILLIN He has an XL personality and his boxing has been improving, fight by fight. No reason why Quillin shouldn't be a full-on star in 2013. The 29-year-old Manhattan resident retired Winky Wright in June, and then whacked Hassan N'Dam around, exiting the Barclays Center with the WBO middleweight belt, on Oct. 20. He is the NYFightBlog BOXER OF THE YEAR. (No. 3 last year)

2) PAULIE MALIGNAGGI Paulie escaped the Barclays Center with a W over young Mexican rumbler Pablo Cano on Oct. 20, and was looking forward to a career-best payday rematch against Ricky Hatton. Hatton's body didn't cooperate, and he was stopped in his return bout. So the 32-year-old Bensonhurst tactician is still hunting Plan B. We wonder -- and suspect he wonders -- if he has lost a quarter-step, or if he can return in his next bout in fine form, with peppy legs, a busy jab, the whole package. We're betting yes ... but just in case, he's been setting up business prospects and is doing a bangup job as an analyst for Showtime, so if he has lost a foot off his fastball, 2013 will find Malignaggi with options regardless. (No. 2 last year)

3) DANNY JACOBS Last year, he thought he would die. This year, Jacobs has been climbing his way up the middleweight ladder, and doing it with as much grace and charm as any pugilist out there. The Park Slope resident, age 25, looks to rise to 25-1 when he gloves up Feb. 9 at Barclays. He kicked cancer's ass, I suspect he will do the same a few times in the ring this year, and by the end of the year, he should be ready to tackle a titlist. I root for him -- sorry, just being honest. (No. 8 last year)

4) ARGENIS MENDEZ The Dominican-born Brooklyn resident won an IBF super featherweight title eliminator over Martin Honorio in July, so we can presume an opportunity will pop for the 20-2 hitter soon. He came up short against Juan Carlos Salgado for the vacant IBF super feather belt in 2011, but we're betting he gets over the title hump in 2013. At 26, he should be in his physical prime. (N0. 5 last year)

5) ZAB JUDAH The Brownsville native is 35, and we're tempted to say he's looking at his last chance when he meets junior welterweight champion Danny Garcia at Barclays in the headliner Feb. 9. But Judah is a name, and a character, and even if he can't get the better of the under-appreciated Philly hitter, Judah will continue to receive opportunities. He's been talking tough ahead of the Garcia bout, and dad is back in his corner, but we still recall the stinkbomb effort he turned in against Amir Khan in July 2011. Will Good Zab or Bad Zab show up at Barclays? (No. 7 last year)

6) JOSEPH AGBEKO Last year's No. 1 went 0-for-2012, as the Bronx based Ghanian didn't glove up once this year. He could have fallen off the list but he gets consideration for what he's done. The 28-2 32-year-old is slated to meet 34-8-1 Luis Melendez on Feb. 22, so he could rise again next year if he regains his step. (No. 1 last year)

6) JOAN GUZMAN The Dominican formerly known as Little Tyson tasted defeat for the first time, losing a technical decision to 17-0 Khabib Allakhverdiev on Nov. 30. At 36, it looks like Guzman (33-1-1) has lost a mile off his fastball. Can he transition to being a clever junkballer, or will he be off this list next year? (Guzman No. 4 last year)

7) PATRICK HYLAND The Irish transplant lost his 0, when Javier Fortuna beat him, with the interim WBA feather crown up for grabs, on Dec. 8, underneath Pacquiao-Marquez, but showed he belonged at that class. We suspect he will learn from the loss and might well come back stronger, secure in the knowledge that that sized stage is appropriate for him. And whatever happens, he can take this to his grave: he is the top boxer in the stable of MTV's Snooki. (Not rated last year)

8) LUIS COLLAZO The 32-5 Queens-based boxer looked sharper than I expected in a win against Steve Upsher Chambers on the first Barclays card. An ex welterweight champion, he's 31, has his head on straight, is freed from promotional entanglements (cough Don King cough) and is backed by Golden Boy, which has the pull to get him opportunities. It is up to him to keep winning, and 2013 could be the year he gets to wrap another belt around his waist. (No. 16 last year)

9) EDDIE GOMEZ The 20-year-old from the Bronx fought and won five times this year. He has confidence galore and perhaps the skills to match it. If he stays healthy, and doesn't let rising fame mess with his head, 2013 could be a breakthrough year for Gomez (12-0). We can see him headlining a ShoBox by the end of the year. (Not rated last year)

10) DMITRIY SALITA/HECTOR CAMACHO JR (TIE) These two will clash underneath Garcia-Judah at Barclays on Feb. 9. The winner gets this spot, the loser drops off. The 35-1 Salita, age 30, is slightly favored for the 152 or under contest, as the 34 year-old Camacho was knocked out cold in his last outing, by 12-1-1 Luis Grajeda in July. (Salita No. 20, Camacho No. 15 last year)

Honorable Mention: Sechew Powell (No. 10 last year), Joe Hanks (last year not rated), Seanie Monaghan (last year not rated), Will Rosinsky (last year not rated), Chris Algieri (last year not rated), Gabriel Bracero (last year No. 13)