July, 30, 2013
7/30/13
3:41
PM ET
If you're a fan of boxing, or a student of societal shifts in attitude towards homosexual athletes, or a proponent of the abolition of fight sports due to their egregious brutality, may I suggest you tune in to MSG on Friday night, and watch the documentary, "Ring of Fire: The Emile Griffith Story," which begins at 10 PM on the cable channel.
I chatted with Dan Klores, the producer and co-director of that film, which came out in 2005, along with Ron Berger. I was curious to hear his takeaways from the July 23 death of the talented, mostly beloved and frequently controversial Hall of Famer Griffith, who won six titles, at welterweight and middleweight.
Klores chuckled and admitted that he hadn't watched the film since it came out, but watched some when it ran on ESPN2 following Griffith's death at age 75, in a Long Island nursing home. "I liked it," said the man with a stellar resume of work under his belt, which includes the 30 for 30 doc "Winning Time: Reggie Miller vs. The NY Knicks," "Crazy Love," and "The Boys of 2nd St. Park."
"Emile's legacy was that as a world champion, he has always been underestimated," Klores said. "He was a six-time world champion in the days when there was only one champion in each class."
Klores helped adjust my thinking on Griffith, as I have fallen prey (like I dare say so many of us have) by focusing excessively on the fact that Griffith battered Benny Paret to submission in their third fight, in 1962. Paret died ten days later from brain injuries. Also, the conjecture about Griffith's sexual preferences have taken on perhaps more prominence than they should have considering that we don't watch sports because of the athletes' dating choices, but rather to marvel at their skills and the drama they manufacture with their on the field and in-ring exploits.
"Because of the Paret tragedy Emile's skills and career have not been given the credit they should have," said Klores of the boxer who fought at Madison Square Garden 28 times.
The filmmaker is happy, he said, that he was able to be part of a positive shift in Griffith's life. A few years after the film came out, he told me, Klores was talking to Emile and his adopted son, Luis. Emile and Luis had just marched in the Gay Pride parade in NYC and Luis told Klores, "'We felt so great being with people just like us.' Emile was a very sweet man, he had a lot of love in him."
Klores can't shake the continuing evidence of man's grievous inhumanity to man in the fight game realm. That fighters don't have a pension system set up to help structure their financial life post-ring, that promoters take a massive lion's share of revenue and don't let the wealth trickle down much, rankles him. The treatment of Paret's widow, Lucy, also irks him to no end. "Emile and Lucy, neither of them has had a penny, really, in the last twenty or thirty years," he said. "Lucy was ripped off the moment her husband died. That's the tragedy, these men of real courage, getting ripped off. That's the cruelty of the sport if you really think about it."
NOTE: Here is information on services for Griffith.
A celebration of the life of Emile Griffith, with a eulogy and bell ceremony, will take place this Saturday, August 3rd at 9:45 AM at the St. Thomas the Apostle Church located at 24 Westminster Road, West Hempstead, New York 11552. After the mass, the burial will take place at St. Michael's Cemetery. 72-02 Astoria Boulevard " East Elmhurst, NY 11370
SERVICES AND FUNERAL SCHEDULE FOR EMILE GRIFFITH:
WAKE: FRIDAY, AUGUST 2, 2013
3-5 PM and 7-9 PM
MALVERNE FUNERAL PARLOR
330 HEMPSTEAD AVENUE
MALVERNE, NY 11565
516-593-7230
FUNERAL: Saturday, August 3, 2013
9:45 AM
ST. THOMAS THE APOSTLE CHURCH
24 WESTMINSTER RD
WEST HEMPSTEAD, NY 11552
Tel:
516-489-8585
FOLLOWED BY BURIAL AT
ST. MICHAEL'S CEMETERY
72-02 ASTORIA BLVD
E. ELMHURST, NY 11370
(718) 278-3240
July, 23, 2013
7/23/13
4:25
PM ET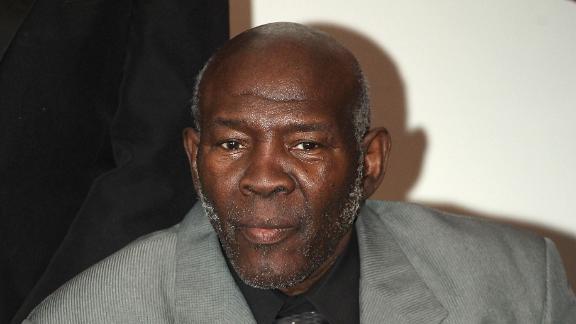 Emile Griffith, a first-rate pugilist who held welterweight and middleweight championships in the 1960s,
has died
.
Griffith, 75, passed away at an extended care facility in Hempstead, N.Y.
Griffith was inducted into the International Boxing Hall of Fame in 1990. Born in the U.S. Virgin Islands, he lived in Harlem with his mom as a child and also spent time living in Queens, Long Island and New Jersey.
Griffith likely will be best remembered for his clash with Benny Paret in 1962 at Madison Square Garden. The fight resulted in the tragic death of Paret, who died from brain injuries after taking a vicious punishment. Griffith also drew attention for his sexual orientation, which the fighter danced around expertly for most of his life. He acknowledged that he was bisexual in 2005.
Author Ron Ross wrote a book, "Nine, Ten and Out! The Two Worlds of Emile Griffith," and knew the fighter since 1963. "He was a tremendous boxer and person," Ross said. "It is almost a blessing that he passed away because he has been in a vegetative state the last couple years. To know him was a privilege, he transcended being a boxer, or being gay or straight. He lived life with the fullest joy. He passed that on to everyone he knew and not many have that as a legacy.
"Emile never felt like he was different, he lived his life openly. He'd go to a gay bar and he wouldn't go into a side entrance, he'd go in the front door. He never flaunted it, but it was natural to him to lead his life the way he wanted to."
Brophy said that Griffith brought joy to the Hall of Fame when he visited. "He was a wonderful boxer and a gentleman outside the ring," Brophy said. "He surely will be missed. He made many visits to the Hall since being inducted in 1990. He was a fun-filled person, and the flags here are being lowered now."
Follow Woods on Twitter.
July, 11, 2013
7/11/13
1:50
PM ET
Floyd Mayweather and Manny Pacquiao fans are often at odds on the message boards, with each crew maintaining that their guy has the better resume, and standing as an all-time great. It isn't often that they can find common ground, but author Thomas Hauser has given members of Team Floyd and Team Manny cause to commiserate together. Hauser put together a fantasy welterweight tournament, and asked 28 experts to weigh in on who would beat who if they all faced off.
Roberto Duran, Emile Griffith, Thomas Hearns, Sugar Ray Leonard, Mayweather, Pacquiao, Aaron Pryor, and Sugar Ray Robinson were in the mix.
Sugar Ray Robinson emerged as the top welterweight of all time
. Mayweather ranked No. 5 all time, while Pacquiao finished in last place.
NYFightblog readers, how do you see it? Should Mayweather be higher on the list? Did Pacquiao get dissed?
October, 4, 2012
10/04/12
2:33
PM ET
Puerto Rican featherweight Orlando Cruz announced to the world that he is gay on Wednesday, becoming the first practicing prizefighter to declare he is homosexual.

"I've been fighting for more than 24 years and as I continue my ascendant career, I want to be true to myself," Cruz said in a statement after taping a spot on a Telemundo show, which will air Monday. "I want to try to be the best role model I can be for kids who might look into boxing as a sport and a professional career. I have and will always be a proud Puerto Rican. I have always been and always will be a proud gay man."

Cruz, 31, is scheduled to fight Oct. 19 against Jorge Pazos in Kissimmee, Fla. Cruz, who represented Puerto Rico in the 2000 Olympics, will defend his WBO Latino featherweight crown.

The promoter of that event, Tuto Zabala Jr., told ESPNNewYork.com that he has promoted Cruz (18-2-1) for a year. He said he heard rumors that Cruz was gay, and assumed he was gay, but never broached the subject with the fighter "because I respect him, and it would have been insensitive to ask him."

Zabala, 44, grew up in the business. His dad promoted in Puerto Rico, and also the Miami area, so he is well aware that boxing is a sport in which machismo is exuded on a constant, and sometimes crude, basis.

"His announcement is courageous," Zabala said of Cruz. "We hung out yesterday, at a press conference for another boxer. He acted normal. I didn't feel like he had to talk about it."

The fighter will talk about his life and his sexual orientation on the Telemundo show "Al Rojo Vivo" on Monday (5 p.m. ET).

Zabala said he will be there to support Cruz during this period. "His life is more important than what other people think of him," Zabala said.

Many fight fans are aware that New York-based Hall of Famer Emile Griffith said he liked the company of both women and men in the 2005 documentary "Ring of Fire: The Emile Griffith Story."

In 1962, Griffith responded fiercely to taunts from foe Benny Paret and savagely battered Paret in the third bout between the men, leaving him comatose. Ten days after that brutal battle at Madison Square Garden, Paret, who had teased Griffith with a gay slur, died.

Today, the 74-year-old Griffith, who left the ring in 1977, suffers from dementia. One wonders how his life would have been altered had he, if he wanted to do so, been open about his sexual orientation. He spent decades dodging the issue when confronted.