October, 10, 2013
10/10/13
11:40
AM ET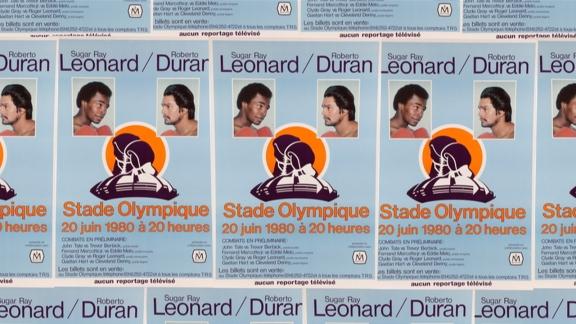 I left the IFC Center in Greenwich Village on Wednesday night pondering deep philosophical issues, and also what a badass Roberto Duran was in his prime and how skilled Sugar Ray Leonard was in his.
I'd just watched Eric Drath's documentary production "No Mas," which will run Tuesday on ESPN as part of the network's "30 for 30" series. The film examines the rivalry between Leonard, the 1976 Olympic golden boy who took the baton from Muhammad Ali and ran with it before Mike Tyson wrested it away; and Duran, the man with the Manson-esque eyes, whose extraordinary malevolence outside and inside the ring affected Leonard to the point that he admitted he felt fear.
Closure, and the ability to attain it, was the primary philosophical matter I chewed on after watching the doc. I cannot and will not give away too much of the film here. But suffice to say, Leonard has been affected since Nov. 25, 1980, when he clowned Duran and saw the Panamanian shame his nation by quitting during Round 8, by the way the bout ended and how it was perceived. Instead of being glorified for his supreme display of clever pugilism, Leonard found the press and fans obsessed with Duran, now age 62, and why he quit. It was not noted, to Leonard's satisfaction, how he had rebounded so robustly following the first fight, which took place five months earlier and saw Duran win a decision after 15 rounds.
[+] Enlarge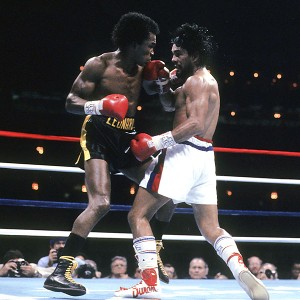 Focus On Sport/Getty ImagesRay Leonard found his footing and redemption in a rematch against Roberto Duran.
If Duran had since admitted that Leonard's skills and game plan and preparation were too much for him to handle, physically and mentally, and that is why he said -- or didn't; that's part of the story -- "No mas," then I suspect Leonard could have closed the book on what became a recurring torment.
During a post-screening Q&A, I asked Leonard, now 57, about his current degree of closure regarding the fight.
To be candid, I'm of the school that believes achieving total closure is a rarity in this life, and I'm an admitted cynic when anyone announces, "It's all good" -- that they have made total and complete amends with a wound that festered for decades. That isn't to say it's an impossible feat, but ... let me put it this way: Even Mother Teresa had doubts about the meaning of it all. Again, I will let you screen the film and decide how you perceive Leonard's viewpoint toward the "No mas" debacle, rather than give away plot points.
Striding out of the theater, I saw Leonard and addressed him: "Sugar Ray, I have to say, I think you schooled Duran. You outboxed him, masterfully. No matter if he can admit it or not, or you need to hear him admit that, or don't, that is what happened. I think that is why he quit. And I think true-blue boxing fans know this to be the case."
Leonard said nothing with his mouth, but his grin and smiling eyes told me something else.
I believe that more so than Duran's partying, or rapid weight loss, or cold water, or hot coffee, or too big a meal ingested prefight, or cramps, it was Leonard's in-ring wizardry that forced Duran to surrender.
Will we ever know the truth? You have to watch "No Mas" and decide for yourself.
Follow Woods on
Twitter.
April, 30, 2012
4/30/12
9:24
PM ET
Luis Resto, who served time in prison for assault because he went into the ring against foe Billy Collins in their 1983 Madison Square Garden fight with padding taken out of his gloves, has been denied a license to work as a cornerman in New York State, by the New York State Athletic Commission.

The Puerto Rican born Bronx resident, now 55, had hoped that he'd served his time, and would get a second chance doing the thing he still loves, and really, the only thing he knows. But the NYSAC didn't see it fit to give Resto, who ended 20-8, another entry into the sport. Resto was banned from boxing officially at the time of his conviction, in 1986, though he has worked in gyms since then.

The whole affair was detailed in superb fashion in the documentary "Assault in the Ring." The producer of that effort, Eric Drath, backed Resto's wish to get back into the sport. He has said he was moved by the plight of Resto, who he felt was manuevered by then trainer "Panama" Lewis. And though he felt saddened at the fate of Collins, who died in a car wreck in 1984, Drath told NYFightBlog that he whole-heartedly felt Resto was no threat to anyone, that he paid full price for his mis-step, and he deserved a license. He indicated to us that it seems strange NYSAC allowed Antonio Margarito a license to fight Miguel Cotto in December, after he was busted for trying to use loaded hand wraps in 2009, and rebuffed Resto.

The NYSAC, among athletic commissions in the US, does have more tortured political calculations to make than most, because of this incident, and then the televised beating on the USS Intrepid at the hands of George Jones and subsequent death from brain trauma of Beethaeven Scottland in 2001, followed by the case and trial pitting Joey Gamache against NYSAC, after the commission didn't follow correct protocol in the 2000 weigh-in prior to the Gamache-Arturo Gatti MSG fight. A much heavier, by about 20 pounds, Gatti pummeled Gamache, who suffered brain damage in the fight, and wasn't able to fight again. I will reach out to the NYSAC to obtain their reasoning in refusing Resto a license.
December, 2, 2011
12/02/11
2:57
PM ET
The presence of Antonio Margarito in New York will be evocative for some folks, and not in a good way.

Some people think of him as "Margacheato" and believe that he knew what was going on when the California commission confiscated hardened pads which were underneath knuckle pads on his fists before he was to fight Shane Mosley on Jan. 24, 2009. His then-trainer, Javier Capetillo, took the blame, saying it was his fault these hard gauze pads were inserted.

Lab tests showed elements of plaster of Paris on the pads.

Margarito's insistence that he knew nothing basically had the credibility of Sgt. Schultz in most quarters (readers 40 and older will get the joke, others can email me) and Capetillo's "explanation" didn't pass a sniff test to many, if not most, noses. Cali banned Margarito, and he had to get on his knees and plead to be licensed in the U.S. when he fought Manny Pacquaio in Texas in November 2010.

Margarito didn't have to speak to the shady-wrap situation when he came to get an N.Y. license, but that doesn't mean the issue doesn't linger in the minds of people who were in the city when Luis Resto nearly battered Billy Collins blind on June 16, 1983.

That was the night at MSG when Roberto Duran stopped Davey Moore in Round 8 and took the Bronx fighter's WBA junior middleweight title. The event proved to be meaningful in that it was a return to form for Duran, 2½ years after he made "No Mas" the signature phrase for any athlete who spits the bit.

But that was also the night that Resto stole a piece of Billy Collins' heart, hacked off a chunk of his soul and rendered him a bit less of a man, aided by the fact that much of the padding in Resto's gloves had been yanked out in the dressing room.

Yeah, Duran put a wicked beating on Moore, who in retrospect didn't have the seasoning, after just 12 pro fights, to engage in a fight with Duran without headgear and sparring gloves. But the one Resto, then 20-8-1, put on Collins, who entered 14-0, was a different animal.

Collins, out of Nashville, and just 22, went downhill mentally after Resto's drubbing tore his iris and left him with blurred vision. As documented in the superior documentary "Assault in the Ring," the boxer dulled his pain with booze and pot, and died in a car crash while driving drunk nine months after the assault.

Resto denied knowledge about doctored gloves, but he was convicted in 1986 of assault and served 2½ years. Finally, in 2007, he came clean. The Bronx-based fighter/felon admitted he knew what was going on when his trainer Panama Lewis took about 60 percent of the horsehair out of the gloves and, furthermore, said Lewis soaked his hands in plaster of Paris.

Lewis to this day denies any wrongdoing and says an assistant, not he, wrapped Resto's hands that tragic night.

Some will say the ghost of Billy Collins could well be haunting the dressing room in the Garden on fight night, and will be watching to make sure there's no funny business going on, that Margarito plays it straight against Miguel Cotto. We can't know what he would say to Resto today, but we wonder. Would he forgive Luis, if Luis asked? Would he be unable to forget, or forgive?

Well, Resto is asking for the New York State Athletic Commission to if not forget, then forgive. He's been banned from getting a license to box or have anything to do with boxing, including being a trainer, in N.Y. Two weeks ago, he told Eric Drath, who directed "Assault," that he wanted to get a license to work in the corner in N.Y. Drath was all for it, and helped Resto with the process.

Check back for an update from Drath on how the license application process went, and why he thinks Resto should be able to ply his trade.