May, 8, 2014
May 8
7:42
PM ET
Oscar De La Hoya didn't think fighting the Cuban, who might well be, on any given night, one of the five best boxers on the planet, was the best plan of attack. But Oscar, the president of Golden Boy Promotions, was convinced that a Canelo Alvarez-Erislandy Lara fight was needed when Canelo told him he wanted it.
My fans want it, I want it, make it happen, said the 23-year-old Mexican to Oscar. Team Golden Boy and Team Lara hashed it out.
The scrap, which is seen as a 50-50 faceoff in many circles, unfolds July 12 at the MGM in Las Vegas, on pay-per-view, produced by Showtime.
The principals appeared on Thursday in NYC, at the Hard Rock in Times Square, to bang the drums for the squareoff, which will be contested at 154 pounds.
Canelo owns a sort of throwback, cowboy-style countenance isn't prone to being effusive, or facially demonstrative. He told fans --it was an open event, with most of the persons off the street there to see the 43-1-1 hitter -- that he took this fight because the fans asked for it. Lara lobbied hard for it, taking to social media to needle the redhead. "Lara has talked a lot, [to the fans] you guys asked for the fight, and here it is," he said. "What you guys ask from me, I will give you."
[+] Enlarge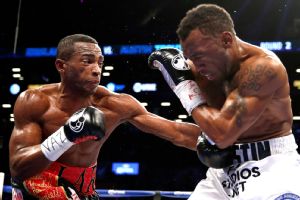 Elsa/Golden Boy/Golden Boy/Getty ImagesErislandy Lara beat Austin Trout in a landslide decision in their WBA Interim Super Welterweight title fight at Barclays Center.
Lara, who owns a 19-1-2 record, came off as exceedingly confident in NYC. Makes sense, seeing as how he handled Austin Trout, his last opponent, with more ease than Canelo did when they clashed. Lara, age 31, who grew up in Cuba and jumped ship a few years ago, beat Trout in Brooklyn in December. Canelo's UD12 over Trout, eight months earlier, featured narrower scorecards. Alvarez looked crisp and nasty, like a landshark with gloves on, in his last outing, against Alfredo Angulo on March 8 (TKO8 win). He likes how he dispatched Angulo in snarlier fashion than did Lara, when the Cuban met Angulo, in June 2013, as Lara was sent to the mat twice in that TKO10 win.
Lara is calling himself "The American Dream" these days. He's enjoying life in Texas, as his bouts gets more high-profile, his paydays get beefier, and he comes within sniffing distance of a Floyd Mayweather fight. (Though I'd be extremely surprised if Mayweather signed off to fight such a specimen, with that considerable set of technical chops.) Lara, through interpreter/promoter Luis de Cubas told me he expects to down Canelo, who had little luck trying to decipher "Money" last September, and then he desires a test against Mayweather.
He talked some decent trash in NYC, including this line: "I came from Cuba where I fought the best. I earned this in the ring, fighting the best in the division, not on a Mexican street corner."
A lot of smart folks I talk to echo what Oscar said. They think Lara is a high-risk, low-reward situation for Canelo. But props to the Mexican -- he is a takes-on-all-comers type, and in this day and age, where so many guys are businessmen first, and ultra-competitors second, that deserves hearty back slaps.
December, 3, 2013
12/03/13
7:44
PM ET
With four title fights on the card, the Saturday slate at Barclays is the most packed fight yet at the arena, which offered boxing for the first time on Oct. 20, 2012. The vacant WBA junior middleweight faceoff between Erislandy Lara, a Cuban fighting out of Texas, and New Mexico's Austin Trout, features some pretty high stakes, according to Lara's trainer, Ronnie Shields, apart from that crown.
With Floyd Mayweather signaling that he'll be campaigning at 147 pounds, the 154 pound hood is ripe for a takeover. The winner of this Lara-Trout bout, Shields told me, is in the mix big-time to get a scrap with Canelo Alvarez, the Mexican phenom who impressed fight folk with the intensity of devotion his fans showed in his last two bouts, a win over Trout and a loss to Mayweather. "Both guys have to make a statement," Shields told me at a fighter workout for press held at Gleason's in DUMBO on Tuesday afternoon. "With Floyd going to welter, someone has to step up and face Canelo. A win might force that."
No surprise, Shields likes his guys' chances to get his hand raised. "Lara told me he wants to punish Trout," he said. "These guys don't like each other. Lara wants to knock him out, and nobody's ever done it." Shields said he'd like Lara to take away Trout's jab, and be busier than him.
"It'll be a good fight, a technical fight, but Lara will show some different things than we've seen before," he said. "He's a little more angry. They both hate each other."
Shields, who has worked with Pernell Whitaker and Evander Holyfield, said he doesn't worry that his guy loses composure in trying to remove Trout's head from his shoulders. With the immense experience gained fighting in the highly structured and competitive Cuban amateur system, he said, there's little to no danger Lara leaves himself open for a vicious counter because he gets overanxious in his quest for a conclusive stoppage in his favor.
Lara enters at 18-1-2 with 12 KOs. He hit the deck twice in his last outing, a TKO10 win over Alfredo Angulo on June 8. Trout enters at 26-1 (14 KOs).
Follow Woods on
Twitter.