Boxing:

friday night fights
June, 20, 2013
6/20/13
11:47
AM ET
Old-school fight fans should know that MSG has started a new series, called "Friday Night Fights," hosted by Mark Breland and John Duddy, which spotlights classic bouts and allows the hosts to examine and dissect the duels.
On Friday at 9 p.m., Breland's first title victory as a professional, a stoppage win over Harold Volbrecht in Atlantic City, will be the featured.
[+] Enlarge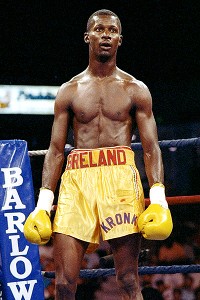 Getty ImagesMark Breland
The WBA welterweight title was up for grabs on Feb. 6, 1987, when Breland, arguably the most celebrated amateur in U.S. boxing history, gloved up against the rugged South African lefty.
The Brooklyner told NYFightblog that he went into the bout with a 16-0 record, dripping confidence, knowing he'd prepared more than adequately. "I worked hard in training, and we'd used southpaw guys to get ready," said Breland, the 1984 Olympic gold winner. "In my amateur career, I'd fought so many different guys, with different styles, so my confidence level was very high."
Breland grew up in Bed-Stuy, lives in downtown Brooklyn and is deeply involved in the Mark Breland Foundation, which seeks to advance the treatment of chronic traumatic encephalopathy (CTE), the progressive disease affecting many people who have suffered multiple concussions.
Breland, who turned 50 in May, teased NYFightblog with a promise. "I will do a big reveal on the show, a big surprise, about something that happened before the fight," said the man who won five N.Y. Golden Gloves crowns.
I couldn't weasel even a solid hint from the ex-champ, who hung up the gloves in 1997 with a 110-1 amateur record and a 35-3-1 professional mark. So I will just have to tune in.
July, 27, 2012
7/27/12
2:16
PM ET
Irony fans had to chuckle a bit when they heard that Hank Lundy had some scale issues Thursday ahead of his bout with Raymundo Beltran, which will be shown on ESPN2's "Friday Night Fights."

See, the Philly boxer, with a 21-1-1 mark, had trash-talked Adrien Broner heartily this week, after Broner was 3½ pounds over the junior lightweight 130-pound max the day before his Saturday scrap against Vicente Escobedo. Lundy called Broner unprofessional and challenged him to a tussle. Well, on Thursday night, Lundy needed four tries to make the 135-or-under limit for his NABF lightweight title defense, which will unfold at Resorts in Atlantic City (doors open at 7 p.m. for 8 p.m. start in AC; 10 p.m. start on ESPN2).

I am not busting Lundy's chops, in the least, mind you, as he hit the sauna and then the treadmill to do the job, whereas Broner swigged liquid after he got off the scale, signaling that he wouldn't even make a token attempt to make the weight.

"I trained hard and left Philadelphia weighing 134 pounds; it happens," Lundy said after the scale trial, "but you have to be a professional and lose the weight. All I can say is, 'Hey, I had to do it.' All it did was kill my morning run because I usually go for a run the morning of, but I can chill now because I already did it."

There is some momentum, among fans and pundits, to see Lundy, should he get past the somewhat faded but still dangerous Beltran (25-6 with 17 KOs; age 31; from Mexico) tangle with Broner, who told the world he is done with junior lightweight.

Lundy's promoter, Jimmy Burchfield, who puts on the card in AC, told NYFightBlog that he and Lundy aren't the sorts to play a waiting game while lobbying behind the scenes for a megafight.

"We've been trying to get Antonio Demarco, the WBC lightweight champion, for six to eight months," said the Rhode Island-based dealmaker, who is known as one of those diligent pluggers doing it right on a grassroots basis.

"We're not going to wait around. We want to show the networks and the public that we'll keep busy, we're not going to fight bums, no cupcakes, real fighters. You fight a cupcake, what does it do for you? You got to be in real fights, that's what our fans want."
March, 3, 2012
3/03/12
10:45
AM ET
The scale, apparently, still looms large in his life, as much as any foe does. Joan Guzman, the talented but calorically troubled 35-year-old ex-titlist who lives in Bushwick, N.Y., weighed in a quarter-pound over the contracted max for his Friday night bout against Jesus Pabon, but skipped some rope and made weight on Thursday.

Guzman's rep tumbled when he couldn't make weight for high-profile bouts against Nate Campbell and Ali Funeka, and in the past couple years, he has struggled to rebuild. His skills still looked world-class at times against the underdog Pabon, who was stopped in his last outing. The Puerto Rican hitter went down four times, for the final time in Round 8, on a harsh left hook that starched him big-time.

Guzman's promoter, Henry Rivalta, told me that the scale at the gym said his fighter was 140 and that the Florida commission's scale was calibrated differently. Looking ahead, if I were Team Guzman, I'd try like the dickens to weigh a bit under the max, just so this situation doesn't occur again. If Guzman wants a marquee cashout bout against a Manny Pacquiao, Amir Khan or someone still relevant who is a step down from there, he'd do well to show the world that he takes training ultra-seriously. It's more likely that he'll get a gig as a steppingstone for a young lion, but this being the fight game, the theater of the unexpected, one never knows.
February, 24, 2012
2/24/12
4:21
PM ET
Russian heavyweight Alexander Povetkin (23-0 with 16 KOs; age 27; from Serbia, lives in Berlin) will fight cruiserweight champion Marco Huck (34-1 with 25 KOs; age 34 ) on Saturday in Stuttgart, Germany. If you are so inclined, you can watch the WBA titlist do his thing on EPIX, the premium cable network which is streaming this scrap, as well as next weekend's Wladimir Klitschko-Jean Marc Mormeck clash on their website.

I know for a fact one person who will not tuning in. Povetkin's former trainer, Teddy Atlas, who worked with the boxer for more than two years, and exulted with him when he beat Ruslan Chagaev to win the vacated WBA strap. Povetkin defended the crown against oldster Cedric Boswell in December, and then the wheels came off the bus.

Atlas says that it was made quite clear that when Friday Night Fights is in season, he can't and won't take time off to do training camps overseas. He says that Team Povetkin was made aware of this non-negotiable, and agreed to it. But then they surprised him by asking him to come to Russia to train Povetkin for this Huck scrap. He said nyet, and they didn't budge, so a happy story turned sour. Atlas had taken a liking to a young man he took to calling "Sasha" and it is evident he has been stung by this turn of events, which Team Povetkin characterizes as a matter of miscommunication.

"Will I watch the Povetkin-Huck fight? Nah," Atlas told me. "I feel so betrayed, I don't want to watch. I feel bad not for me but for my family. This is no pity-party with me. It was a real nice ride for two and a half years, and there's no opportunity to see it through. Hey, I'm no angel, I've been no angel in this world. But to keep your word, I just wish a simple thing like that would be honored."
February, 7, 2012
2/07/12
8:51
PM ET
Two people will be fighting in the main event of "Friday Night Fights" on Friday at Mohegan Sun in Uncasville, CT. We know as of Tuesday night that Terrance Cauthen, who stepped in for Derek Ennis on super-short notice, because the Philly boxer came down with a high fever, will not be one of the participants.

At least, we think we know. Cauthen's promoter Nedal Abuhumoud told ESPN New York that the New Jersey resident Cauthen "backed out" out of a scrap against 15-0 Demetrius Andrade, a 23-year-old junior middleweight who repped the US in the 2008 Olympics.

The 35-year-old southpaw Cauthen, who won bronze for the US at the 1996 Olympics, sports a 36-7 record. Abuhumoud told us that he went to Cauthen's house in Willingboro, NJ this afternoon to get him to sign the fight contract, after he verbally agreed to taking the gig on the Star Boxing card. "They wouldn't open the door," he said. The promoter said that Cauthen's car was in front of the house, so he believes he was present. He also said Cauthen isn't picking up the phone to answer the promoter's calls.

Abuhumoud told us he called Star Boxing matchmaker Ron Katz to apprise him of the situation. Katz, he said, gave him some more time to get Cauthen into the fold, but indicated he'd find another alternative if Cauthen didn't come to the table.

ESPN New York called Cauthen to get his side, and left a voice mail. We reached out to Katz and Star Boxing chief Joe DeGuardia for an update, as well.

That leaves Rhode Islander Andrade with no dance partner for the ESPN2 dance. Stay tuned for the continuing saga of the disappearing main event...
January, 24, 2012
1/24/12
2:11
AM ET
Teddy Atlas is gainfully employed by ESPN to be its analyst for "Friday Night Fights." And while the FNF season runs, the Staten Island-based trainer makes sure he sticks close to home so he can call fights for the Worldwide Leader. Atlas is pretty darned sure that he communicated this to his client, WBA heavyweight champion Alexander Povetkin. Atlas has been training the Russian for 2½ years, and helped mold him to the point that he fought Ruslan Chagaev in August for a vacant belt and won it. So he thought he had a decent line of communication with the 32-year-old boxer. Not anymore.

Atlas won't train Povetkin for his next bout, which will take place Feb. 25 against cruiserweight Marco Huck in Germany. Atlas is miffed that Povetkin won't come to the U.S. to train so that Atlas can continue his work for ESPN. Atlas maintains that the terms of the training arrangement are explicitly worded in a contract. "Our agreement from the beginning has been that I would go to Russia to train Sasha [Povetkin] when 'Friday Night Fights' was off season, and he would come to the United States to train when I was committed to being here for my ESPN duties," Atlas explained. "That was what we both agreed to, and both sides know it. I have an obligation to ESPN that I have to fulfill, and I intend to fulfill it. Povetkin has an obligation, too, but I'm being told he doesn't want to come to the U.S. I had expected him to live up to his obligation and am very disappointed in Sasha."

Povetkin's manager, Vlad Hrunov, was quoted five days ago on the subject of Atlas and Povetkin and where the fighter will train.

"It is Teddy Atlas' opinion and Teddy Atlas' choice -- we are awaiting him in Russia," Hrunov told BoxRec.com. "We have a possibility to make an agreement because we are ready to pay a concession because he lose the ESPN money. He knows very well this possibility, but he wants to make [the] decision that he wants."

It looks like a standoff here. Stay tuned to see if anyone blinks. I'm guessing Atlas won't. He's not the blinking type. What about you, readers?
January, 6, 2012
1/06/12
10:31
PM ET
"Da Momma's Boy" had his mom smiling from ringpost to ringpost, as Denis Douglin got the better of Steven Martinez in the opening bout of ESPN's "Friday Night Fights" Season 15.

The judges saw it 77-75 (Douglin), 77-75 (Martinez) and 77-75 (Douglin) in a super-tight contest which on paper looked like a pick 'em fight, and played out that way at Mallory Square in Key West, Fla., and on ESPN2.

Message board wiseguys might well say that Douglin, trained by his mother Saphya, enjoyed the Haymon edge when it came time to score the bout; he is managed by the all-powerful Al Haymon, and critics will say that was in the back of the mind of the two men who scored it for the victor.

Douglin (13-1 entering; living in Marlboro, N.J., born in Brooklyn; age 23) and Martinez (11-0 entering; from the Bronx; age 21) fought at the junior middleweight class.

Douglin explained pre-fight that the training arrangement works because unlike a situation when a dad trains a son, she isn't living vicariously through him.

In the first, the leather was swapped from the start. The lefty Douglin threw them a bit straighter and may have taken the frame. He landed four more blows than his foe, according to CompuBox.

In the second, Douglin ate a lead right to the head and then a right to the body and he didn't care for it with a minute to go. He was the busier man, but Martinez may have made up for that with his power edge.

In the third, Douglin continued to move, so Martinez couldn't launch his heavy thunder as easily. The Bronx fighter tends to drop his hands and leave himself open in a glaring manner, and Douglin found him a few times. Martinez went lefty and ate a shot right before the bell, so he ended that experiment.

In the fourth, analyst Teddy Atlas said that Martinez looked predictable, and too often did things the same way. He also, Atlas said, tends to back straight up. Douglin's trainer-mom told him not to overthrow, to throw shorter punches, and to throw and not leave his hand out there and wait for a receipt. All solid advice…

In the fifth, Douglin looked to be first, looked to get his hands on his foe first. Martinez wanted to land that heavy metal, but too often, Douglin saw it coming. Atlas had it 38-38 through four. Douglin landed a clean left at the bell, at the end of another tight round.

In the sixth, Martinez looked to be the aggressor, looked to track down the mover Douglin. Atlas suggested he go to the body to slow Douglin down. Atlas said earlier that he could see Douglin having success and then bam! seeing an anvil dropped on his head. There were now two rounds left for Martinez to drop the anvil.

In the seventh, Martinez landed a clean left hook that made the crowd exclaim, but Douglin's chin held. His only loss was a stoppage so that was a question mark coming in. After the round, Douglin's mom told him to keep it tight. "Really? Really?" she asked, as she tried to motivate him to finish strong. Atlas saw it 68-65 for Martinez after seven.

In the eighth and final round, both men fought the last one like it should be fought. I had no idea how the judges would see it.

Douglin went 152-555, while Martinez was 195-715. Atlas liked Martinez by two points.