January, 10, 2014
Jan 10
4:33
PM ET
Thinking too much. That's one of the the takeaways Curtis Stevens had from his Nov. 2 loss to Gennady Golovkin, one of the most buzzed about and feared hitters in the sport today.

The Brownsville native told NYFightblog that he is a bit irked at himself, looking back on his round-eight loss, believing that he too often stood flatfooted and wasn't busy enough.

"I didn't let my hands go," said the 28-year-old, who gets back on that proverbial horse Jan. 24, against Patrick Majewski, in Atlantic City, and on NBC Sports Network.

Stevens told me that the big stage, at MSG Theater, and in the HBO feature attraction, didn't cause him to turn in a lesser performance than he would have liked.

"No, I'm not going to make an excuse," he said. "I'm mad I lost and I take losses, and wins, as a learning lesson.

"Golovkin is an excellent boxer, I take nothing away from him," Stevens (25-4 with 18 KOs) continued. "Is he all he's cracked up to be? He's an excellent fighter, a great fighter. If I had let my hands go I believe I would have had an explosive night ... but I'd say yes, he's all he's cracked up to be."

And that Golovkin power, how does it stack up against all the guys Stevens has been in with during his amateur and pro career? "No, no, no, it wasn't that thunderous," he said. "I wasn't in there thinking,
What do I do?'"

Looking forward, Stevens says he's watched some of the 34-year-old Pole Majewski (21-2 with 13 KOs) on tape. "He comes forward, loves to fight, comes to fight," he said. "I'm ready to get back," he finished. "I'll be back."

December, 6, 2013
12/06/13
9:45
PM ET
He'd like to have that opportunity back. Middleweight Matthew Macklin didn't particularly care for the lead-in to his June scrap (a KO3 loss) against Gennady Golovkin, which had him trying to shrug off some knuckles busted in camp.

"We did at one point try to put the fight back," he said, as the left-hand woes kept him from doing pads and a lot of sparring. And looking back, he didn't like his gameplan, which called for him to out-box the terminator from Kazakhstan.

"They were the wrong tactics," he admitted to me.

Yes, it's fair to say the Irishman, who fights for New York promoter Lou DiBella and is advised by Anthony Catanzaro, who also is part of Team Malignaggi, would like a re-do against Triple GGG. But first, there's a comeback to attend to. Macklin, age 31, fights Saturday night in AC, on a Top Rank-HBO card topped by Guillermo Rigondeaux-Joseph Agbeko. The 29-5 hitter, who splits his time between England and Spain, is in against a dangerous foe, a man with little to lose. The 14-0 Russ took the fight on short notice, after Willie "Not That Willie" Nelson fell out with injury. If Russ loses, no big deal, he's young and had short notice.

So, it's fair to say Macklin is aware that he can't assume Russ will be an easy out. "Russ has a great jab, big amateur pedigree, tall, rangy, an undefeated's confidence but I'm going to drag him into deep waters and drown him," Macklin said. "I'm going to be back to winning ways."

When he gets the W in N.J., he said he'd love to fight Golovkin again. Or Peter Quillin, or the Daniel Geale-Felix Sturm winner. Some title, really, any title is in his sights for 2014.

An aside: Catanzaro will have a busy night; he'll be in Brooklyn to watch Malignaggi headline at Barclays, and will have to hustle to find a TV showing the HBO -- the enemy of Showtime! -- card in AC which features Macklin.
September, 4, 2013
9/04/13
6:03
PM ET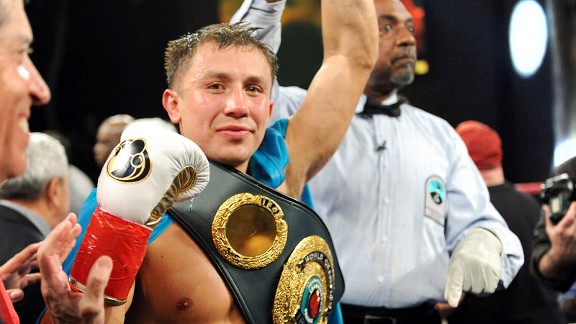 Joe Camporeale/USA TODAY SportsGennady Golovkin get angry? That's just not his style.
He smiled, answered questions in an exceedingly humble manner, listened to another question, grinned again and answered with halting but improving English. It was hard to look at the Kazakh-born middleweight titlist Gennady Golovkin and comprehend, if you didn't already know as you watched him at the Refinery Hotel on West 38th Street in Manhattan on Wednesday, that this kid with the Justin Bieber face has some of the most feared hands in the sport, in any weight class.
Word is most definitely spreading on the 27-0 (24 KOs) boxer, if you're judging by the info delivered by his promoter, Tom Loeffler of K2, who reported that the presale figures for the Nov. 2 scrap at the MSG Theater between WBA middleweight champion Golovkin and Brownsville, Brooklyn's Curtis Stevens (25-3 with 18 KOs) made it the fastest seller in Theater history.
Further evidence that the Golovkin story is spreading? HBO, which will televise the Golovkin-Stevens scrap, ran one of the "2 Days" mini docs in June before Golovkin's fight against Gabriel Rosado and it was their highest-rated episode of that program.
Loeffler saw it with his own eyes when Gennady attended the Nonito Donaire-Toshiaki Nishioka card at the Home Depot Center in Carson, Calif., and "a whole bunch of the Mexican fans started chanting 'Triple G' [his nickname].'"
Might his exploits travel even wider if he didn't look, seriously, like the older brother Bieber doesn't have, so unlike the grizzled pug that non-fight fans picture in their heads when they conjure "boxer"? Maybe, maybe not. There is something so compelling about the duality present in Golovkin, seeing the humble guy who grins constantly, and then seeing the predatory way he walks foes down, and then looks to land on them, hard, with virtually every shot.
"I want to fight," the 31-year-old Golovkin said, straight up, when asked about what other fighters he's targeting if and when he handles Stevens. "I want drama," he said, and banged his fists into each other. He mentioned Sergio Martinez and Julio Cesar Chavez Jr., even if he needs to go up to light heavyweight to get to him, as fighters on his wish list.
I asked the boxer if he ever gets angry, ever kicks the cat. After pondering, he joked that maybe when he argues with his wife. But, no, he said, he maintains an even keel. Trainer Abel Sanchez said he has never seen the fighter get mad. He is a certified punisher, Sanchez says -- he predicts Golokin will stop Stevens before Round 5 -- but Golovkin sees boxing as a sporting enterprise, and doesn't need or use anger to fuel him.
To get a better handle on how good Sanchez thinks he is, know that when the trainer was asked how Golovkin would do against Marvin Hagler in his prime, Sanchez said, "I think he beats Marvin." You can pooh-pooh that contention, but that Golovkin has an incredible chin seems to be undisputed. In more than 350 amateur fights, in a bunch of street fights as a teen, and as a pro, he has never been so much as knocked off his feet, let alone stopped. Stevens said in NYC he'd be the first to do it.
Golovkin, with the ever-present grin, indicated he thinks that will not occur.
Of course, while he did so, he grinned, and then looked down, humbly.
June, 5, 2013
6/05/13
11:13
PM ET
Miguel Cotto needs a dance partner for his next fight. Who will take a twirl with the Puerto Rican future Hall of Famer, who is wearing his promoter hat and overseeing a show at Turning Stone Casino in Verona, N.Y. on Friday night?

How about Gabriel Rosado, the Philly based rumbler with a so-so win-loss record but a fellow who fight fans know will test anyone and give the fans their money's worth? I asked Russell Peltz, who promotes him, if that could be a makeable fight.

"Rosado has been trying to put together him and Austin Trout on the internet," Peltz told me. "Is that a good style matchup for Gabriel [Rosado]? I like the weight class, 154. I don't like the style. I'd like to see him fight Miguel Cotto."

We've heard that the 32-year-old Cotto could be gloving up with Cornelius Bundrage, but the whispered word on the street is that Showtime might not be keen on Bundrage as a Cotto foe, so maybe Rosado (21-7) does have a shot.

"It would be easier to make if he had his hand raised in Las Vegas," said Peltz, referencing Rosado's disappointing split-decision loss in 10 rounds against J'Leon Love, who is promoted by Floyd Mayweather. "A choice for the fight fan, between Rosdao or Bundrage? C'mon."

Fans, what do you think? Cotto could use an opponent who is a half step under the caliber of his last foe, Trout, who he lost to last December in a unanimous decision after 12 rounds. I think Rosado fits that bill. But Rosado has lost two straight, to Gennady Golovkin, and then lost to Love. Does that remove him from the running in this fantasy matchmaking exercise? And by the way, Cotto is on a two-fight slide himself.

Weigh in!
May, 24, 2013
5/24/13
2:49
PM ET
NYC native Max Kellerman was infected by the boxing bug way back. He felt the need to communicate his views about the sweet science, a sport which is a magnet sport for cerebral types, because it pushes buttons of personal philosophy and worldview while offering top-level athletic drama, when done right.
At 16, he had a cable access boxing show, then went to school at Columbia ('98 grad), and at 24, was introduced as the Gen X voice of the game, on ESPN's "Friday Night Fights. " He appeared on the show from fall 1998 to early 2004.
Kellerman's been part of the HBO Boxing family since 2005, and will help Jim Lampley call an HBO show Saturday (May 25), in London, along with super middleweight ace Andre Ward. He is also the co-host of ESPN Los Angeles 710 AM's "
Max & Marcellus
."
Brit Carl Froch (30-2) will meet Mikkel Kessler (46-2) in a rematch from their 2010 scrap, which saw the Dane Kessler get a unanimous decision, in his homeland.
Kellerman and I chatted about how how he sees Froch-Kessler II playing out
, and then I put him on the spot, asking him to put on a promoter hat. Who would he put Ward, who some folks say is better, pound for pound, than Floyd Mayweather, in against next?
"It could be the winner of Froch-Kessler II," he said. "But I believe, when the dust settles, it's going to be Andre Ward and Gennady Golovkin, though the dust ain't gonna settle for a few years."
That, he thinks, would be one of those superfights the type of which make themselves, by consensus demand.
While I was in pressure fight ... I mean, pressure journo mode, I followed up. If you were able to manage one demolition guy, Gennady Golovkin, or Lucas Matthysse, who would it be?
"When I survey the landscape, the really special one I see is Golovkin," he answered.
I posed the same question on Twitter, and interestingly, found most responders chose Matthysse, reasoning he has beaten better names, to this point. Kellerman likes Golovkin's sturdy foundation, how he keeps balanced, doesn't waste motion as he shrinks the ring and takes his pound of flesh.
Feel free to
continue the debate
, in the comments section ...
Also,
feel free to follow me on Twitter
.
January, 25, 2013
1/25/13
12:57
AM ET
Did you like what you saw of Gennady Golovkin's taking apart of Gabe Rosado on Saturday night at the Madison Square Garden Theater? So much so that you'd like him to meet the man who is seen as the best in the business at middleweight, Sergio Martinez? Well, tough tamales. Not gonna happen. That's according to Martinez' promoter, Lou DiBella, who was in heated "oh hell no mode" when a writer at the fights DiBella promoted Wednesday night at BB King's asked about that exact potential pairing. "No way," DiBella said. "Golovkin doesn't draw a dime! Cotto and Pacquiao would never get asked about this," he railed.

Martinez gloves up next against Brit Martin Murray in Argentina, his homeland, on April 27. Then folks figure he'll engage in a most lucrative rematch against Julio Cesar Chavez Jr., who he manhandled save for a last-round knockdown back in September. Martinez turns 38 on Feb. 21, and DiBella implied, his window of opportunity, for mega-fights and mega-paydays, isn't infinite. The window was slammed shut on a scrap with Golovkin.
January, 20, 2013
1/20/13
12:57
AM ET
Mikey Garcia had his way with Orlando Salido, Gennady Golovkin bloodied up and stopped Gabe Rosado, and Rocky Martinez and Juan Carlos Burgos fought to a draw at the Madison Square Garden Theater on Saturday night.

Top Rank put on the show with HBO, and Garcia emerged as the fighter of the night. He knocked down the veteran Salido four times through four rounds. Salido perked up in Rounds 7 and 8, but an accidental headbutt broke Garcia's nose and caused the fight to end early.

The ring doctors decided that Garcia's nose was broken, and deemed it too dangerous to continue. He picked up Salido's WBO feather crown.

The Kazahk Golovkin wasn't perhaps at his best, as he was battling the flu this week, but he still carved up Rosado. The Philly fighter's corner threw in the towel in Round 7 as blood dripped from the boxer's left eye.

Martinez held onto the WBO super feather crown, or so the judges said. The crowd seemed to prefer the body work of Juan Carlos Burgos, but the judges saw it for Burgos 117-111, for Martinez 116—112, and 114-114 a draw. The stats favored Burgos -- he landed 286 to 193 for Martinez.
January, 17, 2013
1/17/13
5:48
PM ET
The principals who will tangle at the Madison Square Garden Theater on Saturday night, in a card promoted by Top Rank with K2, assembled at the Garden for a press conference on Thursday. Bob Arum, the candid dealmaker who lives in Vegas but retains that patented New Yorker style of saying what's on his mind, kicked off the affair with a jab at Bernard Hopkins, who fights for rival promoter Golden Boy. Arum noted the youthful talent on display on stage, and compared that to Hopkins, the 48-year-old light heavyweight who gloves up in Brooklyn, against Tavoris Cloud, on March 9.
The promoter talked up his card, and said it is a stern contrast to some of the "drivel" showcased by HBO and Showtime; no, he didn't care that HBO is showing the Mikey Garcia-Orlando Salido, Gennady Golovkin-Gabriel Rosado and Rocky Martinez-Juan Carlos Burgos title fights.
Speaking of speaking truth to power, and unleashing harsh truths, promoter Russell Peltz of Main Events, who handles Rosado, talked about his fighter's attributes. He advised us all to not pay attention to the five losses on his record, and lamented how he reached out to a TV exec recently, and was told that a certain fighter with too many losses wasn't welcome on the air. He noted that one of his favorites was middleweight Bennie Briscoe, who finished in 1982 with a 66-24-5 record. If you lose, but entertain, Peltz said, you should still be seen as a viable entity. Too many shows, he said, are "cowboys and indians" affairs, showcases, and that needs to change if the sport is to survive and thrive. I echo his sentiment; the best fighting the best, in pick 'em matches, is the best concept for the long-term growth of the sport.
Briscoe would have smiled at hearing Rosado talk about how he grabbed a chance to meet the hyped Golovkin, rather than get a crack at K9 Bundrage, who holds a belt at 154. "The greater the risk, the greater the glory," Rosado said.
Mikey Garcia is an exceedingly humble gent outside the ring, and a solid tactician with a cerebral style inside. He said he thinks his fight with Salido "will leave a lasting impression" and promised to lift Salido's featherweight crown. Salido, in his turn at the mic, said he expects the bout to be a fight of the year type fight.
Burgos played up the Mexican vs. Puerto Rican angle, saying, "I know I'm facing a Puerto Rican warrior. I want to be the first champion from Mexico in 2013." Foe Martinez kept it simple: "I prepared myself very well for this fight. I'm 100 percent ready for this fight."
There was a nice buzz in the room, and all seem to agree the card is solid kickoff to the new year. If you don't attend, HBO will show the bouts, starting at 9:45 PM.
Follow Woods on Twitter
September, 1, 2012
9/01/12
11:47
PM ET
Gennady Golovkin, a Bieber-faced bomber from Kazakhstan, served notice that he may have a sweet smile, but his hands are nasty instruments capable of doing terrific damage to world-class middleweights. Golovkin had Grzegorz Proksa of Poland down three times -- in the first, fourth and fifth (and final) round -- in the main event at Turning Stone Casino in Verona, N.Y.

HBO ran the bout on its "Boxing After Dark" show, and we suspect a few middleweights in the top 20 turned off the tube, admitting to themselves that they want no part of the winner. The Germany-based Golovkin went to 24-0 with 21 KOs, notching knockdowns on a slick boxer who had never been down, as an amateur or pro. Proksa is now 28-2.
September, 1, 2012
9/01/12
10:51
AM ET
WBA/IBO middleweight champion Gennady Golovkin, who fights Greg Proksa on Saturday night on HBO, spent Wednesday in New York City making the media rounds at Madison Square Garden, the Empire State Building, and a dinner honoring the 2012 Kazakhstan Olympic medal winners.
Check out this video
from Golovkin's NYC tour.
HBO's "Boxing After Dark" from the Turning Stone Casino in Verona, N.Y. kicks off at 9:45 p.m. ET. Golovkin's trainer, Abel Sanchez, has whetted appetites for the kid by telling the press he has thunder in both hands and that he's better than Hall of Famer Terry Norris, who Sanchez trained and was a junior middleweight superstar in the early 1990s.
March, 17, 2012
3/17/12
8:53
PM ET
Gennady Golovkin, who might be the best middleweight -- hell, one of the best boxers, pound for pound -- who you don't know, was at Madison Square Garden scouting Sergio Martinez Saturday night. The Kazahkstan-born hitter, who lives in Stuttgart, Germany, and is trained by Californian Abel Sanchez, told ESPN New York, in halting English, that he thinks he's the best middleweight out there right now, including Martinez, and that he would like an opportunity to prove it by fighting Martinez.

Asked whom he thought would win in the main event -- Martinez or Matthew Macklin -- Golovkin picked Martinez. "He has more power," he said. "I think by KO."

Tom Loeffler, who helps run the Klitschko brothers' promotional company, told me that K2 wants to do Golovkin-Martinez, but down the line a bit. First, the company would like to whet the U.S. fans' appetites by showcasing Golovkin on HBO. That could happen in November, Loeffler said.

Golovkin (22-0, 19 KOs), the 29-year-old WBA world middleweight champ (who happens to look nine years younger), stood by as I queried Loeffler, Golovkin's baby face not at all indicative of his chosen trade.

Golovkin wants WBA super world champ Felix Sturm first, and that could happen in September. Golovkin said he has been chasing Sturm (who also lives in Germany, so catching him shouldn't be that hard to do) for two years. Sturm next fights Sebastian Zbik, on April 13, while Golovkin will fight in May against an opponent to be determined. Loeffler also said he'd like, ideally, to see Golovkin take out Daniel Geale, the IBF champ, and/or WBO champ Dmitriy Pirog, to consolidate the crowns.

Sanchez, who trained Terry Norris and Miguel Angel Gonzalez, said Golovkin is better than Norris right now. He told me he has superstar potential, and more.

"He is by far the best fighter I've ever worked with," Sanchez said. Golovkin, Sanchez said, is more cerebral and a better technician than Norris, the ex-junior middleweight champ. "He's the biggest puncher you've ever seen, bar none. Nothing wild, nothing long, everything is compact."

I don't think I've ever come across a trainer as enthused about his client as Sanchez is about Golovkin. He said his fighter has already run Julio Cesar Chavez Jr., Peter Quillin and Alfredo Angulo out of the ring in sparring. Sanchez also told me he has a written list at his gym, with Muhammad Ali being No. 1, a blank for No. 2 and Sugar Ray Robinson at No. 3. Give it some time, Sanchez says he told Golovkin, and you will take that slot behind Ali. For that matter, I don't recall the last time I heard a promoter offer to put his guy in against anyone at 154, 160 or 168 pounds, as Loeffler did.

"Andre Ward?" I asked.

"Maybe, yes," Golovkin said.

Hey, I report, and hopefully soon we'll see this kid on American TV, and we'll all decide.