September, 4, 2013
Sep 4
6:03
PM ET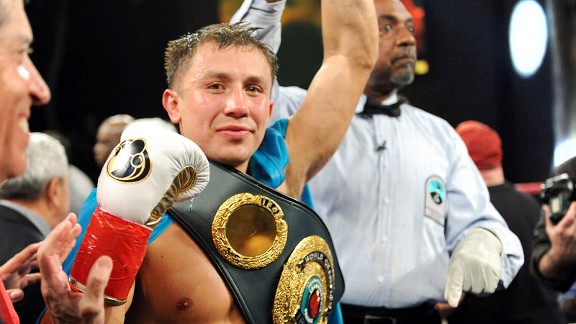 Joe Camporeale/USA TODAY SportsGennady Golovkin get angry? That's just not his style.
He smiled, answered questions in an exceedingly humble manner, listened to another question, grinned again and answered with halting but improving English. It was hard to look at the Kazakh-born middleweight titlist Gennady Golovkin and comprehend, if you didn't already know as you watched him at the Refinery Hotel on West 38th Street in Manhattan on Wednesday, that this kid with the Justin Bieber face has some of the most feared hands in the sport, in any weight class.
Word is most definitely spreading on the 27-0 (24 KOs) boxer, if you're judging by the info delivered by his promoter, Tom Loeffler of K2, who reported that the presale figures for the Nov. 2 scrap at the MSG Theater between WBA middleweight champion Golovkin and Brownsville, Brooklyn's Curtis Stevens (25-3 with 18 KOs) made it the fastest seller in Theater history.
Further evidence that the Golovkin story is spreading? HBO, which will televise the Golovkin-Stevens scrap, ran one of the "2 Days" mini docs in June before Golovkin's fight against Gabriel Rosado and it was their highest-rated episode of that program.
Loeffler saw it with his own eyes when Gennady attended the Nonito Donaire-Toshiaki Nishioka card at the Home Depot Center in Carson, Calif., and "a whole bunch of the Mexican fans started chanting 'Triple G' [his nickname].'"
Might his exploits travel even wider if he didn't look, seriously, like the older brother Bieber doesn't have, so unlike the grizzled pug that non-fight fans picture in their heads when they conjure "boxer"? Maybe, maybe not. There is something so compelling about the duality present in Golovkin, seeing the humble guy who grins constantly, and then seeing the predatory way he walks foes down, and then looks to land on them, hard, with virtually every shot.
"I want to fight," the 31-year-old Golovkin said, straight up, when asked about what other fighters he's targeting if and when he handles Stevens. "I want drama," he said, and banged his fists into each other. He mentioned Sergio Martinez and Julio Cesar Chavez Jr., even if he needs to go up to light heavyweight to get to him, as fighters on his wish list.
I asked the boxer if he ever gets angry, ever kicks the cat. After pondering, he joked that maybe when he argues with his wife. But, no, he said, he maintains an even keel. Trainer Abel Sanchez said he has never seen the fighter get mad. He is a certified punisher, Sanchez says -- he predicts Golokin will stop Stevens before Round 5 -- but Golovkin sees boxing as a sporting enterprise, and doesn't need or use anger to fuel him.
To get a better handle on how good Sanchez thinks he is, know that when the trainer was asked how Golovkin would do against Marvin Hagler in his prime, Sanchez said, "I think he beats Marvin." You can pooh-pooh that contention, but that Golovkin has an incredible chin seems to be undisputed. In more than 350 amateur fights, in a bunch of street fights as a teen, and as a pro, he has never been so much as knocked off his feet, let alone stopped. Stevens said in NYC he'd be the first to do it.
Golovkin, with the ever-present grin, indicated he thinks that will not occur.
Of course, while he did so, he grinned, and then looked down, humbly.
September, 9, 2012
9/09/12
12:42
AM ET
Andre Ward, glove and all, reached his mitt down Chad Dawson's throat and yanked out the heart of the Connecticut boxer on Saturday night in Oakland. In a "best vs the best scrap," the 168-pound king invited the 175-pound ace, Dawson, down to his weight class ... and then proceeded to make him wish he pretended the invite blew off his porch.

Yes, let us say that Dawson will not clamor for a return to that neighborhood; the Oakland resident Ward knocked him down in the third, the fourth and the 10th, forcing Dawson to tell the ref that he wanted no mas of Ward's punishment at the Oracle Arena.

Hooks and clean rights hurt Dawson in Round 10 and he took a knee. Ref Steve Smoger walked to him, counting. "One, two, three, four," he said, as he looked into a beaten man's eyes and soul.

"You all right, baby?" Smoger asked, while keeping a count.

"Five, six," Smoger continued.

"I'm finished," Dawson muttered before "seven."

"You done?"

"I'm done," he said.

"Huh?" Smoger asked, looking to confirm with zero doubt. "Stop it? Stop it?"

"Yeah," Dawson said, with a tiny hint of relief, maybe, but mostly with the sad affect of a man who'd been physically bettered.

Smoger waved his left in the air, half the universal symbol of the benevolent intercession. With his right hand, he held Dawson to him, as if to say, No shame, guy, you did your best, you earned your check, I'm not gonna let this beast have at you any more.

Ward is just that, a beast, and that's not a label he's enjoyed on his rise to this peak. Too cerebral, too technical, too much sweet and science, not enough Gatti in him, it was said.

Was.

Not anymore, I don't think. Andre Ward graduated from pugilist specialist to "fighter" on this night, and cemented his hold on the No. 2 slot, pound for pound.

Mayweather-Ward, anyone?
July, 8, 2012
7/08/12
1:29
AM ET
Will Rosinsky found Kelly Pavlik had a bit more speed than he thought the comebacking Ohioan possessed, and that hand speed proved hard to handle for the Queens-based hitter, who dropped a unanimous decision on Saturday night in California.

Rosinsky, age 27, hoped that he'd surprise Pavlik -- that he'd get overlooked as a no-name, and that he'd surprise the ex-middleweight champ with his skills. Well, Rosinsky showed off some skills, for sure, including some slick movement which Pavlik had a hard time with.

But the judges, in the end, gave Pavlik the nod, by scores of 98-91, 98-91, and 97-92. Now 16-2, Rosinsky got sent to the mat at the Home Depot Center in Round 2, but his defensive prowess carried him to the final bell against the 40-2 victor. After the supermiddleweight scrap, which was shown on HBO before a Nonito Donaire-Jeffrey Mathebula junior feather title fight, Rosinsky checked in with NYFightBlog.

"Congrats to Kelly on a great fight," he said. "He didn't have as much pop as I anticipated, but was a little quicker than he looks on TV and made good use of his left hand. I thought I did better than they had it on the cards but I take my hat off to him."

He wasn't down in the dumps after the loss. "It was a great experience for me," Rosinsky said. "I will be back. My future is bright."
July, 2, 2012
7/02/12
5:45
PM ET
To me, collecting stamps, or trolling eBay for knickknacks, is a hobby. Professional boxing is the furthest thing from a hobby. But super middleweight Will Rosinsky of Ozone Park, Queens, sees it differently.

"Boxing is my hobby," the 27-year-old fighter told me on the phone five days before he gets the biggest and best shot of his career, against ex-middleweight champion Kelly Pavlik on HBO.

I paused and tried to wrap my brain around that. I couldn't. So, I asked him to explain.

"I was taught to have options," said the right-hander with the 16-1 (9 KOs) record, who is coming off a decision win on June 14 against Aaron Pryor Jr. "Boxing is a hobby I take very seriously. It doesn't mean I do it part time."

Rosinsky's day job is as an EMT, working the toughest streets of NYC, in East New York. "When I get the right amount of time off, I give boxing full attention," he said. "I'm not doing it half-ass."

Not long ago, Rosinsky answered a call in East NY. A teenager had been shot nine times. "It was gory," Rosinsky said. "We did our best, took him to the hospital."

The kid didn't make it. "It is a little harder to deal with when he's so young," Rosinsky said. "It's tough to deal with, but you do the best job you can. It's a tough area, East New York, but someones gotta do it."

That gives you a better sense of how this guy can view boxing as a hobby, right? To take your job home with you when you see kids getting pumped full of holes -- in a neighborhood that is largely left to its own devices in the richest nation on the planet -- is a recipe for burnout. So Rosinsky doesn't. He processes the tough calls with fiancée and throws himself into his boxing.

So, this is "just" a hobby.

Does Rosinsky truly believe, as a hobbyist, he can defeat Pavlik (39-2 with 34 KOs; age 30)? The comebacking Ohioan moved to California earlier this year to get away from bad influences and learn new habits from a new trainer (Robert Garcia) and new friends (ones who don't encourage him to party down instead of train).

"I am damn near one hundred percent sure," Rosinsky said of the opportunity, which takes place at the Home Depot Center in Carson, Calif. "But you have to be honest. It will be a tough fight. I'm ready for it.

"Pavlik's last fight (TKO7 win over Scott Sigmon on June 8), I wasn't really impressed," Rosinsky said. "I think I can beat a guy with a big name, make a lot of noise in weight class. I saw ring rust, I felt he was slower, and I couldn't see how powerful he was, because Sigmon was not hurt once. It almost looked like Pavlik didn't bring the same desire back when he was trying to prove a point.

"I see Pavlik as beatable, a great name on my résumé, and all reward, no risk for me. I'm the underdog. He's all risk, no reward, because people ask, 'Who is Will Rosinsky?'"
March, 29, 2012
3/29/12
3:39
PM ET
I was on the phone today with
Mark Taffet
, who runs HBO's pay-per-view department, and asked him how he was doing to start off.
OK, he said.
He sounded sort of glum, actually. I asked why, and he admitted he was a little down because of the death of
Bert Sugar
. It turns out Sugar made quite a first impression on Taffet back in 1991, when he and
Lou DiBella
started the HBO pay-per-view arm, TVKO.
"Bert walked into my office, unexpectedly," Taffet recalled. "I had never met him. He was wearing that white basket weave fedora, a seersucker blazer, red and green plaid pants, loafers with no socks. And I thought to myself, 'How did this guy get past security?' He said, in that Bert Sugar fashion, "Uncle Mark, glad to meet you." And he then launched into an impromptu ditty.
TVKO, pee pee vee/Boxing the way it used to be
Taffet remarked that was a catchy jingle, and Sugar replied that that was no surprise, as he had written the most catchy Nestle jingle, "N-E-S-T-L-E-S, Nestle makes the very best." (
http://www.retrojunk.com/details_commercial/721/
)
Sugar was part of the HBO PPV crew for many years after that, doing radio interviews for more than half the day to hype a fight, and writing for HBO.com, and the like. "It wasn't a big pay per view unless Bert was there," Taffett said. With Bert, you didn't even know it was work. He had a great gift of gab, and we were proud to have him as a member of the pay per view team. He was a lovely, wonderful guy, and we will miss him dearly, forever."
February, 3, 2012
2/03/12
12:36
PM ET
Nonito Donaire
grew his fanbase more than a bit when he showed his talents on October 22 in the Theater at Madison Square Garden.
Actually, the fight kind of stunk,
because opponent Omar Narvaez
showed up to survive, not thrive. But Donaire (27-1), who won fans with his upbeat personality and
mean DeNiro impersonation
, gloves up tomorrow, in Texas, and that super bantamweight title fight scrap figures to be a crowd-pleaser. The California-based boxer, who was born in the Philippines, meets
Wilfredo Vazquez
Jr. (21-1-1) and things have gotten heated between them during the pre-fight buildup.
They had to be separated during the pose-off at the last presser, and their wives have even gotten in the act,
sniping at each other on Twitter
. Sometimes this stuff is for show, but Donaire is such a sweetheart outside the ring, I'm pretty certain this enmity is the real deal, and will spill into the ring.
HBO will show the fight, during a broadcast that kicks off at 10 PM Saturday. Note: They run a new feature before the show kicks off, called "
2 Days: Portrait of a Fighter
." The series will look at the 48 hours before a boxer enters the ring to fight, and
Brandon Rios
will be the first subject. Cameras followed him before his Dec. 3 scrap at MSG against John Murray and the footage should be stellar, because Rios was embroiled in a harsh battle with the scale. He didn't make weight for the fight...so I will be setting the DVR for this one.
January, 31, 2012
1/31/12
5:00
PM ET
I had more, far more, interaction with new HBO Sports boss Ken Hershman at a Tuesday lunch at HBO headquarters than I ever did with the man who ran the previous regime, Ross Greenburg.

I dare say that might be a good thing. ...

First things first, though: I'm not out to bury Greenburg, who after running the show from 2000, was requested to resign, and did so last July. He was, and is, an immensely talented fellow who did some fine things in the boxing department at HBO Sports. But apparently his bosses didn't care for some of what was happening there in the last couple years or so, and this is why Hershman, who ran the boxing at Showtime prior to his landing at HBO, is in the seat that had belonged to Greenburg.

In the hour-and-a-half session attended by fightwriters representing Sports Illustrated, New York Daily News, Newsday, The Ring and other respected media outlets, Hershman showed himself to be a down-to-earth guy, mellow, politically adept, able to slip and duck tough questions with Mayweather-esque aplomb. And he gave us some hints about what we will see on HBO in the coming months and likely the years ahead, as well as some references to what went awry at HBO prior to his arrival. (For more on that, you'd be advised to track down some Thomas Hauser clips. The man has inspected HBO and its boxing division with a proctological thoroughness.)

Hershman, a Long Islander who is a lawyer by trade, started off at Viacom and transferred to Showtime in July 1992. By October 2003, he was asked to run Showtime Sports. He is now in his fourth week at the other cable powerhouse, and came off as a humble sort who is looking to get his footing, fit in and not give the impression of a Bigfoot know-it-all seeking to advertise his power by napalming existing departments and installing his own crew. This manner, I admit, appealed to me, as I don't care for the Trump-style know-it-all exec who is all cocky bluster or cold, ruthless functionary.

There were a couple of notable or semi-notable takeaways for me from this lunch. As I said, Hershman struck me as a skilled politician, one who isn't prone to being a loose cannon or a juicy interview, and he didn't look to score points or make the media his pals by offering delicious dirt or sexy soundbites. But he did subtly make a point of noting that HBO paid too much attention to its pay-per-view arm before he arrived, at the expense of its "regular" boxing programming. More than a few times, Hershman repeated his desire to "get the best boxing I can on HBO."

I could be wrong, but I do believe he also sent out a message to promoters that his regime will seek to be much more forthcoming when dealing with promoters about how and why fights are being bought. He talked about being "transparent," "open," and "honest," and that speaks to some issues that certain promoters had with the previous regime -- that deals were made seemingly based as much on relationships and familiarity as opposed to sound business practices or the appeal of a particular matchup.

Hershman also took pains to make clear that he doesn't crave the Floyd Mayweather Jr.-Manny Pacquiao bout -- "I'm over it," he said, alluding to the decade of flirtation between the two -- and, in fact, suggested that the fighters would be wise to hook up before they reach their "sell-by date." And when is that date, I inquired? "By the end of this year, you want to see these guys in the ring together," Hershman said. "Maybe early next year ... after that, it gets less and less relevant."

He struck down the notion that this fight needs to get made to save the sport. "That's hyperbole," he said.

It was nice to hear the big bossman voice an opinion roughly in line with what many, if not most, fans think about the situation. I hoped to hear more of that everyman thinking when I beseeched Hershman not to engage in counter-programming, calling for the scheduling of overlapping dates to diminish the impact of the competition's presentation. I'd like to see HBO and Showtime fight hard for the best bouts, because that spirited competition is good for the fans, but for them to agree to play nice when it comes to portioning dates. To stage events on the same night, at the same time, has always struck me as small-minded and silly. Hershman agreed that it's best to avoid overlapping dates, but said that it does happen because there isn't an infinite amount of Saturdays.

Folks who believe HBO airs too many showcase bouts designed to build a prospect up to a name, to a contender, to a star and finally to a PPV driver, might be a bit disappointed. Hershman said a few times that he likes to follow a several-fight focus plan for athletes, and that might well include the sort of fights that a Gary Russell has taken part in recently, fights in which he is the far-and-away favorite. Me, I think we all can understand some of that, but should have to tolerate far less than we've been subjected to in recent years.

I approached Hershman after lunch, shook his hand and wished him well. "You're the most powerful man in the sport now," I said, tongue somewhat in cheek. "Good luck. Do well."

He played off the "most powerful" designation, again showing a likable degree of humility. Hey, if the man books more pick-'em fights than we've seen in recent years, frankly, he can act as imperiously as he likes. It's the quality of the fights that matter. I'm hopeful the Hershman reign will be a rewarding for fans, who have for too many years paid too much for too little. The sport could use it, and the fans deserve that.
January, 13, 2012
1/13/12
9:22
PM ET
After the first two episodes of "On Freddie Roach" were screened at HBO headquarters on Wednesday night, a panel of Roach, director-producer Peter Berg and producer Jim Lampley fielded questions.

Perhaps my favorite part of that came when Lampley responded to a query about the existence of the sport, about whether or not it should exist with all we know about head trauma these days.

Lampley responded that it is a pipe dream to not consider that men and women give up their health and well being, and put their bodies on the line every day, to provide for themselves and their families. In the coal mines, for example, guys compromise their health without the attendant possibility of great earnings, adulation and acclaim that can come with making it in the fight game. He'd rather his son take up boxing than football or hockey, as a matter of fact, Lampley said.

Roach pointed out that "there are more deaths every year in horseback riding" than in boxing, and that he reveres the freedom that exists in our society, which allows man to assume such a risk if he chooses to. Headgear, he said, isn't the answer, because that allows for more sustained punishment. In fact, he'd be for smaller gloves, so KOs come more rapidly.

I asked the panel if they knew all facets of Roach's personality which were on display, especially that dark intensity and remoteness which is seen when he interacts with his ex Marie and while his brother has a health scare. Lampley said he didn't really know the breadth of Freddie's personality, but Berg had a pretty solid idea of his varying traits. Back a ways, he was acting in a film with Roach's buddy Mickey Rourke. They were all in a bar, and a loudmouth was flapping his lips. Berg boiled, but held himself together and looked away. Next thing he knew, the yapper was out on the floor. Roach had dropped him, out cold, with a single shot and gone back to his glass.

Roach flushed slightly when I mentioned his intensity, especially in connection to Marie. He pointed out that those closest to us often bear the brunt of our ire when our emotions are off keel. He told all that he apologized to Marie for being a bear at times. I left the theater with a few lingering questions, one of them being that I wanted to know how and why Freddie and Marie split and why she sticks around and if she's all good with the status of the relationship.

The ex fighter said he wants viewers to come away with the belief that they can work through anything. Funny, on Friday I was walking my almost five year old daughter to school. We live in Brooklyn. Her school is seven blocks away so the walk takes about fifteen minutes. Five minutes in, she saw a dead pigeon on the sidewalk, and started riffing about death.

"Daddy, if mommy dies, you'll be with me, right?" she asked. "Yes, I will," I told her.

I then explained that we can help ourselves feel better when we worry about bad things happening by reminding ourselves that we have the capacity to deal with anything. Anything that happens to us, we can make it through. I may not have responded in the manner I did, strong, and positive, if I hadn't seen this screener.

During the panel session, Roach mentioned about four times that he didn't realize how much he shook. That struck me. I have a theory that the world would actually be a better place, or the US would be anyway, if everyone had a reality show. Because then we'd all see ourselves in our full glory, on a screen, and we'd be made aware of some of our bad habits. Roach's shaking is no habit that he can control, though; it is his Parkinson's acting up, and he doesn't know if the symptoms will worsen, or will stay contained as they are with meds. I was left feeling for the man. You watch the show and realize how much boxing is his life, how much his identity stems from being in boxing, and from holding the pads that Manny and Amir and all of them batter. If he isn't able to hold the pads the way he thinks he should, it will be a sad development.

The panel session yielded more fruit. Lampley said that the Parkinson's angle is most meaningful to him. He has Parkinson's in his family, and saw it up close as a young person, when he caddied for a lady who had Parkinson's. Her mouth didn't close, and her tongue hung out. Caddies shunned her, but Lampley didn't. "She was one of the most courageous people I'd met," he said, choking up noticeably.

Next up, I'll share what Freddie told me after the event. We talked about his temper, and of course, about Mayweather-Pacquiao. Will it happen? What about The Cut? Check back…
January, 13, 2012
1/13/12
3:38
PM ET
Confession time. When I heard there was going to be a six episode
Freddie Roach
reality show, my first reaction was: Will that work?
What I know of Freddie, the ace trainer and former lunchpail banger who today struggles with
Parkinson's
while he runs the busiest and best-known boxing gym in the world, the
Wild Card
in Hollywood, CA, he's an unassuming guy.
He's not quite the loudmouth attention freak who gets into daily train wrecks the sort of which tend to entrance TV viewers of today.
Then I saw two episodes, which were screened at HBO headquarters in New York City on Wednesday night, and my fears were allayed. I can safely say that boxing fans will enjoy the "cinema-verite series," which is directed by
Peter Berg
(actor, director, producer on "Friday Night Lights") and produced by Berg and
Jim Lampley
(you know who that is). And also, perhaps more importantly, because television is a results business, even more than boxing, the series I think will appeal to a wider demo. I can see non-boxing fans, and women especially, tuning in to the premiere, on
Friday, Jan. 20 (9:30 PM)
, and then sticking around in subsequent weeks.
The portions that I saw worked because you see a "regular Joe" struggling his way through his existence, as we all do, in an atmosphere of celebrity. The first episode saw Roach helping
Amir Khan
get ready to fight
Zab Judah
, so fight fans will enjoy seeing behind the curtain that usually blocks their eyes from seeing some of the nitty-gritty of the game. They also worked because I saw sides of Roach that I didn't know existed.
There is an intensity on display that I didn't know about, and also a remoteness, if you want to call it that, that surprised me. Viewers will likely cringe at the rawness Berg captured as Roach dresses down his assistant
Marie
, who just happens to be his ex, as she tends to his business. She is seen right after the uncomfortable moment shedding a tear, and the viewer who thinks he has Roach pegged is thrown for a loop. This amiable guy with the hand tremors, who always seems so agreeable while he does his thing with top client
Manny Pacquiao
, has a darker side to him.
The reason, or an explanation of that darker side, is alluded too. Roach came from a dysfunctional home growing up in Dedham, Mass. Hell, we all come from a dysfunctional home, to an extent, but most of our fathers don't beat up on our mothers right in front of us, and leave her with black eyes. Most of our fathers didn't drink too much, and whack us around. So right after you see the darker side of Roach, you receive some information that mitigates the discomfort. Berg is good at his craft…
I mentioned the train wrecks, the booze-fueled dustups, the booze-fueled hot-tub hookups, the public spats over inconsequential matters exacerbated by the presence of the cameras and on-target assumption made by the talent that the producers are desiring dirt and misbehavior…No, "On Freddie Roach" won't be featuring the sort of jackpots you see on the "
Housewives
" shows or on "
Jersey Shore
." His soul doesn't have the holes in it which can only be plugged by fame derived from selling out oneself in exchange for notoriety and money (cough, cough,
Kardashians
). But that doesn't mean there won't be misbehavior, performed by characters just quirky enough to warrant some gawking, on the show. One of those characters is Freddie's brother
Pepper
, and a filmed sequence in which he had a medical issue had me glued.
Come back for more info on the show, and content from a chat I had with Roach after the HBO screening…
Follow me on Twitter here. Send suggestions or hatemail to FightblogNYC@gmail.com.
January, 11, 2012
1/11/12
11:52
AM ET
At a press conference held Wednesday at Madison Square Garden, promoter Lou DiBella announced that his ace middleweight Sergio Martinez would stay with HBO, contrary to Martinez' remarks two weeks ago. Then, Martinez, who meets Matthew Macklin on St. Paddy's Day, March 17, said he was done with longterm partner HBO.

It is believed that DiBella had discussions with Showtime about bringing Martinez there, but Martinez-Macklin will run on HBO on March 17. The show kicks off at 10 PM ET.

"Without HBO, there really would be no Sergio Martinez," DiBella said, referencing Martinez' string of appearances on the cabler.

Dibella also pointed out that he was happy to see what he believes to be a new era beginning at the channel, as Ken Hershman, late of Showtime, had his first day on the job running HBO Sports on Jan. 9.
October, 27, 2011
10/27/11
4:50
PM ET
New York boxing has suffered a significant talent drain in the last couple of years, with some of the best and brightest talent busting out of town for more hospitable climes. Peter "Kid Chocolate" Quillin is one of the talented hitters who jetted from NYC in order to give himself the best chance at making that desired leap in his career.

He moved to L.A. on June 2, 2010, and while he does bounce back and forth between LA and NY -- he has an apartment on both coasts -- Quillin (25-0 with 19 KOs) tells NYFightBlog that he's quite content with how the move has worked out for him. The middleweight gloves up on Nov. 5, against Craig McEwan in Mexico. It will be Quillin's HBO debut, and if he wins, he gets real close to having his name mentioned for marquee fights, against beltholders. But if and when those marquee fights come, and Quillin performs how he believes he can perform, don't expect him to amass his riches and then come back to NYC and hand 'em over to a Corcoran agent. Let him explain.

"I'll be going to Florida, probably," says Quillin, who mainly lived in Brooklyn and the Bronx during his NYC tenure. "There, you can make enough money to buy a good place. In New York, millionaires are just regular people. You make 100 G's and you're week-to-week."

Quillin moved to NYC from Michigan when he finished high school, and looked around him while Chin Checkers, Curtis Stevens, Jaidon Codrington, Sechew Powell, Joe Greene, Andre Berto, John Duddy and Paulie Malignaggi enjoyed more buzz than he. But he kept plugging, and now he's training at the Wild Card in Hollywood, with Freddie Roach and Eric Brown. He sounds stoked to be fighting on HBO, underneath the Alfredo Angulo-James Kirkland headliner.

"Some people get in those lights, and fold," he says. "It won't happen with me. I know where I'm headed. This is a big test. I know what's at stake. I'm 25-0 and I'm moving on to a lot of great things."

A win over world-class Tarvis Simms in July would've sped up the advancement process but Simms pulled out of the bout with an injury. Quillin has called out Sergio Martinez, Paul Williams and Kelly Pavlik in the past, but sounds resigned to the fact that he'll have to move up more incrementally, that one of the boldface names at 160 won't take a chance on losing to a quick-handed guy with some pop who's still building his rep and a wider fanbase.

Quillin likens himself to a subway performer, who's skilled as anything, but is playing to three riders and getting chump change tips ... until a talent scout sees the performer's skills and scoops him up. "I've been through the struggles. No one knew who I was when I first hit the scene. They said, 'Who is this guy?' "

More know now. But Quillin's signature win is over Jessie Brinkley, the "Contender" alum who is a gamer, but was never seen as a stud. McEwan, a 19-1 Scotsman who gave Andy Lee some trouble in a March TKO-10 loss, is a step up from Brinkley. A 6-1 lefty, Quillin's hand speed should be too much for McEwan, who used to train with Roach, but is now back in Scotland.

I expect Quillin's sharp right hand, used as a lead against the lefty, could stop the Scot inside the distance.