October, 23, 2013
10/23/13
12:14
PM ET
The lady who might be the biggest boxing fan of the bunch, alas, missed the cut Tuesday at Mendez Boxing Gym in NYC. Model Jasmina Dzurlic tells me that she's a tremendous Canelo Alvarez fan, and has worked out at a boxing gym in the Bronx for six years. Like any credible competitor, the loss doesn't dampen her fire. "I'm a little bit disappointed, but there's always another chance," she says after learning that three other gals will be informing fans at the MSG Theater on Nov. 2 what round is forthcoming.
[+] Enlarge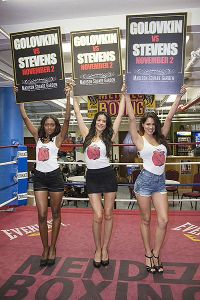 Angela Cranford/ MSG PhotosThere really were no losers at the Mendez Boxing Gym on East 26th Street.
Top three-er Alexis Lilly tells me that she digs boxing, and in fact, her mom boxed as an amateur in Kentucky. The fave fighter for the Kentucky transplant who lives in NYC? "Mike Tyson," she tells me. "My dad replays his fights."
Winner Vanessa Ratnavich also describes herself as a fight fan. Her main man is Manny Pacquiao, the Congressman from the Philippines who next gloves up on Nov. 23, in Macau, against Brandon Rios. "I'm half Filipino and half Thai," she informs me. Her experience -- she's been a ring card girl at MSG twice -- seemed to have paid off. I queried her on the presence of card girls during fights. Why did she think they have a role at events? "The majority of the fans have been men, and sex sells," she said. Give her an extra point for candor.
My favorite of the three prizewinners, if I may be candid, was Tarale Wulff. Not for her aesthetics, but for her world view. For one thing, she proudly parted with her age, 37, though she's in an industry which doesn't typically prize the presence of a longer CV. Wulf has done this before, she tells me; her first card gig came about 15 years ago, at Cipriani's. The Long Island native, who resides in Bed-Stuy, said it "would be cool if guys held up the cards too" but noted that usually two men are doing the fighting. She said she's proud that she and the other two won't be strutting in bikinis on Nov. 2, but will be clad in "tasteful, sexy dresses."
The experience allowed me the setting to answer a question that has long nagged me. Do the fighters ever get distracted during a fight by a sultry strutter? I asked fellow judge John Duddy. Did he ever get distracted during his in-the-ring career? "No, never," he answered, with the sort of certainty only an Irish accent can muster. "I never took boxing for granted. I only reacted to things, like the audience, after the fight."
Word is this might be an annual event. I liked Duddy's suggestion for a possible added judging component for next time. "The ladies can put a glove on, and punch me, and we can see who punches the hardest," Duddy said.
Better he than
me
!
October, 23, 2013
10/23/13
10:58
AM ET
The ladies vying for the three slots as ring card girls at the Nov. 2 Madison Square Garden Theater promotion topped by a Gennady Golovkin middleweight title defense against Curtis Stevens seem to be amped up, but contain any hints of nerves well. Nobody is trash-talking a rival. These ladies, all working under the Wilhelmina umbrella, seem to be on decent terms as they
audition at the Mendez Boxing gym in Chelsea on Tuesday afternoon
.
[+] Enlarge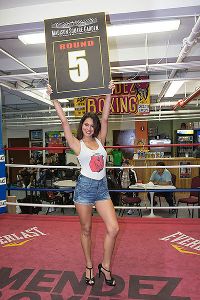 Angela Cranford/ MSG PhotosSo, do fighters ever get distracted by the ring-card girls?
I shoot the breeze with former middleweight contender John Duddy, a fellow judge along with Nicole Young of PIX 11, while preparations for the contest are underway. The MSG publicity aces are putting out ballots and explaining to the 10 models what the audition will entail.
John's wife of four years, Grainne Duddy, has tagged along to check out the proceedings. I ask her why she's here, seeking to delve, maybe, into an issue that sometimes pops up in my head: is the presence of these card "girls" during a boxing match necessary, or merely an anachronistic exercise in overt objectification? "I've never been to an event like this," she tells me. "I'm a big fan of "America's Top Model." Basically, I'm just curious."
Grainne points out her favorite to take top honors, based on a quick assessment. I hold off making mental picks, waiting to see the ladies on the stage, in the ring, and see how they handle wildcards like walking on high heels on a cushy surface.
Each gal gets a turn with a card, and she struts about the ring as a dozen photogs snap away. Some appear to have a better handle on the gig than others, though nobody drops the ball with a mistake like holding the round card upside down.
My heart is pounding a bit, with the pressure on, with the knowledge that my tallies, along with those of Duddy and Young, will result in three joyous reactions, and seven doses of disappointment.
The scores are tallied, and all breaths are bated as we await the announcement of the winners. Who are the lucky and talented three? Alexis Lilly, Taralee Wulf and Vanessa Ratnavich get the gig, and all the contestants whoop and holler for their good fortune.
Check back for reactions from the winners, please.
Follow Woods on Twitter
here
.
October, 22, 2013
10/22/13
11:00
PM ET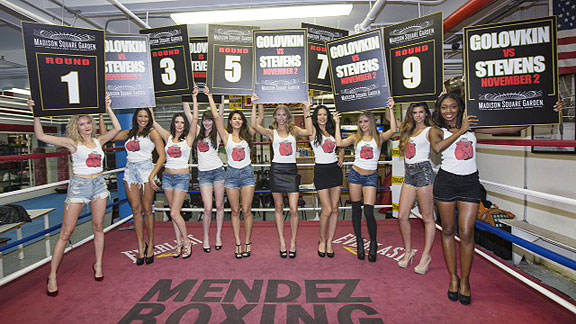 Angela Cranford/ MSG PhotosTen contestants were vying for three spots as ring card girls for a Nov. 2 event at the MSG Theater.
The 10 hopefuls milled about in the gym, eyeing each other, with different contestants acting in different ways as they awaited the competition. The thump-thump-thump of people pounding the heavy bags at the Mendez Boxing Gym on East 26th Street became white noise after a short spell, with the hopefuls ignoring the periodic rise in decibel levels as they pondered the prize that could soon be theirs.
One after another, they checked themselves in the mirrors, checked out limbs, assessed their game faces.
One of them peered into the mirror, lips pursed, brow furrowed. A tweak was needed and out came a tube ... of lipstick. Contestant No. 5 applied a coat, checked herself in the mirror, decided she was ready to rumble, and gave herself over to the process.
The prize being sought at the gym on Tuesday afternoon wasn't the typical sort yearned for by typical attendees at the facility. No gaudy belts or Golden Gloves berths were the bounty for the taking. No, on this Tuesday 10 women, all models at the famed Wilhelmina Models agency, were vying for three spots as ring card girls for a Nov. 2 event at the Madison Square Garden Theater. That promotion, put forth by K2, and Main Events, portions of which will run on HBO, will be topped by the Kazakh slugger with the baby face and the severely destructive fists, Gennady Golovkin (27-0 with 24 KOs). Power, loads of it, is what the 31-year-old WBO middleweight champ brings to the table, and to foes' faces. Curtis Stevens (25-3 with 18 KOs), of Brownsville, Brooklyn believes that his own power, not to be scoffed at, will carry the day at MSG. Other attributes, though, were what was to set three ladies apart from the seven also-rans in the contest.
Former middleweight contender John Duddy, a fan favorite at MSG, who took a 9-0 record at the fabled building with him into ring retirement in 2010, and PIX 11 fashion forecaster Nicole Young were the other eagle eyes, along with yours truly, taking pen to ballot and narrowing down the pack to the lucky three.
Duddy's advice -- "We should look for the 'whys,' not the 'why nots,'" -- I found appealingly optimistic from the Irishman, who told me he's happily transitioned from the ring to the stage, as an actor, rang in my head as the 10 hopefuls climbed into the ring and waited for the first bell to ring for their audition.
Check back tomorrow for part two, to learn the identities of the lucky three, and to get the answer to a question that has nagged me for ages: Do boxers ever get distracted by the ring card girls during their bouts?
Follow the writer on Twitter.
November, 23, 2011
11/23/11
3:07
PM ET
He says it in a friendly-enough fashion, but he was the WBO heavyweight champ for a spell, and Michael Bentt, 17 years removed from his last pro fight, still looks , at 6-3 and around 230, like he could get the better of some top 30 heavyweight right now. "There's no need to clap, guys," he says with just enough edge to make sure that everyone looks up from their cell phone. "We haven't done anything yet. I appreciate your enthusiasm, but clapping is false to me."

Bentt is the director of a play, "Kid Shamrock," which starts on Nov. 25 a ten show run at the TADA Theater on 15 West 28th St. in Manhattan, and he's making sure his cast, made up largely of ex fighters like John Duddy, Mark Breland, Seamus McDonagh, knows that two weeks away from opening night, they are still a good five-plus pounds from their fighting weight.

"Kid Shamrock" is the story of ex fighter Bobby Cassidy, a middleweight and light heavyweight hitter out of Long Island who fought professionally from 1963-1980. He came quite close to receiving a title shot but it can't be said of Cassidy that he "coulda been a contender, coulda been somebody." The play, written by son Bobby Cassidy Jr., who works at Newsday, makes it quite clear that his pop is somebody, because he's fought the good fight in and out of the ring, rising up from a demoralizing childhood to become a world-class boxer, and then kicking a nasty booze habit. Cassidy Sr, who hasn't had a drink since 1974, had a rough time as he tried to make the transition from active fighter to whatever it was he was going to do with the rest of his life. He is the narrator in the play, and oozes credibility when he talks of "faces that have been molded and shaped by other men."

"He had a very difficult childhood, his mother was an alcoholic and his stepfather was abusive," Cassidy Jr. told me after the rehearsal. "When young Kid Shamrock, played by John Duddy, says, 'I was nine years old, I wish I was dead,' that comes right out of my father's mouth."

The play ran in 2007, and then again in February of this year. The message, that Kid Shamrock soldiers on, thru disappointment, drinking bouts, incarceration (for loan-sharking), will likely have the audience identifying with Cassidy, and applying the potent lines and lessons to themselves.

Duddy plays prime Cassidy and McDonagh portrays the boxer after he leaves the ring, and takes up shylocking. That Duddy and McDonagh both came tantalizingly close to climbing to the top of the boxing mountain gives their performance an added degree of oomph. Duddy, just 32, retired after his June 2010 title shot against Julio Cesar Chavez Jr., a decision loss. I saw him smile more at this rehearsal then I ever did when I covered his ascent up the rankings. McDonagh exited the ring following a June 1991 loss, one bout after he lost (TKO4) to Evander Holyfield in a clash for the WBC Continental Americas crown.

The Kid is now no kid. He's 67. It struck me that many if not most families do not process such deep emotional material as the Cassidys are doing publicly. Issues which molded and shaped the lives of offspring often don't get discussed meaningfully until the patriarch passes on. I'm impressed with the courage shown by the son and the father, and the whole crew, frankly, because they are not shy about admitting frailties and missteps.

I asked Sr. if it's hard to watch and listen to potentially upsetting material. "Very painful," he told me. "It's like it's happening right in front of my eyes all over again. My son wanted to make a play of it, and I love my son."

I am looking forward to watching a performance. The run goes from Nov. 25-Dec. 4. Call 1-800-838-3006 for tickets.