October, 27, 2013
10/27/13
12:55
AM ET
Bernard Hopkins had to work much harder than I dare say most everyone believed he'd have to against Karo Murat in the main event at Boardwalk Hall in Atlantic City on Saturday night. The fight was a most entertaining but ultra-chippy affair. Hopkins ate some leather and dished it out, even more so, en route to a unanimous decision win, via scores of 117-110, 119-108, 119-108.

Here's a breakdown of the rounds.

In the first round, Murat looked better than many expected. He was aggressive, looked to bull Hopkins to the ropes. The old master feinted and threw a couple combos, but mainly scouted his man.

In the second, Murat acted like he'd been stabbed after Hopkins hit him in the body after a break, while he had his back turned.

In the third, a left hook landed on Hopkins. He got Murat back with a lead right late. It was a chippy fight and Murat was making Hopkins labor.

In the fourth, Hopkins did well with the jab and lead rights. Murat kept looking to land heavy shots, especially hooks. Hopkins had asserted more control by now.

In the fifth, Hopkins kissed the back of Murat's head in a clinch. Hopkins slugged Murat hard after the bell, after he'd been holding his right arm and hitting him.

In the sixth, Hopkins worked the body, looking to sap some strength. Murat nailed Hopkins twice after he threw him to the mat, and got warned. Chippy, bigtime.

In the seventh, a left hook hurt Murat. Smoger then took a point for an infraction from him. The left eye looked cut but OK on Murat.

In the eighth, Hopkins went to the Murat corner, yapped at them and then turned back to fight. He growled at Murat, and traded and was in one of the most entertaining rounds of his career.

In the ninth, the two traded and Murat landed about four, clean hard shots, maybe taking the round.

In the 10th, the action was busy for so late in the game. Murat by no means folded, he was looking to land hard and clean throughout.

In the 11th, a sharp right for Hopkins excited the crowd late, after another tight round. A slice on Murat's cheek bothered him some.

In the 12th, a right from Hopkins stunned Murat. Murat went cheap late, looking to headbutt Hopkins after the bell.

Afterwards, Hopkins said that he really wanted the KO. He said he wanted to be a crowd pleaser.

"I really wanted to get the knockout," he said. "I have a [nine]-year drought. He was really tough. He was a slow puncher but a good puncher. He wouldn't back down. When you go for a knockout you have to take some punches. But this is what they want to see. I wanted a knockout, so you take risks. Don't ever take your mandatory lightly. That guy would give anybody in the light heavyweight division problems."

Murat's take? The defeated German said if not for the cuts, he'd have won. But the numbers -- gashes included, unfortunately -- told a different story on Saturday night.
October, 26, 2013
10/26/13
6:54
PM ET
Karo Murat is not, by any account, a superstar now. I haven't met the man or woman who tabs him to be one in the future, either. His best win came back in 2008, against Gabriel Campillo, and he's lost to Nathan Cleverly, which is no scarlet mark against him. But one and all expect Hopkins to have his way with Murat at Boardwalk Hall in Atlantic City this evening, and maybe even stop the man, achieving his first KO since 2004. So, it isn't inconceivable that a fighter the caliber of Bernard Hopkins might be tempted to look past the German-based challenger, and maybe slack off a bit in training.

Or is it?

Hopkins is almost 49, and lives a lifestyle free from toxicity with a religious zeal. He steers clear of garbage food and only rarely indulges in sugar. He isn't the oldest world champ in the history of the sport, and didn't notch that record string of middleweight title defenses because he underestimates foes. Of all the titlists in the game today, I dare say Hopkins is actually the one guy I'd least suspect of dropping the ball in training camp, assuming he'd have his way with a lower tier talent, like a Murat.

But just out of curiosity, I asked Hopkins' trainer, Naazim Richardson, if B-Hop has EVER slacked off in camp because he knew he was matched against a lesser light.

"No," Richardson said, he's never done that. Not even against Enrique Ornelas, in Dec. 2009, when he won a UD12 but didn't look as sharp as some of us were accustomed to? "No ... he didn't underestimate him, but we didn't have the information on the guy."

Sorry, Karo. I'm guessing you won't be aided in the ring by a misstep by Hopkins in preparation. It's not his way.
October, 23, 2013
10/23/13
7:43
PM ET
It has been a long time since Bernard Hopkins scored a knockout.
So long, in fact, that the fighter himself betrayed a haziness that is totally atypical of a man who is so dialed in on staying in shape that he steers clear of sugar like it's rat poison.
[+] Enlarge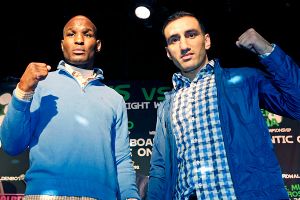 AP Photo/Kathy WillensBernard Hopkins and Karo Murat will meet on Saturday at the Boardwalk Hall in Atlantic City.
He asked for the year on Wednesday at B.B. King Blues Club & Grill in Manhattan during a presser to tout his Saturday clash in Atlantic City, N.J. against Karo Murat, a German-based boxer.
One wiseguy yelled "2004," which is when a Hopkins left hook convinced Oscar De la Hoya that the middleweight division was a bridge too far for him.
"I don't want to go 12 [rounds] all the time," said Hopkins, who turns 49 on Jan. 15. "Trust, me I'm trying [for a KO], I've just been on a bit of a drought."
Hopkins (53-6-2 with 32 KOs) can command the attention of a room, where he spoke with the same intensity with which he fights. He also zigs and zags between humor and barbs, some self-deprecating, and isn't afraid to throw zingers at haters and rivals. Murat (25-1-1 with 15 KOs; age 30) didn't get slammed, though both Hopkins and trainer Naazim Richardson all but said they'd look for spots to press the underdog and stop him inside the distance.
Middleweight titlist Peter Quillin, who defends his WBO belt against Gabriel Rosado in Atlantic City on the same card, seems to be soaking up Hopkins' wisdom, though. He took aim at the lack of energy in the room, and exhorted the assembled media and fight game citizens to clap with more zing. Hopkins took Quillin's cudgel, and swung it, playfully labeling the attendees slothful.
Heavyweight journeyman Nicolai Firtha (21-10-1) may have stolen the show, or at least the portion Hopkins left up for grabs. Firtha expressed a palpable joy -- or a skill for acting which would serve him well in Hollywood -- when he said he was overjoyed to be given the opportunity to meet 29-0 Deontay Wilder, who has stopped every foe he has met to this point.
Showtime will televise the card.
June, 5, 2013
6/05/13
7:38
PM ET
I didn't want to be rude, or a know-it-all, like one of these pundits who signs off on all boxing matches and comes off as if they think they know better than the promoters, the matchmakers and sometimes the fighters themselves. But I had to admit to Bernard Hopkins, the ageless wonder from Philadelphia who flies under the radar somewhat in the whole-of-sports spectrum, but is still a stunning performer at an age where he has no business being active, let alone fighting at a Hall of Fame level, that I wasn't excited with his July 13 fight.

No disrespect intended to Karo Murat, the man who will glove up against Hopkins at Barclays Center, but I just think that at this stage of his career, he deserves nothing but meaningful fights. Hopkins (53-6-2 with 32 KOs) has earned, with his excellence and longevity, to face only the best and brightest boxers ... or, frankly, to fight whoever the heck he wants to at this juncture. If Hopkins made it clear on the down low that he wants to ease back some, take an easier schedule, not try to climb Everest and set his sights on shorter mountains, who am I to quibble?

So, with that in mind, I gingerly told Hopkins that I was a bit bummed that he wouldn't be facing off with another person who the smart money thinks will beat him. I braced for blowback...

"You sound like me," he answered, referencing his Wednesday media luncheon in NYC, which I couldn't attend, because my oldest daughter needed to get her conjunctivitis treated. "I've been craving one of those fights I haven't had since I fought my now partner, Oscar De La Hoya [in 2004]. That's not one hundred percent why I'm in the game but..."

Hopkins explained that he didn't have his sights set on Murat, a 25-1-1 German resident whose resume doesn't suggest he should be getting a crack at the legend. But all the logical suspects were booked up, or otherwise detained. So he kept his promise to the IBF, whose light heavyweight belt he holds, after snagging it from Tavoris Cloud in his last outing, at Barclays, on March 9. The IBF asked him nicely to please fight the mandatory tittle defense in timely fashion if he should beat Cloud, and that he did, confounding yet again many folks who should know better, who should by now know that to bet against Hopkins is like practicing your karate kicks on a beehive: you might get away with it once, but it just ain't wise.

Hopkins, who has become an indispensable consigliere to Golden Boy day-to-day boss Richard Schaefer in the last few years, showed his promoter chops when he told me that Murat is a not a gimme opponent. He said that anytime a 29 year-old fights a 48 year-old, the younger man has a solid chance to win. I'm dubious, as I saw no reason on March 9 to think Hopkins has slipped an iota. But his promoter-speak does pass the sniff test when he notes that the joint will be fairly filled with folks on July 13 who will attend to see if Father Time has finally laid his greedy hands on Hopkins, and removed the force field which keeps him from deteriorating.

I'd be engaging in false hype if I told you that there was a possibility that Hopkins looks past Murat, and that is one reason to hit Barclays on July 13. He knows that a loss to this pretty mediocre man messes up his plan to have at least one more superfight -- I am a one-man drum-band lobbying for it to be against Andre Ward at a catchweight -- and won't fall prey to that.

"The stakes are raised, because if I lose, then a superfight is out the window," he said, in closing.