May, 4, 2014
May 4
11:54
AM ET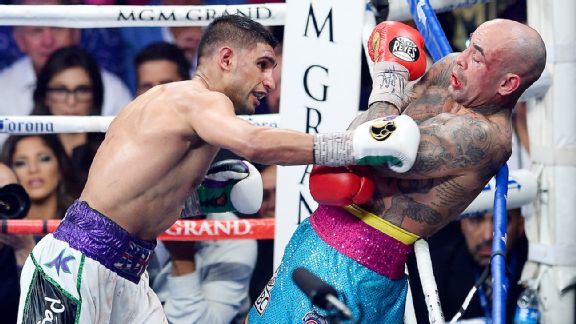 Ethan Miller/Getty ImagesAmir Khan, left, got the win over Luis Collazo with a well deserved unanimous decision.
LAS VEGAS -- Luis Collazo took on a foe with maybe the best hand-speed of anyone he's scrapped with since turning pro in 2000, in Amir Khan, and the Brooklyner did his best to adapt to that at the MGM Grand on Saturday night on the Floyd Mayweather-Marcos Maidana undercard.
But the Brit Khan boxed as well as he ever has, arguably, and his sometimes iffy chin held up throughout 12 quite rugged rounds. There was no shortage of rasslin', with Khan taking the opportunity to tie up the 33-year-old whenever he got in tight, to try and land a sneaky left hook, or right cross to test the Khan chin.
Collazo (now 35-6) went down three times, and while he went to the final second looking to land the difference-maker, the judges spoke loudly, with scores giving Khan the UD, 119-104, 119-104, 117-106.
Khan (29-2) got buzzed in round eight, but said in the postfight presser that he wasn't too hurt. Collazo, down in the fourth, and twice in the 10th, looked to the ref time and again to keep Khan from holding but he wasn't able to keep the Brit from that tactic.
His trainer, Nirmal Lorick, told me Collazo broke his right hand in round five. "And the referee didn't help things," he said, speaking of Vic Drakulich. "The ref sucked."
Paul Malignaggi, who fought Khan in 2010, and helped call the fight on Showtime pay-per-view, told me that Khan does a lot of holding and pushing down on the head on the inside, and Khan does what he can do, what he can get away with, to secure the win. "He knows how to win rounds, simple as that," he said.
My take: Khan, frankly, surprised me with how fluid he was, how smartly he stuck to the game-plan, how well he avoided firefights. Basically, Collazo was fighting A-grade Khan, and we've seen a lot of lesser grade Khan in recent years. Bad luck for Lu, really. Khan has been listening and absorbing what trainer Virgil Hunter has been teaching the last couple fights, they have jelled, and that didn't help Collazos' chances.
May, 2, 2014
May 2
2:15
PM ET
I asked Luis Collazo what he saw in the eyes of the man he will be fighting Saturday night, at the MGM in Las Vegas on the Floyd Mayweather-Marcos Maidana undercard.
Did he see fear in Amir Khan's eyes? A window to his soul? Something in the body language to indicate that he was in the head of the Brit who is making his debut at 147 pounds?
[+] Enlarge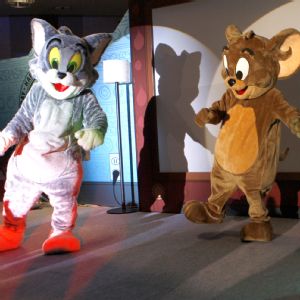 Subir Halder/India Today Group/Getty ImagesWhat do Tom and Jerry have to do with Brooklyn boxer Luis Collazo? Read on.
"I don't know," said the 33-year-old Brooklyn native. "I'm at peace, Mike. I'm blessed, I'm ready for this opportunity and ready to go."
In other words, he doesn't really care what Khan is feeling or thinking, he knows in his heart he is in the right place. But I pressed. "He looked like he's trying to intimidate me," Collazo said, "but I'm from New York, there's nothing intimidating to me."
The boxer, a crafty lefty with more than enough pop to drop you if you don't see one coming -- or maybe, some figure, even if you do; Khan (28-3, two of three losses via KO) has something of an iffy chin -- gave me a tidbit of insight into his MO when I asked what he'd do the rest of this Thursday. Have a light workout, he said, and then, "Watch some 'Tom and Jerry.'"
Doesn't matter the episode, Collazo chills and gets his game face that much readier by watching a cat and mouse messing with each other before big bouts.
What about messing with Khan, what with the stakes so high, what with Khan being the favorite to get Mayweather next, in September?
Collazo (35-5, 18 KOs), who holds the WBA International welterweight title, offered this summation via a prediction: "Victorious. One to 100, 100 being most sure of myself, I'm at 110. Can you put that in?"
Damn straight. Now all that's left is waiting, to see which one is Tom Cat, and who plays Jerry Mouse.
April, 24, 2014
Apr 24
10:34
AM ET
The main support bout on the May 3rd "The Moment" promotion is a clash between Amir Khan, a former champ at 140 pounds, and Luis Collazo, a former champ at 147 pounds. A title will be up for grabs, but the stakes, truly, are so much larger than a piece of shiny metal affixed onto a leather strap.

Stacks of cash, piles suited for a vault -- not a mere safe -- will be on the table when Khan, the Pakistani-Brit who spends his time in England, and California and visits with family on Staten Island now and again, takes on spirit-warrior Collazo. Collazo who is on a high after seeing the light and undergoing a transformation of the soul the day before his 32nd birthday.

I checked in with Khan, a 27-year-old hitter is trying his luck at 147 pounds for the first time. If he gets past Collazo, he'll likely have the inside track on Floyd Mayweather Jr.'s September date. I wondered about his level of confidence heading into the scrap, and how highly he rated Collazo. I put it to him straight, in a phoner: Is Luis Collazo on your level?

"He's up there with good fighters," Kahn answered. "He's been in with very good boxers, like Shane Mosley, and Ricky Hatton, but he mostly falls short. His last fight was against Victor Ortiz, and he knocked him out, so that gave him confidence."

I take that as a qualified yes.

But if you're thinking that there is a glimmer of a chance that Khan is looking past Collazo, I'd advise you to ditch that notion. Collazo is a clever lefty who moves well, with his feet, his head and torso. He's a rock-solid defender who sets traps and possesses enough power to hurt a foe when one of those traps get sprung. Khan -- I do believe -- has his head screwed on straight on the stakes at hand May 3.

"I have to win, and not just win, but in spectacular fashion," he told me. "I'm definitely not looking past Collazo. He's a good fighter. And it's a big fight for us."

I admit, I always enjoy talking to Khan. He handles even pointed queries like a pro, doesn't get defensive or nonsensical in trying to perpetuate some illogical counterpoint. Like when I asked him about his chin, which can be described as iffy. The man has been stopped in two of his three losses, and was dropped in round four of his last bout, against Julio Diaz in April 2013. OK, maybe the negative nellies focus on that part of his body too much, but still, will chin be an issue versus Collazo?

"Making 140, I killed myself to make the weight," Khan said. "I've been working with big guys, 165, 170 pounds, fighting with them," and not getting buzzed, he said. His resilience should improve at 147, he said. I also like the way Khan incorporates the chin issue into his hype strategy. "Every fight of mine is an exciting fight," he said.

Khan did acknowledge he's still a bit irked at Mayweather, who dithered for months on who he'd fight in this May date. "I'm a little pissed still," Khan admitted. "You'd have to be. The way we spoke, and contracts went back and forth and were signed ... But I'm not looking past Collazo at Floyd." He also makes it clear he's not dissing Marcos Maidana, who he said earned the Floyd fight with a win over Mayweather-lite, Adrien Broner.

Floyd has been talking for a while now about conquering other territory, heading to the UK. You could picture, if Khan handles Collazo in flashy fashion, and Floyd downs heavy underdog Maidana, a date at Wembley Stadium in England, with Floyd playing the bad guy act to the hilt. Can Khan picture the same? "It could definitely happen," he told me. "It's a superfight. But I have to look good against Collazo"

Readers, talk to me. Could Collazo upset that Wembley dream? Could the rust factor mess with Khan, keep him from getting a rhythm against a quite-clever pugilist? Or will Khan's flashy hand speed enable him to make Collazo look a step behind?

April, 23, 2014
Apr 23
8:47
PM ET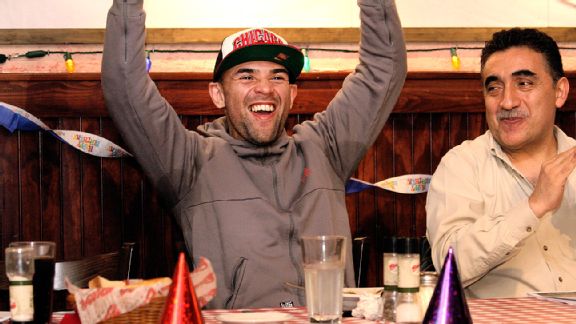 SHOWTIME/Tom CasinoLuis Collazo enjoyed his birthday Tuesday in Times Square.
He wasn't able to enjoy the piece of cake brought out for him. And he ate only about three-quarters of a cup of spaghetti at the NYC intimate media luncheon at Buca Di Beppo in Times Square on Wednesday. But it was quite clear that Luis Collazo, who meets Amir Khan on the Floyd Mayweather-Marcos Maidana undercard May 3, was enjoying the heck out of his 33rd birthday.
It makes sense, being that he holds the WBA International welterweight title, which he took when he mugged Victor Ortiz on Jan. 30 at Barclays Center (KO2), and if he beats Khan, notorious for having an iffy chin, then he gets his lotto ticket entered into the Mayweather Sweepstakes.
But really, there seems to be a deeper meaning to the good place he was in on Tuesday afternoon. The boxer was brave enough, and kind enough, to part with the reason behind his upbeat manner -- and that's saying something considering the degree a boxer has to limit their caloric intake to make weight -- and recent surge into new-found respect and relevance.
Collazo referred to being in a good place, from a spiritual perspective. I asked how long he's been bathed in this sort of light.
"A year ... yesterday made a year," said the hitter, who owns a 35-5 (18 KOs) mark and is almost a decade removed from his upset win over Jose Antonio Rivera, which won him the WBA welter title. "It took me out of the dark place I was in. I was in a dark place, I was pulling away from the sport I love, I was drinking alcohol to the point even that my wife was scared to come home, because she was scared of the person she was going to come home to. And I got to the point that I even thought about committing suicide. And I asked God, 'If you would change my life, I would give my life to you.' The next day, I woke up with so much joy. The emptiness in my heart was filled. Not even my wife could fill that."
The fight on May 3, on a Golden Boy Promotions card, Collazo told me, isn't merely important to get his career to that next vocational plateau. A win against Khan would enable Collazo to spread his faith to a wider audience.
"The way I'm living life now, I want to inspire those that always got counted out and show that being with God opens things up for you," he said.
On the subject of opening up -- it's not a given, but in many circles people are seeing this Khan-Collazo showdown as being a title eliminator, with the honor at stake being the winner gets a lucrative crack at Mayweather. Most guys are going to be earning a career best payday if and when they glove up with "Money."
Collazo admitted he's well aware of the stakes, and that a win, especially a thrilling one, could earn him a "set for life" payday. But he made clear that in no way, shape or form is he looking past Khan to greener pastures. "I believe if I beat Amir Khan, I have a bigger future in boxing," he said. "And if don't, I gotta start from the bottom again. I'm not looking beyond Amir Khan, but he's my main focus, the middle of my radar. After this fight here, whatever happens happens."
A second reporter pushed him on the Mayweather-could-be-next issue. "Yeah, it does [enter him into the Mayweather sweepstakes]," he said, allowing himself a grin, "but I gotta beat Khan first. He's looking beyond me, but that's OK, Victor Ortiz did the same thing."
Given ample opportunity to air out his laundry, advertise old grudges or blows-to-the-ego, Collazo time and again took the higher road: "I'm not upset about that because back then I was giving glory to myself, but now I give all glory to God," he said when asked if wasn't irked that more respect hasn't been thrown his way from media, being that he is a former world champ.
January, 31, 2014
Jan 31
12:52
PM ET
The punch, the countout, the roar, the reaction, dropping to the canvas, soaking in the moment -- Luis Collazo's KO2 win over Victor Ortiz is on the short list of most monumental boxing moments at Barclays Center in the span of time since the building began hosting boxing in October 2012.

Collazo, a Williamsburg, Brooklyn resident who sipped from the golden cup back in 2005, when he beat Jose Rivera to snag the WBA welterweight title, clearly was surging with raw emotion after he proved something that more than a few fight game folks knew -- that he's a skilled fighter, and extremely underrated. Only a cold heart wasn't moved by the site of Collazo, pointing to the heavens, yet another example that boxing is a savior to many an at-risk being.

Last Monday, Paul Malignaggi's advisor, Anthony Catanzaro, told me that Collazo, who holds the WBA International 147 belt, is just about the most underrated boxer from New York, of all time. He simply hasn't been given the respect he should've, both on the judges' scorecards, when he fought aces Rocky Hatton, in 2007, and then rising star Andre Berto on 2009, and among even knowledgeable fight fans, Catanzaro told me.

There will be those who won't give the 32-year-old credit with this win. They'll note that Ortiz was coming off a broken jaw, and had been stopped in his last three bouts, by Floyd Mayweather, Josesito Lopez, and now Collazo. Some will say that Ortiz's heart and mind aren't fully focused on pugilism, and that he should seriously consider hanging up the gloves. Those points can't be dismissed flippantly. But the more fair tack to take is to give Collazo full credit, because his skills and his technique made that win possible. He set up a vicious, tight jawbreaker of a right hook, while Ortiz was starting to throw his own, too wide and too slow.

The natural question is, what's next for the Brooklyn boxer, who spoke movingly of his two younger brothers, who are locked up for criminal acts prior to the bout, and gained a load of fans who weren't aware of his skills or story. Collazo invited Floyd Mayweather, the "Money" man, to venture outside the safe confines of Las Vegas, and square off at Barclays. That'd be a lottery ticket win for Collazo. What about another New York hitter with a bevy of boxing skills who also campaigns at 147 -- Paul Malignaggi? Malignaggi told me he wouldn't want that fight. He's known Collazo forever, and respects the hell out of him. "Collazo is actually a friend of mine, I don't need any amount of money bad enough to fight a friend like that," he said.

Keith Thurman, who holds the WBA "regular" welterweight crown, is a better bet. Golden Boy matchmaker Robert Diaz said after the bout that he likes that fight, that Team Collazo has discussed and has been open to meeting Thurman. He thinks the terms could be hashed out without excess drama.

Readers, your thoughts? How about a fight between Collazo, a role model for all souls looking to return to life's bigger stages, and Thurman, one of the strongest young titlists in the sport today?



January, 30, 2014
Jan 30
2:40
PM ET
Click here for Part 1 of the interview.
Victor Ortiz steps into the ring at Barclays Center in Brooklyn on Thursday night, and by his account, he will be sharp, his timing will be on, and there will be no evidence to suggest that he last gloved up in a prizefight 19 months ago.
We shall see.
Boxing isn't quite like riding a bike; you can take time off, but to get all the cylinders, physical, mental, emotional, working in concert after being on the shelf because of an injury and outside commitments isn't a given.
I chatted with the California resident with a 29-4-2 record on Monday, and asked him if rust would be a factor when he tussled with fellow southpaw Luis Collazo at Barclays, in a fight which will likely earn the winner a title crack at a 147-pound crown.
Ortiz answered with a dark intensity, which suggested he had his game face affixed, and, perhaps, he is a tad tired of repetitive queries from fightwriters.
"There will be no ring rust," said the fighter, who turns 27 on Friday.
What about the possibility of being gun-shy, considering how his jaw was broken by Josesito Lopez in his last fight, a loss in which he retired after round nine?
"No gun-shyness, either," he stated, firmly. "You can ask my sparring partners, I put so many of them down."
Ortiz told me that he did some sparring a year after the Lopez fight, and this was not long after the wires to set his jaw were taken off. "What's wrong with me?" he said he asked himself, after getting hit with shots he didn't see coming. But after about six rounds of sparring, he said, his timing was back, his in-ring vision was restored.
In asking around, many fight-game folks told me they were surprised that Collazo, a skilled boxer, was chosen as Ortiz' first foe back. If Ortiz is rusty, Collazo could outbox him, take advantage of the rust by using superior ring generalship. Ortiz doesn't seem put off by the style matchup, though. When I asked if he thinks this is a 50-50 going in, he again answered with emphatic directness. "I don't see it as a 50-50 fight, I'm favoring myself."
Ortiz gets knocked on social media for this and that, and I asked if it bothers him, grinds him down. "If I took in all the opinions, I'd go crazy," he said. "I don't care."
We're all familiar with the term "hater," someone on a lower level who takes potshots at someone on a higher level, out of envy. Ortiz spoke of that sort. "When people judge me or my career, they haven't stood in my shoes," he noted. Case in point: instead of noting that Ortiz is branching out, and making the most of outside-the-ring opportunities, some people see his appearance in "The Expendables 3" as a possible warning sign that he isn't fully committed to the fight game. To be honest, that thought has crossed my mind. Boxing isn't the sort of endeavor which rewards dabbling.
Ortiz wouldn't go there, admits to craving another crack at Floyd Mayweather, and said his eyes were fully focused on Collazo, not a sequel to avenge a KO4 loss to "Money" in 2011.
My take: notwithstanding Ortiz's insistence that rust won't be a factor, none of us can be certain of that until we see some rounds play out tonight. Ortiz has a strength and power advantage, but Collazo has a technique edge. If Ortiz' timing is off, and he can't land heavy shots, he could get the short end of it from the judges.
Fox Sports 1 will show the fight.
January, 29, 2014
Jan 29
4:21
PM ET
The Boxing Writers Association of America counted the ballots for its year-end awards on Monday night, and the results were announced on Tuesday afternoon. Floyd Mayweather, "Money," hit the jackpot as Fighter of the Year, while Tim Bradley and Ruslan Provodnikov shared honors for Fight of the Year. There was no award for Fighter Who Gets Most Flak on Twitter, but I dare say one of the guys who headlines the Golden Boy card at the Barclays Center on Thursday night, Victor Ortiz, would be odds-on favorite to snag that "honor" if it were added to the awards roster.

Let me get it out of the way, right up front, that I really don't participate in the social media critiques of Ortiz, and can't support them, by and large, because he's a fighter who engages in fan-friendly battles, and he provides good entertainment value whenever he gloves up.

Ortiz, a 26-year-old California resident who meets Brooklyner Luis Collazo in a welterweight tussle in BK, has been absent from the ring since his June 2012 battle against Josesito Lopez. That bout resulted in a loss for Ortiz, and a lengthy layoff, as Lopez broke his jaw and that injury needed to heal up. The night of that bout, the nattering nabobs of negativism hammered Ortiz for being a "quitter," unfairly, as they played doctor from their sofa, and determined that the boxer spit the bit and waved a flag of surrender.

"Victor Ortiz quits on the stool," the lead announcer bellowed as Ortiz, ahead on the cards, chose not to continue for Round 10. Now, there was a history there; Ortiz back in June 2009 was being battered by Marcos Maidana, and offered a "no mas" when the referee asked him if he wanted to continue.

"We just saw a moment in a fight that could define a fighters' career," one of the TV analysts offered. The southpaw hitter draw scorn in some circles for not "going out on his shield," and his explanation during a postfight in-the-ring interview that he was too young to absorb such brutal punishment, which could compromise his faculties down the line, rubbed some purists the wrong way. So, in some circles, Ortiz had been branded.

Eyebrows were raised not so much when the Kansas-born athlete took the opportunity to participate in Season 16 of "Dancing With the Stars," but Ortiz-bashers did note that his foray into dancing in March 2013 -- and acting, as he took a role in "The Expendables 3" late last year -- does suggest that he's more about non-boxing moves than pugilism. And pro-am comics had a field day with his entry into the skin-care business. "Fit For A Champion, Built For A Man's Man," reads the ad copy for the line, which is called "FaceLube," for which he is a spokesman. That vaguely (vaguely?) provocative moniker drew snickers galore, and added to the material naysayers utilize to try and take Ortiz down a peg.

I talked to the 29-4-2 (22 KOs) fighter during a media session at Gleason's Gym on Monday afternoon, and told him to his face that I believe he doesn't deserve to be critiqued so gleefully, and told him that I think it sometimes comes with the territory for people who take risks, drive outside the lines, and engage in YOLO behavior. I was curious, and asked the boxer if the critiques bother him.

Check back for part two, and hear what Ortiz had to say about the Twitter nitwits, and if he'll have to deal with a coating of rust against Collazo on Thursday night.

December, 31, 2012
12/31/12
4:25
PM ET
Boxing in New York picked up the pace in 2012. The new series at the Barclays Center took off, and the debut in October was a success. Having a focal point is an immense boost to the local scene, as young fighters can know that they have a stage ready for them when they're ready to rock. Madison Square Garden has taken notice and is getting more active booking fights cards, with a slate booked into the Theater Jan. 19. All these men can benefit from the amped-up buzz in NYC.

Ladies and gents, here is your 2012 NYC Top Ten Pound-For-Pound List.

1) PETER QUILLIN He has an XL personality and his boxing has been improving, fight by fight. No reason why Quillin shouldn't be a full-on star in 2013. The 29-year-old Manhattan resident retired Winky Wright in June, and then whacked Hassan N'Dam around, exiting the Barclays Center with the WBO middleweight belt, on Oct. 20. He is the NYFightBlog BOXER OF THE YEAR. (No. 3 last year)

2) PAULIE MALIGNAGGI Paulie escaped the Barclays Center with a W over young Mexican rumbler Pablo Cano on Oct. 20, and was looking forward to a career-best payday rematch against Ricky Hatton. Hatton's body didn't cooperate, and he was stopped in his return bout. So the 32-year-old Bensonhurst tactician is still hunting Plan B. We wonder -- and suspect he wonders -- if he has lost a quarter-step, or if he can return in his next bout in fine form, with peppy legs, a busy jab, the whole package. We're betting yes ... but just in case, he's been setting up business prospects and is doing a bangup job as an analyst for Showtime, so if he has lost a foot off his fastball, 2013 will find Malignaggi with options regardless. (No. 2 last year)

3) DANNY JACOBS Last year, he thought he would die. This year, Jacobs has been climbing his way up the middleweight ladder, and doing it with as much grace and charm as any pugilist out there. The Park Slope resident, age 25, looks to rise to 25-1 when he gloves up Feb. 9 at Barclays. He kicked cancer's ass, I suspect he will do the same a few times in the ring this year, and by the end of the year, he should be ready to tackle a titlist. I root for him -- sorry, just being honest. (No. 8 last year)

4) ARGENIS MENDEZ The Dominican-born Brooklyn resident won an IBF super featherweight title eliminator over Martin Honorio in July, so we can presume an opportunity will pop for the 20-2 hitter soon. He came up short against Juan Carlos Salgado for the vacant IBF super feather belt in 2011, but we're betting he gets over the title hump in 2013. At 26, he should be in his physical prime. (N0. 5 last year)

5) ZAB JUDAH The Brownsville native is 35, and we're tempted to say he's looking at his last chance when he meets junior welterweight champion Danny Garcia at Barclays in the headliner Feb. 9. But Judah is a name, and a character, and even if he can't get the better of the under-appreciated Philly hitter, Judah will continue to receive opportunities. He's been talking tough ahead of the Garcia bout, and dad is back in his corner, but we still recall the stinkbomb effort he turned in against Amir Khan in July 2011. Will Good Zab or Bad Zab show up at Barclays? (No. 7 last year)

6) JOSEPH AGBEKO Last year's No. 1 went 0-for-2012, as the Bronx based Ghanian didn't glove up once this year. He could have fallen off the list but he gets consideration for what he's done. The 28-2 32-year-old is slated to meet 34-8-1 Luis Melendez on Feb. 22, so he could rise again next year if he regains his step. (No. 1 last year)

6) JOAN GUZMAN The Dominican formerly known as Little Tyson tasted defeat for the first time, losing a technical decision to 17-0 Khabib Allakhverdiev on Nov. 30. At 36, it looks like Guzman (33-1-1) has lost a mile off his fastball. Can he transition to being a clever junkballer, or will he be off this list next year? (Guzman No. 4 last year)

7) PATRICK HYLAND The Irish transplant lost his 0, when Javier Fortuna beat him, with the interim WBA feather crown up for grabs, on Dec. 8, underneath Pacquiao-Marquez, but showed he belonged at that class. We suspect he will learn from the loss and might well come back stronger, secure in the knowledge that that sized stage is appropriate for him. And whatever happens, he can take this to his grave: he is the top boxer in the stable of MTV's Snooki. (Not rated last year)

8) LUIS COLLAZO The 32-5 Queens-based boxer looked sharper than I expected in a win against Steve Upsher Chambers on the first Barclays card. An ex welterweight champion, he's 31, has his head on straight, is freed from promotional entanglements (cough Don King cough) and is backed by Golden Boy, which has the pull to get him opportunities. It is up to him to keep winning, and 2013 could be the year he gets to wrap another belt around his waist. (No. 16 last year)

9) EDDIE GOMEZ The 20-year-old from the Bronx fought and won five times this year. He has confidence galore and perhaps the skills to match it. If he stays healthy, and doesn't let rising fame mess with his head, 2013 could be a breakthrough year for Gomez (12-0). We can see him headlining a ShoBox by the end of the year. (Not rated last year)

10) DMITRIY SALITA/HECTOR CAMACHO JR (TIE) These two will clash underneath Garcia-Judah at Barclays on Feb. 9. The winner gets this spot, the loser drops off. The 35-1 Salita, age 30, is slightly favored for the 152 or under contest, as the 34 year-old Camacho was knocked out cold in his last outing, by 12-1-1 Luis Grajeda in July. (Salita No. 20, Camacho No. 15 last year)

Honorable Mention: Sechew Powell (No. 10 last year), Joe Hanks (last year not rated), Seanie Monaghan (last year not rated), Will Rosinsky (last year not rated), Chris Algieri (last year not rated), Gabriel Bracero (last year No. 13)
October, 20, 2012
10/20/12
6:31
PM ET
[+] Enlarge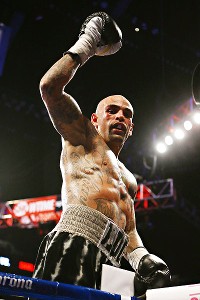 Al Bello/Getty Images Luis Collazo
Luis Collazo of Williamsburg engaged Steve Upsher of Philly in a welterweight tradefest, to the enjoyment of the fans at the Barclays Center who made it to their seat a bit before six o'clock. After eight rounds the judges decided Collazo did more and awarded him the victory by scores of 78-72, 79-73, 77-75.
Collazo, who
showed off the tattoos he told us were his sole addiction
, got aggressive in Round 2 and mixed combos on Upsher. He smelled blood, even if Upsher wasn't leaking from any nicks or slices.
The Philly boxer hung tough, and in the next round, he was coming forward. Then Collazo's experience kicked in. He used his legs more, smartly. He hurt Upsher some in the fifth and sixth, but the Philly kid showed heart. They traded, in tight, a good deal, so there were pockets, plenty of them, of slugfest-type trading. A chant of "Looie" took Collazo to the final bell.
October, 19, 2012
10/19/12
7:10
PM ET
The packed card at the Barclays Center in Prospect Heights tomorrow night features one certain Hall of Famer, young guns with fresh faces and compelling back stories to stir media interest, and the pride of Bensonnhurst, Paul Malignaggi, who will walk triumphantly to center stage, showing off his WBA welterweight title to adoring friends and family.

But there is a guy on the card who is a former world champ, who has fought and been competitive with some of the game's top dogs, who grew up and lives in nearby Williamsburg, but has been a bit off the radar, both in the game and in the lead-up to the boxing debut at the new building.

Luis Collazo, a 31-year-old welterweight, will have to work hard to collect a bigger sliver of spotlight at Barclays when he gloves up against Steve Upsher Chambers in a scrap set for eight or less.

I asked Collazo, in so many words, where the heck he has been. After a June 2009 victory, he wasn't in the ring again until April 2011. He scored a TKO3, then met Freddy Hernandez six months later. Collazo lost a UD10, and was again on the shelf.

I had heard whispers on the grapevine, so I tried to tactfully ask the fighter if there was anything to them? Had he been on state-sponsored vacation? Battling an urge to splurge when it came to the partying department? "Nope, I was never locked up, and I was never on drugs," he told me. "My only addiction is tattoos."

Collazo explained that he was signed to Don King, and since King hasn't been staging that many cards in the last few years, he was inactive. "I was on the shelf," he said. "But I haven't been in wars. I feel great, I'm in my prime now."

Collazo said he's pumped to fight in front of the Williamsburg crew. That section is a hipster haven now, but Collazo has seen it morph, when a seedy element, lots of drugs and prostitution, were prevalent. He said he's ready, like Billyburg, to move up the ladder, stand out as one of the borough's best.

He won a WBA welter crown against Jose A. Rivera in 2005, was in a pick 'em scrap with Ricky Hatton the following year, and dropped UDs to Shane Mosley and Andre Berto in 2007 and 2009, respectively. Getting back to 2005 form is a tall order, but he insists that physically and mentally, he's primed: "At Barclays, I have to be aggressive, take my time and let my experience kick in."
August, 28, 2012
8/28/12
7:51
PM ET
The push to hype boxing's debut at the Barclays Center in Brooklyn is ramping up. Paul Malignaggi is taking the red-eye from LA to NYC tonight, and will be in NYC till Saturday. He'll attend the Thursday press conference in Brooklyn, with the other principals on the card, like Danny Garcia and Erik Morales, who'll take part in a rematch, with Garcia's WBA and WBC welter belts up for grabs.

Malignaggi's WBA 147-pound crown is on the line against Mexican Pablo Cano on Oct. 20, on a packed card also featuring NYCer Peter "Kid Chocolate" Quillin, Brooklyner Daniel "The Golden Child" Jacobs, ex-champ Luis Collazo, the Bronx's rising star Eddie Gomez, former title challenger Dmitriy Salita of Flatbush and local prospect Boyd Melson. Tickets start at $50 and go on sale to the general public on Wednesday, August 29 at 10:00 a.m. ET and will be available at www.barclayscenter.com, www.ticketmaster.com, all Ticketmaster locations, or at 800-745-3000.

Malignaggi, the pride of Bensonhurt, will be in Da 'Hurst on Friday night, signing autographs and posing for pics at the 18th Avenue (St. Rosalia) Festival.

So, is fight night far enough away, so Paulie can sneak an Italian sausage hero, with a side of deep-fried Oreos, at the festival? "Nor zeppoles," Malignaggi answered, with a chuckle.
November, 4, 2011
11/04/11
10:28
AM ET
The pound-for-pound list has been in existence for more than a half-century, and no doubt from the start has spurred many a barroom brawl as folks defend their theories and stances on who the best boxers are across all weight classes.
Let the shot glasses fly, people, because here comes the debut of the
NYFightBlog Top 20 Pound-For-Pound
list. These are the best and brightest New York boxers campaigning today, in the opinion of me -- and a couple other sharp-minded boxing people who know what they're seeing when they watch a scrap and have been kind enough to act as consultants.
Now, some of the boxers on the list don't currently have an NYC area code. Some have been longtime New York residents who have moved to other locations, whether it be for personal reasons or to juice up their career. This ground rule for the NYC P4P list might not work for you, which is fine. Feel free to drop your own P4P list in the comment section, using criteria that makes sense to you.
We will update the NYC P4P list regularly, typically around the first of the month. And it must be said, please know that it is my belief that any and all persons who glove up, step into the ring and offer their best in competition deserve props. Perceived shortcomings are offered with the implicit understanding that even to make it this level is a monumental success.
Here are numbers 15-20.
20) Dmitriy Salita:
No touted New York pugilist in recent memory went down in a hotter ball of fire than did Dmitriy Salita when he was demolished by
Amir Khan
1:16 into the first round of Khan's junior welter title defense in December 2009. Salita had enjoyed piles of press and had a documentary filmed on him, so there was pressure to live up to all of that. He didn't, but he didn't give up. Salita (33-1-1; age 29) went back to the grass roots, and is promoting his own shows in Brighton Beach, Brooklyn, making his way back up the ladder, where redemption awaits him.
19) Amanda Serrano:
This one loves and lives to fight. She doesn't own a cell phone because she says she has no use for it; it would only take away from her training. The 12-0 super featherweight who lives with her parents in Bushwick just picked up the vacant IBF crown with a TKO2 victory over
Kim Connor
on Sept. 10. More titles are to come.
18) Luis Del Valle:
He has the fewest wins of anyone on the NYC P4P list, but maybe possesses the most longview future upside. Now 14-0 with 11 KOs, the Newburgh, N.Y., super bantamweight is polished, patient and could be in the NYC top 10 by the second half of 2012.
17) Edgar Santana:
This Manhattan resident has some ground to make up after being on the shelf for 2009 and 2010. Now 26-3 with 17 stops, the Puerto Rico-born junior welter went off the rails when he was busted as part of a cocaine ring which authorities said conspired to bring coke from Puerto Rico to NYC. He served four months in prison, and got out in January. At 32, he's not a pup in his weight class, where quickness and hand speed are more important than at, say, heavyweight. He's done his time, and now time isn't on his side. He has to hustle to achieve what he wanted to achieve when he got into the hurt game.
16) Luis Collazo:
This Queens hitter gave
Ricky Hatton
, back when he was prime Hatton, fits in a 2006 loss, and did the same with
Andre Berto
in 2009. Collazo even bathed in the glory of a championship when he beat
Jose A. Rivera
for a welterweight crown in 2005, before defending it once against
Miguel Angel Gonzalez
and then dropping it to Hatton. But his story has been of missed opportunities, squandered momentum and
Don King
freezeouts. He enjoyed a pop when he signed with Golden Boy this summer, but the 30-year-old Collazo has to wonder after losing a UD10 to
Freddy Hernandez
three weeks ago how much more fickle fate can be.
15) Hector Camacho Jr.:
With a 53-4-1 record, you might be thinking this fighter should be up a few ticks. But, sad to say, the son of Macho has largely floundered in the pro game. He's 33, so we suppose there is time for the 33-year-old New York southpaw to make a late-inning run, but our breath won't be held. He fights 40-year-old
Andrew "Six Heads" Lewis
, who last gloved up in 2008, in Guyana on Dec. 17, so it doesn't look like Junior is seeking out compelling challenges for himself. But NYFightblog likes to believe in the ability of all of us to see the error of our ways, soldier on and attain the goals we are capable of capturing. Junior, our services as motivational guru are available, please see contact information below.
Thanks to consultants Zach Levin, "Manager X," Kevin Rooney and Ryan Songalia for their input into the NYC P4P. Follow me on Twitter here. Send suggestions or hatemail to FightblogNYC@gmail.com.