Boxing:

madison square garden
January, 22, 2014
Jan 22
2:16
PM ET
Mikey Garcia defends his 130-pound crown, the WBO version, on Saturday night at Madison Square Garden, but in the future, perhaps the near future, he could be packing on the pounds and doing his work at a much higher weight class.

Garcia could well skip 135 and 140, and fight at 147 pounds if he is offered a Manny Pacquiao scratch ticket. The California-based boxer, who clashes with underdog Juan Carlos Burgos in NYC, has been mentioned as a possible foe for welter ace Pacquiao. The Congressman is fighting April 12, with many insiders saying that Timothy Bradley, in a rematch of their 2012 clash, will be the dance partner.

But after that, Pacquiao's promoter Bob Arum has said, Garcia could well be in the mix for a waltz with Pacman.

Mikey's brother Robert, a former fighter who trains him along with dad Eduardo, told NY Fightblog during a Tuesday media workout in NYC that Mikey could gain the weight and stay fast. "His last fight at 126 pounds was a year ago," he said. "Since then, he's just gotten big! He couldn't make 126 against Juan Manuel Lopez [in June 2013], he came in at 128 1/2, everyone saw what he went through to make it. It's not easy for him to make 130. Our next move could be 135, even 140."

A buck thirty isn't a sexy weight class, with no standout names which draw money in the US, so a move up makes sense from that standpoint. Garcia, though, kept coming back to the Saturday task, smartly. "We gotta take it fight by fight," he said.

"As a fan, I would like to see Pacquaio versus Mayweather. That's a fight that everyone has wanted the last five, six, seven years, it never happened, maybe never will. For business, no I don't want them to fight, because I think Mayweather beats Pacquiao, and that makes a Pacquiao-Mikey Garcia fight less interesting. I want to be able to fight Pacquiao when he's on a winning streak. If Manny fights Timothy Bradley, who knows what could happen? Bradley is on a winning streak, he looked sensational in his fight against Juan Manuel Marquez. If Manny does fight Bradley and loses, we might still get him, but there might not be the same interest."

Manny and Mikey have a history, Robert said, having sparred before Manny fought Erik Morales in November 2006. "They sparred six, eight rounds at a time, it was great. We're not saying Mikey did better or won those sparring matches, no, but neither did Pacquiao. I'm not saying Pacquiao put beatings on Mikey, either. That was sparring, though."

Marquez has given Manny fits, and Robert says that Mikey has a similar style, with an ability to be a savvy counterpuncher who exploits mistakes. "And Mikey has maybe more power than Marquez," he said. "He's already 40, Mikey is 26. I think we got a good shot. I'm not saying it's easy, but we got a good shot."

Another name that has popped up frequently for Garcia is Yuriorkis Gamboa, the Cuban defector who has been inactive in the ring.

"Gamboa, lately, hasn't really done much in boxing," Robert Garcia said. "He's fought twice in the last three years, and that tells you he's hurting for a big fight." Even with his inactivity, because of his skill set, Gamboa does conjure buzz, so if Mikey doesn't land Manny next, a clash against the 32-year-old Cuban would be a solid fallback plan, in my opinion. "But him coming out and saying what he's saying, it's actually pushing us away from the fight," the trainer said. "We might just skip him and go straight to 140."


June, 20, 2013
6/20/13
11:47
AM ET
Old-school fight fans should know that MSG has started a new series, called "Friday Night Fights," hosted by Mark Breland and John Duddy, which spotlights classic bouts and allows the hosts to examine and dissect the duels.
On Friday at 9 p.m., Breland's first title victory as a professional, a stoppage win over Harold Volbrecht in Atlantic City, will be the featured.
[+] Enlarge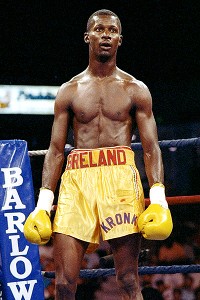 Getty ImagesMark Breland
The WBA welterweight title was up for grabs on Feb. 6, 1987, when Breland, arguably the most celebrated amateur in U.S. boxing history, gloved up against the rugged South African lefty.
The Brooklyner told NYFightblog that he went into the bout with a 16-0 record, dripping confidence, knowing he'd prepared more than adequately. "I worked hard in training, and we'd used southpaw guys to get ready," said Breland, the 1984 Olympic gold winner. "In my amateur career, I'd fought so many different guys, with different styles, so my confidence level was very high."
Breland grew up in Bed-Stuy, lives in downtown Brooklyn and is deeply involved in the Mark Breland Foundation, which seeks to advance the treatment of chronic traumatic encephalopathy (CTE), the progressive disease affecting many people who have suffered multiple concussions.
Breland, who turned 50 in May, teased NYFightblog with a promise. "I will do a big reveal on the show, a big surprise, about something that happened before the fight," said the man who won five N.Y. Golden Gloves crowns.
I couldn't weasel even a solid hint from the ex-champ, who hung up the gloves in 1997 with a 110-1 amateur record and a 35-3-1 professional mark. So I will just have to tune in.
November, 27, 2012
11/27/12
8:22
PM ET
Never seen anything quite like this: At Miguel Cotto's open workout at Gleason's today, after Cotto engaged in some pad work with trainer Pedro Diaz, he went, sat in a corner, and Diaz draped a white towel over him.

For three minutes, Cotto sat under the towel, silent, as the gym activity hummed all around. I asked Diaz about this activity, and he indicated that Cotto does that throughout his workouts, and that it brings his pulse and heart rate down.

Basically, he takes meditation breaks during workouts. Hey, whatever works.

Things have been working out pretty good of late for Cotto, who seems to have found a cornerman he bonds totally with, and gets the best out of him. After he and his uncle Evangelista parted ways, with great acrimony, Cotto employed strength and conditioning coach Joe Santiago to oversee him. Then, the late Emanuel Steward worked with Cotto for two fights, wins over Yuri Foreman and Ricardo Mayorga.

Cotto then tapped Diaz, who came to the U.S. from Cuba in 1998, and they are 1-1 together, with a December 2011 rematch win over Antonio Margarito being followed by the UD loss to Floyd Mayweather in May.

I was just about to do a video interview with Diaz, when the trainer hoofed it out of Gleason's. What spooked him? A birthday cake; Cotto's mom was heading his way, and wanted the trainer to blow out the candles on his birthday.

How old is he? I couldn't say, I couldn't ask; Diaz jetted to a waiting SUV, and my queries about what Saturday foe Austin Trout brings to the table, and how many candles Diaz was going to blow out, went unanswered.

Sorry, FightBlog fans!
September, 24, 2012
9/24/12
6:09
PM ET
Miguel Cotto is unbeaten in nine fights in NYC since turning professional in 2001. On Saturday, Dec. 1, Cotto looks to extend the streak against Austin Trout, a slick and smart foe, at Madison Square Garden. The former four-time and three-division world champion wants to add to his belt collection Trout's WBA super welterweight crown.

"I am really excited to come back to my second home," said Cotto during a Monday afternoon press conference, held at El Musio del Barrio, the East Harlem Latino cultural center, which was open to the public. "Fighting at The Garden is always special for me and a true pleasure. There is something unique in the atmosphere and it means a lot to me every time I fight there because the energy of the fans gives me extra motivation. Austin Trout will be a challenge for me, but I will win my fifth world championship on December 1." Cotto, age 31, has a 37-3 record. He gave a solid account of himself in his last fight, on May 5 against Floyd Mayweather, a UD12 loss.

Trout, a 27-year-old lefty from New Mexico, doesn't seem over-burdened with expectations or pressure, not yet anyway. "Miguel Cotto needs no introduction," he said at the presser. "He's a true champion and one of the best fighters of the last 10 years, but I'm the present and future of the sport and this is just the showcase I need to prove to the world that I'm one of the best, pound-for-pound. I can't wait to fight in such a legendary place like Madison Square Garden; it's every fighter's dream."

We wonder if the 25-0 (14 KOs) Trout has the pop to dissuade Cotto's assaults, which figure to be persistent. Showtime will televise the scrap.

April, 4, 2012
4/04/12
10:04
AM ET
Competition is almost always good for the consumer. Therefore, New York fight fans should benefit mightily with the presence of the Barclays Center, the arena being built in Brooklyn which will be complete this fall. Word dropped yesterday that the venerable franchise that is the NY Golden Gloves, the brain-child of NY Daily News sports editor Paul Gallico, which kicked off in 1926, will move their finale from Madison Square Garden, to the Barclays Center.

The first finale drew 21,594 patrons, and around 10,000 folks wanting to get in were turned away. Today, the tourney's heat has dimmed; the Gloves finals, held Thursday and Friday, in which 24 champs were crowned, was held in The Theater, the sub 5,000 seat companion to the big room.

But unless MSG wants to hand over bigtime boxing events, and a storied franchise such as the Gloves, I suspect that they will look to match the moves of the Barclays people, who already snagged Oscar De La Hoya's Golden Boy Promotions to be the sole purveyor of pro cards at their new building.

"The Golden Gloves will be the linchpin of our grass-roots boxing program at Barclays Center," Barclays Center CEO Brett Yormark said. "While Golden Boy Promotions will bring the best of professional boxing back to Brooklyn, we are excited to host such a New York institution as the Daily News Golden Gloves. There's a rich heritage of boxing in Brooklyn and we are thrilled to make the sport a major part of our new arena."

Your move, MSG...
December, 2, 2011
12/02/11
11:59
PM ET
One might've thought a likely source of drama would come from Antonio Margarito and Miguel Cotto getting an early start to their festivities, and rumbling at the Friday weigh-in.

Nope, those two behaved themselves in the theater at Madison Square Garden.

The drama was instead provided by California's Brandon Rios, who expelled every ounce of fluid he could from himself in every way possible, but could not make the 135-pound limit for his lightweight title defense against John Murray.

He stepped on the scale and it read 136.4. He again stepped on the scale and hit 135.6. One might've thought he could sweat out 0.6 of a pound in the one hour he had to do so. Not so. He came back less than half-hour later, and weighed 136.6. He had to vacate his title and hand over $20K from his $325,000 purse to the Brit challenger, and to add insult to injury, tonight he will not be able to gorge himself on hotel room service, because he must weigh in Saturday morning at 9 a.m.

Team Murray extracted that concession, against the wishes of Rios' manager, Cameron Dunkin, who was backstage muttering about "those Brits" as he tried in vain to get the Murray people to just take the extra cash. No dice. Rios cannot weigh over 146.6 pounds in the morning weigh-in. If he does, Murray won't fight.

I won't assume, but could I see a Team Rios possemember guarding the door from a room service call tonight?

Rios will likely jump to 140 pounds after this draining, pun intended, affair. Murray wins the title if he beats Rios, but Rios lost all claim to the belt when he couldn't make the weight.

Margarito and Cotto both made their contracted weight, which was 153 or less.

"This is the moment you've all been waiting for, two guys who just loooove each other," said emcee Michael Buffer, before the Mexican stepped on the scale. Boos at the theater nearly drowned out Buffer. Margarito, with his Keith Partridge hair and omnipresent sunglasses on, was 152½, while the Puerto Rican, who holds the WBA super welter crown, was 152¼.

You had the weeks of licensing drama, and now the Rios affair. Who wants to bet something weird will go down Saturday at MSG? I just hope and pray we don't have an abbreviated tussle, like in the Bernard Hopkins-Chad Dawson debacle in October.
November, 28, 2011
11/28/11
9:14
PM ET
After the fightwriters finished with the licensing storyline last Tuesday, after Antonio Margarito was granted a license to box in New York, they switched gears to another compelling element to the Margarito-Miguel Cotto rematch that will unfold at Madison Square Garden on Saturday night.

During Max Kellerman's Face Off show on HBO -- in which the host sits down fighters across a table from each other and gives them the third degree -- Cotto admitted that he thinks it's foolish to have a "I will die in the ring" mindset. Margarito, meanwhile, proved he has that streak in him when he sought to carry against Manny Pacquiao in their November 2010 clash, despite having next to no chance to win.

Margarito suffered a busted orbital bone on his right eye in that one-sided drubbing, but proved something that Cotto has not: He is willing to go out on that proverbial shield if he has to, because he believes the bout isn't lost until there is no time on the clock.

Cotto, on the other hand, took a knee in Round 11 after Margarito was whacking him around like some of those law enforcement personnel on the Occupy protestors. Cotto's corner got the hint and pulled the plug, as they saw their man wasn't inclined to absorb more punishment when he saw the sad writing on the wall.

I asked Margarito, during a workout open to media at the Kingsway Gym on 28th and Fifth, if he believes he is the stronger man mentally, and has more of a warrior heart than Cotto, with that Face Off contrast fresh in mind.

"Mentally and physically I do," he said. "I've already shown it once, and I'm going to show it again."

Margarito, 33, said he isn't sure why Cotto, 31, is in this business, because a fighter's life is on the line in the ring.

When Cotto took that knee in 2008, it surprised me. I called around, talked to some of my boxer friends, and many of them were also surprised. None would out and out bust on Cotto for that move, but most said that if you want to be on that short list of pound-for-pound greats in any era, it does help to be willing to go out on that shield, to exhaust all hope and effort in the quest for victory.

This I am quite sure of: If I'm Cotto's kids, I'm happy to hear pop values being there for them over a ring victory.
November, 17, 2011
11/17/11
1:48
PM ET
A report that the Dec. 3 boxing card set to unfold at Madison Square Garden will be relocated to another venue, out of New York, is looking like it is premature.
Reporter
Chris Mannix
of Sports Illustrated Tweeted that the card, featuring
Miguel Cotto
against
Antonio Margarito
in a rematch of their 2008 clash, would not occur in New York. The Tweet, from a verified account, said: "Source: New York Athletic Commission will reject Antonio Margarito's application for a license. Margarito-Cotto will move out of NY."
A Tweet directly after said, "
Bob Arum
tells SI that Texas, Denver and Mississippi will be looked at as alternate venues. Announcement will come at end of the day."
But Top Rank VP
Carl Moretti
, in a Thursday phone call with NYFightBlog, refuted the information.
"The plug has not been pulled on the card," Moretti said. "A hearing with the New York Commission will take place tomorrow at 11 a.m," and the commission will render an up or down decision on whether Margarito will be granted a license to fight.
Moretti continued: "I am not at liberty to comment on other potential sites." He said that if Margarito is not granted a license to box in New York, "we will act appropriately and accordingly."
ESPN's Dan Rafael first clued in readers on
the specifics about the Margarito licensing issue
on Wednesday.
A source with intimate knowledge of the situation, and not affiliated with the promoter, told NYFightBlog that no decision has been made by the three people who will decide if Margarito will get the go-ahead to box. Commission chair
Melvina Lathan
and commissioners
Edwin Torres
and
Tom Santino
will listen to testimony from medical experts who will state that they believe Margarito is not at undue risk if he boxes, and also experts who fear his right eye could be subject to severe and permanent damage if he fights.
The boxer had surgery on his left eye following his November 2010 fight with
Manny Pacquiao
. Margarito (age 33; record of 38-7) absorbed large amounts of punishment in his decision loss, and drew praise from pundits for his perseverance in the face of such an assault.
My two cents:
I see both sides of the issue. I presume Margarito knows and accepts the potential risks that are present in the prizefighting arena. He has announced that he is willing to die in action, so it is clear that he is a different breed of human being. But I have to applaud the N.Y. commission for looking so hard at Margarito's eye situation.
We often hear of commissions proclaiming that they exist primarily for the health and well-being of the boxers. We don't often see as much evidence of that as you would hope. Whatever direction this goes in, I think and hope we can all agree that all involved do indeed keep at the forefront of their mind the health and well-being of the boxers.
Note
: The Friday hearing, in which testimony from sides lobbying for and against Margarito obtaining a N.Y. license to box, will take place at the commission headquarters, at 123 William St. in Manhattan. It is open to the public and begins at 11 a.m. Deliberation among the officials who have final say will not be open to the public.
November, 8, 2011
11/08/11
2:32
AM ET
Joe Frazier
, as relentless a pugilist as you'll ever see, died a bit before 9 p.m. ET Monday. As was his way, he didn't quit; liver cancer took him out. He died at his home in Philadelphia, age 67.
Born in 1944, Frazier won a gold medal for the U.S. at the 1964 Olympic games, and held the world heavyweight championship for several years. But, truth be told, he had something of an inferiority complex, and toiled in the immense shadow of
Muhammad Ali
for much of his life.
He beat Ali at
Madison Square Garden
in March 1971, in "The Fight of the Century," or just "The Fight," yet still sat in the sidecar while Ali's awesome charisma and magnetism radiated and attracted attention. Fair? Maybe not, as Frazier was the man who -- with the most famous left hook in recorded history -- sent Ali, then 31-0, to the canvas in Round 15 of The Fight.
Frazier's hold on the WBC title was firm and true with the win over Ali, and he defended it twice, against
Terry Daniels
and
Ron Stander
. He then gave
George Foreman
a crack. In January 1973, Frazier hit the deck six times as Foreman punished him with his bolder fists, lifting him clear off his feet with uppercuts that threatened to make Frazier a man of NASA, to send him skyward. When
Arthur Mercante
halted the scrap at 2:26 of Round 2, typical Joe, he gave no signal, sent no telepathic message that he wanted to quit. He was ready to fight to the death.
When informed of Frazier's death, Foreman said to ESPN New York, "The one and only. The most consistent human I've ever known. Smoking Joe Frazier!"
Frazier and Ali got it on again, at
Madison Square Garden
, in January 1974. The buildup to this one got ugly, with Frazier losing it over Ali's taunts. He couldn't channel his seething fury into a victory, as Ali scored a UD.
Maybe Frazier's best days were in the rear view, but he told the fight world he was still relevant by beating
Jerry Quarry
and
Jimmy Ellis
, before signing on for another clash with Ali. It took place in October 1975, in Manilla, and it is perhaps sad to note that this fight, a loss, is Frazier's signature fight. But then again, maybe that's not such a bad thing, because he exemplified courage in the face of adversity, resilience and perseverance in abundance as he sought to convince trainer
Eddie Futch
to let him fight on after a thoroughly draining Round 14.
Futch pulled the plug, as Ali himself was telling trainer
Angelo Dundee
to cut his gloves off. Frazier probably never got over falling short on that occasion and he let bitterness seep into his soul. In a 2009 documentary looking at the Thrilla, Frazier betrays his animus, and implies heavily that Ali's physical decimation at the hands of Parkinson's came compliments of a vengeful God.
"Whatever you done when you a young man, it comes to bite you in the butt when you get older," he stated, then adding. "And said. God marks it down."
This is not attempt to tear the man down so soon after his passing, know that. Frazier's feelings toward Ali are not without merit, in my opinion. Frazier had taken a chance when he backed Ali during Ali's exile from the sport for refusing induction into the U.S. armed forces. His animosity toward Ali was part and parcel of his personality. His ire was his competitiveness in another form. When he was no longer able to make his body perform the way it needed to in the ring, his competitive nature didn't have the outlet it needed, and that ate away at him.
Eight months after Manilla, a heavier Frazier, head shaved to connote a menacing presence, succumbed again to Foreman. This time he hit the deck twice, and lasted to the fifth round, but the end wasn't near, it was here. He was 32. He'd need to be reminded that the body doesn't have infinite mileage when he tried a comeback in 1981. The eternal credit to his adopted hometown of Philadelphia met
Jumbo Cummings
in Illinois, and was gifted a draw. His final record stands at 32-4-1 with 27 KOs.
But wins and losses are besides the point when you ponder Frazier's legacy. His determination, his burning desire to go forward, to leave every ounce of what he had to give in the ring, placed him in the top 1 percent of any boxer, in any era. That is no small compliment. God no doubt will mark it down.
Rest in peace, Smokin' Joe. You deserve some.
Follow me on Twitter here. Send suggestions or feedback to FightblogNYC@gmail.com.