June, 20, 2013
6/20/13
11:47
AM ET
Old-school fight fans should know that MSG has started a new series, called "Friday Night Fights," hosted by Mark Breland and John Duddy, which spotlights classic bouts and allows the hosts to examine and dissect the duels.
On Friday at 9 p.m., Breland's first title victory as a professional, a stoppage win over Harold Volbrecht in Atlantic City, will be the featured.
[+] Enlarge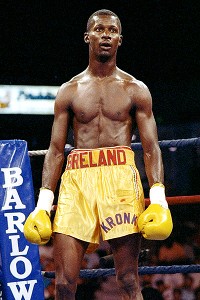 Getty ImagesMark Breland
The WBA welterweight title was up for grabs on Feb. 6, 1987, when Breland, arguably the most celebrated amateur in U.S. boxing history, gloved up against the rugged South African lefty.
The Brooklyner told NYFightblog that he went into the bout with a 16-0 record, dripping confidence, knowing he'd prepared more than adequately. "I worked hard in training, and we'd used southpaw guys to get ready," said Breland, the 1984 Olympic gold winner. "In my amateur career, I'd fought so many different guys, with different styles, so my confidence level was very high."
Breland grew up in Bed-Stuy, lives in downtown Brooklyn and is deeply involved in the Mark Breland Foundation, which seeks to advance the treatment of chronic traumatic encephalopathy (CTE), the progressive disease affecting many people who have suffered multiple concussions.
Breland, who turned 50 in May, teased NYFightblog with a promise. "I will do a big reveal on the show, a big surprise, about something that happened before the fight," said the man who won five N.Y. Golden Gloves crowns.
I couldn't weasel even a solid hint from the ex-champ, who hung up the gloves in 1997 with a 110-1 amateur record and a 35-3-1 professional mark. So I will just have to tune in.
November, 23, 2011
11/23/11
3:07
PM ET
He says it in a friendly-enough fashion, but he was the WBO heavyweight champ for a spell, and Michael Bentt, 17 years removed from his last pro fight, still looks , at 6-3 and around 230, like he could get the better of some top 30 heavyweight right now. "There's no need to clap, guys," he says with just enough edge to make sure that everyone looks up from their cell phone. "We haven't done anything yet. I appreciate your enthusiasm, but clapping is false to me."

Bentt is the director of a play, "Kid Shamrock," which starts on Nov. 25 a ten show run at the TADA Theater on 15 West 28th St. in Manhattan, and he's making sure his cast, made up largely of ex fighters like John Duddy, Mark Breland, Seamus McDonagh, knows that two weeks away from opening night, they are still a good five-plus pounds from their fighting weight.

"Kid Shamrock" is the story of ex fighter Bobby Cassidy, a middleweight and light heavyweight hitter out of Long Island who fought professionally from 1963-1980. He came quite close to receiving a title shot but it can't be said of Cassidy that he "coulda been a contender, coulda been somebody." The play, written by son Bobby Cassidy Jr., who works at Newsday, makes it quite clear that his pop is somebody, because he's fought the good fight in and out of the ring, rising up from a demoralizing childhood to become a world-class boxer, and then kicking a nasty booze habit. Cassidy Sr, who hasn't had a drink since 1974, had a rough time as he tried to make the transition from active fighter to whatever it was he was going to do with the rest of his life. He is the narrator in the play, and oozes credibility when he talks of "faces that have been molded and shaped by other men."

"He had a very difficult childhood, his mother was an alcoholic and his stepfather was abusive," Cassidy Jr. told me after the rehearsal. "When young Kid Shamrock, played by John Duddy, says, 'I was nine years old, I wish I was dead,' that comes right out of my father's mouth."

The play ran in 2007, and then again in February of this year. The message, that Kid Shamrock soldiers on, thru disappointment, drinking bouts, incarceration (for loan-sharking), will likely have the audience identifying with Cassidy, and applying the potent lines and lessons to themselves.

Duddy plays prime Cassidy and McDonagh portrays the boxer after he leaves the ring, and takes up shylocking. That Duddy and McDonagh both came tantalizingly close to climbing to the top of the boxing mountain gives their performance an added degree of oomph. Duddy, just 32, retired after his June 2010 title shot against Julio Cesar Chavez Jr., a decision loss. I saw him smile more at this rehearsal then I ever did when I covered his ascent up the rankings. McDonagh exited the ring following a June 1991 loss, one bout after he lost (TKO4) to Evander Holyfield in a clash for the WBC Continental Americas crown.

The Kid is now no kid. He's 67. It struck me that many if not most families do not process such deep emotional material as the Cassidys are doing publicly. Issues which molded and shaped the lives of offspring often don't get discussed meaningfully until the patriarch passes on. I'm impressed with the courage shown by the son and the father, and the whole crew, frankly, because they are not shy about admitting frailties and missteps.

I asked Sr. if it's hard to watch and listen to potentially upsetting material. "Very painful," he told me. "It's like it's happening right in front of my eyes all over again. My son wanted to make a play of it, and I love my son."

I am looking forward to watching a performance. The run goes from Nov. 25-Dec. 4. Call 1-800-838-3006 for tickets.