January, 8, 2014
Jan 8
12:53
PM ET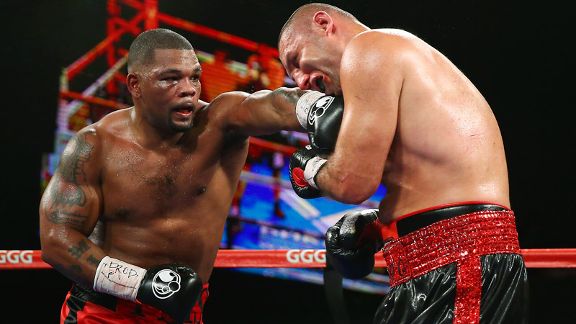 Al Bello/Getty ImagesMike Perez punches Magomed Abdusalamov during their Heavyweight fight at The Theater at Madison Square Garden.
He says all the right things, he sounds sincere, and I believe him. But we won't know until the night of Jan. 18 if Mike Perez has been greatly affected by what happened the night of Nov. 2, 2013.
Perez is the 28-year-old Cuban heavyweight who was in a pick 'em fight with Russian heavyweight Magomed Abdusalamov on the undercard of the Gennady Golovkin-topped card at the Madison Square Garden Theater. This clash between two heavies looking to make the leap from prospect to full-fledged contender ended with a UD win for Perez. The joy of victory, however, was totally muted by a post-fight development.
After absorbing loads of punishment from Perez over the course of ten rounds, Abdusalamov was taken to a NYC hospital and underwent emergency surgery to relieve swelling in his brain. He was comatose and today is housed at an upstate rehab facility, where he's working to regain the ability to walk and talk.
Perez (20-0 with 12 KOs), who opened eyeballs with a skilled and committed performance against Mago, gloves up against 33-year-old Cameroonian Carlos Takam (29-1 with 23 KOs) on an HBO card topped by a Jean Pascal-Lucian Bute bout in Montreal in two weeks.
I chatted via phone with Perez, who lives in Ireland and trains in California with Abel Sanchez, the tutor for the hottest boxer on the planet today, Gennady Golovkin. Perez sounded to me like the Mago tragedy hasn't messed up his equilibrium.
I asked him directly if he's been impacted by the tragic event. "I'm OK, and I thank all the people who believe in me, and have been telling me great things," he said. "I feel very sorry for Mago, and I'm happy to dedicate this fight to him. Life keeps going, I have to put that behind me."
Perez said he prays for Mago and his family, but he's had no problem, in sparring anyway, sitting down on his shots and trying to unload with maximum velocity and impact. "I want to hurt them, not them to hurt me," he said. "I was doing my job on Nov. 2, and it could have been me. I thank God it wasn't me. I hope Mago gets better soon."
Essentially, Perez says he can sleep well at night because he was doing his job against Mago, and he didn't intend to do such damage.
"I expect to be the same on Jan. 18, and do what I do best," he stated. He's thinking a title crack will come shortly. It may be against the man who is the only one better than him in the whole division, Wladimir Klitschko. Klitschko also happens to be the head of the company which promotes Perez, K2, along with his brother Vitali, who has left boxing for politics.
How would Perez do better than the others who have thought they could solve the Klitschko puzzle? "Fight," he said, simply. "I think most of them fight scared."
He doesn't seem phased by the skill set of Takam, who he admits he hasn't seen in person or even a tiny bit on tape.
It might sound cold to some, but Perez told me he is settled on continuing to win and make a living for his fiancee and three daughters, ages 12, 2 and 1. "I'm doing something to make life better for my girls."
September, 30, 2013
9/30/13
12:33
PM ET
Two men met up, with gleaming records, with boundless expectations, with title shots and belts and nest-egg money to come bouncing around their heads like pinballs. Michael Perez, from Newark, took on Omar Figueroa, a Texan, on Jan. 6, 2012 in Indio, Calif. Perez entered at 15-0-1, Figueroa at 13-0-1.

They scrapped, hard, with Figueroa stepping up a bit more, forcing a stoppage at the end of round six. The Perez corner requested the halting.

Perez (18-1-2 with 10 KOs; lives in Bloomfield, N.J.) has fought four more times since then, with his last scrap a draw against Lonnie Smith on March 9. The former 2008 National Golden Gloves champ Perez gets another shot at restarting positive career momentum Monday, at Barclays Center, when he fights 12-2 Miguel Zuniga, in a junior welterweight fight on a Golden Boy card topped by Sadam Ali. That will be his first foray at 140, and father-manager Jesus Perez told NYFightblog the weight leap will make a world of difference.

He said his son, now 23, had trouble maintaining energy from draining too much weight, and expects that he will show his best tonight. "He's growing up," he said. "He's a thick kid."

California's 17-1 Carlos Molina was supposed to be the foe, but he pulled out, complaining of a flu. Jesus thinks he was getting cold feet because he feared Perez. The father said the near-term plan is to win tonight, grab the vacant WBA Fedalatin 140 pound title, and by next year, look to get a shot against Danny Garcia, who holds WBA crown.
August, 29, 2013
8/29/13
6:22
PM ET
Barclays Center's commitment to boxing is reaching another level, with word that Golden Boy will be putting on a show at the Cushman and Wakefield Theater, a smaller venue within the building, on Sept. 30.

Sadam Ali, a new signee to Golden Boy, will make his promotional debut on the card.

A Carlos Molina-Michael Perez bout will also be featured, and Staten Island's Marcus Browne will return to the ring as well. Fox will televise portions of the Monday evening promotion.

The event is being promoted as an anniversary fete for the building. Jay Z kicked open the doors with a gig on Sept. 28, 2012.

"There's no place like home," said Ali (16-0, 10 KOs), who had been acting as his own promoter. "I've seen some great fights at Barclays Center and I have waited for my name to be called to fight here. Now that day has come and I couldn't be more excited. This is going to be a performance and a win you won't forget."

Welterweight Ali was a heralded amateur, a two-time N.Y. Golden Gloves champ, a two-time National Golden Gloves winner and a member of the 2008 US Olympics squad. He turned pro in January 2009. His foe on Sept. 30 will be Jay Krupp (17-5, 8 KOs), a Louisiana-born hitter who lives in Catskill, N.Y., and has been trained by ex-Mike Tyson trainer Kevin Rooney. "I'm part of the Cus D'Amato legacy," Krupp has said, speaking of the sage who molded young Tyson into "Kid Dynamite."

Perez (18-1-2, 10 KOs), a 23-year-old Jersey boy (Newark), will meet Molina (17-1-1, 7 KOs), the 27-year-old Californian who fought Amir Khan and was stopped in Round 10 of their Dec. 15, 2012 faceoff. A junior welter title will be up for grabs.