January, 3, 2014
1/03/14
12:33
PM ET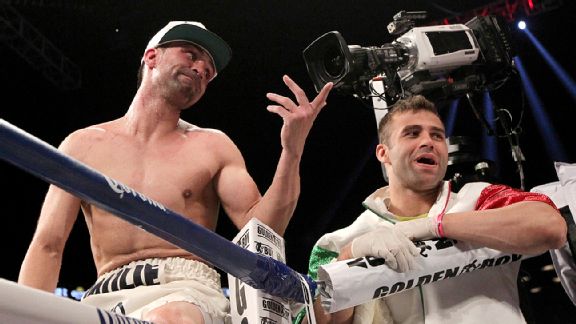 AP Photo/Mary AltafferPaul Malignaggi gets our nod for Fighter of the Year.
Here's the last part of my look back at my favorite posts of 2013.
July:
Transition time for newlywed Amir Khan
Who's next for Floyd? That question can dominate endless news cycles, as we keyboard tappers and the social media mavens speculate and opine on who should be graced with one of two lottery tickets "Money" dispenses every year.
Last July, amateur Sherlocks thought they were receiving a hint on a near-future Floyd foe with a flurry of Amir Khan sightings in NYC. On July 16, NYFightblog talked about Khan's recent marriage festivities, and guess what, six months later, we're still speculating. Khan seems to be the front-runner to fight Floyd on Mayweather's forthcoming May date.
August:
Mike Tyson reveals sobriety slip
Some folks dismiss Mike Tyson's third act as a promotional ploy, and insist that he simply manufactures and manipulates his personal drama as fodder for the masses. Me, I admire the former heavyweight champion and Baddest Man on the Planet for laying out his foibles and not presenting himself as a totally rehabbed character who has seen the light and is now a perfectly actualized being.
On Aug. 24, I touched on Tyson's public admission that he'd had a sobriety slip. The confession rang true for me, because I've seen Tyson act in movies, and he isn't an Oscar-worthy talent.
September:
Malignaggi: Floyd Mayweather is best ever
Paul Malignaggi is not shy. Never. The man will tell you what is on his mind, even if it means you might be offended.
On Sept. 16, Paulie told us that he thinks Floyd Mayweather is indeed the best of all time, better than the Sugar Ray, Henry Armstrong, et al. "I think Floyd beats everyone in history, and anyone who doesn't realize that by now is stubborn, blind, stupid or all three," he told NYFightblog. "He is the best ever." This came after Floyd made Canelo Alvarez look like a prospect-level pugilist in Las Vegas enroute to a decision win. There is no doubt the "how good is Floyd?" debate will rage on as long the Earth keeps spinning.
October:
Tissues needed at Gatti-Ward screening
For my birthday, on Oct. 16, the wife and I went to a screening of "Legendary Nights: The Tale of Gatti-Ward" at HBO's headquarters in Manhattan.
I, like every single person who tuned in, adored the effort, which reminded viewers of just how different some souls are built than us regular folks. Fighters like Arturo Gatti and Micky Ward have a reservoir of willpower and competitiveness which needs an outlet, which they find in the ring. We're lucky to be able to witness it.
November:
Thoughts on the Abdusalamov tragedy
It was one of the better heavyweight bouts you'll see in this age of subpar talent in the highest weight division. The Nov. 2 Magomed Abdusalamov-Mike Perez bout at the MSG Theater, however, will be recalled as the night Mago was too brave for his own good.
Perez got the better of it over ten rounds. After the fight, Mago was taken to a hospital, where he underwent emergency surgery for brain damage.
We continue to follow his story, which today leaves him in an upstate rehab facility, where his warrior resolve is being put to the test as he tries to regain the ability to walk and talk.
December:
Malignaggi tops Judah to plant his flag
Paul Malignaggi is the 2013 NYFightblog Fighter of the Year.
Yep, he only went 1-1 in 2013, losing a tight decision to Adrien Broner before finishing up with a win over Zab Judah. But his output this year went beyond in-ring exploits. Importantly, he showed, with his reflexes and still superb command of the ring, that at 33 he remains a world-class fighter. Also, his work on Showtime, as their lead analyst, has drawn universal raves. Even those who might have been disposed to give him a thumbs down, for that New Yawk accent, have to concede he has a gift for making smart points during fights. Congrats, Paulie.
And thank you, readers, for making this little niche on this fine website a regular destination.

I wish you a happy, healthy, bountiful New Year.
November, 4, 2013
11/04/13
10:35
PM ET
Two days after taking heavy punishment over 10 rounds against Mike Perez at the Theater at Madison Square Garden, heavyweight Magomed Abdusalamov was in stable condition and intensive care at Roosevelt Hospital in New York on Monday, according to Nathan Lewkowicz, vice president of Sampson Boxing, the promotional company that promotes Abdusalamov.
Abdusalamov, 32, who entered the fight with Perez unbeaten at 18-0 (18 KOs), underwent brain surgery on Sunday after complaining of a headache. Physicians at Roosevelt Hospital decided to place him in a coma to attempt to minimize swelling in his brain and reduce the possibility of more brain damage.
The New York State Athletic Commission offered this statement about the Abdusalamov situation to NYFightblog on Monday:
"NYSAC's primary concern is the health and safety of its licensed athletes. As we do in all such cases, NYSAC is reviewing the circumstances surrounding Mr. Abdusalamov's injuries. We are hopeful he makes a complete and speedy recovery."
The Russian's plight, on the heels of Frankie Leal's death from injuries sustained in his Oct. 19 bout against Raul Hirales, are two stark reminders that boxing isn't merely a sport, but in fact a potentially life-and-death endeavor. Former 154-pound champion Sergio Mora, who fights for New York promoter Lou DiBella, told me he found himself caught up, like so many, in the violent ebb and flow between Perez and Abdusalamov.
"As I was watching this weekend's semi-main event on HBO, I was thinking, 'Wow, this fight is getting good between Mago and Perez,'" Mora said. "I was guilty just like everyone else in wanting to see two big, strong fighters put on a show of beautiful brutality. ... Mago's corner did what they were supposed to do for their fighter, and that is to remain calm, give proper instructions and relieve their boxer of worry and concern. Mago, being a tough fighter, did his job and continued fighting, trying to win. It was clear who was the polished boxer here and who was the fighter."
Mora is scheduled to step into the ring Nov. 16 against Milton Nunez.
"There is no one in particular at fault for the violent display of courage this [past] weekend. ... The problem is the aftermath that no one sees," he said. "The bruises and injuries that well up all over the boxer's head and body after the adrenaline wears down. But we signed up for this. ... We all wait for Mago's medical clearance and pray for his health and family. At the same time, this brutal and fickle sport will patiently await his return to the ring as well."
November, 3, 2013
11/03/13
7:55
PM ET
Heavyweight prospect Magomed Abdusalmov is in a New York City hospital, in stable condition after being placed into an induced coma following a unanimous decision loss to Mike Perez at the Madison Square Garden Theater on Saturday night.

The 32-year-old Russian-born boxer, who lives in Florida, absorbed heavy fire from his Cuban-born foe on the undercard of Saturday's card headlined by the Gennady Golovkin-Curtis Stevens middleweight title bout.

The news leaves fight game followers a bit stunned and more than a bit saddened, coming so close on the heels of the death of Mexican boxer Frankie Leal. Leal, 26, died from a brain injury three days after his Oct. 19 bout against Raul Hirales in Cabo San Lucas, Mexico.

About 30 minutes after Saturday's main event concluded, Abdusalmov informed manager Boris Grinberg that he had a headache, according to Nathan Lewkowicz, who is the son of the downed fighters' promoter, Sampson Lewkowicz.

Abdusalamov, who entered the bout with an 18-0 record, with 18 KOs, said that he hurt his left hand in the second round of the fight and wasn't able to make a proper fist after that. His nose was also broken during the encounter, he believed. So, Lewkowicz told ESPNNewYork.com, Abdusalamov was going to be taken to a hospital for an assessment even before he told Grinberg that his head ached.

Grinberg said in a phone call that he didn't want to discuss the situation extensively, indicating that a press release would go out on Monday to shed more light on the matter. He was optimistic, he said, that the boxer will recover.

ESPNNewYork.com reached out to the New York State Athletic Commission and left a message for Abdusalamov's trainer, John David Jackson, requesting comment. We received a statement from the NYSAC on Monday: "NYSAC's primary concern is the health and safety of its licensed athletes. As we do in all such cases, NYSAC is reviewing the circumstances surrounding Mr. Abdusalamov's injuries. We are hopeful he makes a complete and speedy recovery."

The 28-year-old Perez (20-0, 12 KOs), who lives in Ireland, fought with strength and stamina, and had Abdusalamov backing up for much of the 10-round scrap. The two lefties exchanged heavy blows, with the Cuban's power shots causing swelling around Abdusalamov's left cheek from early on.

From my ringside seat, nothing seemed out of the ordinary in the bout. Yes, Perez was getting the better of exchanges, and Abdusalamov appeared to be behind and in need of a KO, perhaps, to win. But one judge, John Stewart, had Perez a winner by the slimmest of margins, 95-94, while the other two, Julie Lederman and Don Trella, had it wider, 97-92. To my eyes, the bout didn't look one-sided in the least, and even in hindsight, I can't say that it struck me that Abdusalamov was in any clear and apparent danger.

To a man, and woman, every fighter I speak to about the subject tells me they understand the risks associated with taking part in a prizefight, and although they don't generally like to dwell on the potential catastrophe that could occur, all comprehend that the price they pay for entry could be immense. It's fair to say that all involved in the sport have Abdusalamov on their minds on this evening, and are pulling for the man to pull through and bounce back.
November, 3, 2013
11/03/13
12:00
AM ET

NEW YORK -- Two lefty heavyweights gave the fans at the newly renovated Theater at Madison Square Garden their money's worth Saturday night, with Mike Perez getting the better of Magomed Abdusalamov over 10 rounds. Perez (20-0, 12 KOs) outlanded Abdusalamov 312-248.

Afterward, Abdusalamov (18-1, 18 KOs) said he couldn't make a fist after hurting his left hand in Round 1. The plan for the Russian, according to trainer John David Jackson, was to back his opponent up. But he couldn't do that against the busy Perez, who was born in Cuba, lives in Ireland and trained for Saturday's fight at altitude in Big Bear, Calif. Perez ripped right hooks and did well to nail open body areas.

Perez won by scores of 97-92, 95-94 and 97-92, despite having a point taken for going low in Round 9.
September, 30, 2013
9/30/13
10:32
PM ET
Marcus Browne of Staten Island improved to 7-0 (6 KOs) with a unanimous victory over Lamont Williams at Barclays Center on Monday.

The judges scored it 79-72, 79-72, 76-72 for Browne, in what was an immensely chippy contest.

Afterwards, Browne said it was a "good learning experience." The 22-year-old said he was OK with not knocking out Williams, as "you can't knock out everybody." He said the fight was "dirtier" than his others, and he expects to be stronger in his next eight-rounder.

Browne, the 2012 Olympian, was aggressive in the first. Williams was cautious, maybe too cautious for a shortened-duration bout.

Williams got nastier in Round 2, in a chippy round which saw Williams land a few clean shots on Browne.

In the third, Williams' hand speed was impressive. With lead rights and lead hooks, he touched Browne a few times. Browne seemed slightly frustrated, as evidenced when he did a smush face on a break, and got warned by the ref. Williams' feints kept Browne from getting into a rhythm.

The fourth was tight. Williams' straight right was maybe the best punch of the round. Browne had a point taken for an intentional headbutt to start the fifth. The round was better for him because he came forward and wasn't backing up so much.

In the sixth, it was another chippy round, with clinches, headbutting and elbows. Browne's best punch was straight left, but he took a right counter in return. The judges could have gone either way.

In the seventh, Browne had a solid round, landing the cleaner, harder shots.

In the eighth, Williams ran and didn't throw, giving Browne the round. We went to the cards.

Williams, from California, fell to 5-2-1 with the loss.

Junior welterweight Mike Perez from Newark delighted the crowd with a flurry plus some of left hooks on foe Miguel Zuniga in the main undercard attraction. Perez, an accurate hitter who takes enough punishment to make it interesting, won a UD, by scores of 99-91, 99-91, 96-94 over game Zuniga, who followed him, but couldn't match the hand speed of the victor. After the bout, Perez said, "I've been through a lot, and tonight I found out who I really am. I'm back on my own bandwagon."