July, 30, 2013
7/30/13
3:41
PM ET
If you're a fan of boxing, or a student of societal shifts in attitude towards homosexual athletes, or a proponent of the abolition of fight sports due to their egregious brutality, may I suggest you tune in to MSG on Friday night, and watch the documentary, "Ring of Fire: The Emile Griffith Story," which begins at 10 PM on the cable channel.
I chatted with Dan Klores, the producer and co-director of that film, which came out in 2005, along with Ron Berger. I was curious to hear his takeaways from the July 23 death of the talented, mostly beloved and frequently controversial Hall of Famer Griffith, who won six titles, at welterweight and middleweight.
Klores chuckled and admitted that he hadn't watched the film since it came out, but watched some when it ran on ESPN2 following Griffith's death at age 75, in a Long Island nursing home. "I liked it," said the man with a stellar resume of work under his belt, which includes the 30 for 30 doc "Winning Time: Reggie Miller vs. The NY Knicks," "Crazy Love," and "The Boys of 2nd St. Park."
"Emile's legacy was that as a world champion, he has always been underestimated," Klores said. "He was a six-time world champion in the days when there was only one champion in each class."
Klores helped adjust my thinking on Griffith, as I have fallen prey (like I dare say so many of us have) by focusing excessively on the fact that Griffith battered Benny Paret to submission in their third fight, in 1962. Paret died ten days later from brain injuries. Also, the conjecture about Griffith's sexual preferences have taken on perhaps more prominence than they should have considering that we don't watch sports because of the athletes' dating choices, but rather to marvel at their skills and the drama they manufacture with their on the field and in-ring exploits.
"Because of the Paret tragedy Emile's skills and career have not been given the credit they should have," said Klores of the boxer who fought at Madison Square Garden 28 times.
The filmmaker is happy, he said, that he was able to be part of a positive shift in Griffith's life. A few years after the film came out, he told me, Klores was talking to Emile and his adopted son, Luis. Emile and Luis had just marched in the Gay Pride parade in NYC and Luis told Klores, "'We felt so great being with people just like us.' Emile was a very sweet man, he had a lot of love in him."
Klores can't shake the continuing evidence of man's grievous inhumanity to man in the fight game realm. That fighters don't have a pension system set up to help structure their financial life post-ring, that promoters take a massive lion's share of revenue and don't let the wealth trickle down much, rankles him. The treatment of Paret's widow, Lucy, also irks him to no end. "Emile and Lucy, neither of them has had a penny, really, in the last twenty or thirty years," he said. "Lucy was ripped off the moment her husband died. That's the tragedy, these men of real courage, getting ripped off. That's the cruelty of the sport if you really think about it."
NOTE: Here is information on services for Griffith.
A celebration of the life of Emile Griffith, with a eulogy and bell ceremony, will take place this Saturday, August 3rd at 9:45 AM at the St. Thomas the Apostle Church located at 24 Westminster Road, West Hempstead, New York 11552. After the mass, the burial will take place at St. Michael's Cemetery. 72-02 Astoria Boulevard " East Elmhurst, NY 11370
SERVICES AND FUNERAL SCHEDULE FOR EMILE GRIFFITH:
WAKE: FRIDAY, AUGUST 2, 2013
3-5 PM and 7-9 PM
MALVERNE FUNERAL PARLOR
330 HEMPSTEAD AVENUE
MALVERNE, NY 11565
516-593-7230
FUNERAL: Saturday, August 3, 2013
9:45 AM
ST. THOMAS THE APOSTLE CHURCH
24 WESTMINSTER RD
WEST HEMPSTEAD, NY 11552
Tel:
516-489-8585
FOLLOWED BY BURIAL AT
ST. MICHAEL'S CEMETERY
72-02 ASTORIA BLVD
E. ELMHURST, NY 11370
(718) 278-3240
June, 20, 2013
6/20/13
11:47
AM ET
Old-school fight fans should know that MSG has started a new series, called "Friday Night Fights," hosted by Mark Breland and John Duddy, which spotlights classic bouts and allows the hosts to examine and dissect the duels.
On Friday at 9 p.m., Breland's first title victory as a professional, a stoppage win over Harold Volbrecht in Atlantic City, will be the featured.
[+] Enlarge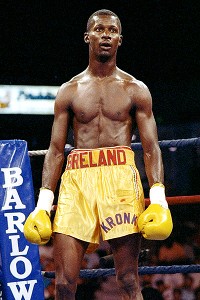 Getty ImagesMark Breland
The WBA welterweight title was up for grabs on Feb. 6, 1987, when Breland, arguably the most celebrated amateur in U.S. boxing history, gloved up against the rugged South African lefty.
The Brooklyner told NYFightblog that he went into the bout with a 16-0 record, dripping confidence, knowing he'd prepared more than adequately. "I worked hard in training, and we'd used southpaw guys to get ready," said Breland, the 1984 Olympic gold winner. "In my amateur career, I'd fought so many different guys, with different styles, so my confidence level was very high."
Breland grew up in Bed-Stuy, lives in downtown Brooklyn and is deeply involved in the Mark Breland Foundation, which seeks to advance the treatment of chronic traumatic encephalopathy (CTE), the progressive disease affecting many people who have suffered multiple concussions.
Breland, who turned 50 in May, teased NYFightblog with a promise. "I will do a big reveal on the show, a big surprise, about something that happened before the fight," said the man who won five N.Y. Golden Gloves crowns.
I couldn't weasel even a solid hint from the ex-champ, who hung up the gloves in 1997 with a 110-1 amateur record and a 35-3-1 professional mark. So I will just have to tune in.