January, 2, 2014
Jan 2
12:30
PM ET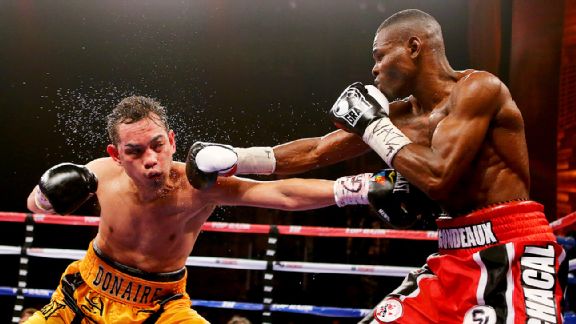 Al Bello/Getty ImagesGuillermo Rigondeaux beat Nonito Donaire at Radio City in April.
The Big Apple fight scene was pretty darned vibrant in 2013, with Barclays Center further emerging as a go-to player in the mix as Golden Boy placed pretty compelling fights in Brooklyn -- even if Vegas, California and Texas sometimes got more love than the hippest borough it the world. But that didn't mean Manhattan receded, or became the Podunk borough -- no way.
April:
Rigondeaux beats Donaire at Radio City
Maybe the most surprising result of the year occurred at Radio City Music Hall on April 13, when 12-0 Cuban Guillermo Rigondeaux made Nonito Donaire look like the level of boxer he'd had his way with while amassing a 31-1 record. Rigo won a UD12, via scores of 116-111, 114-113 and 115-112, and this sport of ours, the theater of the unexpected, once again showed us that you can go from the penthouse to the outhouse in the span of a half hour. Donaire, the 2012 Boxing Writers Association of America's 2012 Fighter of the Year, went from pound-for-pound ace to someone who needed to prove his worth to be mentioned in the same breath with the best and brightest.
May:
Roach: Mayweather is a little bit boring
2013 was yet another year in which fight fans discussed the possibility and probability of a clash between Floyd Mayweather and Manny Pacquiao. This is by design, of course, as savvy marketer Mayweather knows that legions of Twitterheads and gullible media sheeples will discuss this theoretical faceoff ad nauseam. On May 7, Pacquiao's trainer Freddie Roach weighed in and critiqued Floyd's winning effort against Robert Guerrero on May 3, getting in a knockdown slapdown on Floyd for being boring.
June:
Don't quickly dismiss Malignaggi vs. Broner
Paul Malignaggi, the Brooklyn-bred boxer who doubles as an analyst on Showtime, had a tremendous year. Not just in the local scheme of things, but overall. Yes, he went 1-1, losing to Adrien Broner on June 22 and then finishing the year with an easy money win over desultory Zab Judah on Dec. 7. Many folks thought Paulie would get his hat handed to him by Broner, but I told you on June 16 that Paulie was a most live 'dog.
Malignaggi showed his intelligence everywhere he went, utilizing superb ring generalship against Broner en route to winning on one of the three judges' cards. That, and he emerged into the consensus pick as the best analyst on the tube today, showing an ability to communicate incisively, in manageable chunks, without being repetitive or too cheerleadery.
April, 9, 2013
4/09/13
9:55
PM ET
I was chatting with Irishman Gary Hyde, the manager of Guillermo Rigondeaux today, during a Top Rank media gathering at Mendez Gym on E. 26th St. in NYC. Hyde asked me who my favorite fighter was and I paused, thought about it, and said, "Ya know, I sort of don't have one. I do this not to follow favorite fighters, but to meet people, decent people like you."
He'd just introduced me to his son, 13-year-old Tommy, who is supposed to be attending school in Cork, but is skipping to hang with his dad and getting some lessons in "the school of life," as the elder Hyde put it to me on Tuesday afternoon. "He's my right-hand man," Gary told me, pointing to the boy, as we all stood on the ring apron, and watched Hyde's fighter Rigondeaux do some stretches in the ring. "A child of 13, he's more in the flow than us." (Hyde told me he asked wife Fiona to come to NY, but she begged off. Daughters Sarah (22), Lauren (12; she had her confirmation on Tuesday) and Ava (7) are also back in Ireland, with fingers crossed that dad's guy gets it done.)
It's a bit of an unlikely pairing, Hyde and Rigo (age 32; 11-0 record, with 8 KOs; claims 400-12 amateur record). The Irishman, who owns some pubs and real estate in Ireland, met Rigo when the Cuban was an amateur, back in 2001, in Belfast. Hyde was impressed that Rigo fit in with the boys at the pub, and pounded some brews. His own stable of fighters wasn't going to put him within sniffing distance of the Arums of the world, and he knew he needed to secure some jazzier talents. So he went to Cuba, under the guise of writing a book, to try and snare some fighters, in 2007. Rigo had eyes on defecting but put up a front, announcing that he wanted to be the first man to win gold in boxing at four Games. The fighter attempted a jailbreak in 2007, was snared, but managed the feat in 2009. He went to Cancun, and then Miami, and Hyde had to battle another manager for the services of Rigo; he went to court to hold on to him, and won.
Rigo meets Donaire at Radio City Music Hall on Saturday night; HBO will show the scrap.
Hyde's affability, I admit, has me somewhat conflicted in this fight.
I see Donaire, who battled suicidal ideation as a youth
, as a credit to the sport. But I like underdogs, and Hyde is one. Plus, he earned points for a seeming inability to BS. After telling me Rigo had the best camp of his four-year pro career, and that he was injury-free, I asked Hyde if he would lie to me if this was not the case. "I would," he admitted straight away. We both chuckled.
"I'm 59-0 as a manager," he told me, in closing. "When Rigo wins, it's going to be a Rigo-lution!"
February, 13, 2013
2/13/13
10:32
PM ET
Filipino-American superstar Nonito Donaire will glove up at Radio City Music Hall in his next bout, April 13 against Cuban Guillermo Rigondeaux, said a source with promoter Top Rank.

Texas and California were in contention, the source said, but the fight lands in New York. (Donaire will now have an easier time picking up his Boxing Writers Association of America award as 2012 Fighter of the Year at the BWAA awards dinner on April 11).

Donaire, 31-1, is among the top boxers in the world, pound for pound, and hasn't lost since 2001, in his second pro bout. He holds the WBO super bantam crown. Rigondeaux holds the WBA super bantam title, and owns an 11-0 record, but he has hundreds of amateur bouts under his belt.
February, 3, 2012
2/03/12
12:36
PM ET
Nonito Donaire
grew his fanbase more than a bit when he showed his talents on October 22 in the Theater at Madison Square Garden.
Actually, the fight kind of stunk,
because opponent Omar Narvaez
showed up to survive, not thrive. But Donaire (27-1), who won fans with his upbeat personality and
mean DeNiro impersonation
, gloves up tomorrow, in Texas, and that super bantamweight title fight scrap figures to be a crowd-pleaser. The California-based boxer, who was born in the Philippines, meets
Wilfredo Vazquez
Jr. (21-1-1) and things have gotten heated between them during the pre-fight buildup.
They had to be separated during the pose-off at the last presser, and their wives have even gotten in the act,
sniping at each other on Twitter
. Sometimes this stuff is for show, but Donaire is such a sweetheart outside the ring, I'm pretty certain this enmity is the real deal, and will spill into the ring.
HBO will show the fight, during a broadcast that kicks off at 10 PM Saturday. Note: They run a new feature before the show kicks off, called "
2 Days: Portrait of a Fighter
." The series will look at the 48 hours before a boxer enters the ring to fight, and
Brandon Rios
will be the first subject. Cameras followed him before his Dec. 3 scrap at MSG against John Murray and the footage should be stellar, because Rios was embroiled in a harsh battle with the scale. He didn't make weight for the fight...so I will be setting the DVR for this one.
October, 20, 2011
10/20/11
3:12
AM ET
For a 12-year-old,
Liahna Sta. Ana
of Freehold, NJ has a helluva resume. Puts mine to shame, actually.
So does her
website
. I'm getting busy on building mine right after this, I swear.
This is branding done right.
Ana is something of an old hand as a songstress at 12, but she gets what may be the gig of her young life when she sings the US anthem before the Nonito Donaire-Omar Narvaez fight on Saturday at MSG's WaMu Theater.
Donaire chose stay and
Tiffany Viray
, coincidentally also of Freehold, to sing the anthems. Check out this
video
of Ana, who was interviewed at
Gleason's Gym
, talking about the WaMU gig.
October, 3, 2011
10/03/11
3:09
PM ET
Maybe you washed out in the "American Idol" tryouts. Maybe you're a graybeard who made it on to "Star Search" but got the boot in the semifinals, and you still have nightmares about Ed McMahon chortling while announcing your ouster. Well, don't ditch the dream. The Filipino Flash, Nonito Donaire is looking for a belter to sing the Filipino National Anthem at his Oct. 22 rumble at the Madison Square Garden Theatre. You can still capture that 15 minutes of fame, and let the masses hear your golden pipes. Here's the posting on his Facebook page:

Attention NYC/NJ FILIPINOS> FilipinoFlash is giving YOU the chance to be on HBO on Oct 22. We are looking for an individual that can sing the Philippine National Anthem. Amateurs, professionals, young, and executives are invited to join. Just post a youtube link here and submit your bio, link, and contact information to fan@filipinoflash.com Winner will be chosen and announced at media workout on Oct 15th in NYC. Good luck!
September, 21, 2011
9/21/11
4:44
PM ET


Nonito Donaire went from being seen as top 20 pound-for-pound guy to a top 10 or top 5 pound-for-pound guy with his TKO2 win over highly regarded slugger Fernando Montiel in February.

The hitter was born in the Philippines, so he enjoys a measure of the adulation among Filipino fight fans that the Congressman, Manny Pacquiao does. But Donaire lives in the U.S., in California, so his level of fame isn't in that Pacquiao zone.

Donaire (26-1 with 18 KOs) -- as you can see in the video I shot at the Edison Ballroom in NYC on Tuesday, at a press conference to hype Donaire's Oct. 22 title defense at the MSG Theater against fellow lefty Omar Narvaez (from Argentina; 35-0-2 with 19 KOs) -- is an affable gent with a wicked sense of humor. Combine that with a fan-friendly desire to separate his foe's head from his neck, and you have someone who has a chance to make some ripples outside the hard-core circle.

Donaire understands this, which is why he he tried to maximize his leverage after the Montiel win. "The Filipino Flash" left Top Rank, and signed with Golden Boy, in March. Top Rank cried foul, saying that the 28-year-old was still under contract. An arbitrator agreed, and in July, Donaire kissed and made up with Top Rank, with a multiyear contract extension.

Americans aren't overly enamored of jockey-sized fighters. They'll make some exceptions, more so in this era, in which the heavyweights by and large stink up the joint ... but fighters under 120 pounds basically get ignored by the non-fanatics. But we recommend people make an exception, and tune in to see Donaire do his thing. And if you really have an aversion to under 120-pounders, not to worry, he'll be moving up to 122 pounds soon, and likely 126 after that. We hear that Donaire attacked NY cheesecake and pizza with the same ferocity he does foes, so he'll likely have to add a mile or two of roadwork so he makes 122 for Narvaez.

Woods' Twitter handle is @Woodsy1069