October, 21, 2012
10/21/12
12:58
PM ET



Do not invite Paul Malignaggi and judge Glenn Feldman to your holiday party. The Bensonhurst-bred welterweight champion has no great love for the arbiter who scored his Saturday night title defense at Barclays in favor of Pablo Cano, 118-109. I didn't meet anyone who was at the fight who saw Cano, who sported a vicious cut over his left eye from a punch, the winner by such a margin.

Malignaggi, age 31, thundered at Feldman at the post-fight presser, and if there is a way for him to lobby and get his way, I'd guess Mr. Feldman, who Malignaggi stated he did not dislike as a person, would not score Malignaggi's next bout.

The Magic Man went to 32-7 with the split decision victory, as judges Nelson Vazquez and Tom Miller had it 114-113 for the vet. Yes, Cano, age 24, had his moments. At the arena, his punches spoke more loudly, at times, than did Malignaggi's. His body work reddened the winner's sides, and when he landed, and sweat sprayed off Malignaggi's head, that seemed to get the judges' attention.

Malignaggi advisor Anthony Catanzaro checked in with NYFightBlog the morning after, with some thoughts on the scrap.

"It was a physical fight, a fight where Paulie outboxed a game, competent guy for ten of twelve rounds," he said. "Cano fought our fight in the middle of the ring and was outjabbed all night. He was leaking blood profusely and fights have been stopped for lesser cuts, not to mention all the low blows that went unpunished. Paulie as a true champion got off the canvas and finished the fight strongly."

Cano sent Malignaggi down in round 11, adding more drama to the affair as we awaited the scorecards' tally. Malignaggi said afterward he didn't feel the drama, as he assumed he had a nice lead at that point. Another point -- Cano didn't make weight, and Malignaggi thinks he gave a half-hearted effort in trying to carve off a bit more than a pound in the two hours he was given to do so on Friday. He had to pay $50,000 from his purse to Malignaggi, but I think it's fair to say he might have had more energy on fight night because he didn't expend more energy to make 147.

Readers who were on hand and/or watched on Showtime, how did you score it? I'm curious; since I was writing during the fights, and because I feared I'd miss a telling blow I didn't keep a scorecard.
October, 20, 2012
10/20/12
11:35
PM ET
Paulie Malignaggi eked out a split-decision win at Barclays Center over Pablo Cano, and had to contend with a knockdown in Round 11 to make the drama in waiting for the scorecards that much more potent.
[+] Enlarge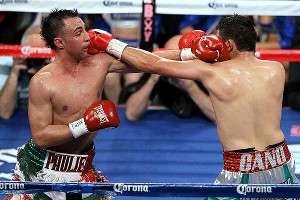 Alex Trautwig/Getty ImagesPaulie Malignaggi (left) and Pablo Cesar Cano
One judge gave it to Cano -- who couldn't win Malignaggi's WBA welter title because he didn't make weight -- 118-109. The other two gave it to Paulie, 114-113. The crowd booed the decision, by and large.
"Paulie had a lot of experience, but I had heart and experience. I know I won this fight. Listen to the crowd: They know I won the fight," Cano said.
"I thought I clearly won the fight," Malignaggi said. "He's a warrior. I don't know the one scorecard, I thought I was in control the whole fight. He'll be champion one day, just not tonight. He was stronger than I thought."
And next for the 31-year-old Malignaggi? "I want [Ricky] Hatton next," he said.
October, 16, 2012
10/16/12
12:20
PM ET



The Saturday fight card at Barclays Center is straight-up loaded with talent. I can't guarantee that every bout will be a classic, but I will say that the number of champions, ex-champions, contenders and potential future stars is considerable, and should reward anyone who attends, or watches the card on Showtime, with good bang for their buck.

Which fighters might steal the show, might separate themselves from the pack? I think the Paul Malignaggi-Pablo Cano scrap could be a show-stealer, because it is the sort of style matchup that could mesh well from a fan's perspective.

Brooklyn's Malignaggi (31-4) is a slick boxer, someone who embraces the "sweet science" aspect of the sport. His challenger, Pablo Cano (25-1-1), is more of a banger, someone who relies more on his power to excel. The Mexican Cano, who turned 23 on October 4, has 19 KOs in 27 outings, so Malignaggi will have to be mindful of not getting caught by the kid. Cano does possess boxing skills, as he he showed in his debut on the big stage -- when he took a fight with Erik Morales at the 11th hour and had his moments before getting stopped, on the advice of his own corner, in round 10 of that Sept. 17, 2011 bout.

We can see Malignaggi peppering Cano. He has been showing more power of his own lately, probably stemming from the fact that his hands are not hurting him as much (they are staying intact during fights, as opposed to fracturing, as they did earlier in his career). We can see Malignaggi lumping up Cano's eyes, as Morales did, and getting a stoppage win, though he has just 7 KOs in 35 outings.

Cano, though, disagrees. He and his team -- which includes manager Rolando Arellano, translating in the accompanying video -- think he is stronger, more seasoned, and ready to wrest Malignaggi's WBA welterweight crown from him Saturday night.

"I'm a Mexican warrior," Cano told me. "You're going to see a war in that ring."

We will see who is right, and who is wrong, on Saturday night.
October, 15, 2012
10/15/12
5:15
PM ET
Boxing has been pretty darned good to Paul Malignaggi. Having known him for a couple years, and having come to respect his intelligence, his street smarts and his hustle, I'm pretty sure no matter what he went after, vocationally, he would have had success. But boxing has been a good fit for Malignaggi, the Bensonhurst-bred welterweight who defends his WBA 147-pound crown against Pablo Cano on Saturday night at the Barclays Center.

Materially, the fight game has been a pocket-filler for the 31-year-old. The Mercedes E350, with his nickname, "Magic Man" stamped on the rear, next to the license plate, spoke to his standing while parked on the street next to Brooklyn Bridge Park, where Malignaggi and most of the other fighters on the Oct. 20 Barclays/Golden Boy card convened Monday for a media gathering.

I asked Malignaggi if the stresses pre-fight were different, and perhaps more draining, because he will be fighting so close to where he grew up. "There is an anxiety," he admitted. "There is a lot of yanking on me. Usually, before a fight, I get into a vegetative state, stay at the hotel, sometimes even train in my room," he said. "This week, I've got to run all over the place. But I am a professional." With the constant texts and tweets and calls, many from folks looking for a free pair of tickets, he admits that he does have to remember to take that extra deep breath every so often, and pose the question to himself, Am I doing too much of this "extra" stuff?

I watched Malignaggi (31-4) as he posed for a pic with a "dirty water" dog, a hot dog from a street vendor. Will he eat the dog, I mused, or hand it off, because he is a few pounds from making weight, and he can't take a chance on that 200-calorie, fat-laden, nitrate- and sodium-filled meat vessel?

"Can someone take this before I eat it?" he said, and handed it off to a fight writer happy to scarf the snack, answering my question. He said he was 153.4 on the scale that AM, comfortably within distance of 147 pounds.

There will be some fruit salad for lunch, and some salmon, and spinach for dinner, Malignaggi said. He can indulge in a few dirty water dogs if and when he gets the W over Cano, a 23-year-old Mexican hitter with a 21-1-1 record.

October, 10, 2012
10/10/12
11:43
AM ET
Disclosure: As a fight fan and writer who happens to live a 20-minute walk from the Barclays Center, I am excited that boxing looms large in the grand plan for the new building to be as big as MSG in the United States' arena-sphere.

Golden Boy is contracted to do 12 shows at Barclays a year, from 2012 to 2014. It is a bold growth bid for the California-based company, headed up by Oscar De La Hoya and Richard Schaefer. It is bold, in my eyes, because they don't have the staffing on the East Coast that they have in Cali. But Golden Boy COO David Itskowitch told me at Gleason's Gym on Tuesday, at a workout featuring Brooklyners Paul Malignaggi and Danny Jacobs, that his company will be able to pull off the expansion. Malignaggi and Jacobs will fight on Oct. 20 at the Barclays boxing debut.

Itskowitch, who looked surprisingly peppy, considering his wife Kim gave birth to a boy, Austin, on Aug. 30, said that Golden Boy recently put on three shows that ran the same night and were televised on Showtime, Fox and TeleFutura, successfully. "I never sleep," said Itskowitch, who lives in Manhattan. "Before, it was all work. Now, it's the baby and working, a combination."

No, Itskowitch told me, bottom-lining the issue, he doesn't expect any dilution to the Golden Boy product with the addition of East Coast shows to the mix.

I prodded the COO, who has been with Golden Boy for 5-plus years, after working for local promoter Lou DiBella before that, to learn what some ramifications are for fighters taking part in the Oct. 20 premiere.

Junior welter Danny Garcia, the Philly perma-underdog who fights Erik Morales in the main event, would be a fine fit to meet Juan Manuel Marquez, like Morales a Mexican living legend and shoo-in Hall of Famer. If Morales pulls off the unlikely-but-only-a-fool-would-say-unlikely win over Garcia, a third bout between the two would make immense sense. "We'd get a trilogy," Itskowitch said. Also, a Garcia-Lucas Matthysse fight would be "ridiculous," he said, in a good way.

Bensonhurst's Malignaggi, the WBA welter titlist, is looking at a rematch with Ricky Hatton if he beats Pablo Cano in Brooklyn. But that plan is contingent on the comebacking Hatton not getting knocked off the horse. As well as a decision not to return to the less exciting but smoother path as a promoter. Hatton's upcoming bout against Viacheslav Senchenko on Nov. 24 has been deemed by the WBA a welterweight title-shot eliminator, Itskowitch said. It is likely that Malignaggi will either fight Hatton, or face a rematch with the Ukrainian Senchenko in the near future. As always, let us note that boxing is the theater of the unexpected, so while planning, it is always wise to factor in that variables could pop up at any time.

Peter Quillin meets WBO middleweight champ Hassan N'Dam N'Jikam at Barclays, and if the Manhattan quote machine wins the crown, Itskowitch said that a tussle with Sergio Martinez would be alluring. "But we don't know Martinez's plans for a rematch with Julio Cesar Chavez Jr.," he cautioned.

Barclays will be able to fit about 16,000 for the first fight night. Will we see a sellout? "I don't know about a sellout, but I expect a very good crowd," Itskowitch said.
October, 9, 2012
10/09/12
6:21
PM ET


Boxing will debut at the Barclays Center in Brooklyn on Oct. 20, and the press is on to spread the word about the show, which is topped, nominally, by a Danny Garcia-Erik Morales rematch, but in reality, by the New Yorkers who are fighting on the card, and the building in which the fights will be fought.

Golden Boy Promotions, the entity headed by Oscar De La Hoya, is promoting the card at the 675,000-square-foot venue. Golden Boy gathered up Brooklyners Paul Malignaggi (who fights Pablo Cano in the first defense of his WBA welterweight title) and Danny Jacobs -- in his first fight back after beating back cancer, and a tumor which wrapped itself around his spine -- and had them work out at Gleason's Gym on Tuesday.

A cluster of media and fighters formed around Malignaggi when he entered gym; the 31-year-old who now lives in L.A. quickly spotted and greeted Jacobs, age 25, who now lives in Park Slope. They both smiled widely when Brett Yormark, the Barclays Center CEO, approached them. Malignaggi lifted his shirt to show his six pack and prove to Yormark that he was close to being at the welterweight limit.

NYFightBlog queried the Bensonhurst-bred boxer as he shadow-boxed a few rounds and kept a sweat going after skipping rope. He admitted that he would like to steal the show from the headline bout, but will take care not to get distracted, and try to over-impress the audience. He expects hundreds of friends, family and rooters to be in the building, which will be set up to seat about 16,000, according to Golden Boy COO David Itskowitch, who oversaw the press gathering.

One of the game's most persistent and effective self-promoters, Malignaggi was asked if he would once again Tweet during his fight, as he did on April 29, in the Ukraine, when he beat Viacheslav Senchenko and won his crown. "I will try," he said, while throwing one-twos during his shadow-box session. "I always want to be entertaining."

Malignaggi touched down in NYC on Saturday and took part in the NYC Columbus Day parade on Monday. He said camp went well and he is ready to show the 23-year-old Cano his skill set. "I'm tired of training," he said. "I want to fight."

Danny Jacobs, who grew up in Brownsville, the neighborhood in Brooklyn which boasts alumni like Eddie Mustafa Muhammad, Mike Tyson, Riddick Bowe and Zab Judah, admitted that he didn't know all that much about his foe for the night, 13-1 Missourian Josh Luteran. "I've seen a couple of tapes. I know his name is Josh something," the 22-1 fighter said, with his often-present accompanying grin.

Jacobs expects to be emotional on fight night, he said, as he has not fought since March 2011, because he was diagnosed with cancer after that, and the disease left him paralyzed for a spell, and near death. "I told my girlfriend that I may fight some tears," he said. "It has been an emotional roller coaster."

And what should Luteran expect from Jacobs after such a lengthy layoff, during which time he had to fight harder than he had during his tenure as a celebrated amateur (which included four N.Y. Golden Gloves titles) and professional? "He should expect to feel my year-and-a-half of frustration," he said, again breaking in to a wide smile.

Yormark said he expects the building, which just enjoyed eight sold-out nights from Nets partial owner Jay Z, to be a stellar venue for boxing. He said that the first Nets practice, on Sunday, indicated to him that the new building will provide an intimate atmosphere, which will heighten the drama of the fighting. Itskowitch said the next boxing date at Barclays is still being discussed, and January is a strong possibility.

Check back on the NYFightBlog for more on Jacobs as he opens up about his cancer battle, and more from Itskowitch, who talked about what might come next for the principals on the show.
August, 22, 2012
8/22/12
3:16
PM ET
Paul Malignaggi, the WBA welterweight champion, informed NYFightBlog that his foe for the opening night of boxing at Barclays has been signed and sealed. Malignaggi (31-4) will meet the 25-1-1 Pablo Cano, of Mexico, and there will be a press conference in NYC next Thursday to trumpet the scrap. "Paulie is feeling good in the gym and we are very excited to defend the title in our home city," said his advisor, Anthony Catanzaro.
July, 25, 2012
7/25/12
10:18
PM ET
Put away your pitchforks, Paulie Malignaggi fans. Yes, on surface it may seem strange that the new arena, Barclays Center, is going to be open to boxing on Oct. 20 with a card tagged "Brooklyn Pride," and Brooklyn's best known pugilist won't be headlining the event.

But Malignaggi assures NYFightBlog that there is a viable reason for this, that it makes sense to have Danny Garcia-Erik Morales II headlining at the first fight card at Barclays.

"There is a longterm plan," the fighter, bred in Bensonhurst, told us. "My fans should stay patient, there is a very big fight coming, but it's hush hush for now."

Underneath the Golden Boy promoted Garcia-Morales II, Malignaggi told us, he will fight in a showcase scrap against 22 year-old Mexican Pablo Cano (25-1-1 with 19 KOs, best known for performing well in a loss to Erik Morales on 9-17-2011).

Malignaggi said he won't look past Cano, and put his WBA welterweight title in peril, because he has one eye on the mega-scrap he says is in the works, against a mystery foe.

"Cano I have to take seriously," he said. "He's a very good body puncher, he'll try to take my legs away. I will take him seriously." The 31 year-old fighter with a 31-4 mark said he expects the joint to be pretty packed with Mexicans rooting for Morales, and that he expects some hooting directed at him, on behalf of Cano.

Of the mystery foe and the date forthcoming, he said that news should drop soon. Malignaggi added that there were extensive talks with Brooklyner Zab Judah, and those fizzled, but that is a matchup that could come to fruition down the line. "be patient," the boxer said in closing. "I think my fans will not be disappointed."

"We will have fanfare at the arena, we will have lot of back and forth momentum in the crowd," he said.