Boxing:

paulie malignaggi
December, 6, 2013
Dec 6
3:47
PM ET
For many months now, the most active rumor in the mill has been that Brit Amir Khan would be Floyd Mayweathers' next bout. That the 26-year-old Khan would fight Money in May in Vegas. Many of us are wondering if we're that much closer to knowing if Khan, a flashy-fisted hitter who's never in a bad fight, largely because his chin is his Achilles heel, has the gig. He's in NYC, and will be working for Showtime on Saturday.
Khan will be keeping the analyst chair warm, as the A-team analyst Paul Malignaggi gloves up in the main event at the Barclays Center, against fellow Brooklyner Zab Judah. I asked Khan straight up, is he fighting Floyd in his next fight?
"There's a lot of talk about the fight happening, it's been talked about the last three years, but nothing's come of it," he said. "It's a fight I'd take, I'd love to have it. If it came to me, I'd grab it with both hands," the 28-3 (with 19 KOs; has been stopped in tow of three losses, to Breidis Prescott and Danny Garcia) boxer told me. "The problem that'll cause Floyd problems is speed, explosiveness, fast movement. Make Floyd's old legs move ... If that fight ever happens, it'll be explosive fight, a great fight."
Khan said he's been training since his last fight, in July (UD win over Julio Diaz, a fight in which he was knocked down in round four). He promises a "new Amir Khan" in his next fight, against Floyd or whoever.
I asked him about critics who say his chin should disqualify him from getting a Floyd fight. He said that he'd been made weak by trying to cut to 140 pounds. In recent fights, when he had to "kill" himself to make weight, that made his punch resistance worse. "At 147, you'll see a new Amir Khan for sure," he said. He said he's taken bombs in sparring, from guys like Alfredo Angulo, 160, 180 pounders.
"I bet I'll be bigger than Floyd Mayweather," he continued, noting he was burning too much muscle making 140. "Yeah, I got put down, but there's reasons why that happened. I'm not one of those fighters who got knocked out cold...I've always gotten up, won the fight, or been on my feet."
WATCH:
Amir Khan speaks with Mike Woods about the Battle For Brooklyn fight card and his career
.
June, 20, 2013
Jun 20
5:01
PM ET
[+] Enlarge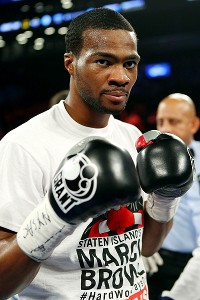 Elsa/Golden Boy/Getty ImagesStaten Island's Marcus Browne meets Ricardo Campillo on Saturday at Barclays Center.
It was reunion time Thursday at Barclays Center, as New York-based members of the last US Olympic boxing squad, Marcus Browne and Jamel Herring, checked in with each other, two days out from their respective appearances on the card topped by a Paulie Malignaggi-Adrien Broner welterweight showdown.
At the final press conference, they paid respects to a third Olympian, Rau'Shee Warren, who also takes part in the festivities.
Browne, the Staten Island-based light heavy with an engaging personality, and a breadth of knowledge, which includes an impressive understanding of geoeconomics, talked about the get-together.
The Olympics, the 22-year-old said, was a fine chapter, but in truth, it could have been much better had some medals been taken home from London 2012. "Hopefully, we'll get some hardware in the pros," said the 4-0 hitter, who meets 7-6 Ricardo Campillo. "Anyway, now we are on our own journey. It's not a team thing anymore."
Junior welter Herring, who grew up in Coram, Long Island, told me he expects 50 or so rooters to come to Brooklyn to see him fight 2-3 Calvin Smith, and attempt to rise to 4-0.
His trainer, Mike Stafford, who also tutors Broner, said he's pleased with the 27-year-old Herring's progress since turning pro last December. "He's learning to set down on his punches," Stafford said.
August, 13, 2012
8/13/12
3:49
PM ET
Paul Malignaggi, the WBA welterweight champion, has begun light training for his Oct. 20 bout at the Barclays Center, presumably against Pablo Cesar Cano.

Malignaggi told NYFightBlog that Cano (25-1-1) hasn't been locked down 100 percent as of today, but he expects that the 22-year-old Mexican fighter will be the man standing across from him on the first fight night at the new Brooklyn arena.

Malignaggi jetted from New York to Los Angeles last week to begin training. "I'm training lightly," he said, "but will pick up the pace soon enough."

He's still saving room for some summer fun. The 31-year-old with a 31-4 record will judge a ring card girl competition in Las Vegas this weekend.

Once Cano has been locked in, Malignaggi will sit down with trainer Eric Brown and start talking about a game plan. He'll fly back to New York three or four weeks before the fight and resume training here so he can help with the promotional push.
December, 19, 2011
12/19/11
8:23
PM ET
Paulie Malignaggi, the Twitter King, the NYC P4P No. 1, is back in the boroughs for the holidays. As far as I can tell, Malignaggi isn't in an indulgent mode, as he barely nibbled while gorgeous grandma pies were laid in front of him at his manager Anthony Catanzaro's pizza joint, Portobello's, on Murray St. on Monday afternoon.

I did nibble, and managed to take some notes as Catanzaro shared what he wants Santa, or Malignaggi's promoter, Golden Boy, to stick in their stocking.

As best as I can make out through the sauce stain on my notepad, Catanzaro said, "In a perfect world, we would love to bring WBA world welterweight champion Vyacheslav Senchenko to either Madison Square Garden or the Barclays Center in Brooklyn for a title fight. Hopefully, Golden Boy can get it done."

Malignaggi signed on with them when he moved to LA a year ago. He basically booked fights with Marcos Maidana and Erik Morales in the last couple weeks on Twitter, but for various reasons those fell through. Too bad…I'd like to see if he could avoid Maidana's bombs for 12 rounds, and I'd rather see Morales against the light-hitting vet Malignaggi than against young gun Danny Garcia, who could well spell the end of the line for the Mexican legend.

Maybe I'm just partial, because I'm a Brooklyn guy, dealing with the mean streets of Park Slope, and Malignaggi is Bensonhurst bred. But the kid sells the heck out of fights, and with the right stylistic matchup, makes for good fights. I do predict he will headline in an 'A' side versus 'A' side scrap in New York sometimes in 2012, and will be back on either HBO or Showtime. I'm hoping so; he has only a couple years left in the game, and to be frank, I've seen lesser lights get marquee dates lately. And with Barclays opening up next year, and him being the biggest name NY-associated boxer, well, it just makes sense.

In any case, he looks ready to fight on short notice, close to weight, and I appreciate him leaving more grandma slices for me to attack. My diet starts January 1…
September, 22, 2011
9/22/11
6:23
PM ET
The whole Malignaggi-DiBella kerfuffle exploded largely because one of the "Rope A Dope" radio show hosts, Josh McDaniel, when DiBella came on the show on Sept. 7, said, "I remember the first time I thought there was a rift, Malignaggi was saying how he was supposed to do "The Contender" and that you kinda ruined that for him."

"Yeah, if he said that eff him," DiBella started to say. "Eff that."

McDaniel piped up, "Yeah, he said that, but.." and DiBella was off to the races.

McDaniel needed to interject himself forcefully, and make it clear that Malignaggi's Contender complaint came way back in 2005. But that clarification, even if he did try to clarify, didn't happen, and DiBella was egged on by McDaniel.

"A guy that couldn't break an egg made two point something million," DiBella said, defending his promotional chops. "Every time he was in a big fight he shat the bed...But if the emeffer is still going out shitting on me then I'm not gonna shut my mouth."

And did McDaniel pipe up, and say, 'To be clear, the Contender thing I referenced was from 2005?' He did not, and instead said, "I hear you Lou."

So DiBella went on. "Every trainer he had sh--canned, every advisor he sh--canned. 11 or 12 people worked with him, got blamed for something he did. He attacked me for not building the Malignaggi brand, what brand was that?

"I don't wish him badly at all. In the end we all have to face our maker. I don't wish anything bad for Paulie, I just wish I don't have to get questions like this, that he would shut his mouth."

Guess what? Almost as soon as the back and forth ended, the two men hugged it out. Sort, of, anyway. They buried the hatchet the evening of Sept. 14, on Twitter, soon after Malignaggi finished on the radio.

DiBella reach out, and Tweeted, "Ain't gonna lie and say I wanna hang, but peace and respect for your hard work. Maybe a drink...way down the line." Paulie responded with, "The drinks r on me" and "Sounds good lou, hopefully sooner then later."

DiBella ended with, "To put things to rest, paulie and I are not friends, but we had a good run together. The rancor between us ended last night on twitter. peace."

I was beyond glad to see this. Both men are good for the sport, both speak from the heart. As a Libra, I just plain like to see people get along, especially people who were real tight for a long time.

May I suggest, Paulie and Lou, that you guys have that beer summit. Life is indeed too short to hold on the any measure of bitterness.
September, 22, 2011
9/22/11
6:01
PM ET
On his Sept. 14 radio appearance, Paulie Malignaggi took pains to tell listeners that he believes Lou DiBella did many things well as his promoter.

"I think I could've made more money, I could have done a little bit more, but at least I got money in bank, I can live good," Malignaggi said on the show. "I can say I forgive him but I'm not going to say Lou did anything wrong...I just hope he doesn't think I did anything wrong for not sharing his opinion."

Again, Malignaggi made repeated efforts to look on the brighter side; but he did spill a lengthy laundry list of DiBella's perceived faults, or slights. He thinks more could have been done to build his brand, and he says he hears from people who wonder why they never saw him on national talk shows.

"If you do your job, I'll do my job," he said. "I busted my ass, I cannot accept mediocrity, if I'm not giving you mediocrity, I don't want mediocrity back. I wanted to have this talk with Lou, I got nothing against Lou. It's a difference of opinion, a difference of personal matters, a difference on the business side. I got love for Lou. Nobody's going to be in your life nine, ten years you're not going to have love for them...I could've been with Don King, I could've signed with Lou Duva, I wouldn't have had the career I had."

He tried to quash the flareup. "I hope this thing ends," he said. "The gratitude is fifty-fifty. I owe Lou a thank you and I think Lou owes me a thank you. I hope tonight's interview got that across. I've got no regrets, it's a difference of opinion."

That it was..and maybe it didn't have to be that way.
September, 22, 2011
9/22/11
4:46
PM ET
When Lou DiBella went into the ballistic zone on the afternoon of Sept. 14 as he discussed his former fighter, Paulie Malignaggi -- the Bensonhurt, Brooklyn, native who moved to California last year to try and re-invigorate his career -- I wasn't clear on what he was responding to. What set Lou off?

So I poked around, and found comments Malignaggi made on the "Rope A Dope" radio show on the evening of Sept. 14. Was the show pre-taped, and Lou got wind of the contents? Or was the promoter simply hearing things on the grapevine? The hard-and-fast timeline aside, here's a taste of Malignaggi's comments regarding DiBella.

"People talk about my career, they have this myth I couldn't punch, I had constant injuries and (all the success) was all thanks to Lou," Malignaggi said. "They're fifty percent right. I think the other fifty percent is Lou owes me a thank you for doing all the things I did to me making his company as well."

Malignaggi acknowledged that he can be emotional, and said the same goes for DiBella. He made sure to mention that he isn't trying to tell the world that fighting under the DiBella banner was such a curse to his career. "It could have been worse. Signing with Don King would have been worse."

But he did lay out a decent sized list of where he think DiBella and company could have served him better. He said DiBella didn't fight to get a smaller ring than the enormous one which was used during the 2006 Miguel Cotto-Malignaggi fight at MSG. "I'm doing my job you got to do your job ... At least look out for me ... this is where I get a little critical."

He went on, saying that he thinks no one at Dibella Entertainment thought he'd win that fight. (He got this info, he said, because he was on the sly dating a lady who worked at DBE, and she told him what others at the office said about him.) He also said Lou should have warned him about hiring an ex-manager, who he says was no prize. Malignaggi said he didn't think DiBella battled hard enough for him before he was jobbed by the judges in Texas in his 2009 fight with Juan Diaz, and didn't lobby hard enough for the bout to take place outside Diaz' home state. A rematch with Diaz was secured, and the fighter said he did that himself.

The boxer said he's happy to be working with Golden Boy, which he said is helping build him back up on TV, whereas, he thinks with DiBella he would not have been on TV. It would have been out of sight, out of mind, in that case, the transplant said.

The radio segment went over 20 minutes, so Malignaggi laid out more dirty laundry. Come back for more of his side, and then NYFightblog will take a look at the origin of the flareup. Hint: it stemmed from a mistake made by the radio host.
September, 22, 2011
9/22/11
1:41
PM ET
Lou DiBella, the combustible promoter, was in typical form at the Red Lion on Greenwich Village last Wednesday.

The Brooklyn-born Long Island resident, whose office is in Manhattan, was there to hype an undercard fight (Andy Lee-Brian Vera) on his Oct. 1 Atlantic City show featuring Sergio Martinez. He spoke passionately about his stable of boxers, dropped in the occasional eff bomb, and as usual, made the media's job that much easier, because he is unafraid to go there.

He touched on the Lee-Vera bout, what's next for his marquee welterweight, Andre Berto, and some other notables in his stable. Then someone asked about comments one of his ex-fighters, Paulie Malignaggi, had made on a radio show called "Rope A Dope Radio," on Sept. 14.

The floodgate opened wide, and out flowed a heavy helping of beef. DiBella promoted Malignaggi for almost 10 years, but last year, the two parted ways, and not gently. They'd been extremely tight, and most in boxing saw the duo as having been in a mutually beneficial relationship. DiBella stood by Malignaggi while the fighter struggled with hand problems, and Malignaggi stood out as a boldfaced name on the roster for several years. Both men made money along the way.

"It sucks," DiBella said of Malignaggi's comments. "He's said it to many members of the press on and off the record, he's said it to loads of fighters. I've tried to take the higher road and he won't stop. If I ever go into the Hall of Fame, which I think eventually I deserve, that's one of the jobs I did with a fighter which most deserves to put me there. Six years I took care of him. My office called him my nephew cause he broke his hands so many times. I didn't make a dollar with him until the seventh year I promoted him. I never took more than thirty percent in any fight and less than that the last few. He thought his career was over when he (messed) the bed, (messed the bed) against Ricky Hatton, and he was ready to retire. He made seven figures with me after that. Why is this emeffer out there badmouthing me to people, to fighters, is he stupid? Off the record means the writer won't write something. But I have enough members of press who are my friends that they share the conversations with me. So here's my thing to Paulie: go eff yourself and if I never effing see you I don't give an eff. The lesson I learned in the Hopkins situation ... I learned hate eats you up. (Hopkins and Dibella feuded bitterly, after Hopkins accused DiBella, then his adviser, of unethical practices. DiBella took the fighter to court in 2004 and won a judgement for libel against him.) I don't hate the kid, I just don't want to talk to him, I don't want to see him."

NYFightblog was out of the loop, didn't know what DiBella was responding to. Check back here in a bit, and we'll share what it was that got DiBella so steamed ...
September, 7, 2011
9/07/11
3:56
PM ET
Maybe the quintessential "New York fighter" today is
Paulie Malignaggi
(29-4 record; age 30). Only thing is, the Bensonhurst-born welterweight doesn't live in Brooklyn anymore. He bolted for sunnier climes a year ago, and now lives in Hollywood.
Paulie gloves up on Oct. 15 in L.A. against
Orlando Lara
on the
Bernard Hopkins-Chad Dawson
undercard. His New York-based advisor,
Anthony Catanzaro
, who is top-tier when it comes to helping find foes that match up to his fighters' strengths and weaknesses, tells NY Fightblog that the 28-1 Lara is somewhat slow afoot, so Malignaggi should be able to tame the Mexican by getting angles on him.
We will soon catch up with Paulie, to see if he's still got that 'dese dems dose' accent, and more seriously, to ask him why he felt he needed to go out west to boost his career. Is that a trend that should have NYC boxing folks distressed?
" The NYFightblog doesn't diss Jersey. No elitism here. You can head to the Garden State this Saturday to check one of boxing's best,
Yuriorkis Gamboa
(20-0, 16 KOs; age 29; won Olympic gold at 2004 Games). The featherweight, who fled his native Cuba in 2006, will likely get past the less-technically adept challenger
Daniel Ponce De Leon
(41-3; born in Mexico; age 31) at Boardwalk Hall in Atlantic City (HBO will televise).
By the way, Gamboa doesn't have the gold medal he won in Athens. He sold it, for $1,500, to finance his daughter's first birthday party. Gamboa told Fightblog that a man approached him a few times to buy it, and he finally relented, because he wanted her first birthday to be a special affair.
Today is my daughter
Juliette
's first birthday. After I file this, I will be going out to get some vegan cupcakes for her, her sister
Annabelle
(4 1/2) and their mom, my wife (no age given). The girls are, like
Mike Tyson
, all vegans. I'm not, but I respect their choices immensely, and will get a vegan cupcake for myself as well. Juliette's party will not be any Gamboa-level blowout alas. Sorry Julesie ... But in a few years you can find this blog on Google and show all your friends!

Email story suggestions to FightblogNYC@gmail.com. Follow Woods on Twitter here.