November, 12, 2013
11/12/13
3:56
PM ET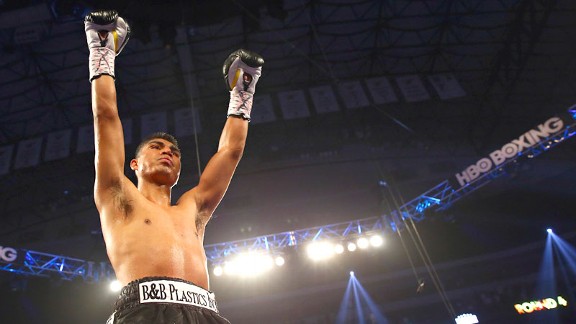 Tom Pennington/Getty ImagesHow does Mikey Garcia celebrate a big win? It's probably not how you'd expect.
I'm a sucker for the humble warriors -- people who you know could care for your toddler in an emergency. Promoter Bob Arum has a couple of those types. One of them, Manny Pacquiao, fights Nov. 23 in Macau. Another one, Mikey Garcia, won in Texas on Saturday, stopping Rocky Martinez 56 seconds into the eighth round to take the WBO junior lightweight crown.
Arum said he's impressed with both Garcia the fighter, and Garcia the citizen, as a guy who never gets involved in drama, or stoops to toxic trash talk to sell his fights. The 33-0 (28 KOs) fighter is disciplined in the ring, calmly assessing the situation and rarely leaving himself open to being countered. That mindset fits his choice to attend and graduate from California's Ventura County Police and Sheriff's Reserve Officer Academy in January 2010.
"After his boxing days are over, Mikey will excel as a law enforcement officer as he has as a boxer," Arum said. "He will handle himself with the grace and decency he has always shown."
OK, he's a promoter, so maybe you think he's too predisposed to give a positive assessment. I'll give you insight into the sort of guy Garcia is.
After he downed Martinez, Garcia was thrown after-party offers. What did he do -- hit a club, snag some bottles and blow off steam? Nope. "I went to Whataburger, had a burger and went to sleep," he said in a Monday phoner.
Garcia has creeped up peoples' pound-for-pound lists. And in fact, one writer posted a column Monday afternoon in which he posited that
Garcia has looked as good as Floyd Mayweather did
at the same stage of Mayweather's career. I clued Garcia into that quote, and he reacted with humble gratitude. "That's really big, to be considered with a guy like Floyd," he said. "But I gotta keep proving myself."
Garcia showed his worth in New York on Jan. 19 when he beat Orlando Salido (TD8) at the Theater at MSG. Area fight fans would be more than pleased to get him back in the area for another look. Garcia said one name he's heard is Yuriorkis Gamboa. Garcia said he'd happily jump to 135 from 130 for that rumble. WBA junior lightweight champ Argenis Mendez is another possibility. "That's a very good, close fight," he said. "He is skilled, fast, doesn't give a lot of openings, while Gamboa does present more openings."
Having a varied array of personalities to cover in the sport is a fine thing, from a writer's perspective. The trash talkers, the Broners of the world, are always good for some sensational actions that stir the pot. But in the grand scheme of things, as a global citizen, as someone who, like all of us, looks for touchstones of sanity and decency in a too-frequently unstable and fearsome world, it's good to have Mikey Garcias to look up to and admire.
January, 20, 2013
1/20/13
12:57
AM ET
Mikey Garcia had his way with Orlando Salido, Gennady Golovkin bloodied up and stopped Gabe Rosado, and Rocky Martinez and Juan Carlos Burgos fought to a draw at the Madison Square Garden Theater on Saturday night.

Top Rank put on the show with HBO, and Garcia emerged as the fighter of the night. He knocked down the veteran Salido four times through four rounds. Salido perked up in Rounds 7 and 8, but an accidental headbutt broke Garcia's nose and caused the fight to end early.

The ring doctors decided that Garcia's nose was broken, and deemed it too dangerous to continue. He picked up Salido's WBO feather crown.

The Kazahk Golovkin wasn't perhaps at his best, as he was battling the flu this week, but he still carved up Rosado. The Philly fighter's corner threw in the towel in Round 7 as blood dripped from the boxer's left eye.

Martinez held onto the WBO super feather crown, or so the judges said. The crowd seemed to prefer the body work of Juan Carlos Burgos, but the judges saw it for Burgos 117-111, for Martinez 116—112, and 114-114 a draw. The stats favored Burgos -- he landed 286 to 193 for Martinez.
January, 17, 2013
1/17/13
5:48
PM ET
The principals who will tangle at the Madison Square Garden Theater on Saturday night, in a card promoted by Top Rank with K2, assembled at the Garden for a press conference on Thursday. Bob Arum, the candid dealmaker who lives in Vegas but retains that patented New Yorker style of saying what's on his mind, kicked off the affair with a jab at Bernard Hopkins, who fights for rival promoter Golden Boy. Arum noted the youthful talent on display on stage, and compared that to Hopkins, the 48-year-old light heavyweight who gloves up in Brooklyn, against Tavoris Cloud, on March 9.
The promoter talked up his card, and said it is a stern contrast to some of the "drivel" showcased by HBO and Showtime; no, he didn't care that HBO is showing the Mikey Garcia-Orlando Salido, Gennady Golovkin-Gabriel Rosado and Rocky Martinez-Juan Carlos Burgos title fights.
Speaking of speaking truth to power, and unleashing harsh truths, promoter Russell Peltz of Main Events, who handles Rosado, talked about his fighter's attributes. He advised us all to not pay attention to the five losses on his record, and lamented how he reached out to a TV exec recently, and was told that a certain fighter with too many losses wasn't welcome on the air. He noted that one of his favorites was middleweight Bennie Briscoe, who finished in 1982 with a 66-24-5 record. If you lose, but entertain, Peltz said, you should still be seen as a viable entity. Too many shows, he said, are "cowboys and indians" affairs, showcases, and that needs to change if the sport is to survive and thrive. I echo his sentiment; the best fighting the best, in pick 'em matches, is the best concept for the long-term growth of the sport.
Briscoe would have smiled at hearing Rosado talk about how he grabbed a chance to meet the hyped Golovkin, rather than get a crack at K9 Bundrage, who holds a belt at 154. "The greater the risk, the greater the glory," Rosado said.
Mikey Garcia is an exceedingly humble gent outside the ring, and a solid tactician with a cerebral style inside. He said he thinks his fight with Salido "will leave a lasting impression" and promised to lift Salido's featherweight crown. Salido, in his turn at the mic, said he expects the bout to be a fight of the year type fight.
Burgos played up the Mexican vs. Puerto Rican angle, saying, "I know I'm facing a Puerto Rican warrior. I want to be the first champion from Mexico in 2013." Foe Martinez kept it simple: "I prepared myself very well for this fight. I'm 100 percent ready for this fight."
There was a nice buzz in the room, and all seem to agree the card is solid kickoff to the new year. If you don't attend, HBO will show the bouts, starting at 9:45 PM.
Follow Woods on Twitter