June, 5, 2013
6/05/13
11:13
PM ET
Miguel Cotto needs a dance partner for his next fight. Who will take a twirl with the Puerto Rican future Hall of Famer, who is wearing his promoter hat and overseeing a show at Turning Stone Casino in Verona, N.Y. on Friday night?

How about Gabriel Rosado, the Philly based rumbler with a so-so win-loss record but a fellow who fight fans know will test anyone and give the fans their money's worth? I asked Russell Peltz, who promotes him, if that could be a makeable fight.

"Rosado has been trying to put together him and Austin Trout on the internet," Peltz told me. "Is that a good style matchup for Gabriel [Rosado]? I like the weight class, 154. I don't like the style. I'd like to see him fight Miguel Cotto."

We've heard that the 32-year-old Cotto could be gloving up with Cornelius Bundrage, but the whispered word on the street is that Showtime might not be keen on Bundrage as a Cotto foe, so maybe Rosado (21-7) does have a shot.

"It would be easier to make if he had his hand raised in Las Vegas," said Peltz, referencing Rosado's disappointing split-decision loss in 10 rounds against J'Leon Love, who is promoted by Floyd Mayweather. "A choice for the fight fan, between Rosdao or Bundrage? C'mon."

Fans, what do you think? Cotto could use an opponent who is a half step under the caliber of his last foe, Trout, who he lost to last December in a unanimous decision after 12 rounds. I think Rosado fits that bill. But Rosado has lost two straight, to Gennady Golovkin, and then lost to Love. Does that remove him from the running in this fantasy matchmaking exercise? And by the way, Cotto is on a two-fight slide himself.

Weigh in!
June, 5, 2013
6/05/13
3:10
PM ET
The man carried East Coast boxing on his back for almost a decade, and four years after his death, his name is still the one summoned when a pundit or fight fan looks for a name that exemplifies unfathomable athletic will in the face of Sisyphean odds. And yet, there is a contingent of folks out and about who think Arturo Gatti, the "Human Highlight Reel" of boxing, a person who gave fans more entertainment value per outing than anyone outside of Mike Tyson in this era, doesn't deserve entry into the International Boxing Hall of Fame in Canastota, NY.
Thankfully, that moronic minority doesn't have a say beyond the odd website, so on Sunday, Gatti will be enshrined where he belongs, with the other special souls who gave, so literally, so much of themselves, for our entertainment.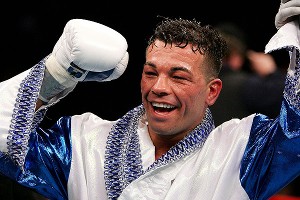 Al Bello/Getty ImagesArturo Gatti will be inducted into the International Boxing Hall of Fame on Sunday.
The fighter, born in Italy, raised in Canada, and linked always with Jersey, where he lived until he retired in 2007, tops the inductee list for the 24th annual induction ceremony. Sadly, he won't be present to luxuriate in the acclaim on Sunday; Gatti died on July 11, 2009,
under murky circumstances
. The hitter was a "Fight of the Year" perennial and mainstay on HBO, which knew he was a guaranteed drama-producer, win or lose.
Promoter Russell Peltz, a partner along with Main Events as Gatti's promoter, spoke to the people who don't think Arturo is Hall worthy.
"It's a no brainer, absolutely, that he belongs, because it's the Hall of Fame, not the Hall of Greatness," Peltz told me. "You cannot ask any more of athlete than to give you your money's worth and he went beyond that. He was in four Fights of the Year ['97, '98, 2002, 2003], that's enough."
Should be, for sure, no matter what some pesky Twitter gnats say...
"Those that say he doesn't belong there, they're haters," said Peltz, who was inducted into the Hall as a promoter in 2004. "And a lot of them are in boxing. There are all levels of ability in the Hall. I mean, I'm not as great a promoter as Mike Jacobs [who promoted Joe Louis and was inducted in 1990], but..."
Tears will be shed at Canastota when those at the Sunday ceremony ponder
a man gone too soon
, at age 37. But all in all, most memories will settle on all the times the man made your jaw drop, and scream an expletive in amazement.
"You go to a movie and it's a lousy movie, you go to a show and it's a lousy show, but you'd never got to a Gatti fight and it was a lousy fight," Peltz said in closing. "That's the ultimate compliment."
January, 17, 2013
1/17/13
6:44
PM ET
Early last year, really no one had heard of Bryant Jennings. This year, he is at the top of the heap among American heavyweight hopefuls. I asked promoter/matchmaker Russell Peltz, who is with Main Events, promoter of Jennings, what's next for the new kid on the block.
A fight with vet Michael Grant was discussed, Peltz said, but Grant turned it down. A slot might open up for 16-0 Jennings on HBO in the second quarter, Peltz said. Jennings is rated No. 3 by the IBF and the guys ahead of him, Kubrat Pulev and Tomasz Adamek, are slated to face off, with the winner to get a crack at IBF champ Wladimir Klitschko. That could occur in or around June, maybe in Adamek's homeland, Poland.
Peltz said he'd love to match Jennings with the winner of the upcoming Jonathon Banks-Seth Mitchell scrap. "But if I'm Banks, I want Klitschko next," said Peltz. "But we'd fight anyone from Europe. We'd take Robert Helenius in a heartbeat."
Eddie Chambers was to face off with cruiser champ Denis Lebedev, but now Peltz doesn't know if that will go down. "I think Lebedev is changing his mind," he said.
Another Main Events big guy, Steve Cunningham, has had some preliminary discussions with long, tall Brit Tyson Fury, Cunningham told me Tuesday.
Follow Woods on Twitter
January, 17, 2013
1/17/13
5:48
PM ET
The principals who will tangle at the Madison Square Garden Theater on Saturday night, in a card promoted by Top Rank with K2, assembled at the Garden for a press conference on Thursday. Bob Arum, the candid dealmaker who lives in Vegas but retains that patented New Yorker style of saying what's on his mind, kicked off the affair with a jab at Bernard Hopkins, who fights for rival promoter Golden Boy. Arum noted the youthful talent on display on stage, and compared that to Hopkins, the 48-year-old light heavyweight who gloves up in Brooklyn, against Tavoris Cloud, on March 9.
The promoter talked up his card, and said it is a stern contrast to some of the "drivel" showcased by HBO and Showtime; no, he didn't care that HBO is showing the Mikey Garcia-Orlando Salido, Gennady Golovkin-Gabriel Rosado and Rocky Martinez-Juan Carlos Burgos title fights.
Speaking of speaking truth to power, and unleashing harsh truths, promoter Russell Peltz of Main Events, who handles Rosado, talked about his fighter's attributes. He advised us all to not pay attention to the five losses on his record, and lamented how he reached out to a TV exec recently, and was told that a certain fighter with too many losses wasn't welcome on the air. He noted that one of his favorites was middleweight Bennie Briscoe, who finished in 1982 with a 66-24-5 record. If you lose, but entertain, Peltz said, you should still be seen as a viable entity. Too many shows, he said, are "cowboys and indians" affairs, showcases, and that needs to change if the sport is to survive and thrive. I echo his sentiment; the best fighting the best, in pick 'em matches, is the best concept for the long-term growth of the sport.
Briscoe would have smiled at hearing Rosado talk about how he grabbed a chance to meet the hyped Golovkin, rather than get a crack at K9 Bundrage, who holds a belt at 154. "The greater the risk, the greater the glory," Rosado said.
Mikey Garcia is an exceedingly humble gent outside the ring, and a solid tactician with a cerebral style inside. He said he thinks his fight with Salido "will leave a lasting impression" and promised to lift Salido's featherweight crown. Salido, in his turn at the mic, said he expects the bout to be a fight of the year type fight.
Burgos played up the Mexican vs. Puerto Rican angle, saying, "I know I'm facing a Puerto Rican warrior. I want to be the first champion from Mexico in 2013." Foe Martinez kept it simple: "I prepared myself very well for this fight. I'm 100 percent ready for this fight."
There was a nice buzz in the room, and all seem to agree the card is solid kickoff to the new year. If you don't attend, HBO will show the bouts, starting at 9:45 PM.
Follow Woods on Twitter
August, 24, 2012
8/24/12
3:26
PM ET
I wondered while Floyd Mayweather was smack dab in the middle of his state-sponsored hiatus if the experience of being locked up would change the man.
Would he be humbled after being locked up from June 1 to Aug. 3? Would some of that "Money" braggadocio be downsized? Would he recognize that he is not above the law, that he can be taken down a peg, that perhaps his flamboyant consumption and insistence on stirring the pot with periodic inflammatory statements might serve him harm by putting a takedown target on him?
Maybe, some figured, he'd realize that the road he was on, that focus on conspicuous consumption and unapologetic euphoria at his lot in life, is not a road that is easily traveled by an African-American man in America? Maybe, some figured, we'd see a new Floyd, now with an "M" ego instead of an "XL" version, someone who let the time serve him?
Well, the boxer, who still lays claim to being the best in the business, doesn't seem to be radically different, post-incarceration.
We should let things play out, because we don't know how the two months at Clark County Detention truly affected the 35-year-old, and we shouldn't rush to any kind of judgment on whether the stint dimmed the rascally edge to the 43-0 hitter. But if you are going by
the recent video posted to Mayweather's new social networking site, MemoMeMore.com
, we can say his appreciation for our currency hasn't lessened.
"Everything we do, we do it over the top," the fighter said from a seat in his jet, "Air Mayweather," while he reaches into a gym bag for a stack of cash bigger than a Carnegie Deli club sandwich. And another. And yet another. Another batch, wrapped in a plastic bag, is procured, and he says, "That's a million dollars."
So, if you're betting man, a la "Money," I guess the smart bet is that the man's personality hasn't changed.
What about his skills, his ring acumen? I asked Hall of Famer promoter/matchmaker Russell Peltz if he think Mayweather is still all that, or if he left some of his talent in the cell.
"He may be the finest fighter of his generation, like him or not," Peltz told NYFightBlog. "Is he the fighter he was two or three years ago? Maybe not. But he could've survived any era."
Yes, Peltz says, he hears people say Floyd hasn't gone after the best of the best, in their prime. But the same was said, at times, of Sugar Ray Robinson, Joe Louis and Roy Jones. Plus, he thinks Mayweather deserves props for reinventing himself, hyping up this persona. "He's a lot more interesting to watch than he used to be," Peltz said.
"Interesting" is a description Floyd fans and haters, I think, can agree on.
P.S.: Mayweather's assistant David Levi tells us that the fighter hasn't even brought up fighting since he got out. He's been spending time with family and friends, which he wasn't really able to do after his last bout, a UD win over Miguel Cotto on May 5.
August, 22, 2012
8/22/12
12:27
PM ET
Tomasz Adamek is a heavy-duty draw in New Jersey, his second homeland, and the pole will once again glove up at the Prudential Center in front of rabid rooters on Sept. 8 (2 p.m. start time).

A couple months ago, it looked like he'd be meeting the beyond-grizzled vet James Toney in a heavyweight clash. But that trial balloon crashed, so Travis Walker will get the assignment instead.

Russell Peltz, the promoter who works as matchmaker and advisor to Main Events. On Sept. 30, he will celebrate 43 years in the business. Peltz is happy that Toney won't be part of the card. "I thanked my lucky stars when the Toney-Adamek fight fell out," said the Philadelphian Peltz, who entered the Hall of Fame in 2004. The Jersey Commission, Peltz said, initially gave a thumbs up to Toney, who turns 44 on Friday, and hasn't definitively won a meaningful scrap since 2003, but then back-tracked. "Thank God," Peltz cracked. Pundits savaged an Adamek-Toney tussle, and voila, we get Walker, a 33-year-old Floridian who is coming off a decent win (TKO6), against Kali Meehan in March. "Even if Toney could hang some with Adamek, I don't think he should be fighting at all. Where will the people who gave him a license be in 20 years, when he has deteriorated? I feel the same way about Roy Jones. If they're going to get licensed, let it be on someone elses' show."

Peltz says that Walker will press Adamek (46-2 with 28 KOs; turns 36 in December; ex light heavy champ) , and that pair will put on a better show than Adamek did against Eddie Chambers, back at the Pru on June 16.

Adamek won a UD12, in a fight I could have seen going to Chambers, who fought almost the whole fight with a useless left arm after tearing his bicep in round one. "With the beating Adamek took against Vitali Klitschko in September 2011, maybe he's not the same. Walker is talking good. And it's a better fight than people think," Peltz said.

I agree. Just because Walker (39-7-1) has seven losses on his ledger, that doesn't mean he isn't of a decent caliber. (Don't get Peltz started on know-nothing TV execs who, in years past, have cautioned him not to use this guy or that because he has a few losses on his resume.)

I asked Peltz about the longer-term plan for Adamek. Is he aiming for a another Klitschko fight? "Well, that's where the money is," he said. "I guess it depends on how long the Klitschkos stick around. If he does [fight Klitschko], I hope he has a better fight plan. To fight him from the outside is insane. First, he has to get by Walker."
May, 31, 2012
5/31/12
11:10
PM ET
Pssst, I got a trade secret for ya. Fightwriters sometimes tend to wring every bit of drama out of a matchup they can by proclaiming it a last chance for one of the pugilists to reach the mountain top. I read such pieces about Micky Ward TEN YEARS before he engaged in his all-time classic for the ages, that epic of beautiful brutality, against Arturo Gatti (5-18-02).

Sechew Powell is in a fight Friday, June 1 against Gabriel Rosado (a deceptive 19-5 record; age 26; when his head is screwed on straight he is a bit of a beast; from Philly) which you could make a case is a crossroads fight for him. If you wanted to go that extra mile of hyperbole, you could say that it is a last chance sort of fight. I will not go that extra mile; but I will make clear that it is a bit of a must win for the Flatbush-based boxer, who turns 33 on June 6. He is coming off two losses, to IBF junior middleweight champ Cornelius Bundrage last June (UD12), and a L-UD12 IBF title shot eliminator to Cory Spinks in January.

The lefty Powell was in the gym anyway, giving Delvin Rodriguez work ahead of his Saturday bout with WBA super middle champ Austin Trout in California, so he snapped up the shot when Main Events called for him to sub in for Joel Julio in the featured bout on NBC's Fight Night, which unfolds in Pennsylvania and on the NBC cable sports channel (9 PM ET start.)

Can Powell (26-4 with 15 KOs) get 'er done in PA? I asked that of Russell Peltz, the matchmaker for the Fight Night series. "It's a pick 'em fight," he said. "Since Rosado was training for a righty Powell can use that to his advantage. I really think this is a 50/50 fight."