December, 3, 2013
12/03/13
8:08
PM ET
Australian citizen Sakio Bika fights in Brooklyn for the second time, on Saturday night, when he puts his WBC super middleweight title up for grabs against Anthony Dirrell of Michigan on a Golden Boy card, which is topped by a "Battle of Brooklyn" scrap pitting Paul Malignaggi against Zab Judah.
Showtime will televise.
Bika, who sports a 32-5-2 mark, is a rumbling sort who doesn't look like the picture of grace or fluidity as he does his thing, which is fighting in a manner featuring less finesse than most others on the card.
I chatted with the 34-year-old Bika on Tuesday during a for-media fighter workout, and he told me he's keen on moving to the States. Bika, who has a wife and three kids, said that the U.S. is where it's at if you're in the boxing business, so he and his crew are of the same mind. Bika trains in St. Louis, with trainer Kevin Cunningham, who has another boxer, Devon Alexander, on the Barclays card. "I will move next year," he said. "It's best for business."
As for the business at hand, I asked him what he knows about his 29-year-old foe Dirrell. "I know nothing about him," he said. "I just know his record."
Cunningham, though, does; he's watched copious tape of the "other" Dirrell, the slightly less well-known of the fighting Dirrell brothers. Andre (21-1), age 30, won bronze for the US at the 2004 Olympic Games, turned pro in 2005, and had a smooth climb. He was impacted neurologically in his fight with Arthur Abraham in 2010, however, and has fought just twice since.
If the fight is a rumble, and Bika is muscling Dirrell, not letting him be the slicker boxer, then Cunningham thinks they should be fine.
"Dirrell is a boxer-fighter type," he said. "I've known him since he was 12. He's good people. But he's going against my fighter. And this has the makings of being fight of the night. Anthony's said that he wants it so there's no need for the judges. I want a guy who will come and stand and fight, I love hearing that."
Dirrell is coming off a TKO3 win over Anthony Hanshaw on July 27, his second fight in 2013 after taking 2012 off. Bika won the vacant 168 pound crown on June 22, in his last scrap, against Mexican Marco Antonio Periban at Barclays. Dirrell has the power edge, but Bika is usually immune to swats that buzz other dudes, so it's possible he's able to out-physical Dirrell over the long haul.
Readers, who do you see this one playing out?
Follow Woods on
Twitter.
June, 23, 2013
6/23/13
12:38
PM ET
The postfight media conference ended after 2 a.m., so it was a marathon session at Barclays Center on Saturday night, with the card starting at 4:30 p.m. Here are the main things still kicking around my head the day after.

1. Paulie's not done
This morning, I woke up and pondered the main event, and my first thought was: Malignaggi showed them again. The kid was gonna get demolished, it was gonna be ugly, this was a bridge too far and Broner was going to hammer the Brooklyn-bred hitter in nasty fashion. Didn't happen that way, did it? The fight was a moral victory for the 32-year-old and left me admiring his ring generalship all the more. It's no use to indulge in an "if" session and ponder what he could do with a bit more pop; instead it's more constructive to marvel at what Malignaggi does despite having the least pop of just about any (now former) titleholder out there. There is zero room for regret for Malignaggi, who "lost" by split decision. People in the know understand that, in many ways, he won on Saturday.

2. Broner's real good, but ...
Malignaggi did expose Broner a bit, it could be argued. If this kid is the next big thing, the heir to Floyd Mayweather Jr., should he perhaps have put it to Malignaggi the way Miguel Cotto did, the way Ricky Hatton did, the way Amir Khan did? I don't want to drift towards excessive negativism, but I do think that Broner would be well served to punch more. Throwing only some 500-plus punches in a 12-round bout isn't the sort of volume you'd like to see from "the heir." Imagine if he had opened up on the throttle more? And why didn't he? If you know a man can't dent your chin, why not take some more chances, press him and gun hard for the stoppage?

3. Banks holiday
Long after the heavyweight semifinal between Johnathon Banks and Seth Mitchell had ended, I found myself fixating on the scrap and looking to solve a mystery bouncing around my brain: What the heck was going on with Banks? He had some moments early and buzzed Mitchell, who is a fairly buzzable type ... and then coasted. The crowd at Barclays let both men have it for the long stretches of staring, and you couldn't blame them. It's understandable why Mitchell fought in that manner; Banks had stopped him in Round 2 in November. So he's still figuring out how to mix offense and defense. But wouldn't it have made sense for Banks to blitz Mitchell, give him a flashback to their first contest? I tweeted on Saturday that I was looking forward to hearing Banks' alibi, and I still am. I am left to wonder: Does he want to be a fighter, or is his heart not in it?

4. I'm down with Browne
After every one of his appearances, I sense buzz surrounding Staten Island's Marcus Browne. Some folks think he has the most upside from any member of the 2012 U.S. Olympic class. He has snarly intent, pop in both hands, a charming personality and willingness to use it. Count me among those who are most eager to see where his total package takes him.

5. Four's a charm
He might be the least technically polished of any man to get four world title cracks, but you must hand it to Sakio Bika. He is an example of what one can do with stamina, strength, a superb chin and perseverance. Bika picked up the vacant WBC super middle title with a win over the game Marco Antonio Periban, finally snagging an elusive belt. His form can be borderline atrocious, but he still functions at a high level. Now, can his status as a titlist help make a case that the term "world champion" has been watered down to a ludicrous level? Sure. But that's a matter of acknowledging that the system is deeply flawed, and he shouldn't bear the brunt of our ire at the state of the game. Good for Bika...

Readers, what did you learn from the Saturday Brooklyn card?
June, 20, 2013
6/20/13
5:10
PM ET
Sakio Bika (31-5-2) didn't seem overly impressed with his 20-0 foe Marco Antonio Periban when I asked the Cameroon-born boxer about his opponent. They will vie for the vacant WBC 168 pound crown at Barclays Center, with Bika hoping that this time, in his fourth try, he will win a world title.

So, I asked Bika, on Tuesday at Gleason's, what do you know about Periban?

"I don't know nothing about him," he said.

It turns out he knows a bit more than that, as he continued, "He's got a good record, he comes to fight, it will be a good fight. He comes forward."

Interesting assessment, as I gleaned from Periban that he will look to stick and move, use lateral movement to keep Bika a step behind.

"I'm better than him," said Bika, noting that he has fought more "names" in his 12-plus years as a pro, including Joe Calzaghe, Lucian Bute, and Andre Ward. (The title up for grabs, incidentally, belonged to Ward, but the WBC just took it away from him, for alleged inactivity, though he was inactive of late because he was injured and then rehabbing.)

Bika expects to have his hand raised, take the belt and then would like to meet another "name" star, Carl Froch, who holds the IBF and WBA versions of the super middle crown. "I think that's a good matchup," he said.
June, 20, 2013
6/20/13
12:38
PM ET
One of the fighters on Saturday's Golden Boy card at the Barclays Center getting his best opportunity to date is also one of the least well-known on the slate. Marco Antonio Periban will face off with "Contender" alum Sakio Bika, and the vacant WBC 168-pound crown will be up for grabs.
[+] Enlarge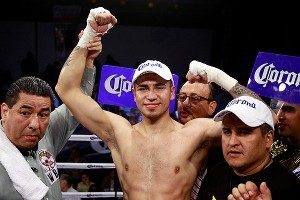 Hector Vivas/Jam Media/Getty ImagesMarco Antonio Periban will seek to claim the vacant WBC super middleweight title in his fight with Sakio Bika on Saturday.
Not knowing boo about Periban, who has fought mostly in Mexico, and not on TV, I sought him out at a Tuesday media workout at Gleason's and gave him the once-over.
I saw a genial, confident, humble sort from Mexico City who convinced me that, at the very least, he has a solid game plan to have his hand raised Saturday.
Periban, a 28-year-old with a 20-0 record (13 KOs), threw me a curveball right away when I asked him which fighters he looked up to growing up. I expected a no-brainer answer, like Marco Antonio Barrera, or Juan Manuel Marquez, both of whom grew up in Mexico City. No dice; Periban answered Roy Jones and Oscar De La Hoya. He enjoyed their fighting style, he said, and saw in them a style he could incorporate. At 6-foot-2, he said, he likes to use his height, reach and range.
"Bika is a strong fighter without technique," Periban said when asked about his 31-5-2 foe from Cameroon. "When he starts to look for the knockout, I will start to box." He will use his legs, he said, the whole round. "I have fast hands, and I use movement," he added.
Periban got into boxing at the behest of his mother, because her father boxed, and she has high regard for the sweet science. Periban's father, Enrique, looked on with pride at Gleason's, and so did sister Guadalupe, a boxer who will turn pro in June in Canada. I asked Enrique if he was nervous, having two (of three) children being fighters.
"No, I don't get nervous at all," he said. "I'm very confident in their preparation."
The 34-year-old Bika, receiving his fourth world title opportunity and still looking for a win, loves to rumble and doesn't mind blurring the rules line.
"I'm more than ready for that," Periban said. "I've been sparring guys 190, 200 pounds. I'm ready for underhanded tactics. I will come back to Mexico with the belt."