June, 23, 2013
6/23/13
12:38
PM ET
The postfight media conference ended after 2 a.m., so it was a marathon session at Barclays Center on Saturday night, with the card starting at 4:30 p.m. Here are the main things still kicking around my head the day after.

1. Paulie's not done
This morning, I woke up and pondered the main event, and my first thought was: Malignaggi showed them again. The kid was gonna get demolished, it was gonna be ugly, this was a bridge too far and Broner was going to hammer the Brooklyn-bred hitter in nasty fashion. Didn't happen that way, did it? The fight was a moral victory for the 32-year-old and left me admiring his ring generalship all the more. It's no use to indulge in an "if" session and ponder what he could do with a bit more pop; instead it's more constructive to marvel at what Malignaggi does despite having the least pop of just about any (now former) titleholder out there. There is zero room for regret for Malignaggi, who "lost" by split decision. People in the know understand that, in many ways, he won on Saturday.

2. Broner's real good, but ...
Malignaggi did expose Broner a bit, it could be argued. If this kid is the next big thing, the heir to Floyd Mayweather Jr., should he perhaps have put it to Malignaggi the way Miguel Cotto did, the way Ricky Hatton did, the way Amir Khan did? I don't want to drift towards excessive negativism, but I do think that Broner would be well served to punch more. Throwing only some 500-plus punches in a 12-round bout isn't the sort of volume you'd like to see from "the heir." Imagine if he had opened up on the throttle more? And why didn't he? If you know a man can't dent your chin, why not take some more chances, press him and gun hard for the stoppage?

3. Banks holiday
Long after the heavyweight semifinal between Johnathon Banks and Seth Mitchell had ended, I found myself fixating on the scrap and looking to solve a mystery bouncing around my brain: What the heck was going on with Banks? He had some moments early and buzzed Mitchell, who is a fairly buzzable type ... and then coasted. The crowd at Barclays let both men have it for the long stretches of staring, and you couldn't blame them. It's understandable why Mitchell fought in that manner; Banks had stopped him in Round 2 in November. So he's still figuring out how to mix offense and defense. But wouldn't it have made sense for Banks to blitz Mitchell, give him a flashback to their first contest? I tweeted on Saturday that I was looking forward to hearing Banks' alibi, and I still am. I am left to wonder: Does he want to be a fighter, or is his heart not in it?

4. I'm down with Browne
After every one of his appearances, I sense buzz surrounding Staten Island's Marcus Browne. Some folks think he has the most upside from any member of the 2012 U.S. Olympic class. He has snarly intent, pop in both hands, a charming personality and willingness to use it. Count me among those who are most eager to see where his total package takes him.

5. Four's a charm
He might be the least technically polished of any man to get four world title cracks, but you must hand it to Sakio Bika. He is an example of what one can do with stamina, strength, a superb chin and perseverance. Bika picked up the vacant WBC super middle title with a win over the game Marco Antonio Periban, finally snagging an elusive belt. His form can be borderline atrocious, but he still functions at a high level. Now, can his status as a titlist help make a case that the term "world champion" has been watered down to a ludicrous level? Sure. But that's a matter of acknowledging that the system is deeply flawed, and he shouldn't bear the brunt of our ire at the state of the game. Good for Bika...

Readers, what did you learn from the Saturday Brooklyn card?
June, 21, 2013
6/21/13
11:27
AM ET
Seth Mitchell was touted as the next big thing -- the American version, anyway -- in the heavyweight ranks. The division is starved for someone, anyone, who can challenge the Klitschko brothers, and it was hoped, in the last couple years, that Mitchell, a former Michigan State football player, could be the man to package skills, power and athleticism necessary to test Vitali or Wladimir.
The hope diminished more than somewhat when Mitchell (21-1-1) lost his last bout, against Johnathon Banks, a heavyweight with some skills who had never really advanced beyond the prospect stage. But Banks showed more fire and fury in that November 2012 clash than he had before, steamrolling Mitchell in Round 2 and showing that the touted prospect needed to shore up some holes in his game.
So, Mitchell stepped back, regrouped and worked on his deficiencies against some of the usual suspects, guys on a lesser level than Banks, right?
[+] Enlarge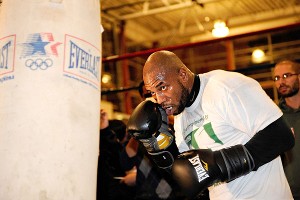 Patrick McDermott/Getty ImagesSeth Mitchell
Nope.
Mitchell, 31, insisted the Banks bout was a fluke. Offered the chance to prove that to the world, he grabbed it. To his great credit, he demanded an immediate rematch against the man who whupped him. The fight will take place Saturday night at Barclays Center in Brooklyn.
I wondered aloud to Mitchell's trainer, Andre Hunter, if it wouldn't have been wiser to do some remedial work before locking horns again with Banks, the former Emanuel Steward protégé.
"Seth is ready," Hunter told me. "He learned a lot in his last fight. I won't predict what happens at Barclays -- only God knows the future. But he's got the basics. How has fan reaction been to Seth losing and taking the immediate rematch? Fan reaction is fickle. I know he has what it takes to win."
Hunter said he knew that Mitchell could fall in, leave himself open to counters. He was warned, but Banks took advantage. Hunter maintains the hole has been patched. "Banks caught Seth reaching," the trainer said.
Mitchell's manager, Sharif Salim, insists that "there wasn't a whole lot to fix." He allows that bad habits were in evidence in prior fights, but Mitchell has attended to them. "We are deciding the Banks fight was an aberration," Salim said.
Salim, a D.C. resident who was a school principal and now opens charter schools, touts boxing as an avenue to prosperity, or at the least a platform to build character and heart. He sees enough technique and ample character and heart in Mitchell, enough of all of that to gain revenge on Banks.
My take: No matter what happens Saturday, Mitchell deserves a pat on the back for taking on Banks again. If Mitchell loses, his crew will be hammered by know-it-alls who will say he should have backtracked and then hooked up with Banks down the line. For that reason, this undercard scrap is, for more, quite intriguing.
June, 13, 2013
6/13/13
2:53
PM ET
Many fight fans think they know what is going to go down June 22 at Barclays Center, in both the main event (Paul Malignaggi versus Adrien Broner) and the main support bout, a heavyweight rematch between Johnathan Banks and Seth Mitchell.
The last time they clashed, the "guy that was supposed to win" -- i.e.
the more heralded guy
, the fighter more seen as a future star by the powers that be -- didn't.
Seth Mitchell, a former footballer at Michigan State, someone seen, among optimistic types, as a boxer who perhaps in the near future could pose a threat to a Klitschko brother, was knocked down three times in Round 2 and stopped out by Banks, to that point a journeyman whose career momentum never seemed to get pumping.
That changed on Nov. 17, 2012, when Banks (29-1-1),
fighting without sage/father figure Emanuel Steward
in his corner for the first time, did a quickie script re-write in Atlantic City. "An amazing upset; Steward magic," said HBO's Jim Lampley as the ref saw enough, and pulled the plug on Mitchell.
Many folks think the same sort of thing will happen in the rematch, which will unfold in Brooklyn, and on Showtime. Mitchell, to me, deserves immense credit for looking to hop right back on the horse that bucked him; naysayers wonder why he doesn't take two steps back, get a few W's under his belt, get some more seasoning, before he looks to get back at Banks. He was asked during a recent workout if he looks at this fight as a revenge opportunity.
"I'm not even looking at it like revenge," said Mitchell, a 31-year-old Washington, D.C., resident with a 25-1-1 record. "I look at it as I took a hit and I learned from it. I came to the gym, I worked extremely hard to try to get my prep, to work on my things and to learn from my mistakes. I want to win, so if you want to call that revenge, then that's revenge."
Mitchell clarified the thinking on taking the immediate rematch, which is promoted by Golden Boy.
"If Johnathon Banks would've out-boxed me for six or seven rounds or outclassed me, of course the fighter in me would've wanted a rematch, but I wouldn't have taken the rematch right away," he said. "I believe that I'm a better fighter than him and I didn't show everything that I'm capable of. That's why I want a rematch. I went to my team and I said I wanted a rematch. I've got a smart group of people around me and if they felt that I couldn't beat him, they'd have talked among themselves and come out with a different game plan."
Readers, feel free to offer a prediction. More of the same for Mitchell? Or has he learned his lesson, tightened up his game, and emerged a stronger sort post-KO?
June, 14, 2012
6/14/12
4:16
PM ET
So ... it didn't go swimmingly the first time around. Would Eddie Chambers even want another go at a Klitschko, even if it meant another tasty payday?

"I would absolutely want another crack at [Wladimir] Klitschko," Chambers said. "He's the best out there, and I want to be the best out there, so the only way to be that is to beat him. Since that fight, I have been studying the sport. I watched the video to understand what he does, how effective he is."

Chambers had some time in the sun a couple years ago when he beat Sam Peter and then Alex Dimitrenko, and had some folks calling him a future Klitschko killer. Since then, fortune has smiled on other prospects, such as Seth Mitchell. We wondered, does this irk Chambers?

"Not really," he said. "I'm just glad to see that people are paying attention. He gets all that credit, but then it changes when he steps into the ring with someone like myself and that person beats him, and then all of a sudden it shifts. Now that person becomes 'the guy.' So if I get the shot at Seth Mitchell and defeat him, then all that hoopla and all that good stuff shifts over to me."

Part of me would like to see Chambers get a little PO'd, take some of this stuff personally. Main Events is in love with Bryant Jennings right now; Chambers should be wondering why he isn't the object of the promoter's affection.

"There's something about him [Jennings] that reminded me of Evander Holyfield when he was young," Main Events boss Kathy Duva said. "I mentioned that at the fighter meeting, and people jumped down my throat at that point. [Trainer] Freddie Roach said, 'You can't compare him to Evander Holyfield.' Well, when the fight ended, I went up to Freddie and said, 'Can I compare him to Evander now?' and he said 'Yeah.' And now he's [Roach] turned out saying he's [Jennings] the best young heavyweight out there."

Eddie, you listening? If you take out Adamek, if I'm you, I'm calling out Jennings -- if he beats Steve Collins on the June 16 undercard -- and demanding a faceoff, with winner to get Seth Mitchell. And if you beat Adamek, Jennings and then Mitchell, I do declare, there would be nothing iffy about another Klitschko crack. It would be earned, well earned.