Boxing:

shadow box film festival
November, 27, 2013
11/27/13
1:47
PM ET
There is a photo meme floating around the Internet which features a picture of a soldier being hugged by a mother, and the caption on the photo reads, "If mothers ran the world, there would be no war."
I love that declaration, and support it wholeheartedly. I'm of the mind that men and their testosterone and conditioning are responsible for so much of our societal ills, and basically think if an almighty arrived on the planet, and was able to demand that in 24 hours all heads of state had to be female, the planet would be vastly better off, right quick.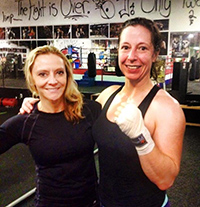 Courtesy of Terri MossTerri Moss (left) with one of her students, Cyndi Line.
Part of what makes females -- and I realize this is a gross generalization -- by and large better at being less destructive than men is their nurturing side. Call it a maternal leaning, an embrace of empathy and sympathy and a refusal to employ a "hit first and ask questions later" method of operation.
In the realm of boxing, such characteristics may in fact hinder the opportunities for women in the field. I'm eager to delve a bit deeper into this subject, and expect to test some of my assumptions when I check out the forthcoming documentary "Boxing Chicks," which is slated to be screened on Dec. 7 at the School of Visual Arts on West 23rd St. in Manhattan, as part of the Shadow Box Film Festival. The doc chronicles former pro boxer Terri Moss and the female fighters, both pros and amateurs, whom she trains.
I chatted with the 47-year-old Moss, who went 9-9 fighting pro from 2002-2007, and today owns and operates a boxing gym in Atlanta, about the flick. "We're trying to show the new culture of women's boxing, the support they have for each other," she told me. The doc follows a handful of women, and, Moss said, shows that the women go about the sport and enter it for different reasons than the men do. "A lot of the guys come in from the street, tough, but the women are not like that," she said. "Many if not most are college educated, and most are fighting for the pure love of the sport. Most women boxing today know they're not going to have all the fortune and fame. They just love the sport. They do it to prove something to themselves, whereas men more so box to prove something to the world. We're hoping the film does a good job getting that point across."
"Boxing Chicks" is set to run on Saturday, Dec. 7, at noon. For more specifics, click
here.
October, 2, 2012
10/02/12
6:42
PM ET
Fans of fight films have something to look forward to, with the impending first annual Shadow Box Film Festival looming. The festival, which runs Nov. 30 through Dec. 1, will exclusively feature boxing films. It unspools at the SVA Theatre at 333 W. 23rd St. in Manhattan.

Here is an excerpt offered by the organizers, led by director David Schuster, explaining why they put together the fest:

Boxing has always made for great drama. There are few moments in sport as exciting as the culmination of a great fight. Victory or defeat decided by one final round. One hundred and eighty seconds of relentless give and take. The crowd rising, the tension building, the fighters tapping sources of pride and energy they didn't know existed. It's the stuff that legends are made of. The movie industry has been borrowing from that legend for decades. From "Rocky," to "Requiem for a Heavyweight" to "Million Dollar Baby," the genre has produced many classics. The sport is also well represented in the documentary category, with Emmy and Academy Award nods for works of non-fiction. Why? Perhaps because the fighting is so compelling. Not just in the ring, but outside it too. They are heroes. They are villains. They are icons. Simply put, they are compelling. Boxing may be violent by nature, but there is beauty within the courage that defines the sport. When it's done right, it's a symphony, a ballet. It's not fighting. It's an art form. We at the Shadow Box Film Festival would like to share some of that art with you.

The Fest just announced that Leon Gast, the Academy Award-winning director of "When We Were Kings," has joined the Shadow Box Film Festival advisory board. So, will his stellar doc screen at Shadow Box?

"At this point, it's unlikely that 'When We Were Kings' will screen at the festival," a spokesman told NYFightBlog. "There are a lot of rights issues with the film and Leon doesn't own them all. However, we do expect that he will show highlights of his upcoming film on Manny Pacquiao."

Organizers are extremely high on the quality of the offerings, including "The Good Son," which is based on the book just released on Ray Mancini and a documentary called "Buffalo Girls," which tells of a pair of 9-year-old girls from Thailand forced into boxing to help supplement the family income.