December, 8, 2012
12/08/12
10:04
PM ET
Featherweight Patrick Hyland of Dublin, Ireland, residing in Marlboro, NY, took on Javier Fortuna in the TV opener on the Manny Pacquiao-Juan Manuel Marquez pay-per-view card in Las Vegas.
He came on late, as Fortuna faded, but not enough. After twelve rounds, the judges gave Fortuna the decision, by scores of 118-110, 116-112, 115-113.
Fortuna, trained by Sergio Martinez' tutor, Pablo Sarmiento, with Martinez in his crew ringside, came out hesitant in the first. The lefty's jab showed his hand speed, better than Hyland's. The Dominican boxer scouted and posed as did the Irishman early on. A right to the body worked for Hyland.
Fortuna, at 21-0, started getting warmed up in the second. The 27-0 Hyland stayed smart, tight and composed. In the third, the ref warned Fortuna for going low in the third. The Dominican had his hands low, and got loose and into a dancing rhythm by now. He and Martinez share some traits. The crowd hooted a few times in each round, not liking the feinting. Fortuna outlanded Hyland, 24 to 7, in that round, according to Compubox.
[+] Enlarge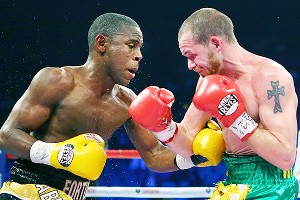 Al Bello/Getty ImagesFeatherweight Javier Fortuna's speed and style call to mind those of gym mate Sergio Martinez.
Could Hyland, who is backed by part-time promoter Snooki, change the trend, watchers wondered? Fortuna slowed some by the eighth, so maybe he wouldn't have to, it looked like. The Irishman picked up the pace, as he needed to, as he had to know he was down on the cards. Fortuna got thrown to the mat in the ninth, but no point was taken. Then, Hyland almost had a point taken for going low. Finally, we got a fight. Blood flowed from a cut on Fortuna's left eye. Hyland hurt Fortuna with ten seconds to go, after landing a clean right before.
Referee Russell Mora warned Fortuna for spitting his bit in the tenth. The Irishmen smelled blood in the water. But Fortuna held it together enough to see the final bell, and get the win.
Follow me on Twitter here
https://twitter.com/#!/Woodsy1069
.
January, 28, 2012
1/28/12
11:41
PM ET
The diminutive dynamo of reality TV,
Snooki
of MTV's "
The Jersey Shore
" unveiled her first fight card, dubbed "The Irish Invasion," at
Resorts Casino
in Atlantic City on Saturday night.
No wiseguys, there was no hot tub action, fights in the stands among fans, or spray-tans offered at a concession stand. This was no lark, no stunt for the show, for the record.
The event was billed as the "Invasion" because the three fighting Hyland brothers, Patrick, Paul and Eddie, hailing from Dublin, fought on the card. They went 2-for-3 on the night, with Patrick getting a W in the main event, over
Emmanuel Lucero
,
Paul
winning a UD6 over
Arturo Santiago
, and eldest boxing bro
Eddie
getting the short end of a decision to
Franklin Gonzalez
in a four rounder.
"I'm happy with my first Team Snooki performance," Patrick said after getting a UD win over the stubborn as hell Lucero. Patrick Hyland Sr. said after that Patrick was more than ready for
Yuriorkis Gamboa
. (Though Gamboa has jumped up in weight class, and will skip from 126 over 130 to 135 against Brandon Rios, it looks like.) Trainer
Tracy Harris Patterson
didn't take the bait on that one. After the bout, he told me that he will sit down with the Hyland Team and discuss options.
No shortage of haters have taken to the message boards, proclaiming Snooki's debut as a boxing promote a sure sign of of the box-apocalypse. My take: what's wrong with having yet another place for hungry boxers to earn a check? The event was put together, by and large, by
Mike Pascale
, and Snooki's dad
Andy Polizzi
, a friend of Pascale's. Snooki told
ESPN NY
that she entered this arena because it's something the self-proclaimed daddy's girl can do with dad. Who am I to take issue or try to poke a hole in that logic?
They had seven bouts on the card, no egregious mismatches and Snooki was present and involved, not a mere figurehead, til the final bell. That shut the haters up a bit...
SPEEDBAG A nice young lady named
Veronica Kole
sang the National Anthem. "I'm 5 feet tall, I'm tan, I'm from Jersey, and I'm gonna be the female Justin Bieber," the 17 year-old told me after she sang, while watching the main event. She is signed to Snooki's label, NEP Productions. Kole gets props for predicting that Lucero would go the distance in the feature bout, while around round three, I told her I thought he'd get stopped. Smart cookie, that Kole.
Follow me on Twitter
here
. Send suggestions or hatemail to Fightwrite@gmail.com.
January, 28, 2012
1/28/12
7:52
PM ET
We have a Snooki sighting... Nicole "Snooki" Polizzi entered the ring at Resorts in AC Saturday night, and welcomed fans to the debut of her fight promotion outfit, Team Snooki Boxing. "Hi everybody, thank you for coming," Snooki said, right before the action kicked off at 7:49 ET with a lightweight tangle between Chazz McDowell (4-0 entering; from Yonkers) and Phil Nazario (0-1; from Da Bronx). "Me and my dad are very, very excited for this event. And this is only the beginning." Snooki has presented this enterprise as a labor of love, an undertaking which enables her to spend more time with her pop.

That is The Situation from AC. I will keep you posted, boxing and Jersey Shore fans.
January, 26, 2012
1/26/12
12:17
PM ET
We are two days away from seeing a sight none of us thought we'd see: the debut of "The Jersey Shore's"
Snooki
as a boxing promoter.
Snooki is doing the Arum-King thing with dad
Andy Polizzi
, and
Mike Pascale
of Final Round Promotions, a Poughkeepsie outfit.
The Polizzis live in upstate Marlboro, NY, and are friends with Pascale, who worked for the New York State Athletic Commision under
Floyd Patterson
,
Mel Southard
,
Ray
Kelly
,
Ron Scott Stevens
and
Melvina Lathan
before moving into the promotional side.
I chatted with Pascale on Thursday, and asked for a report on how arrangements for the show, which is dubbed "
The Irish Invasion
," and will take place at
Resorts
in Atlantic City Saturday night, are progressing
"Everything is going smooth," Pascale said. "We expect a good turnout, sales look good. There will be eight fights, and no tomato cans, so to speak."
The room at Resorts holds 1,250 people and Pascale expects at least a thousand to show up and see the
Hyland
brothers, out of Dublin, do their thing.
Patrick (24-0), 20-2 Paul and 16-1 Eddie
are the invaders. Patrick (age 28) takes on Emmanuel Lucero (26-8), Paul (age 27) meets Arturo Santiago (7-4), and Eddie (age 30) fights Franklin Gonzalez (14-9).
If you don't care to travel, the card will stream, for $10,
here
.
Also, for those not so down with the boxing scene, there will be an afterparty at Resorts, at a club called
Night Fever
, at which the dimunitive diva herself, Snooki, will meet and greet the adoring throngs.
That, people, is The Situation regarding Team Snooki Boxing.
January, 13, 2012
1/13/12
12:13
PM ET
Look out,
Bob Arum
. Hold on to your hair,
Don King
. Hey, Golden Boy
Oscar De La Hoya
, there's a new gal in town, and she's looking to carve out some space in the boxing promotion world.
[+] Enlarge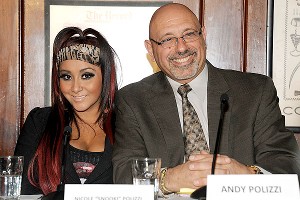 Jamie McCarthy/WireImage"Jersey Shore" cast member Nicole "Snooki" Polizzi and her father, Andy Polizzi, will represent the Hyland brothers in their fledgling promotion.
Maybe you've heard of her. Judging by the prolonged session of flashes that popped at McFadden's in New York City on Thursday afternoon, there seems to be a high level of interest in
Snooki
, aka
Nicole Polizzi
, a diminutive diva of reality TV and a budding empire builder.
Yes, Snooki is adding "boxing promoter" to a résumé that got cooking two years ago, when "Jersey Shore" debuted on MTV and a portion of the nation intrigued by the goings-on of carefree party people from New Jersey and regions thereabouts went gaga over their cavalcade of hot-tub hookups, barroom dustups and fascination with tanning booths.
Snooki -- a Marlboro, N.Y., native -- admitted she isn't all that well-versed in the particulars of the sweet science, as she brought up the "Rocky" series when asked about her level of knowledge and fondness for the sport. But this hardened heart belonging to a fightwriting cynic melted a tiny touch when Snooki told the assembled media gaggle that she was diving into the boxing scene because it's an activity she can share with her dad,
Andy
.
Snooki is named as the "owner" of Team Snooki Boxing, which is comprised of her, her dad,
Brian Burke
and
Mike Pascale
of Final Round Promotions (a Poughkeepsie outfit) and a stable of fighters currently limited to the
Hyland brothers, Patrick, Eddie
and
Paul
.
The brothers will all rumble in the Team Snooki debut, which will unfold Jan. 28 at Resorts Casino Hotel in Atlantic City. The show will stream on Behindthering.com for $9.95.
The last time I'd seen a paparazzi scrum like the one at McFadden's, I swear, came when
Mike Tyson
was being arraigned back in 1991. If some of the lame-o heavyweights we see sleepwalking their way through fights these days showed half the intensity the photogs did in trying to get the money shot of Snooki, the whole business would be in much better shape.
The reality spitfire, who has put out two books, has a line of apparel in stores, and has almost four million Twitter followers, told the media that she is excited to be delving into the sweet science and that she will be taking up boxing for fitness.
She participated in gymnastics as a kid, and then competitive cheerleading, and also did work for
Vince McMahon's
WWE, so she sees boxing as a logical next step.
No, she will not train for an in-ring debut, even through she has thrown hands once or twice on the show.
"I'm not messing up this pretty face," she said. "Helping out my dad is No. 1. Me and my dad are like best friends; I'm a daddy's girl."
Andy Polizzi told the media why he's looking forward to the project, which as of now stands at four proposed shows, which will run in A.C., and perhaps Vegas and NYC as well.
"This is something daddy and daughter can share together," he said. "I'm proud of the woman she has become."
Andy said he wants to see this thing through, to the point that the Hylands win world titles. Patrick Hyland, 28, now trained by ex-super featherweight
Tracy Harris Patterson
, owns a 24-0 record, with 11 KOs. He will face 33-year-old Mexican vet
Emmanuel Lucero
(26-8, loser of two straight) at Resorts. Paul Hyland, age 27 (20-2 record, with 6 KOs), and 16-1 Eddie, who is 30, will meet opponents to be named.
I admit, I was impressed with Snooki's fighting spirit. She said she has a Google alert set up, and embraces attempted takedowns by bloggers and such.
"I think negative stuff is better, because that's when people are trying to hurt you're feelings, which means they really, really care enough to do a whole negative story about you. I like that."
May her fighters exhibit the same aggressive attitude when they are catching more than they're pitching.