August, 23, 2013
8/23/13
6:00
PM ET
Tommy Gallagher of Howard Beach in Queens has been in the boxing game since the 1950s, and he's feeling like the time to end his run is getting closer. He is working with a young boxer from Ecuador, Ytalo Perea, a heavyweight he calls "my last hurrah."
[+] Enlarge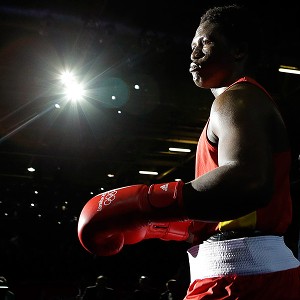 AP Photo/Patrick SemanskyYtalo Perea
Gallagher is the consummate no-nonsense sort. He doesn't suffer fools gladly. The trainer, now 72, doesn't try to present Perea -- who appears Saturday on a card in Fallon, Nev. -- as the second coming. Gallagher isn't certain he has all the tools to keep jumping levels.
"Is he going to buy into the old-school s---? He sees these HBO: 24/7s and thinks the stuff on there is going to make him a better fighter. But mentally, he's what I want. He thinks, 'If I can hit ya, I can knock ya out,'" said Gallagher, who soaked up the training methods of Sugar Ray Robinson and the methods of the master tutors at the famed Stillman's Gym.
The Nevada card is being promoted by the Lane brothers, Terry and Tommy. They are the sons of Long Island resident Mills Lane, the famed referee who just
entered the Boxing Hall of Fame in Canastota, N.Y.
This is the sixth installment of Fallon Fights -- Rural Rumble, and the card will unfold at the Churchill County Fairgrounds.
"This show we have coming up is very unique," Terry Lane told ESPNNewYork.com. "It is an annual show in the small town of Fallon, Nev. It's unlike any other live boxing event. It is held outdoors in a rodeo arena. It's a throwback to the days when small mining and farm towns in the West would have live boxing. It's such a fun show to do every year."
Gallagher talked about the Lane brothers, who he thinks could be major players in the coming decades.
"The sons, they're two super kids; I don't know them well socially but they're very intelligent, they know what they're trying to accomplish. Hopefully I can be their scout, bring some good talent to the table for them," he said.
Gallagher is, yes, a throwback. He thinks pad work is a choreographed waste of time. He recalls when boxers smoked a pack a day but still did their road work, and even if they huffed in late rounds, they made damn sure they made you pay for a mistake, painfully. He said New Jersey's Dino Duva, a promoter who's been out of the mix for a few years, might be signing Perea, so we could see Gallagher's last hurrah more often in the near future.
June, 7, 2013
6/07/13
3:02
PM ET
Mills Lane -- the consummate no-nonsense referee whose presence as third man in the ring insured that BS would not be tolerated, will be inducted into the International Boxing Hall of Fame in Canastota, N.Y. on Sunday.
Lane, whose appeal transcended boxing and culminated in his own syndicated TV program, "Judge Mills Lane" (1998-2001), suffered a stroke in 2002, and his presence at Canastota was not a given. His son Terry told ESPNNewYork.com that it wasn't decided until a few weeks ago whether the Lanes, including younger brother Tommy and their mom, Kaye, would make the trip.
[+] Enlarge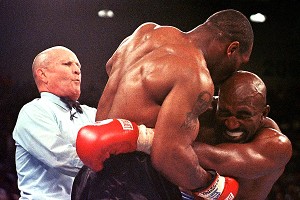 Jeff Haynes/AFP/Getty ImagesThere's Mills Lane in action, during the infamous Tyson-Holyfield fight.
Born in Georgia, and himself a more-than-fair fighter as an amateur, Lane started as a ref in 1964 and worked more than 100 world title fights. Even casual fight fans will recall that he was the man overseeing the lunacy in June 1997 when Mike Tyson chewed off a piece of Evander Holyfield's ear; Lane didn't hesitate when he saw that Tyson had torn off Holyfield's flesh and immediately disqualified him.
But the stroke has been hard to handle; a man devoted to physical fitness can walk and do most things himself, but slowly, and he is in constant pain. He has about 20 percent usage on his right side, and since word formation is difficult, he doesn't say much, except a single word here and there. For an intense, prideful man, the ordeal has been a severe trial.
"Since the stroke," Terry said, "my dad has basically been a shell of himself, and it has been difficult for him emotionally, and depression has been there sometimes. But we haven't seen him this happy since the stroke. He loves doing the autographs and taking photos. We're so happy to see him so happy."
Terry said the family never did the typical roadtrip-to-Disney type thing, so their trek on Thursday from their residence in Manhattan was a first. He was happy that dad didn't win the battle to hear country music in the car; the family all settled on old radio broadcasts, featuring Don Dunphy calls, downloaded off iTunes. "We got there and my dad saw (boxer) Marlon Starling, and he lit up."
The 30-year-old Terry, or 26-year-old Tommy, will speak for Mills at the induction ceremony -- they haven't decided yet. Terry said he feels a bit silly talking for Mills, who was such an accomplished communicator. "We wouldn't do him any justice. But I'd probably say something about how he was the world's greatest dad," Terry said. "I know people say that, but about him, it's not even close."
"My dad always said there's nothing like being accepted and honored by your peers," Terry added. "This is way more positive than negative, we're just so glad he's still around. My dad was all about honesty, and it would be so stupid to put a BS spin on this. It's been tough but this is pretty awesome."