Boxing:

Vanessa Ratnavich
October, 23, 2013
10/23/13
12:14
PM ET
The lady who might be the biggest boxing fan of the bunch, alas, missed the cut Tuesday at Mendez Boxing Gym in NYC. Model Jasmina Dzurlic tells me that she's a tremendous Canelo Alvarez fan, and has worked out at a boxing gym in the Bronx for six years. Like any credible competitor, the loss doesn't dampen her fire. "I'm a little bit disappointed, but there's always another chance," she says after learning that three other gals will be informing fans at the MSG Theater on Nov. 2 what round is forthcoming.
[+] Enlarge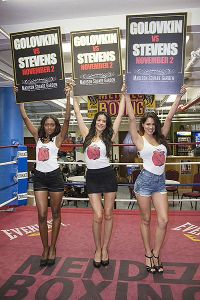 Angela Cranford/ MSG PhotosThere really were no losers at the Mendez Boxing Gym on East 26th Street.
Top three-er Alexis Lilly tells me that she digs boxing, and in fact, her mom boxed as an amateur in Kentucky. The fave fighter for the Kentucky transplant who lives in NYC? "Mike Tyson," she tells me. "My dad replays his fights."
Winner Vanessa Ratnavich also describes herself as a fight fan. Her main man is Manny Pacquiao, the Congressman from the Philippines who next gloves up on Nov. 23, in Macau, against Brandon Rios. "I'm half Filipino and half Thai," she informs me. Her experience -- she's been a ring card girl at MSG twice -- seemed to have paid off. I queried her on the presence of card girls during fights. Why did she think they have a role at events? "The majority of the fans have been men, and sex sells," she said. Give her an extra point for candor.
My favorite of the three prizewinners, if I may be candid, was Tarale Wulff. Not for her aesthetics, but for her world view. For one thing, she proudly parted with her age, 37, though she's in an industry which doesn't typically prize the presence of a longer CV. Wulf has done this before, she tells me; her first card gig came about 15 years ago, at Cipriani's. The Long Island native, who resides in Bed-Stuy, said it "would be cool if guys held up the cards too" but noted that usually two men are doing the fighting. She said she's proud that she and the other two won't be strutting in bikinis on Nov. 2, but will be clad in "tasteful, sexy dresses."
The experience allowed me the setting to answer a question that has long nagged me. Do the fighters ever get distracted during a fight by a sultry strutter? I asked fellow judge John Duddy. Did he ever get distracted during his in-the-ring career? "No, never," he answered, with the sort of certainty only an Irish accent can muster. "I never took boxing for granted. I only reacted to things, like the audience, after the fight."
Word is this might be an annual event. I liked Duddy's suggestion for a possible added judging component for next time. "The ladies can put a glove on, and punch me, and we can see who punches the hardest," Duddy said.
Better he than
me
!
October, 23, 2013
10/23/13
10:58
AM ET
The ladies vying for the three slots as ring card girls at the Nov. 2 Madison Square Garden Theater promotion topped by a Gennady Golovkin middleweight title defense against Curtis Stevens seem to be amped up, but contain any hints of nerves well. Nobody is trash-talking a rival. These ladies, all working under the Wilhelmina umbrella, seem to be on decent terms as they
audition at the Mendez Boxing gym in Chelsea on Tuesday afternoon
.
[+] Enlarge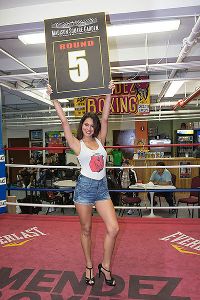 Angela Cranford/ MSG PhotosSo, do fighters ever get distracted by the ring-card girls?
I shoot the breeze with former middleweight contender John Duddy, a fellow judge along with Nicole Young of PIX 11, while preparations for the contest are underway. The MSG publicity aces are putting out ballots and explaining to the 10 models what the audition will entail.
John's wife of four years, Grainne Duddy, has tagged along to check out the proceedings. I ask her why she's here, seeking to delve, maybe, into an issue that sometimes pops up in my head: is the presence of these card "girls" during a boxing match necessary, or merely an anachronistic exercise in overt objectification? "I've never been to an event like this," she tells me. "I'm a big fan of "America's Top Model." Basically, I'm just curious."
Grainne points out her favorite to take top honors, based on a quick assessment. I hold off making mental picks, waiting to see the ladies on the stage, in the ring, and see how they handle wildcards like walking on high heels on a cushy surface.
Each gal gets a turn with a card, and she struts about the ring as a dozen photogs snap away. Some appear to have a better handle on the gig than others, though nobody drops the ball with a mistake like holding the round card upside down.
My heart is pounding a bit, with the pressure on, with the knowledge that my tallies, along with those of Duddy and Young, will result in three joyous reactions, and seven doses of disappointment.
The scores are tallied, and all breaths are bated as we await the announcement of the winners. Who are the lucky and talented three? Alexis Lilly, Taralee Wulf and Vanessa Ratnavich get the gig, and all the contestants whoop and holler for their good fortune.
Check back for reactions from the winners, please.
Follow Woods on Twitter
here
.