Boxing:

wladimir klitschko
January, 8, 2014
Jan 8
12:53
PM ET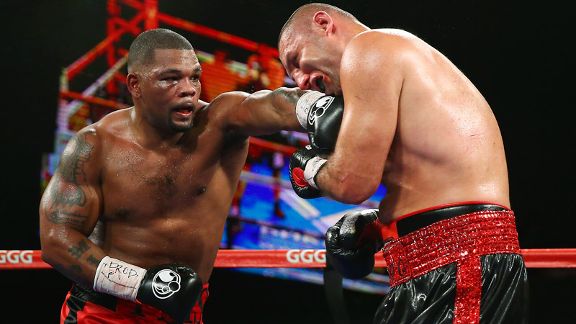 Al Bello/Getty ImagesMike Perez punches Magomed Abdusalamov during their Heavyweight fight at The Theater at Madison Square Garden.
He says all the right things, he sounds sincere, and I believe him. But we won't know until the night of Jan. 18 if Mike Perez has been greatly affected by what happened the night of Nov. 2, 2013.
Perez is the 28-year-old Cuban heavyweight who was in a pick 'em fight with Russian heavyweight Magomed Abdusalamov on the undercard of the Gennady Golovkin-topped card at the Madison Square Garden Theater. This clash between two heavies looking to make the leap from prospect to full-fledged contender ended with a UD win for Perez. The joy of victory, however, was totally muted by a post-fight development.
After absorbing loads of punishment from Perez over the course of ten rounds, Abdusalamov was taken to a NYC hospital and underwent emergency surgery to relieve swelling in his brain. He was comatose and today is housed at an upstate rehab facility, where he's working to regain the ability to walk and talk.
Perez (20-0 with 12 KOs), who opened eyeballs with a skilled and committed performance against Mago, gloves up against 33-year-old Cameroonian Carlos Takam (29-1 with 23 KOs) on an HBO card topped by a Jean Pascal-Lucian Bute bout in Montreal in two weeks.
I chatted via phone with Perez, who lives in Ireland and trains in California with Abel Sanchez, the tutor for the hottest boxer on the planet today, Gennady Golovkin. Perez sounded to me like the Mago tragedy hasn't messed up his equilibrium.
I asked him directly if he's been impacted by the tragic event. "I'm OK, and I thank all the people who believe in me, and have been telling me great things," he said. "I feel very sorry for Mago, and I'm happy to dedicate this fight to him. Life keeps going, I have to put that behind me."
Perez said he prays for Mago and his family, but he's had no problem, in sparring anyway, sitting down on his shots and trying to unload with maximum velocity and impact. "I want to hurt them, not them to hurt me," he said. "I was doing my job on Nov. 2, and it could have been me. I thank God it wasn't me. I hope Mago gets better soon."
Essentially, Perez says he can sleep well at night because he was doing his job against Mago, and he didn't intend to do such damage.
"I expect to be the same on Jan. 18, and do what I do best," he stated. He's thinking a title crack will come shortly. It may be against the man who is the only one better than him in the whole division, Wladimir Klitschko. Klitschko also happens to be the head of the company which promotes Perez, K2, along with his brother Vitali, who has left boxing for politics.
How would Perez do better than the others who have thought they could solve the Klitschko puzzle? "Fight," he said, simply. "I think most of them fight scared."
He doesn't seem phased by the skill set of Takam, who he admits he hasn't seen in person or even a tiny bit on tape.
It might sound cold to some, but Perez told me he is settled on continuing to win and make a living for his fiancee and three daughters, ages 12, 2 and 1. "I'm doing something to make life better for my girls."
July, 3, 2013
7/03/13
7:08
PM ET
Madison Square Garden can certainly boast about their pugilistic legacy.
Yes, it could be argued that they are in flux, as they might have to rebuild the building to comply with the New York City Planning Commission's order to improve Penn Station, but the Garden's supporters can always boast that MSG hosted the single most anticipated boxing event of all the ages, the first clash between Muhammad Ali and Joe Frazier, on March 8, 1971.
Some would argue that the Garden of today could be compared to a late-era Ali, perhaps slightly distracted by a myriad of deals and balls in the air, but still, Ali was Ali, and could never be dismissed as a shoe-in to stumble on the big stage.
And when Floyd Mayweather was in town last week, in Times Square, on the first leg of his promo tour to tout his Sept. 14 scrap with Canelo Alvarez, he was asked about maybe fighting at MSG, and teased the crowd, asking if they'd like to see him fight at MSG. The reputation still stands.
MSG also could counter the Barclays-Ratner-Yormark bid of their non-exclusivity, having hosted cards put on by Top Rank -- the bitter rival to Barclays favorite Golden Boy -- as well as Golden Boy, and Main Events, in the last seven months.
Word is at the re-done Coliseum they'd do bigger boxing shows in a proposed 14,500 shed, and smaller boxing events in a 1,700 setup.
Yormark, though, during our chat, kept coming back to Barclays' grassroots efforts to nourish boxing, and he thinks that effort is a differentiator in the bidding.
"Having Zab Judah, 'Kid Chocolate' Peter Quillin, Danny Jacobs and Wladimir Klitschko, as well as Floyd Mayweather, for our most recent show means we're doing something here," he said. "We feel boxing out on Long Island can also be terrific."
As a pot sweetener, Yormark said the Ratner-Yormark team wants to build some "legacy moments," along the lines of Jay Z's eight-night sellout string to open Barclays last year, to excite the masses about the spiffed up Coliseum, should their bid be the victor. "We want to close the building dramatically with a once-in-a-lifetime concert to get things moving forward and help people anticipate wonderful things, and then re-open with another concert that truly embraces the community," he said. Asked who could headline to bring max buzz, he said, "We want someone highly connected to Long Island."
My take: I root for the overall health and well-being of the sport I cover and respect so much. Whoever is best positioned and committed to building the brand of boxing, I approve of their efforts and actions. We're in the championship rounds, the bids are being examined; we shall see who has their hand raised by July 15, and gets to activate their vision for the Coliseum.
Follow Woods on Twitter
here
.
January, 16, 2013
1/16/13
5:38
PM ET
Tom Loeffler of K2, the promotional outfit named for the fighting Klitschko brothers, the heavyweight standouts Vitali and Wladimir Klitschko, spoke to ESPNNewYork.com today about what's next for the Brothers K.
Loeffler was at Kingsway Gym with his middleweight sniper Gennady Golovkin, who meets Gabriel Rosado at the Madison Square Garden Theater on Saturday night.
Loeffler said it's likely that little brother Wlad will fight in April, foe TBD. Germany will be the location for the tussle. One potential foe, Alexander Povetkin, holds the WBA "regular" belt while Wlad holds their "super" title. The WBA would like to see Povetkin meet Wlad, but it has seemed like Povetkin isn't as keen to do the same. Loeffler says that sanctioning body is working to hash the matter out. The 36-year-old Wlad holds the IBF crown, and Tomasz Adamek and Kubrat Pulev are supposed to duke it out with the winner to be crowned the No. 1 rated challenger. And he holds the WBO belt, with that body asking No. 1 rated Robert Helenius to fight an eliminator to meet the WBO champ, Loeffler told us.
The 41 year-old Vitali has been busy doing the politics thing in Ukraine, where he is a member of parliament. He has not decided, Loeffler said, if he will glove up again, or concentrate fully on the political arena. "We should know within a month," he said. "If he did fight, it would be before May."
A Vitali fight against David Haye, the Brit who talked himself into a fight with Wladimir in July 2011, and then fought scared, losing a unanimous decision, is the most desired potential bout out there, from a fan's perspective. It's not at the top of Vitali's to do list, though, according to Loeffler. If it ever came to pass, "Vitali would want to knock Haye out," Loeffler said. "Vitali I think would take more chances to go for the knockout."
Follow Woods on Twitter
February, 29, 2012
2/29/12
3:46
PM ET
He is the best-known heavyweight in the world.

Check that. Wladimir Klitschko and his brother Vitali are the best-known heavyweights in the world, because, to be honest, many casual sports fans can't differentiate between little brother Wladimir and big brother Vitali.

Wladimir, 35, defends the bulk of the belts out there on Saturday in Dusseldorf, Germany, against a no-hoper named Jean-Marc Mormeck, a Frenchman who most recently fought in December 2010 and has somehow wrangled his way into a payday and a certain beating. On a conference call today to hype that bout, which will run on Epix (4:30 p.m. ET), Wlad (56-3, unbeaten since 2004 and gunning for his 50th KO) said he won't look past the 36-4 Frenchman, whom he noted looked slow and cruddy at a public workout.

If, as expected, Wlad achieves a win Saturday, he said he would like to fight in America, which he hasn't done since 2008, when he beat Sultan Ibragimov at Madison Square Garden. That'd be nice for U.S. fight fans -- and Wlad's rep. His past six fights have taken place in Germany, and if he scrapped in the States, that many more sports fans would be able to tell you which Klitschko is which. There is an immense Russian population in Brooklyn (I live a few minutes from the still-being-built Barclays Center in Fort Greene), so it'd make oodles of sense for the Kazakhstan-born Wlad to glove up at Barclays.

But it sounds like that won't happen.

Team Klitschko member Tom Loeffler said on the call that the Barclays folks reached out to Wlad about a fight, but that's a non-starter because Oscar De La Hoya's Golden Boy Promotions has sole rights to promote boxing in the building. No, Loeffler said, Team Klitschko isn't looking for any promotional partners. So Madison Square Garden is looking like a prime Plan B. Californian Cris Arreola, who took a beating from big bro Vitali in 2009 but is thinner and wiser now, could get the gig. Wlad's trainer, Manny Steward, also on the call, said a fight between Wladimir and WBA titlist Alexander Povetkin, a Russian, would do bang-up business in the States.

I know this is heresy to a businessman, but wouldn't it be a sweet gesture if Golden Boy gave Team Klitschko a pass and gave the OK to put a Wlad fight on at Barclays? Hey, I sort of get the Golden Boy angle, when I put on my Warren Buffet mask. You don't want to flood the market with boxing, other people's product, and thus threaten some of your own future gate. But possibly, maybe, wouldn't it help the sport as a whole, the brand of boxing, to get a hot heavyweight fight in Brooklyn, with so many Russians so close to the building? And sometimes gestures in and of themselves can be profitable unto themselves, apart from monetary ones. Hey, you may say I'm a dreamer, but I'm not the only one. ...
December, 14, 2011
12/14/11
11:32
AM ET
How much, or should I say, how little, do I care about the heavyweight division?

Less than I ever have.

The Klitschko brothers' stranglehold on the division has left me cold to the class. Opponents are announced to fight the boys, and I have to force myself to follow along. Why? Because I have serious doubts that anyone currently practicing the craft can take down a Klitschko. Brit Dereck Chisora (15-2), it was announced yesterday, gets a crack at big bro Vitali Feb. 18 in Munich. Before I wrote that last sentence, I had to check Boxrec and double check which brother was fighting Chisora. They are both so far and away from the rest of the field, that I lump them together, and have difficulty differentiating them. WBC champ Vitali is the 40-2 one, the 40 year-old one, the one who is slightly less risk averse and who'd probably prevail if the brothers clashed. WBA-WBO-IBF champ Wladimir is the 56-3 one, the 35-year-old one, the one who especially infuriates me because he waits until his foe is half-dead, as Freddie Roach puts it, before he risks opening up, to try and take him out. He was supposed to beat up another no hoper, Jean-Marc Mormeck, last Saturday, but pulled out because of a kidney stone. Wlad-Mormeck will unfold instead on Feb. 3. After that, I was told yesterday by promoter Dan Goossen, who is overseeing the Super Six finale in AC Saturday, Wlad will fight Tony Thompson. Thompson, ranked No. 2 by the IBF, is a Goossen fighter who already had a crack at Wlad, back in 2008. He got stopped in round 11. Now, he's 40, and it's hard for me to see how he'll do any better. Goossen looks on the bright side. He told me that Thompson recognizes this is his last shot at a crown, and the DC fighter will be more ready mentally this time around. Goossen said he'd like to bring that fight to the DC area, where Thompson lives, if possible. The IBF asked Wlad to fight Thompson by no later than July 15.

Hey, one of these days, one of the these blind squirrels is going to find a nut, right? RIGHT??