January, 24, 2015
Jan 24
11:36
PM ET
Associated Press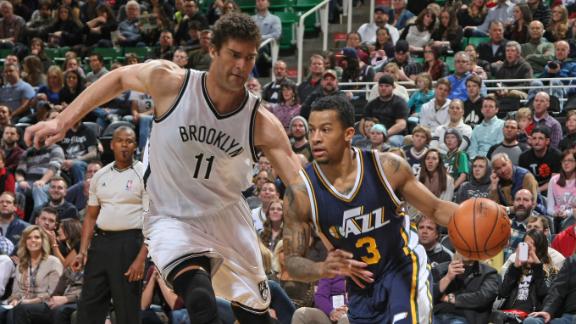 SALT LAKE CITY -- Gordon Hayward scored 24 points and Trey Burke had 19 as the Utah Jazz rolled to a 108-73 win over the reeling Brooklyn Nets on Saturday night.
Joe Ingles had a season-high 16 points and Dante Exum had 13 in his second straight start in front of Burke, who came off the bench.
Jarrett Jack had 16 points and Mason Plumlee added 11 for the Nets, who have dropped three of four.
One game after Brooklyn's worst defeat of the season -- 123-84 to the Clippers -- the Nets were again listless.
They are 3-10 in January and a half-game back of Charlotte for the last playoff spot in the Eastern Conference.
January, 23, 2015
Jan 23
11:19
AM ET
[+] Enlarge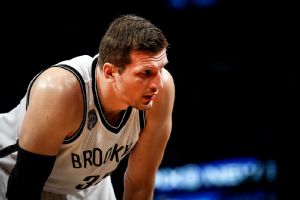 Cem Ozdel/Getty ImagesMirza Teletovic is sidelined for the rest of the season because of blood clots in his lungs.
Brooklyn Nets forward Mirza Teletovic will miss the remainder of the season after being diagnosed with multiple blood clots in his lungs, the team announced Friday.
Teletovic left Thursday night's 123-84 loss to the Los Angeles Clippers at Staples Center after experiencing shortness of breath and was taken to a hospital.
"Our first thoughts are with Mirza and his family," Nets GM Billy King said Friday in a statement. "We are very fortunate that our medical staff, along with the ER staff at the California Medical Center in Los Angeles, were able to diagnose the problem. I have visited with Mirza this morning, and he is in good spirits as he begins his treatment and recovery."
A battery of tests -- including a CT scan -- revealed the seriousness of his condition. Teletovic will remain hospitalized in Los Angeles to undergo further testing and begin receiving blood thinners, the team said. He will return to the New York area upon being cleared. The official medical term for what Teletovic has is bilateral pulmonary embolus.
Teletovic had tweeted after the game that he was OK:
January, 23, 2015
Jan 23
1:50
AM ET
LOS ANGELES -- Brooklyn Nets forward Mirza Teletovic was taken to a local hospital during Thursday night's 123-84 loss to the Los Angeles Clippers after experiencing shortness of breath.
He later tweeted that he was OK:
"He just told me he wasn't feeling well," Nets coach Lionel Hollins told ESPN.com's Ramona Shelburne immediately after the game. "I asked if he had the flu, and he said, 'No. I don't know what it is. I just don't feel right.' Hopefully he'll text me soon after he gets looked at."
Teletovic had gone to the locker room accompanied by trainer Tim Walsh late in the second quarter after logging eight minutes.
Since missing three games with a hip injury in mid-December, Teletovic is averaging 6.4 points on 32.2 percent shooting -- including 30.4 percent from 3-point range (21 games).
The Nets already are without point guard Deron Williams, who has missed the past eight games due to a rib cartilage fracture. Kevin Garnett (rest) also did not play Thursday.
January, 22, 2015
Jan 22
10:11
PM ET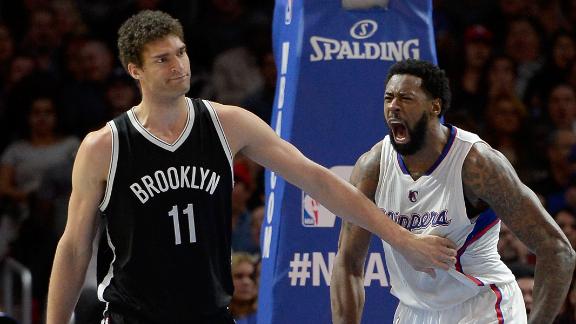 LOS ANGELES -- The
Los Angeles Clippers
have had a hard time this season maintaining leads at home. They will go up by double-digits early but squander the lead and be forced to hold on late in games that should have been over by the third quarter.
That wasn't the case Thursday as their lead grew to 13 in the first quarter, 35 in the second quarter and 46 by the time the fourth quarter rolled around as the Clippers beat the
Brooklyn Nets
123-84 to win their third game in a row before embarking on a stretch that will see them play the next 10 games in 10 different cities. The Clippers are now tied for the fifth seed in the West and just 1 1/2 games out of the second-best record in the West.
Surprise of the night:
Sure, the Clippers were favored to win the game but no one saw them going up by 46 points in the fourth quarter and 35 points before the half. It was a blowout from beginning to end and probably the Clippers' most dominating win of the season against a current playoff team.
Celebrities of the night:
Hollywood descended on Lob City for Thursday's game as Jay-Z and Beyonce sat courtside along with Floyd Mayweather,
Matt Kemp
,
Bryce Harper
and
Dez Bryant
. Jay-Z and Beyonce, who chatted with Clippers owner Steve Ballmer at the half, stayed until the bitter end of the blowout, and Clippers fans started to chant "We want Pacquiao!" at a smiling Mayweather late in the game.
Stat of the night:
The Clippers shot 59 percent from the field and 44 percent from beyond the arc. The Nets shot 37.5 percent from the field and 19 percent from beyond the arc. That's not going to happen often but when it does, the Clippers are always going to win handily.
Players of the night:
Blake Griffin
had 24 points, 6 rebounds and 3 assists, and
DeAndre Jordan
had 14 points and 12 rebounds.
Chris Paul
had 6 points, 17 assists and 5 rebounds, and
Jamal Crawford
and
J.J. Redick
had 17 points apiece.
January, 23, 2015
Jan 23
1:07
AM ET
Associated Press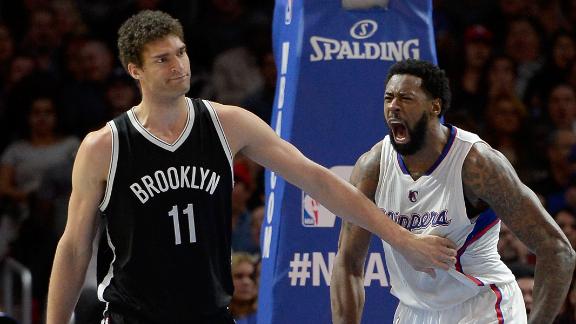 LOS ANGELES -- Blake Griffin scored 22 of his 24 points in the first half, when the Clippers led by 33 points, and Los Angeles went on to its largest victory ever over the Brooklyn Nets, 123-84 Thursday night.
J.J. Redick and Jamal Crawford added 17 points each, DeAndre Jordan had 14 points and 12 rebounds, and Chris Paul had a season-high 17 assists for the Clippers, who have won nine of their last 12 and three in a row.
With Kevin Garnett resting, the Nets were led by Mason Plumlee with 16 points. Darius Morris and Jerome Jordan had 11 points each, and Jordan had 11 rebounds. They have lost nine of 11.
The Clippers put the game away in the first half, when they shot 66 percent and Jordan had already secured his double-double.
January, 22, 2015
Jan 22
12:00
PM ET
By
NBA Front Office
| ESPN Insider
In the latest installment of the NBA Front Office series, Tom Penn (playing the role of GM), Chad Ford (assistant GM), George Karl (head coach), Amin Elhassan (scouting director) and Kevin Pelton (analytics director) debate how to dismantle and rebuild the Brooklyn Nets. With Nets owner Mikhail Prokhorov looking to sell the team, what steps does the front office have to take to get the franchise back in order? With its future heavily mortgaged in a win-now strategy that failed in epic proportion, the job will not be easy.
January, 22, 2015
Jan 22
12:51
AM ET
Associated Press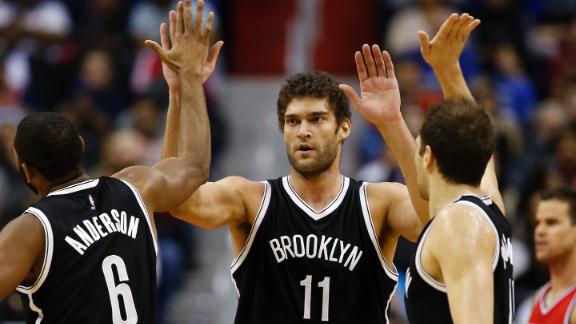 SACRAMENTO, Calif. -- Brook Lopez had 22 points and six blocks and the Brooklyn Nets defeated the Sacramento Kings 103-100 on Wednesday night for only their second win in the last 10.
The Nets had a 23-point lead in the opening half, but the Kings eventually cut it to two late in the fourth quarter. Some clutch shooting by Joe Johnson helped preserve the victory for Brooklyn.
Johnson scored 16 points, as did Jarrett Jack, who also had eight assists for the Nets.
The Nets won six of seven games and reached the .500 mark on Jan. 2. But Brooklyn had been in a terrible stretch ever since.
DeMarcus Cousin had 28 points and 14 rebounds for Sacramento, who dropped its fifth straight.
January, 21, 2015
Jan 21
9:05
PM ET
Brooklyn Nets
point guard
Deron Williams
will miss at least three more games as he continues to recover from a rib cartilage fracture, the team announced on Wednesday.
Williams
Williams had already been ruled out of Wednesday night's game in Sacramento. The Nets face the Clippers in Los Angeles Thursday and the Jazz in Utah Saturday. He did make the trip with the team.
Williams began getting shots up at practice Monday, but is still feeling pain, the team said. The Nets will have another update when the three-time All-Star's status changes.
Williams, 30, has played just four minutes over the past eight games due to injury, missing the past six.
He is averaging 13.9 points and 6.3 assists on 39.6 percent shooting this season.