March, 2, 2015
Mar 2
8:17
PM ET
NEW YORK -- Brooklyn Nets forward Mirza Teletovic, who will not play again this season after being diagnosed with multiple blood clots in his lungs in late January, told reporters Monday that the clots are gone, he feels great and hopes to be able to return in six months.
Teletovic said that doctors have an 80 percent level of belief that the clots originated as a result of the hip pointer he suffered in Cleveland in mid-December. The clot then traveled to his calf and his lungs. He wasn't capable of breathing right for "like 20 days" or so, he said.
Teletovic experienced shortness of breath in Los Angeles during the Nets' Jan. 22 game against the Los Angeles Clippers, and was taken from the Staples Center to a local hospital in an ambulance. A battery of tests -- including a CT scan -- revealed the clots. The Nets announced he would miss the remainder of the sesaon the following day.
"He could have gotten on the plane and he could have actually died," coach Lionel Hollins said at the time. "The good thing is (team trainer) Tim (Walsh) went with him, Tim made him do a CT scan and they found out about it."
Teletovic started working out three weeks ago. He said the only thing he can't do at this point is participate in any contact activity.
"It just feels unbelievable to be 100 percent breathing," Teletovic said in his first comments since the incident. "I've gone through a lot in my life, but I've always considered myself a fighter. I'm pretty lucky."
February, 28, 2015
Feb 28
11:21
PM ET
Associated Press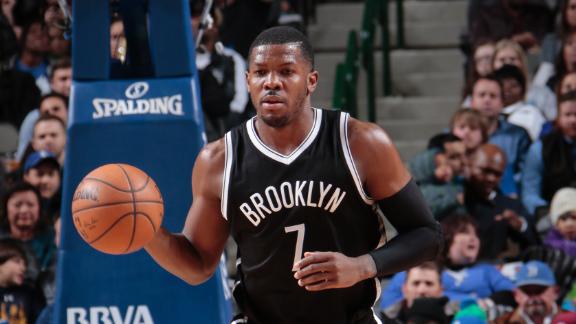 February, 27, 2015
Feb 27
10:56
PM ET
Associated Press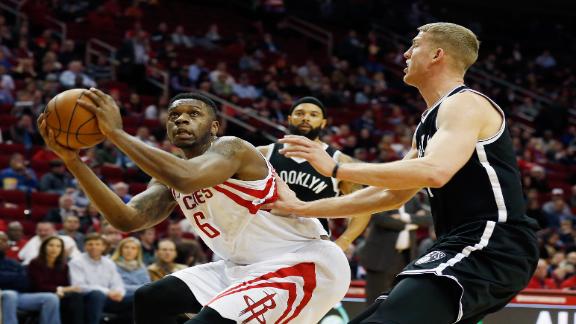 HOUSTON -- Terrence Jones scored a season-high 26 points, James Harden made the tiebreaking free throw with 43 seconds left and followed that with a jumper, and the Houston Rockets beat the Brooklyn Nets 102-98 on Friday night.
Harden, who played after spraining his right ankle on Wednesday night, shot just 4 for 15 for 15 points, but had 12 assists in a game where five Rockets scored in double figures.
The Rockets won their fourth straight overall and have defeated the Nets eight straight times in Houston.
Mason Plumlee and Deron Williams had 15 points apiece for the Nets.
The game was tied with 43.6 seconds left when rookie Markel Brown fouled Harden away from the ball before Houston got the ball in after a timeout, and he made the free throw.
February, 25, 2015
Feb 25
10:31
PM ET
Associated Press
NEW ORLEANS -- Quincy Pondexter scored a career-high 25 points and the New Orleans Pelicans won their third straight, 102-96 over the Brooklyn Nets on Wednesday night.
Pondexter surpassed his previous high of 22 points by hitting his fourth 3-pointer of the game with 49.9 seconds left to all but seal the victory by giving New Orleans an eight-point cushion.
Tyreke Evans had 15 points and 11 assists for the Pelicans, who won their second straight without All-Star Anthony Davis in the lineup. Omer Asik had 12 points and 13 rebounds. Dante Cunningham added 13 points, Norris Cole 11 and Alexis Ajinca 10 for the Pelicans, who overcame 20 turnovers by shooting 51.4 percent.
Joe Johnson scored 21 points and Thaddeus Young added 19 for Brooklyn.
February, 25, 2015
Feb 25
12:00
PM ET
We're chatting at 2 p.m. ET.


February, 24, 2015
Feb 24
7:14
PM ET
The Philadelphia 76ers have claimed Thomas Robinson off of waivers, scuttling plans he had to sign a 10-day contract with the Brooklyn Nets.
Robinson had lined up a 10-day contract agreement with Brooklyn, sources told ESPN.com, but he failed to clear waivers as the Sixers claimed him shortly after 5 p.m. ET. Robinson tweeted Monday his excitement about the likelihood of joining the Nets.
By claiming the 23-year-old forward, the Sixers went from $3.03 million under the salary floor to over it. Robinson makes nearly $3.7 million.
The Denver Nuggets, who had waived Robinson after acquiring him from Portland in a trade for Arron Afflalo, now are $2.6 million under the salary floor.
The salary floor requires that all teams spend $56.759 million -- or 90 percent of the salary cap -- on the date of their last regular-season game.
According to ESPN salary cap expert Larry Coon, "Teams with a team salary below the minimum are surcharged for their shortfall, with the money distributed among the players on that team."
The 6-foot-10 Robinson was one of three players -- Anthony Davis and Michael Kidd-Gilchrist being the others -- that the Nets coveted in the 2012 NBA draft.
February, 23, 2015
Feb 23
11:50
PM ET
Associated Press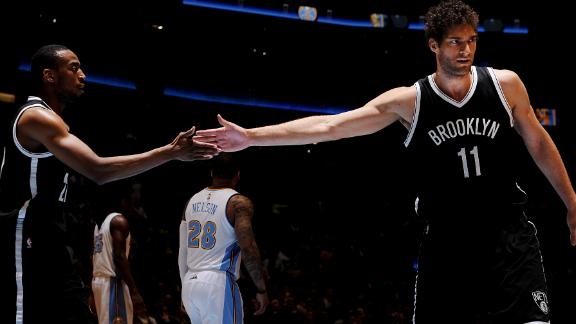 DENVER -- Brook Lopez led seven Nets players in double figures with 19 points, and Brooklyn won its second consecutive road game by beating the Denver Nuggets 110-82 on Monday night.
Deron Williams added 16 points and 12 assists, and Thaddeus Young scored 15 in another solid outing for the Nets since his acquisition last week from Minnesota in exchange for Kevin Garnett. Brooklyn, coming off a 114-105 win at the Los Angeles Lakers last Friday, won back-to-back road games for the first time since mid-January.
Danilo Gallinari had 22 points for the struggling Nuggets, who have lost 16 of 18 -- including seven in a row at home. It matches their longest losing streak at the Pepsi Center since also dropping seven straight from Feb. 6 to March 2, 2003.