October, 19, 2014
Oct 19
6:52
PM ET
By
Mike Mazzeo
| ESPNNewYork.com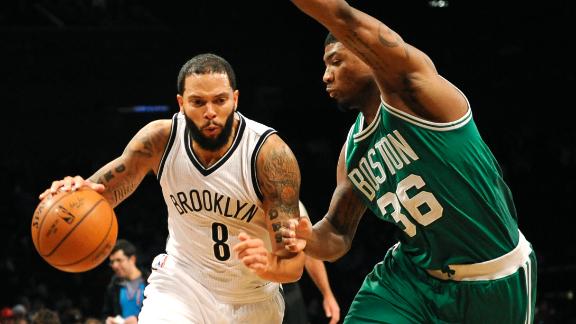 NEW YORK -- The Brooklyn Nets and Boston Celtics participated in an experimental, 44-minute preseason game on Sunday afternoon at Barclays Center.
The Celtics beat the Nets 95-90 in the game, which lasted 1 hour, 58 minutes -- approximately 15-30 minutes shorter than a standard, 48-minute game.
The teams played four 11-minute quarters as opposed to the usual 12 minutes, with two timeouts being eliminated from the game (the third mandatory timeout in the second and fourth quarters).
"You noticed it a little bit when you are subbing at the start of quarters, but I thought the flow with one less minute was actually a little bit better in the second and fourth," Celtics coach Brad Stevens said. "I didn't notice it other than that. When I am subbing and I'm looking at the clock and it's seven or six [minutes] on the clock, and I have to get myself back on that only five minutes has gone on if it says six on the clock. That is a little bit different, but I had it mapped out, so I kind of knew what I was going to do. I didn't notice it a whole lot, and I don't know how much impact it had on the game."
Nets coach Lionel Hollins said the game being four minutes shorter than usual didn't really have much of an impact.
"I looked up there and we were already to the first timeout [with 6:41 left in the first quarter]," Hollins said. "That was kinda surprising. That was the only time it seemed like it was quicker, but other than that, I didn't really notice."
Nets players agreed.
"I didn't notice a difference at all," shooting guard Joe Johnson said. "I think it's pretty much the same. If you're playing the same amount of minutes, it doesn't really matter."
October, 19, 2014
Oct 19
6:52
PM ET
By
Mike Mazzeo
| ESPNNewYork.com
NEW YORK -- Upon hearing that his coach had jokingly confused him for one of the best centers in NBA history, all
Jerome Jordan
could do was chuckle.
"Jerome who?" Lionel Hollins asked after Jordan had 17 points on 7-for-7 shooting in Sunday's preseason game against the
Boston Celtics
.
"I thought that was
Kareem Abdul-Jabbar
out there."
Jordan is trying to make the Brooklyn Nets' 15-man roster heading into the regular season.
So far, so good.
"I like the kid. I've had him before and I'm pulling for him [to make the team]," said Hollins, who had to cut Jordan when he was in camp with the
Memphis Grizzlies
in 2012. "But he's gotta earn it. He made a step in that direction tonight. He did what we asked, he scored more than we expected. But he was trying to guard the basket and he had a couple blocked shots. He played decent."
Jordan had a sweet spin-move in the post that led to a nice two-handed dunk, too.
"I think there's always room for improvement," Jordan said. "But I think I showed a little bit of everything on the defensive end, rebounding and blocking shots. I feel like if I get picked, those will be the things I'll do. I need to just keep doing that and whatever I can contribute on the offensive end would be a plus."
With
Brook Lopez
already dealing with another injury to his right foot and
Kevin Garnett
entering his 20th season, the Nets are likely going to be in need of some depth up front, which makes Jordan an intriguing option.
"I hope I had an equal shot by just coming here, trying to work hard in practice every day and hopefully the coaches see that and give me a chance," Jordan said.
Jordan, 28, has not been in the NBA since he was a member of the
New York Knicks
in 2011-12.
"It's been two years," he said. "I've grown a little bit. I have an opportunity here to play and show what I can do, so I'm trying to make the most of it."
October, 19, 2014
Oct 19
6:01
PM ET
Associated Press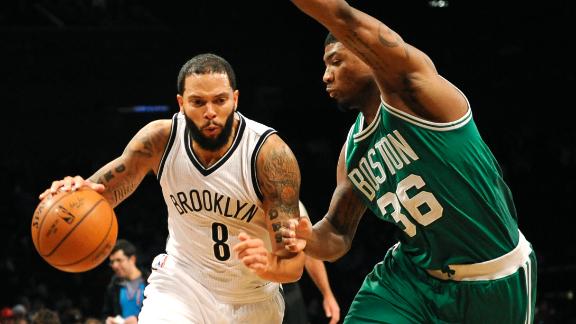 NEW YORK -- Jared Sullinger had 21 points and 19 rebounds to help the Boston Celtics beat the Brookyln Nets 95-90 on Sunday in an experimental 44-minute game.
Jeff Green added 14 points for Boston (4-3).
Backup point guard Jarrett Jack and reserve center Jerome Jordan each had 17 points for the Nets (2-1).
The idea of a shortened game arose during the NBA coaches' offseason meeting as a way to analyze and compare the flow of the game with that of the league-standard 48 minutes.
While an average game takes 2 hours, 15 minutes, the game Saturday took 1 hour, 58 minutes. Instead of the customary 12-minute quarters, Sunday's game featured four 11-minute periods along with a reduction of mandatory timeouts from three to two during the second and fourth quarters.
The opening quarter has played in 19 minutes, the second in 29 minutes, and the third and fourth in 25 minutes each.
Brooklyn power forward Kevin Garnett sat out against his former team because of a stomach virus.
October, 19, 2014
Oct 19
5:45
PM ET
The
Boston Celtics
and
Brooklyn Nets
played an experimental 44-minute preseason game on Sunday that featured 11-minute quarters and fewer mandatory timeouts. Aided by a breezy 19-minute first quarter, the game -- a 95-90 triumph by Boston -- finished in less than two hours, about 19 minutes faster than the league's standard 48-minute regular-season game.
Celtics coach Brad Stevens said he noticed the change midway through the quarters while preparing to sub -- and had to remind himself that, say, six minutes on the clock meant only five minutes elapsed instead of the usual six -- and it certainly chomped into the total number of minutes available for reserves. But Stevens suggested the most noticeable aspect may have been the improved flow of the game with one less mandatory timeout in both the second and fourth quarters.
How did Sunday's game compare to Boston's typical contest this exhibition season? Here's a closer look with times from the NBA's official gamebooks:
Ironically, Sunday's experimental game was no faster than Thursday's 48-minute game in Philadelphia. But it was still 12 minutes faster than the team's six-game average entering the tilt. Stevens has noted how, over the course of an 82-game season, that time saved would certainly add up for teams. He also pointed out how four fewer minutes per game essentially equates to 6.8 total games trimmed over the course of an 82-game schedule.
"You noticed it a little bit when you were subbing at the start of quarters, but I thought the flow with one less [timeout] was actually a little bit better in the second and fourth [quarters]," Stevens said after Sunday's game. "I didn't notice it other than that. When I am subbing and I'm looking at the clock and it's seven or six [minutes] on the clock, and I have to get myself back on that only five minutes has gone on if it says six on the clock. That is a little bit different, but I had it mapped out, so I kind of knew what I was going to do. I didn't notice it a whole lot, and I don't know how much impact it had on the game."
Reaction around the league to the Celtics-Nets experiment suggests that many would rather either (1) shorten the number of games in the exhibition and regular season or (2) simply spread the games out more, potentially trimming the exhibition season to aid that.
If nothing else, the league should investigate the impact of one fewer mandatory timeout in the even quarters as that could address the issue of flow without impacting the sanctity of the 48-minute game.
The players involved in Sunday's experiment suggested the effects were not particularly noticeable on the floor.
"When you are playing, you don't really think about it too much," Celtics forward
Jeff Green
said. "I didn't feel a difference at all."
The clock did mess with
Jared Sullinger
a bit.
"I looked up, I'm so used to seeing 12, so I looked up and saw it was like 5-something left on the clock," he said. "I was like, man, normally I come out around the 7-minute mark. And they were like, 'It's an 11-minute [quarter].' Then I was like, 'Oh, that explains everything.' So, it was kind of weird, four minutes less. I'm just happy we won."
[
Additional reading
:
C's + Nets play 44-minute game
]
October, 19, 2014
Oct 19
4:48
PM ET
[+] Enlarge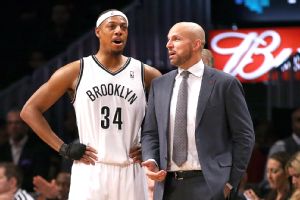 Al Bello/Getty ImagesPaul Pierce and Jason Kidd have both left Brooklyn for other teams.
NEW YORK -- A year ago, the Brooklyn Nets hired Jason Kidd and traded three first-round picks for Paul Pierce and Kevin Garnett with the sole goal of winning a championship.
This season, only Garnett remains in Brooklyn.
In his first trip back to New York as head coach of the Milwaukee Bucks, Kidd spoke about his departure from the Nets after just one season as Brooklyn's coach.
Kidd was granted permission to talk to the Bucks in June and then was subsequently traded for two second-round picks.
"Did I want to be traded?" said Kidd, whose Bucks play the Knicks at Madison Square Garden on Monday. "I think once [the Nets] OK'd the talk to Milwaukee, that just showed, whatever you want to call it, rumors or no rumors that they wanted to fire me in December had to have some legs."
Kidd was alluding to reports by ESPNNewYork.com and Yahoo! Sports about how management strongly considered making a coaching change last December when the Nets were in the midst of a 10-21 start but Russian ownership stuck with Kidd.
October, 19, 2014
Oct 19
1:25
PM ET
By
Mike Mazzeo
| ESPNNewYork.com
October, 18, 2014
Oct 18
8:00
PM ET
By
Mike Mazzeo
| ESPNNewYork.com
EAST RUTHERFORD, N.J. -- Sunday afternoon, the
Brooklyn Nets
and
Boston Celtics
will meet in a preseason game. But it won't be just any preseason game.
The Nets and Celtics will play
an experimental, 44-minute game
at Barclays Center -- four minutes shorter than the standard 48.
Instead of quarters being 12 minutes long, they'll run 11 minutes.
The idea, Nets coach Lionel Hollins said, emerged from offseason coaches meetings.
As the NBA looks to improve the flow of games and make them more conducive for television, which has given the league a massive cash infusion, there will be two mandatory timeouts per quarter. There are three mandatory timeouts in the second and fourth quarters of 48-minute games.

"It's not the only idea on the table. This is one that [
Dallas Mavericks
coach] Rick [Carlisle] brought to the table, and it sounded good, so why not give it a try?" Hollins said Friday. "So [Celtics coach] Brad Stevens and myself, because we were playing back-to-backs, thought it might be a good idea to give the league some data, and they agreed to it."
Asked what type of impact it will have, Hollins joked, "I'll have four less minutes to holler and scream."
Decreasing 82 games by four minutes each will result in 328 fewer minutes per season -- which amounts to nearly seven games.
But will that even matter?
"The misnomer is that the game is gonna change drastically," Hollins said. "The reality is that the starters are still gonna play their minutes, and the guys that come off the bench will probably play less minutes, because there's four less minutes to be had, that's all."
For their careers, Nets starting guards
Joe Johnson
(36.3) and
Deron Williams
(35.5) have averaged plenty of minutes. If they continue to play that many minutes, it would leave room for about 16 backcourt minutes for the team's reserve guards, instead of 24.
"I don't really know what that does. One minute less per quarter, I don't see that impacting much of a season," Williams said. "We'll see how it goes. They want to try it, and we're the guinea pigs."
Some players would prefer fewer games, but that may not be realistic, as fewer games means less money in the owners' pockets.
"There are so many more back-to-backs and in-and-out travel, which wears on a player as much as playing 82 games," Hollins said. "I don't see 82 games being changed. At least in my lifetime."
Since moving to Brooklyn in 2012-13, the Nets have had to play 43 sets of back-to-back games. Last season, the veteran-laden team finished with a paltry 6-14 mark in the second game of back-to-backs. The Nets will play 19 back-to-back sets this season.
"A lot of back-to-backs, four games in five nights. Those things are tough," Williams said. "They're tough on your body."
During the lockout-shortened, 66-game 2011-12 campaign, the Nets lost a whopping 250 manpower games because of injury. Many players were thrown off their customary training routines as a result of a lengthy work stoppage, and to get all the games in in a very finite period of time, the league instituted dreaded back-to-back-to-backs. The hope, of course, is that something like that never happens again.
And then there's the whole stats thing. Does it go from PER 36 to PER 33? That's only the start, too ...
So will this 44-minute thing ever happen?
"It's not close to being something that's going to happen," Hollins said, "but it's one more piece of information for the competition committee to have to have to say if they want to go further and look at it further, then go and do it in the D-League."
October, 18, 2014
Oct 18
1:46
PM ET
By
Mike Mazzeo
| ESPNNewYork.com
EAST RUTHERFORD, N.J. -- Now in his third preseason with the
Brooklyn Nets
, stretch forward
Mirza Teletovic
looks much more comfortable and confident.
"I think everything in life is experience," Teletovic said Saturday. "Year to year, if you keep playing for a team, you always understand more. You're gonna learn more, and for me I really feel comfortable -- especially because I've been playing now for three years with Joe [Johnson], with Deron [Williams], with Brook [Lopez]. And KG [
Kevin Garnett
] this is my second year with him. They really make it easy for me, they talk to me, they have a lot of experience, so whatever I have trouble with I can ask them. And Coach [Lionel] Hollins is unbelievable. I talk to him every time and if I make a mistake, he tells me, 'You did it now but just try to get better at it.'"
[+] Enlarge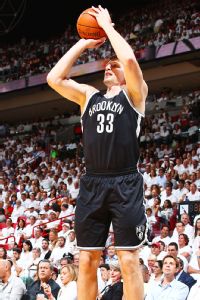 Nathaniel S. Butler/NBAE/Getty ImagesMirza Teletovic admits it was tough adjusting to the NBA's longer 3-point line.
Starting in place of Garnett (rest), Teletovic went 6-for-9 from 3-point range and scored 22 points Wednesday in Beijing. And with Lopez out and Garnett questionable (stomach virus), he's likely to start again Sunday against Boston -- this time, assuming Garnett doesn't play, alongside
Mason Plumlee
.
"In the [motion] system we're playing I get a lot of open shots, I get a chance to drive and post-up. I really can give a lot of my game," Teletovic said, noting he really enjoys all the ball movement on offense.
"This year, the whole team, the coaching staff and just everybody around has been positive and it makes for a comfortable environment for me."
Teletovic said his first year in the NBA was "tough," and has been helping rookie
Bojan Bogdanovic
adjust to the transition from Europe.
"I try to help him out as much as I can," Teletovic said. "He's adjusted pretty well."
Bogdanovic has talked about how it's tough getting comfortable with the NBA's longer 3-point line.
Said Teletovic: "There is different zones of comfortable. There is a 'fun comfortable' zone that I feel right now because I've been here for three years and I've kind of been shooting a lot and I now know when I get tired how much energy I have to give when I want to shoot.
"Bojan still has to set those rules for himself how to shoot. Once he's started -- and we've talked about it -- here from the corners in the NBA the distance is pretty much shorter, so it's easier to shoot it when you're tired from the corners."
Joked Teletovic, when you're tired, "Just go to the corner."
Teletovic knows he needs to improve his rebounding.
"I think rebounding -- same [as] defense -- it's just something if you have your mindset right, if you say, 'I'm gonna go get the rebound,' you're gonna go get it. So I really try to have my mind set on rebounding this year. I think I've improved a bit, and I know once the season starts I need to improve, because I know this team needs me to rebound.
• Plumlee also had a big game Wednesday, scoring 18 points and grabbing five rebounds. Hollins liked the second-year big man's aggressiveness and rebounding.
"He's gotten better. It's a confidence thing," Hollins said. "It's knowing that he has the talent to do it and then believing that he has the talent to do it. That's what's important, and he's getting touches in the post. He had a big game and he had a big overtime in China. We just want to see him continue to grow."
• When asked if Garnett would sit against the Celtics, Hollins said, "Probably. I don't know. We'll see. But even if he goes, he's probably not gonna play that much." Garnett has missed the past two practices with the stomach virus.
October, 17, 2014
Oct 17
4:31
PM ET
By
Mike Mazzeo
| ESPNNewYork.com
EAST RUTHERFORD, N.J. --
Brooklyn Nets
coach Lionel Hollins said that with
Brook Lopez
out, he will probably start
Mirza Teletovic
alongside
Kevin Garnett
in the frontcourt.
The Nets used
Mason Plumlee
with the starters during Friday's practice because Garnett was held out due to a stomach virus.
Teletovic scored 22 points -- including six 3-pointers -- in Wednesday's preseason game, and has looked very confident shooting the ball. Plumlee has tried to expand his post game in the offseason, and showed off a couple new back-to-the-basket moves against the Kings.
Deron Williams
said the Nets could look to post
Joe Johnson
and himself up as well.
• Lopez did suffer his mild right mid-foot sprain on this play I posted via Vine early Friday morning:
Believe this is Brook Lopez's midfoot sprain injury here #Nets https://t.co/QoXXvOmjbB

— Mike Mazzeo (@MazzESPN) October 17, 2014
• Nets GM
Billy King
is optimistic despite Lopez's lengthy history of foot injuries.
"It is what it is. Whatever happens, I think you've always got to look at it from a standpoint that the glass is always half-full," King said. "I never look at things -- even when he had other injuries before this -- like the sky was falling. That's why you have a team sport."
• Hollins on the team's upcoming Sunday-Monday back-to-back: "I probably won't play our main guys (starters) in both games at the same time." He also said he expects all the players to fly to Boston for next Wednesday's preseason finale, "but I don't know if everybody will play."
October, 16, 2014
Oct 16
9:15
PM ET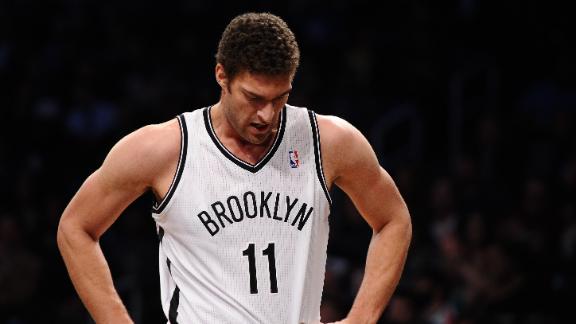 Brook Lopez likely will be out 10 to 14 days with what sources are calling a "soft tissue" injury in his surgically repaired right foot.
The Brooklyn Nets confirmed Thursday that their All-Star center did not suffer a fracture to the foot, labeling the injury "a mild right midfoot sprain." But if Lopez needs more than 10 days to recover, his status for the season opener at Boston on Oct. 29 could be in doubt.
Lopez injured himself with 33.6 seconds left in the first when he was guarding Sacramento Kings point guard Darren Collison. Collison stepped on Lopez's foot, sending the 7-footer falling to the ground. Lopez remained in the game.
He told the training staff his foot felt sore, and tests were completed after the team arrived home from China. Lopez also suffered a midfoot sprain Nov. 28, 2012, and returned to the lineup Dec. 14, 2012, missing seven games.
"X-ray and CT scan studies done Thursday in New York reveal no fractures or bone injuries," Nets medical director Dr. Riley Williams III said in a statement. "Brook has been diagnosed with a mild midfoot sprain and is likely to be out for approximately 10-14 days."
Nets general manager Billy King said he is not concerned about the injury "because it's not broken."
King was asked why Lopez hasn't been put on a minutes restriction.
"You can't put him in a bubble, it's basketball," he said. "He's going to play."
Lopez was in good spirits after learning his foot was not fractured.
"I was nervous thinking about it on the [14-hour] flight," Lopez said. "It was good news."
King isn't concerned if Lopez misses the regular-season opener.
October, 16, 2014
Oct 16
12:00
PM ET
By
woodss
| ESPNNewYork.com
October, 16, 2014
Oct 16
10:00
AM ET
By
Mike Mazzeo
| ESPNNewYork.com
This season's ESPN Insider Rankings have the
Brooklyn Nets
finishing second in the Atlantic Division and eighth in the Eastern Conference with a 40-42 record.
SCHOENE, which correctly predicted the New York Knicks' record in 2013-14 -- 37-45 --
projects the Nets to go 36-46
.
The main reason for these projections? The presumed unlikelihood of the Nets staying healthy based on what has happened in the past. Totally fair.
Brook Lopez
(foot/ankle) and
Deron Williams
(ankles) are both coming off offseason surgery.
Kevin Garnett
and
Andrei Kirilenko
have both dealt with their share of injuries as well.
What do we see? For what it's worth, Lopez (26) and Williams (30) look healthy and productive so far during the preseason. Ditto Garnett (38) and Kirilenko (33).
Joe Johnson
(33) slimmed down over the summer.
Will going from first-year coach Jason Kidd to veteran Lionel Hollins be an upgrade? Could be. Could be. The leadership and versatility that
Paul Pierce
and
Shaun Livingston
brought to the table will be missed.
So far, the Nets look like they're going to thrive in a flex/motion offensive system. They've got so many scorers, so many shooters.
Bojan Bogdanovic
and
Mirza Teletovic
have really impressed in those areas thus far.
Jarrett Jack
and
Mason Plumlee
figure to be assets off the bench.
Can the Nets be a top-4 team in the East? If they stay healthy and rebound and defend better than expected, sure. We don't think that's completely out of the question at all.
So, if we think about it, Brooklyn projects as a top-half-of-the-East team at best and a playoff-less team at worst. Perhaps the right projection puts them somewhere in the middle -- a playoff team that figures to be in the mix with Toronto, Washington, Miami and Charlotte, behind Cleveland and Chicago.
Seems reasonable. If they stay healthy. Either way, the regular season can't get here soon enough.
October, 15, 2014
Oct 15
7:35
PM ET
PORTLAND, Maine --
Boston Celtics
coach Brad Stevens said the idea to test out a 44-minute game blossomed recently at the NBA coaches' meeting and the second-year coach was eager to experiment in a preseason setting.
The league announced Tuesday that the Celtics and
Brooklyn Nets
will play a
44-minute game
on Sunday that will trim one minute per quarter and two mandatory timeouts per game from the typical game structure.
"I'm just interested in experiencing it," Stevens said. "We were in our coaches' meeting and we brought it up briefly in the coaches-only meeting, then we met with everybody else in the NBA. [Nets coach] Lionel [Hollins] and I talked a little bit about it, and we both said, 'Hey, we're playing three straight times,' it's something that, if we're both interested in doing it, why not try it?"
The Celtics and Nets play three times in the span of 11 days later this month. Boston's final two exhibition games are against Brooklyn (Sunday and Wednesday) and the Nets return to TD Garden for the season opener on Oct. 29.
"One of the neat parts about being in the NBA is they are very forward-thinking," Stevens said. "I think one of the frustrations about being involved in any major industry is how slow change can happen. But I'm really encouraged because the NBA seems to be really quick to try things and to see if it works. To be in that experimental game is going to be a neat experience for our guys."
Stevens was quick to point out that shaving four minutes off each 48-minute game would essentially eliminate 6.8 games worth of time over the course of a regular season. Stevens estimated that by eliminating four minutes of game time -- and approximately 15 minutes of actual game time with the elimination of two TV timeouts -- a team might save around 12-13 hours of time over the course of the season.
The negatives?
"The only con that I can think of would be how it affects the rotation players," said Stevens. "Obviously, you can play guys however many minutes, [but] nobody in the league averages 44 minutes per game. So you can play your best players the same amount of time. And does that affect your [sixth through 10th] guys? That would be my only con that I can really think of. It would also have to be done with the idea and consideration in mind of having enough advertising time, and the timeouts, and the flow of the game and those type of things."
Inside the Celtics' locker room, fifth-year guard
Avery Bradley
was curious about how the timeout stoppages would change and the potential effects on game play. But he also admitted it was unlikely to change a player's mindset when he is on the floor. Regardless, he's excited to be part of the test.
"I think it's very cool," Bradley said. "Whenever you are a part of something new -- the jerseys or anything -- it's just pretty cool to be a part of it. I'm sure Brooklyn thinks it's pretty cool, too."
Across the locker room, second-year center
Kelly Olynyk
was even more matter-of-fact when asked about the experiment.
"[The game will] be shorter and less timeouts," he cracked.
Turning more serious, he admitted it could have an adverse affect on rotation players whose minutes could erode if starters maintained typical minutes, but said that was for coaches to determine.