November, 24, 2014
Nov 24
9:00
AM ET
By
Mike Mazzeo
| ESPNNewYork.com
Here is
Deron Williams
, healthy for the first time in years, making an impact at both ends of the floor.
And here are the
Brooklyn Nets
, on their fourth coach in three seasons, off to yet another slow start, 0-fer against quality opponents, trying to figure out who they are and what kind of team they want to be.
In these parts, it's become a tradition, this sort of identity crisis, an annual ordeal.
That's not the case in San Antonio, site of Brooklyn's latest loss, where stability reigns and continuity is key.
[+] Enlarge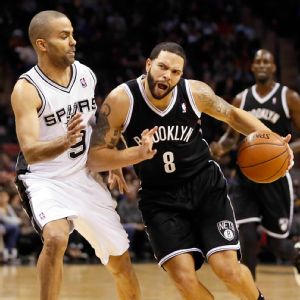 Soobum Im/USA TODAY SportsDeron Williams says the Spurs are a team to envy "because they've had a system, they've had a coach, they've pretty much had the same group of guys for a long time."
Gregg Popovich. R.C. Buford.
Tim Duncan
.
Tony Parker
.
Manu Ginobili
.
It feels like those guys have been there forever.
"It's a team you envy because they've had a system, they've had a coach, they've pretty much had the same group of guys for a long time," Williams told reporters Saturday night after the Nets fell to the Spurs 99-87. "And you can just tell they're comfortable playing with each other. We haven't had that luxury. We're trying to get to that eventually."
In many ways, the Nets have already tried to emulate the Spurs. At one point, their coaching staff consisted of Avery Johnson, P.J. Carlesimo and Mario Elie -- three Popovich disciples. But their tenures did not last long.
Johnson was fired 28 games into his third season and replaced with Carlesimo, who guided the Nets to a 35-19 record only to be let go after the team was bounced in the first round of the playoffs.
In came the best player in franchise history: Jason Kidd. He made it through one season and two playoff rounds, making a failed power play and going through a messy divorce with GM Billy King, who has presided over all these coaching changes (and has
a history of changing coaches
) before departing for Milwaukee.
Veteran Lionel Hollins is here now, and the hope is that he's here for the long haul.
Popovich became the coach of the Spurs 18 games into the 1996-97 season. San Antonio went 17-47 from there. Their reward: the No. 1 pick in the 1997 NBA draft and Duncan.
Over the next 17 seasons, the Spurs have won five championships and haven't missed the playoffs.
They are the pinnacle of small-market success, a model of consistency, an organization that drafts well and makes wise decisions. International cornerstones Parker and Ginobili were plucked later in the draft.
Kawhi Leonard
, 23, the 2014 Finals MVP, was acquired on draft night in 2011 in exchange for
George Hill
, another late draft pick of the Spurs.
The Nets went 12-70 in 2009-10.
Brook Lopez
, who has never played for another organization and is the longest-tenured player in Brooklyn, was on that roster. Russian billionaire Mikhail Prokhorov officially became majority owner after the season, promising a championship by 2015.
Heck with a rebuild. They were going to be a big-market team playing in the biggest market in the world. The search for stars was on.
Trades by King for Williams,
Gerald Wallace
,
Joe Johnson
,
Kevin Garnett
and
Paul Pierce
(he also tried to land
Carmelo Anthony
and
Dwight Howard
to no avail) cost first-round draft picks (that were or became)
Derrick Favors
,
Enes Kanter
,
Damian Lillard
,
Shane Larkin
and
Gorgui Dieng
. The
Atlanta Hawks
have the right to swap first-rounders with the Nets this season (Johnson trade). The
Boston Celtics
own Brooklyn's unprotected firsts in 2016 and 2018 (Garnett/Pierce trade). They can also swap firsts with the Nets in 2017.
Since moving to Brooklyn in 2012, the Nets have spent $187.6 million on player salaries and $118.6 million on luxury taxes. Add in this season's projections and those numbers rise to $281.6 million and $154.2 million. That's $435.8 million! Only Williams, Johnson, Lopez and
Mirza Teletovic
have been on the roster over that span. Only Johnson has been a mainstay due to injury or, in the case of Teletovic, inexperience.
The Spurs, on the other hand, do not have a single player on their roster making max money. Parker is their highest-paid player. He will make $12.5 million in 2014-15.
This is the price of relevancy, a regularly sold-out Barclays Center and a 1-2 record in playoff series. Is it better than the alternative? Depends on whom you ask. The Nets lost $144 million in basketball-related business last season, according to Grantland, causing them to curtail their spending (relative only to their past precedent) in 2014-15.
And what does the future hold? What is Brooklyn's plan? The Nets are expected to be armed with a ton of cap space in the summer of 2016, but will that, along with a beautiful new waterfront practice facility, be enough to convince the likes of
Kevin Durant
to take their max dollars? What is the rest of the roster going to look like?
Bojan Bogdanovic
and Teletovic seem like attractive pieces. What else?
The Spurs are everything the Nets want to be. They have the ideal culture and cast of characters. Roles are clearly defined. If there is ego in San Antonio, it cannot be seen. Its offense is like poetry in motion, its defense ready and willing to get stops seemingly on every possession.
The Nets remain a work in progress, a cast of highly paid individuals in need of an identity (as well as some rebounding, defense and athleticism). If history is any indication, they will turn things around in 2015.
Then what?
If the Nets really want to be like the Spurs, they have their work cut out for them.