Brooklyn Nets:

Atlantic Division
March, 30, 2015
Mar 30
5:15
PM ET
EAST RUTHERFORD, N.J. -- They certainly have had their differences this season, but Brooklyn Nets coach Lionel Hollins was adamant that he wants center Brook Lopez back next season.
Lopez, 26, can opt out of the final year of his contract ($16.7 million in 2015-16) and become a free agent at season's end.
"I don't worry about whether he's going to be a free agent, whether he's going to be back, or anything like that," Hollins said Monday. "Obviously, I'd like for him to be back. I hope he's going to be back. But those decisions are not mine, and I don't worry about it."
Hollins then became agitated when pressed further about his say in Lopez's future.
"I just said I want him back. How many damn times do I have to say that? Damn!" Hollins said. "I want him back. I want him back. I want him back. OK, everybody got it? I want him back. I want him back. But it's still his call."
The coach's point was that it's up to the 7-footer and his agent whether to opt out. Hollins also noted that general manager Billy King and ownership are ahead of him in the personnel decision-making pecking order.
"That's always out of my control," Hollins said. "I can say I want him back all I want. If some team's offered him $25 million a year -- and we say as an organization they don't want to pay that -- that's not my call. So I have no control of that."
Lopez, who on Monday was named Eastern Conference Player of the Week for the first time in his career, reiterated that he has not given much thought to his future. He could elect for free agency this summer or wait until next season, when the NBA's national TV deal kicks in and team salary caps could increase to $90 million.
Hollins and Lopez have clashed in practices and games, with Hollins criticizing Lopez in the media. The Nets were unsuccessful in their quest to try and trade the veteran big man, who has recently emerged as far-and-away the team's most potent offensive player.
In the past week Lopez is averaging 28.8 points, 8.5 rebounds and 2.3 blocks while leading the Nets (32-40) to a 3-1 record. Brooklyn is now in the eighth and final playoff spot in the East after winning a season-high three straight games and seven of its past nine.
Lopez, who was coming off offseason foot and ankle surgery, got off to a slow start. He then dealt with injury and was brought back slowly off the bench. He seemed uncomfortable in the team's new system. Hollins said a talk with Lopez prior to the team's Dec. 2 game against the New York Knicks changed things.
"For me, I understood that he wasn't going to be a dominant post-up player, and that we had to play differently with him to be effective," Hollins said. "I just told him, 'I'm not going to try to make you somebody you're not, just be who you are.'"
Trade-deadline acquisition Thaddeus Young, who is averaging 13.6 points and 5.1 rebounds a game with the Nets, has also helped ease Lopez's burden.
"I think it's the way we're running offense, and he's around the basket a lot more," Hollins said. "He's not taking as many jump shots as he used to, and either we're running a power forward in the pick-and-roll and he's down low -- we're not spreading him out anymore -- and when he's in the pick-and-roll, he's in the paint. So if somebody else shoots, he's more near the glass -- and that's key to getting offensive rebounds, being around the glass."
In 42 games before the All-Star break, Lopez averaged 15.3 points and 6.2 rebounds (4.1 defensive) while shooting 50.2 percent from the field. In 20 games after the break, he's averaging 19.3 points and 9.1 rebounds (4.9 defensive) while shooting 51.3 percent.
Injury update: Young (knee strain) is questionable for Tuesday's game against Indiana. Point guard Deron Williams (illness) was not at the team's shooting/film session Monday, and it's unknown if he'll play.
March, 11, 2014
3/11/14
12:11
AM ET
NEW YORK -- There was no need for a conversation.
Jason Kidd seemed certain
Paul Pierce
was going to miss Monday night's game against the
Toronto Raptors
due to a sore right shoulder. But the 36-year-old veteran told his coach otherwise.
In Pierce's mind, there was never any doubt. Given what was at stake, he was going to play.
"I told [Kidd], 'I'm playing.' It's as simple as that," Pierce said. "He asked me, and I told him, 'Yeah. I'm in.'
"I knew the implications of this game. Maybe if it was a different type of game [I would have sat out], but this was one of our biggest games of the year against a division rival. There was a lot on the line, so you can always pencil me into those types of games."
Then, as he has done many times throughout his career, Pierce made the big shot in the big moment.
[+] Enlarge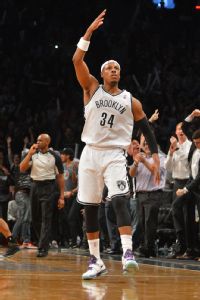 Jesse D. Garrabrant/NBAE/Getty ImagesPaul Pierce's clutch play helped the Nets gain a game on the Atlantic-leading Raptors.
And just like that, the
Brooklyn Nets
are right back in the thick of it in the race for the Atlantic Division title.
With 1:14 remaining and the shot clock winding down, Pierce snapped a 94-all tie with a 3-pointer from the right wing, and the Nets went on to squeak by the Raptors 101-97 in front of a raucous sellout crowd at Barclays Center that provided a playoff-caliber atmosphere.
"I said it before, he's a competitor," Kidd said of Pierce. "No matter what position he plays, no matter what his health condition is, he's out there trying to help the team -- and he was big tonight."
The Nets (32-30) now have won eight straight games at home and moved within three games of the Raptors (35-27) in the division standings with 20 games remaining.
Brooklyn and Toronto split their season series at two wins apiece, but the Raptors hold the second tiebreaker by virtue of their 8-3 record against the Atlantic compared to the Nets' 7-5 mark versus division foes.
Still, there is hope -- hope that probably wouldn't have existed had they lost Monday night.
"It was big," said Pierce, who scored 10 of his 15 points in the fourth quarter. "I was telling the guys before the game, if we lose this game, there's probably no chance we have a chance to win the Atlantic Division. ... So it was a huge game knowing that we still have a chance to win the division and still have a chance to move up as a seed. Plus, this could be a team we could face in the first round."
Remember when Pierce looked stunned as he sat at the podium after being traded?
Seems like ages ago. Throughout the final period, he was fired up, encouraging the 17,351 fans in attendance as they encouraged him.
Pierce's heart might always be in Boston -- the place where he spent the first 15 years of his career -- but Monday night his mind was in Brooklyn, clearly focused on the task at hand.
"It was unbelievable, man," Pierce said of the atmosphere. "Now we know. You Brooklyn fans, you can't go below that anymore. That's the expectation. Our crowd was unbelievable tonight. That's probably the best I've heard all year. It was a playoff atmosphere; they were in it from start to finish. And I really feed off those types of crowds, it brings energy, it brings momentum to your ballclub and we love it."
The Nets went into Monday night's game knowing they wouldn't have
Andrei Kirilenko
(sprained right ankle). And just minutes before tipoff,
Kevin Garnett
was scratched from the lineup, his back having tightened up. But Brooklyn was able to prevail despite falling behind by as many as 12 in the first quarter and losing a 13-point lead in the third.
Deron Williams
scored 12 of his 18 points in the second half, while
Shaun Livingston
also scored 18 points and came up with a huge steal with 25 seconds left.
Joe Johnson
added 14 points, while
Alan Anderson
came off the bench to notch 11. The Nets shot 48.6 percent from the field and finished 11-for-20 from 3-point range after starting 1-for-7.
They turned 16 Toronto turnovers into 18 points and were outrebounded only 37-30, which is quite good for them. Kidd decided to play
Mason Plumlee
and
Andray Blatche
at the same time -- something he never does -- in order to negate the Raptors' size advantage. And it worked. Sorta.
"We tried to battle back," Williams said. "We didn't start off the game well. Our defense was nonexistent, and they were kind of getting whatever they wanted in that first quarter; pick-and-rolls were hurting us. We made some adjustments, really just played a little harder, gave more effort, and I think that was the difference in the second half."
The Nets wanted to win Monday night's game because they felt like they gave away their latest loss to the Raptors on Jan. 27, when Williams had two turnovers in the final minute, which resulted in a 104-103 defeat.
"It was big," Plumlee said. "Just how we gave the game away last time, and that's what we did, we gave it away. We've played them close every time. It could be a potential matchup in the playoffs, so it was big for us to set a tone."
Pierce described his game-winning shot.
"I drove the ball at first, found D-Will, and I actually thought he had a shot," Pierce said. "Once he drove again, I just flared out to the 3-point line, so saw the shot clock winding down and I was able to make the shot off his penetration."
Just how has he been able to make the big shot in the big moment again and again?
"I think it's just confidence. I've been that way since I was 2 years old," Pierce joked. "I remember my first game winner at 8 months old, so it just grew from there."
March, 10, 2014
3/10/14
10:15
PM ET
NEW YORK -- What a game. What a playoff-like atmosphere.
Although Jason Kidd didn't expect
Paul Pierce
to play on Monday night, Pierce told his coach he was suiting up -- and it's a good thing he did.
Pierce snapped a 94-all tie by hitting a 3-pointer with 1:14 left, and the
Brooklyn Nets
won their eighth straight home game 101-97 over the Atlantic Division-leading
Toronto Raptors
at Barclays Center.
Shaun Livingston
came up with a steal with 25 seconds remaining to preserve the win.
Kyle Lowry
had a chance to tie the game, but he missed a 3 with 10 seconds left.
What it means:
The Nets (32-30) trail the Raptors (35-27) by just three games in the standings with 20 games remaining. The season series ends tied up at 2-2, which means if the two teams are tied in the standings at the end of the season, the tiebreaker would be division record: Toronto is currently 8-3, Brooklyn is 7-5.
Deron Williams
was sensational, shaking off a slow start to pour in 18 points -- 12 in the second half.
Livingston also had 18 points, while Pierce had 10 of his 15 points in the fourth quarter.
Joe Johnson
had 14 points, while
Alan Anderson
chipped in 11 off the bench.
The Nets shot 48.6 percent from the field and finished 11-for-20 from 3-point range after a 1-for-7 start.
Game of runs:
Williams and Johnson gave the Nets a 13-point lead in the third when they knocked down four consecutive 3-pointers, encompassing a 12-0 run. The Raptors countered with an 11-0 run of their own, but
Marcus Thornton
drained a 3-pointer and the Nets led 78-73 heading into the fourth.
Brooklyn trailed by as many as 12 early -- falling behind 30-19 after the first quarter. But the Nets outscored the Raptors 31-21 in the second, and it was 51-50 Toronto at the half.
Walking wounded:
The Nets were without
Kevin Garnett
and
Andrei Kirilenko
. Garnett was expected to return but was scratched just minutes before tipoff. He has missed six straight games due to back spasms. Kirilenko was out with a sprained right ankle.
Up next:
The Nets face the two-time defending champion
Miami Heat
on Wednesday night at American Airlines Arena
October, 20, 2013
10/20/13
2:54
PM ET
NEW YORK --
Brooklyn Nets
point guard
Deron Williams
, riding a stationary bike prior to Sunday's open practice at Barclays Center, expressed his frustration over not being fully healthy.
Williams is still recovering from a sprained right ankle he suffered during an offseason workout in Utah. He has been limited in practice and has yet to play in a preseason game.
There is no definitive timetable for his return.
"It's frustrating having to sit out, frustrating having to watch them play games in the preseason. Really, practice, practice has been fun to watch; but also frustrating to watch because I can't be out there," Williams said.
"They've had a lot of battles out there, a lot of great practices and I want to be a part of them. So at times I feel like I'm not part of this team right now because I'm not out there, I want to be a part of this team when I am practicing."
Williams said his goal is still to play in the team's regular-season opener on Oct. 30.
Whether he does, however, remains to be seen. He figures he'll need to participate in a full contact-practice and perhaps do some scrimmaging before he does.
"I would think you'd have to do that, so when that happens I'll let you guys know," he said.
Williams is concerned about getting acclimated to coach Jason Kidd's system.
"I still got my iPad loaded with plays, defensive schemes, so I'm definitely comfortable," he said. "I've been doing a lot of 5-on-0 stuff I just haven't been doing 5-on-5. I have a pretty good feel, stuff that San Antonio ran and the Mavs ran. I know most of the NBA playbook; it's a matter of getting comfortable with the guys."
Williams told reporters that he appreciates their concern for his health. He said that four times.
Answering repeated questions about your status cannot be fun. Until there are definitive answers as to when he'll be back -- even participating in a full-contact practice -- those questions are going to continue on a daily basis.
"Every day its getting better," Williams said. "We're just being really pre-cautious. Even KG [
Kevin Garnett
] and Paul [Pierce] know how much I want to get out on the court right now. But I'm just listening to everybody's advice and making sure I'm 110 percent and there's not going to be any lingering effects. I [don't want to] go out here and tweak my ankle and I'm set back another month. I don't want to do that. That's what we're doing right now."
March, 19, 2013
3/19/13
6:54
PM ET
The Nets are a game behind the first-place Knicks in the Atlantic with 15 games to play.
Will Brooklyn overtake New York to claim the division crown?
Cast your vote in this week's Hot Button.
March, 16, 2013
3/16/13
6:23
PM ET
EAST RUTHERFORD, N.J. --
Andray Blatche
will be a free agent at season's end, but the 26-year-old backup center wants to remain a Brooklyn Net.
"Most definitely. I love it here," Blatche told ESPN NewYork.com on Saturday. "We've got a great team here, a great staff. The fans are crazy. I mean, everything about this organization is great, so hopefully I can come back.
"I feel like this is my new home, now, really. I feel comfortable with everything that's going on."
[+] Enlarge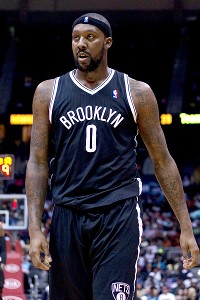 Joshua S. Kelly/USA TODAY SportsAndray Blatche is averaging 10.1 points and 5.2 rebounds in less than 20 minutes per game.
Bringing Blatche back might be difficult for the Nets, however, given that they're over the salary cap and don't have his Bird Rights.
The most Brooklyn could offer Blatche is the "mini" (taxpayer) midlevel exception, worth approximately $9 million over three years. They could also offer him a one-year deal for 120 percent of the veteran's minimum and hope that he takes it so they could use their mini mid-level to bring in another player. (Fan site Netsdaily does a phenomenal job of
breaking down the details here
).
The good news for the Nets, though, is that the
Washington Wizards
, who amnestied Blatche, still owe him $16.3 million over the next two seasons, which means he doesn't necessarily have to break the bank.
"When I become a free agent, I'm going to call (GM)
Billy King
and say, 'Billy, listen man, I need 100 million to keep me here,'" Blatche joked. "But seriously, I'm going to call my agent and see what's best for me and my family.
"Money's not the (biggest thing). It's more I just want to go somewhere where I can play. I want to play as many minutes as possible."
Blatche, who inked a one-year, non-guaranteed contract in the offseason, is having the most efficient season of his career. In 18.9 minutes per game, he's averaging 10.1 points and 5.2 rebounds and is shooting 50.1 percent from the field. Blatche also ranks 14th in Player Efficiency Rating (PER).
Blatche believes he can still be an NBA starter.
"Most definitely. I was a starter not too long ago," he said. "I just had a bad year, bad circumstances and I let it slip away, but I still feel in my heart that, yeah, I can still be a starter in this league."
Blatche doesn't lack confidence, that's for sure.
"I'm one of the top bigs in this league. I really believe that," he said.
Blatche's go-to offensive move is one that has driven many of his coaches crazy.
"A straight 'snatchback,' that's it," Blatche said. "You get the ball, go hard right, and then snatch it back with the behind-the-back. Then you take a fadeaway. It works every time."
"P.J. (Carlesimo) didn't like it for a little bit, but who didn't like it the most? I want to say somebody couldn't stand it. Randy Wittman. He couldn't stand it. But it's part of my game, and I gotta do what I gotta do."
Why is the 6-11 Blatche so good at creating off the dribble?
"I used to play guard and forward a lot like in high school, middle school growing up," he said. "I wasn't always this tall. It stuck with me from there."
October, 5, 2012
10/05/12
7:00
AM ET
By
Mika Mazzeo
| ESPNNewYork.com
Every weekday throughout the season, ESPNNewYork.com will tackle a burning question about the Nets in our "Opening Tip" segment.
Today's Burning Question:
Is the Atlantic Division the toughest division in the NBA?

The last time the
Boston Celtics
didn't win the Atlantic Division?
Try 2006-07.
Since then, the Celtics have captured five consecutive division titles, winning a ridiculous 69.3 percent of their games over that span (273-121).
During Boston's five-year reign, only two other teams in the division have finished over .500: The 2010-11 Knicks (42-40) and the 2011-12 Knicks (36-30); and the 2011-12 Sixers (35-31).

That is expected to change this season.
On paper, the Celtics, Knicks, Nets and Sixers should all finish over .500 and qualify for the playoffs, while the Raptors could surprise. Yes, the Atlantic, for years considered the NBA's weakest division, could be its strongest in 2012-13.
Boston lost
Ray Allen
to Miami, but picked up
Jason Terry
,
Fab Melo
,
Jared Sullinger
and will add a healthy
Jeff Green
to the mix. Talk about depth behind KG,
Paul Pierce
,
Rajon Rondo
and Co.

New York let
Jeremy Lin
and
Landry Fields
go elsewhere, but added veterans
Jason Kidd
,
Marcus Camby
,
Raymond Felton
and
Rasheed Wallace
.
Philadelphia acquired
Andrew Bynum
, one of the best low-post players in the league. Toronto brought in
Kyle Lowry
and Fields to supplement its young core.
Add in the Nets' $330 million spending spree and you get an extremely competitive division, on paper.

The Nets last won the Atlantic Division in 2005-06, which is also the last time they finished over .500. They'll have a legitimate chance to accomplish both feats this season -- but it's not going to be easy.
Which team do you think is going to win the Atlantic Division this season? Is it the toughest division in the league?
Let us know your thoughts in the comments section.