Nets' Midseason Report Card
January, 22, 2014
Jan 22
9:46
PM ET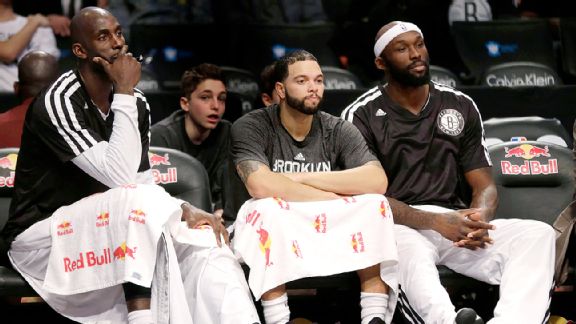 AP Photo/Seth WenigGrading the Nets wasn't an easy task. But we gave it our best shot anyway.
In late 2013, the Brooklyn Nets deserve an F. In 2014, however, they deserve an A. If only this whole midseason grading process were that simple.
Truth is, because of their remarkable turnaround, it isn't.
Nevertheless, I did my best, taking into consideration both their recent hot streak and their abysmal start to the season.
PLAYERS
| | | |
| --- | --- | --- |
| | | Joe Jesus has been the Nets' most consistent player all season, buying into his role and saving the team with two game-winning buzzer-beaters. With Brook Lopez out, he's emerged as their go-to offensive player, especially in first quarters. He's averaging 22.9 points on 51.7 percent shooting in his past seven games. |
| | | Livingston has been quite the pleasant surprise. The Nets have gotten a lot for the league minimum, that's for sure. He has stepped into the starting lineup and not missed a beat. He is quite effective scoring in isolation and blocking shots at an extremely high rate for a guard. |
| | | Many times, Blatche leaves you scratching your head. Yet he's playing really well, averaging 11.7 points on 47.3 percent shooting -- 29.6 percent from 3-point range. Aside from that whole four games for undisclosed personal reasons thing, Dray Live has been quite good off the bench. |
| | | He's already missed 26 games due to back spasms, but the Nets have been a better team since his return. When healthy, Kirilenko has appeared to be a bargain for $3.2 million. Who cares what the advanced statistics say? You can see his impact on both ends of the floor with your eyes. |
| | | It wasn't too long ago that KG looked miserable, lost and probably wishing he were still back in Boston. Lately, however, he is protecting the rim on defense, rebounding at a high rate, making his midrange jumpers on offense and leading with heart and intensity. He may hate playing center, but he's damn good at it. What a turnaround so far. |
| | | Pierce went through the same thing as Garnett. That happens when you play 15 seasons in one place. But after overcoming a broken hand and easing his way back as a reserve, Pierce has flourished since moving to power forward. He is averaging 13 points on 41.7 percent shooting. |
| | | MT3 is playing with confidence and has earned the trust of the coaching staff -- something he didn't have last season. He's connecting at 43 percent from beyond the arc, and could be a candidate for the 3-point shootout at All-Star Weekend in New Orleans. |
| | | His chucking ways aside, Anderson is another guy who is making the league minimum, though he's worth a lot more. He's often tasked with guarding the other team's best wing player, and does a nice job. He's shooting 36.9 percent from 3-point territory, too. |
| | | D-Will has been bothered by ankle injuries all season. When he has been on the court, however, he has made quite an impact. He leads the team in on-court net efficiency rating. Selflessly, Williams has decided to come off the bench so as not to disrupt the continuity of the starting lineup lately. Still, much more was expected. |
| | | The rookie has been in and out of the rotation. Right now, he's out. Plumlee has a lot of potential and has had plenty of highlight-reel dunks this season. In addition, he's a great kid. The Nets definitely got themselves a future rotation player in the first-round pick out of Duke. |
| | | JET, still rounding into form following offseason knee surgery, is connecting on just 37.1 percent of his shots from the field. But he's a veteran who knows how to lead and has playoff experience. He's also a terrific quote. |
| | | Sorry, Joker. Evans can rebound and that's pretty much it, so he hasn't really been in the rotation. Still, he's a nice depth piece to have in case one of the team's other big men goes down. |
| | INCOMPLETE | Lopez (20.7 PPG, 56.3 FG pct, 25.88 PER) was having an All-Star-caliber campaign until he was lost for the season Dec. 20 in Philadelphia due to a broken right foot. The 25-year-old center otherwise would have received an A. Hopefully he can return to dominant form next season. |
GENERAL MANAGER





Billy King, general manager

The GM built what looked like a pretty darn good team in the offseason. Things are starting to come together finally. King did sacrifice several future first-round draft picks in order to win now, however.
OWNER





Mikhail Prokhorov, owner

Prokhorov may be an absentee owner, but he's certainly been willing to spend to win. Not many franchises are as fortunate. The Russian billionaire will be paying a fraction of his fortune on his team's payroll, but it's still going to be a lot -- more than $180 million.
ESPN New York Writer
Covers the Brooklyn Nets for ESPNNewYork.com
2014-15 ATLANTIC STANDINGS
UPCOMING GAMES
| | W-L | PF | PA | HM | AW | STK | L10 |
| --- | --- | --- | --- | --- | --- | --- | --- |
| BKN | 10-14 | 95.9 | 98.4 | 5-7 | 5-7 | L2 | 4-6 |
| CLE | 14-10 | 103.0 | 100.1 | 8-5 | 6-5 | L1 | 7-3 |
| | W-L | PF | PA | HM | AW | STK | L10 |
| --- | --- | --- | --- | --- | --- | --- | --- |
| DET | 5-21 | 93.8 | 100.5 | 2-12 | 3-9 | L2 | 2-8 |
| BKN | 10-14 | 95.9 | 98.4 | 5-7 | 5-7 | L2 | 4-6 |
| | W-L | PF | PA | HM | AW | STK | L10 |
| --- | --- | --- | --- | --- | --- | --- | --- |
| DEN | 10-15 | 103.0 | 105.0 | 6-6 | 4-9 | L3 | 3-7 |
| BKN | 10-14 | 95.9 | 98.4 | 5-7 | 5-7 | L2 | 4-6 |
DECEMBER 2014
JANUARY 2015
FEBRUARY 2015
Sun
Mon
Tue
Wed
Thu
Fri
Sat

1

2

@ORL
7:00 PM ET

3

4

@MIA
6:00 PM ET

5

DAL
7:30 PM ET

6

7

BOS
7:30 PM ET

8

9

PHI
7:30 PM ET

10

@DET
7:30 PM ET

11

12

HOU
7:30 PM ET

13

14

MEM
7:30 PM ET

15

16

@WSH
7:00 PM ET

17

WSH
8:00 PM ET

18

19

20

21

@SAC
10:00 PM ET

22

@LAC
10:30 PM ET

23

24

@UTAH
9:00 PM ET

25

26

POR
7:30 PM ET

27

28

@ATL
7:30 PM ET

29

30

TOR
7:30 PM ET

31

Sun
Mon
Tue
Wed
Thu
Fri
Sat

1

2

LAC
7:30 PM ET

3

4

@TOR
7:30 PM ET

5

6

NY
7:00 PM ET

7

@WSH
7:00 PM ET

8

9

@MIL
8:00 PM ET

10

@MEM
8:00 PM ET

11

12

13

14

15

16

17

18

19

20

@LAL
10:30 PM ET

21

22

23

@DEN
9:00 PM ET

24

25

@NO
8:00 PM ET

26

27

@HOU
8:00 PM ET

28

@DAL
8:30 PM ET