Brooklyn Nets:

2014 NBA playoffs
May, 10, 2014
May 10
10:56
PM ET
By
Mike Mazzeo
| ESPNNewYork.com
NEW YORK -- Now that's how you play with your season on the line.
The
Brooklyn Nets
avoided falling into a 3-0 hole on Saturday night, blowing out the the
Miami Heat
at Barclays Center 104-90 in Game 3 of the Eastern Conference semifinals. Brooklyn led by as many as 22.
The Heat lead the best-of-seven playoff series 2-1.


What it means:
The Nets, with their backs against the wall, got themselves right back in the series and will have a chance to even things up at two in Game 4 on Monday night.
Brooklyn shot 52.8 percent from the field and made a franchise playoff-record 15 3-pointers on 25 attempts.
D-Will delivers:
Coming off the first scoreless playoff game of his career,
Deron Williams
dished out 11 assists and scored nine points in 40 minutes. The Nets outscored the Heat by 18 points with Williams on the floor. This was exactly the type of response Brooklyn needed from its $98 million point guard.
So does KG:
Kevin Garnett
, who had just two field goals in the first two games of the series, had 10 points on 5-for-6 shooting in 23 minutes on Saturday night. He added seven rebounds.
Turning point:
The Nets outscored the Heat 26-14 in the third quarter to take a 77-64 lead into the fourth quarter. They shot 61.1 percent in the quarter and went 4-for-6 from 3-point range. It all started when the Nets used a 9-0 run midway through the third to open up a 68-56 lead -- their biggest lead of the series.
Mirza Teletovic
had nine of his 12 points in the third.
Tensions escalate:
With 9:34 left in the fourth quarter,
Alan Anderson
and
Ray Allen
got tangled up and came face to face. It appeared as though Anderson brushed Allen's arm away as the two were separated. Each was hit with a technical foul.
Young Seymour:
Andray Blatche
, who played just four minutes in Game 2, had 13 of his playoff career-high 15 points in the first half. Blatche also pulled down 10 rebounds, becoming the first Nets reserve in 20 years to record a double-double off the bench.
And the others:
Joe Johnson
, consistent as ever, scored a team-high 19 points and went 5-for-7 from 3-point range.
Paul Pierce
added 14 points.
Shaun Livingston
also finished in double figures (12).
AK-47:
Andrei Kirilenko
, who did not play in Game 2, spent some time playing center in an extremely small lineup.
King James:
LeBron James
finished with a game-high 28 points -- 16 in the first quarter.
Dwyane Wade
added 20 points, but the Heat didn't get much production from anyone else.
In attendance:
Nets owner Mikhail Prokhorov, Jay-Z and Beyonce, comedian Jerry Seinfeld, actor Jake Gyllenhaal, rapper Busta Rhymes, actors Jason Sudeikis and Olivia Wilde and Mets legend Dwight Gooden.
Up next:
Game 4 on Monday night in Brooklyn.
April, 26, 2014
Apr 26
4:45
PM ET
By
Mike Mazzeo
| ESPNNewYork.com
EAST RUTHERFORD, N.J. -- The
Brooklyn Nets
are in a solid position and will have a chance to take a 3-1 series lead over the
Toronto Raptors
on Sunday night.
But the Nets know they're going to get the Raptors' best in Game 4.


"We know they're going to come out playing hard,"
Deron Williams
said. "I mean, they fought to the end last night. We were up 15 with five minutes left, and we've got to do a better job of closing out games. But we know they're going to come back and be ready to play. It's kind of a must-win for them."
Nets coach Jason Kidd had his team watch film and get some jump shots up on Saturday.
"I think when you look at it, guys aren't satisfied, so that's always a good thing," Kidd said. "There might be a little disappointment in the sense we could've ended it a little earlier, but also, guys have to stay hungry and we have to continue to get better. Guys coming in today, getting their work done with more of a mental day and seeing if we can get better."
The series has definitely taken on a physical nature.
"It's a dogfight out there,"
Shaun Livingston
said. "Everybody is banged up and bruised up, but it's not really time to feel sorry for anybody. We are trying to win a series, so we are going to do what we've got to do."
Said Williams: "I thought the refs let us play. I think there were a lot of calls on both sides where we thought we got fouled and we just had to play through them, and that's part of the playoffs. It's another level of intensity. Guys are grabbing, holding, fighting, clawing. It's just how it goes."
It would certainly behoove the Nets to put a complete 48-minute performance together.
Brooklyn is getting outrebounded by an average of 44-32 but has the advantage in turnovers forced, 19.7 to 10.3.
"It's important to come out solid in the next game, to understand what our strategy is, to learn obviously from the last game, stay aggressive and understand that we're playing at home,"
Kevin Garnett
said.
Livingston
• Livingston was asked about the alleged racist talk from
Los Angeles Clippers
owner Donald Sterling.
Livingston was selected by the Clippers in the first round of the 2004 NBA draft and played the first three seasons of his career there before suffering a devastating knee injury.
"When you look at it, it's probably disappointing to a lot of people," Livingston said. "When you look at what's kind of gone on in the past [with him], it's very unfortunate.
"I'll definitely kind of pay attention to see what happens, because it's going to put [NBA commissioner] Adam Silver in kind of a tough spot," Livingston added.
• Livingston (illness) says he feels better, though he's sticking with his bread-and-water diet.
• Williams, reiterating what he's said basically throughout his tenure with the Nets, noted that he needs to remain aggressive.
"At times, I can get complacent, just because we have so many weapons on this team," he said. "We're kind of an equal-opportunity team, so I've just got to remember to stay aggressive -- and my teammates are reminding me, coaches are reminding, so that's just what I'm going to keep doing."
April, 19, 2014
Apr 19
7:37
PM ET
TORONTO -- The first game of the
Brooklyn Nets
-
Toronto Raptors
series took on a bizarre twist when both shot clocks malfunctioned and went out.
The Nets and Raptors played most of the second half without a shot clock and had to rely on the public-address announcer to announce the time of the shot clock at intervals of 24, 10, 5, 4, 3, 2 and 1 second. If the clock wound all the way down, the announcer would signal its expiration by saying "horn."
[+] Enlarge
Tom Szczerbowski/USA TODAY SportsBoth shot clocks malfunctioned in Game 1 between the Nets and Raptors.
"Yeah, that was weird," Nets point guard
Shaun Livingston
said. "It's like [playing in the] backyard, somebody calling it out, but we got used to it. We understood the conditions were going to be rough on the road. So just another factor we just had to deal with. The reality of the situation."
Nets guard
Alan Anderson
said he had played under similar circumstances overseas but that the announcer counted down in a foreign language.
"It's an issue," Toronto coach Dwane Casey said. "But it affects both teams. We can't complain about it. It does bother you when you don't have a rhythm. You can't get a rhythm as far as having a feel for what is on the clock. There is a difference when you look at it and see each second tick down. But both teams had to deal with it, and they dealt with it better than we did."
AK-47 watches:
In his first playoff game as a head coach, Jason Kidd played a rotation of 10 Nets.
Andrei Kirilenko
, though, was not one of them, as the veteran defender was a healthy DNP.
"I can't play them all," Kidd said. "That's something that we talked about: that, at some point, you might not play, but you always have to be ready. Everybody in that locker room is going to have a chance at it, and so he'll be ready to go in Game 2, but he's healthy."
It was a little bit of a surprise that Kirilenko did not play. He provides the Nets with defense, energy and plenty of intangibles while averaging 19 minutes per game in the regular season.
Some wondered how Kidd would play his three big men and who would sit, but he ended up playing
Kevin Garnett
,
Mason Plumlee
and
Andray Blatche
11 minutes or more. Plumlee battled foul trouble and had five fouls, logging just 11 minutes. Blatche played 16 minutes, and Garnett logged 20 minutes.
Easter Nets:
The Nets left Toronto after the game and returned to spend Easter Sunday at home. They will practice on Sunday morning and Monday before returning to Toronto on Monday night.
Game 2 is on Tuesday and will be televised by the YES Network in the New York/New Jersey area because the game will be blacked out on NBA TV for local coverage.
April, 19, 2014
Apr 19
7:02
PM ET
TORONTO --
Paul Pierce
has played in 137 playoff games, pressure-packed Game 7s and has experienced the intense spotlight of the NBA Finals.
But he experienced a postseason first on Saturday in Toronto.
The shot clocks malfunctioned and both the
Brooklyn Nets
and
Toronto Raptors
had to play most of the second half of Game 1 as if it were on somebody's driveway. The public-address announcer called out the time of the shot clock in intervals -- 24, 10, 5, 4, 3, 2 and 1 -- followed by "horn" if the shot clock expired.
It was a bizarre scene in an NBA playoff game.
[+] Enlarge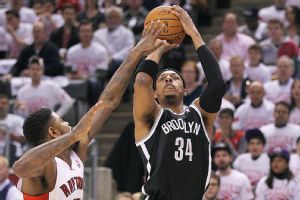 Claus Andersen/Getty ImagesPaul Pierce was "classic 'Truth'" in Game 1, according to Kevin Garnett.
"Well, I don't remember if I ever played [in a playoff game without the shot clock], since I am a dinosaur," Pierce said with a smirk. "It's been so long."
Pierce was sarcastically referring to a Toronto Sun headline that billed this first-round series as "RAPTORS VS. DINOSAURS," with Pierce and
Kevin Garnett
on the cover.
So far, it's Fossils 1, Baby Raptors 0.
That's because the painful "Truth" for Toronto is that its inexperience and the Nets' vast wealth of experience decided Game 1 and set the tone for this best-of-seven series.
In his first playoff game as a Net, Pierce delivered a vintage fourth-quarter performance, burying four of five shots and scoring nine of his 15 points to help the Nets steal Game 1 in Toronto 94-87.
"[I] just get that feeling in a game," Pierce said of relishing the fourth quarter and hitting big postseason shots. "I've been in that situation a number of times. I don't get rattled in fourth quarters down the stretch in playoff settings. I have been in pretty much every playoff setting that you can imagine."
The sixth-seeded Nets entered with an overwhelmingly decided advantage in postseason experience -- 570 combined career playoff games on their roster to just 156 for Toronto.
And that experience of having been here before revealed itself in a major way in Game 1, just as the Nets had hoped it would. Pierce, Garnett and head coach Jason Kidd walked off the bus and into the Air Canada Centre with steely game faces on, and the rest of the Nets could feel the intensity.
"Oh man, I've [seen] a big difference," guard
Alan Anderson
said when asked about Pierce and Garnett's demeanor compared to usual. "A lot more just seriousness … A lot more serious."
While the Nets were all business, the Raptors' playoff inexperience was revealing itself in different manners. In the days leading up to Game 1, the Nets seemed to be genuinely amused by the talk of them tanking to draw Toronto and the Raptors even having to talk about it and entertaining the notion. Anything that might take the Raptors away from being focused on just winning was good to the Nets.
Then, Toronto general manager Masai Ujiri couldn't contain his enthusiasm, shouting out "F--- Brooklyn!" at a pregame fan rally. By halftime, the GM was holding a conference with reporters to issue a quick apology.
Ujiri might've been dropping more expletives when the shot clock malfunctioned. The last thing the young Raptors needed was for an unforeseen obstacle like that to rattle them.
"Technical difficulties," said Toronto's rising center
Jonas Valanciunas
, who had 17 points and 18 rebounds.
Both teams were trying to deal with the difficult situation of not having the shot clock available. The Raptors were beginning to get settled in as they tied the game at 73 with 6:25 remaining against mostly Nets reserves.
Game 1 was up for grabs as 19,800 Toronto fans were ready to explode.
That's when Kidd re-inserted starters Pierce, Garnett and
Deron Williams
. Not long after that, it was game over for the Raptors.
Pierce found
Shaun Livingston
for a jumper. Later,
Joe Johnson
buried a floater. Then, Garnett drilled an eight-footer that gave the Nets a 79-76 lead with less than four minutes to go.
Pierce then saw his opportunity to finish the Raptors. He sank a 3-pointer to push the lead to six. Then came a driving layup followed by a 19-foot jumper. The final dagger was a 20-foot turnaround, fadeaway jumper over
Patrick Patterson
, who could only shake his head in frustration as the Nets took an 88-81 lead with 51.9 seconds to go.
Garnett pumped his fist at half court after that Pierce 3-pointer. He knew exactly what was happening -- Pierce was taking over the game.
"Countless," Garnett said of how many times he has seen games like this from his old
Boston Celtics
teammate.
No shot clock. Nearly 20,000 fans screaming at the top of their lungs at him. The opposing GM cursing about the team. A newspaper calling him a dinosaur.
Consider all of this fossil fuel for Pierce.
"I really feed off the emotions of the crowd, especially on the road," Pierce said. "Try to stay calm and bring my calmness to the game and try to influence the rest of the guys."
Pierce and Garnett spent so much of the season pumping up and verbalizing their support for Williams with the knowledge that they would need Williams at this stage of the season.
D-Will responded with 24 points, playing
Kyle Lowry
evenly and supplying stingy defense late that helped hold the Raptors point guard to only four of his 22 points in the fourth quarter.
But Kidd convinced Pierce and Garnett to come to Brooklyn in a trade last summer to show younger players like Williams how to win a game like this one in a tight fourth quarter.
The 2014 playoffs have officially begun, and Pierce got it started doing what he always does -- deliver fourth-quarter daggers.
"He was classic 'Truth,'" Garnett said. "Epic."