Brooklyn Nets:

Atlanta Hawks
June, 25, 2013
6/25/13
12:43
PM ET
By
Mike Mazzeo
| ESPNNewYork.com
NEW YORK -- The
Brooklyn Nets
will take on the
Atlanta Hawks
on Jan. 16 in a regular-season matchup at The O2 arena in London as part of the NBA Global Games, the league said Tuesday.
The Nets will be making their third trip to London. They played a preseason game there in 2008 and then two regular-season games against the
Toronto Raptors
in 2011.
This will be the Hawks' first time playing a regular-season game outside of North America. They played a pair of preseason games in London in 1993.
"We are very excited to once again represent the NBA in London," Nets general manager Billy King said in a statement. "The fans have always been very supportive, and we look forward to once again entertaining them with Brooklyn Nets basketball."
Click here for the complete news story.
April, 16, 2013
4/16/13
12:15
PM ET
By
Mike Mazzeo
| ESPNNewYork.com
So who will the fourth-seeded
Brooklyn Nets
face in the playoffs this weekend? Here's the latest on the race for the No. 5 seed:
The
Atlanta Hawks
(44-36) currently lead the
Chicago Bulls
(44-37) by a half-game in the Eastern Conference playoff standings.


On Tuesday night, the Hawks will take on Toronto (32-48) at Philips Arena. If the Hawks win, they will reduce their magic number to clinch the No. 5 seed to one. If they lose, the Hawks and Bulls would be tied again in the standings, and Chicago would once again control its own destiny.
Atlanta closes out its regular season against the Knicks on Wednesday night at Madison Square Garden.
The Bulls are idle on Tuesday night. They close out their regular season against Washington (29-52) on Wednesday night at United Center.
Chicago holds the tiebreaker over Atlanta by virtue of winning the season-series between the two teams, 2-1.
Essentially, the Nets won't know who they face in the first round until late Wednesday night.
April, 15, 2013
4/15/13
3:31
PM ET
By
Mike Mazzeo
| ESPNNewYork.com
The
Brooklyn Nets
are locked into the No. 4 seed, but their first-round playoff opponent has yet to be determined.
The
Atlanta Hawks
(44-36) currently lead the
Chicago Bulls
(43-37) by a game with two games remaining in the regular season. The Hawks end their season with the Raptors (Tuesday) and Knicks (Wednesday); the Bulls end their season with the Magic (Monday) and Wizards (Wednesday).


Chicago holds the tiebreaker over Atlanta by virtue of winning the season-series, 2-1.
Who would you rather the Nets play?
Most fans I've polled on Twitter would rather the Nets face the Hawks. The Nets went 1-3 against the Bulls, who are banged up but still giving maximum effort under Tom Thibodeau, the NBA's Coach of the Year in 2011. The Bulls excel on defense and play an intense, physical brand of basketball. And there's always the possibility, no matter how remote, that
Derrick Rose
comes back for the postseason.
The Hawks and Nets split their season series, 2-2. Atlanta has a solid frontcourt featuring
Josh Smith
and
Al Horford
, and its speedy backcourt featuring
Jeff Teague
and
Devin Harris
has caused problems for Brooklyn.
Still, I have to agree that the Nets have a better chance of getting past the Hawks than they do the Bulls.
Let us know your thoughts in the comments section.
March, 17, 2013
3/17/13
12:52
PM ET
By
Mike Mazzeo
| ESPNNewYork.com
The
Brooklyn Nets
are about to embark on a grueling two-week road trip. But first they'll take on the
Atlanta Hawks
on Sunday night at Barclays Center.


Tipoff is set for 8 p.m.; here's what we'll be watching for:
JOE'S BACK:
Joe Johnson
will play -- albeit on a minutes limit -- after getting five days off to rest his sore left heel. Johnson has averaged just 13.7 points on 33.3 percent shooting in three games this season against Atlanta, his former team.
D'S WILL:
Deron Williams
is averaging 24 points and 13 assists in the past two games. He has committed just three turnovers over that span. Nice to be healthy again, isn't it, Deron?
ONE GAME AT A TIME:
The Nets have made that cliché their mantra. They are well aware of their upcoming eight-game, 17-day circus road trip. But they can't afford to overlook the Hawks, who have won two straight. Brooklyn is 2-1 against Atlanta this season.
COULD BE NO. 1:
The Nets (38-27) could move into a tie for first place in the Atlantic Division if they beat the Hawks and the
New York Knicks
(38-25) lose to the
Los Angeles Clippers
.
March, 17, 2013
3/17/13
11:55
AM ET
By
Mike Mazzeo
| ESPNNewYork.com
EAST RUTHERFORD, N.J. --
Brooklyn Nets
shooting guard
Joe Johnson
says he'll be on a minutes restriction for Sunday night's game against the
Atlanta Hawks
.
Johnson has had five days to rest his lingering sore left heel and said he feels better as a result. He missed Tuesday night's game against the
New Orleans Hornets
so he could get an extra day of rest.
WAIT, KRIS:
Coach P.J. Carlesimo said there's no timetable to get
Kris Humphries
back into the rotation. Carlesimo wants to see how
Mirza Teletovic
performs against a playoff-bound team like the Hawks.
January, 16, 2013
1/16/13
11:55
AM ET
By
Mike Mazzeo
| ESPNNewYork.com
Joe Johnson
makes his return to Atlanta on Wednesday to face the Hawks (21-16) for the first time since being traded to the
Brooklyn Nets
. The Nets (23-15) will also look to extend their season-high winning streak to eight games.
The game will tip off at 7:30 p.m. Here's what we'll be watching for:


ISO JOE IS BACK!
Johnson averaged 20.7 points in seven seasons for the Hawks. He was an All-Star for the last six of them. But he was perhaps more known for his $124 million contract and the fact that he never got Atlanta past the second round in five playoff appearances. Whatever. That's history now.
Johnson looks comfortable in his new home and is averaging 20.1 points on 47.8 percent shooting during Brooklyn's seven-game winning streak. Surely he'll be motivated to get this win -- even if he downplayed in Tuesday morning. Wonder whether the crowd will boo him or cheer him. Perhaps a mix.
SHORT-HANDED HAWKS:
The Nets caught a break when Atlanta suspended
Josh Smith
, who leads the team in scoring and blocks, for Wednesday's game because of conduct detrimental to the team.
KEEPING IT UP:
The Hawks, once 19-9, are 2-7 in their last nine games. They scored just 20 points in the first half of an embarrassing 97-58 loss to Chicago on Monday night. But they'll be rested and ready to go on Wednesday, and the surging Nets can't afford to take them lightly.
The Nets find themselves just two games behind the
Miami Heat
for the top spot in the Eastern Conference standings. But they're about to tip off a nine-game stretch in which they play seven teams with winning records; they are just 8-15 against above-.500 teams this season. We're going to find out a lot about this team during this stretch.
STAYING CONFIDENT:
Whether you're talking about
Deron Williams
or
Mirza Teletovic
, every Net seems to be playing well. They're 9-1 under interim coach P.J. Carlesimo and have developed a deep, talented bench. During the winning streak, they're averaging 108 points per game.
January, 10, 2012
1/10/12
12:04
AM ET
By
Mike Mazzeo
| ESPNNewYork.com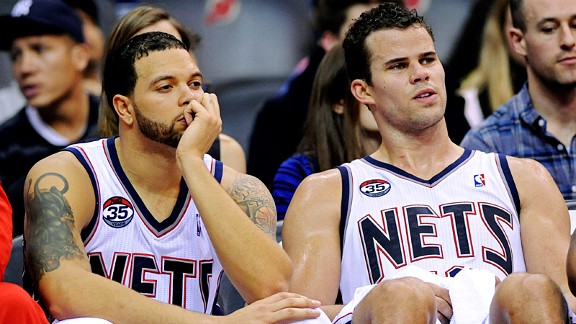 AP Photo/Bill KostrounDeron Williams (left) has decided to put his best face forward.
Deron Williams
' frustration has been evident this season.
So evident, in fact, that someone recently approached the Nets' point guard and told him he needed to change his body language.
"I gotta do a better job of leading these guys," Williams said after his team dropped to 2-8 with a 106-101 loss to the Atlanta Hawks on Monday night at Prudential Center. "They can't see me visibly frustrated, because that's not good for anybody's confidence."
Easier said than done. Williams has been a winner throughout his career. In college, he went to the Final Four. In his first 5½ NBA seasons with Utah, the Jazz made the playoffs four times.
But times have changed. The Nets are in a period of transition. And the 149-day lockout did them absolutely no favors.
Seven newcomers arrived. Training camp was short. Practice time was limited. And then the injuries began to mount. First,
Brook Lopez
went down with a broken foot. Then
Kris Humphries
hurt his shoulder. Then Williams' ribs were sore. Then
Mehmet Okur
's back spasms returned. Then
Damion James
' right foot became an issue. And now,
DeShawn Stevenson
's knee is hampering him.
The Nets weren't a talented team to begin with. And all of these issues piling on top of one another hasn't made things any easier.
"Our circumstances have been tough," Williams said. "We lost Brook, a big part of this team, and we have a handful of guys out still. We haven't been at full strength at all, and this shortened season has made for a tough start."
On Monday night, the Nets put themselves in an early hole -- as always -- falling behind 31-18 after a first quarter in which they allowed the Hawks to outshoot them 62.3 percent to 29.4 percent. They're currently ranked last in points scored (18.2) and near the bottom of the league in points allowed (25.6) during the opening stanza.
"That's something that's plagued us a lot, and it cost us the game," Williams said. "If it wasn't for the first quarter, it would've been a whole different outcome."
"We were lethargic," coach
Avery Johnson
said. "That's been something that's been an epidemic this year, and we gotta do a better job of it."
"We gotta get off to better starts," shooting guard
Anthony Morrow
said. It's frustrating to have to fight back so many nights."
The Nets tried to find the positives from Monday's loss, as they do after every defeat.
They scored more than 100 points for the first time all season, and shot a season-high 46.8 percent from the field.
MarShon Brooks
had 19 points and a career-high 10 rebounds, and the Nets nearly rallied from a 16-point, second-half deficit by making seven of their 11 3-pointers in the second half.
But all of that went for naught because they allowed Atlanta to shoot 53.8 percent and couldn't stop
Josh Smith
or Joe Johnson, who combined for 48 points. And Williams -- despite dishing out a season-high 14 assists -- went 6-for-17 from the field and added to his league lead in turnovers with six more.
"I'm not happy with the way I'm playing," Williams said.
"We have to do a better job executing our game plan," he said. "Sometimes we'll call a play in the huddle, and it's messed up in seconds."
That wasn't the case in Utah, where Williams would know where
Carlos Boozer
, Okur and
Andrei Kirilenko
were going to be. But with so many new pieces -- and all the injuries -- Johnson hasn't been able to stabilize his rotation.
Even though they're already 10 games into the season, the Nets still lack continuity and cohesiveness.
"There's still about 50-something games left," Williams said. "Hopefully we can build on [what we did on Monday] during this [four-game West Coast] road-trip."
Hopefully ...
You can follow Mike Mazzeo on Twitter.
January, 10, 2012
1/10/12
12:03
AM ET
By
Christopher Hunt
| ESPNNewYork.com
The Nets signed
Shawne Williams
because they needed shooters, specifically sharp shooters from beyond the 3-point arc.
They also needed bodies, since the roster's injury list seemed to grow by the day. But once Williams joined the team, the flu cost him a valuable week of practice and he had yet to seem comfortable in the offense -- until Monday night.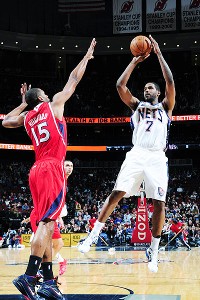 Scott Cunningham/NBAE/Getty ImagesShawne Williams scored a season-high 11 points Monday.
Williams hit three 3-pointers and finished with 11 points and five rebounds in a 106-101 loss to Atlanta, Williams' best game in a Nets jersey this season.
Williams had scored 11 total points in his last three games. Nets coach
Avery Johnson
said Williams had been hesitating and sometimes rushing shots, or allowing defenders to chase him off the 3-point line. Against Atlanta, Williams found open areas to where
Deron Williams
could kick to him for open shots.
"This is how I envisioned Shawne Williams, playing about 18 to 24 minutes, at some 3, some 4, but mainly spreading the floor for us," Johnson said. "He's getting in better shape and getting his legs under him a little bit. But it's taken us 10 games, hopefully in the next 10 we'll have a better record than 2-8."
Williams said that his production is a matter of him getting more comfortable with the offensive sets and his teammates and also learning where he should be on the floor.
"I feel like I can do a lot more," Williams said. "By me missing training camp, I have a little more shape to get in. [I need to get] a little more acclimated with the players. When I start going to my spots by nature and not by thinking so much or by Coach telling me to go to the corner, or just knowing the sets, it should be a little more comfortable for me."
You can follow Christopher Hunt on Twitter.
January, 9, 2012
1/09/12
11:39
PM ET
By
Christopher Hunt
| ESPNNewYork.com
MarShon Brooks
found out about 25 minutes before tipoff that he would be making his second career start.
DeShawn Stevenson
had fluid drained from his knee and was a late scratch, so Nets coach
Avery Johnson
inserted Brooks into a lineup that needed some life early in the games.
They didn't get that. Not in the first quarter, at least. But the rookie provided the spark the team needed in the third quarter and logged his first career double-double with 19 points and 10 rebounds in 40 minutes. He also drew the assignment of guarding the 6-7, 240-pound
Joe Johnson
(22 points, six rebounds).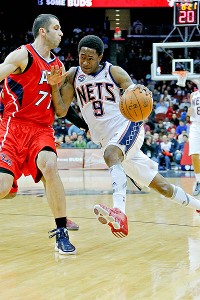 Jim O'Connor/US PresswireMarShon Brooks is averaging 14.4 points per game, second best among NBA rookies.
"You've got to be ready whenever your number is called," Brooks said after a 106-101 loss to the Hawks. "I was ready. We got off to a slow start as a team and they jumped on us. That's been the reason that we lost to Atlanta the first two times."
New Jersey put up 11 first-quarter points when Atlanta routed the Nets by 36 in their first meeting. They posted 19 in the first period three days later, when they lost by seven. The Nets were outscored 31-18 in the first quarter Monday night and trailed 56-45 at halftime.
But Brooks found his stroke in the third quarter. He hit three treys in the period, including back-to-back shots from behind the arc that cut Atlanta's lead -- the Hawks had led by as many as 16 -- down to seven. Brooks shot 4-for-6 for 11 points in the quarter and helped the Nets hang around long enough to make a fourth-quarter push.
"I just started shooting with confidence, shooting the three with confidence," Brooks said. "I shoot the mid-range [jumper] with confidence, but sometimes I think twice before I shoot the three. I was just shooting it instead of thinking."
The Nets certainly needed Brooks' scoring, but Avery Johnson was just as impressed with the rookie's rebounding and his guarding of the bigger, stronger Joe Johnson.
"He goes after it," the coach said. "Sometimes he'll run in there [for rebounds] a little bit too much offensively and it hurts us in transition. But again, he has a knack for getting the ball. The kid is doing some nice things for us. For him to play 40 minutes and he's not really 100 percent tonight, against a superstar player in Joe Johnson, is pretty good."
You can follow Christopher Hunt on Twitter.
January, 9, 2012
1/09/12
10:12
PM ET
By
Christopher Hunt
| ESPNNewYork.com
Recap
|
Box score
|
Photos
WHAT IT MEANS:
Atlanta lead by 13 with 3:36 left, but New Jersey still had a chance in the waning seconds of the game. That means when their shooters are hitting -- and they haven't been lately -- the Nets can be more competitive than their 2-8 record indicates.
SLOW STARTS: Avery Johnson
said before the game that his team had yet to embarrass themselves on defense. Then Atlanta went out and shot 63.6 percent from the field in the first quarter. New Jersey was outscored 31-18 in the period, mirroring their first quarter against Miami. Of the six different scorers for the Nets, none scored more than one field goal in the first and the team shot 29.4 from the floor.
MORROW BIG IN FOURTH: Anthony Morrow
scored 10 points in the fourth quarter that almost brought the Nets all the way back. First,
Jeff Teague
fouled him on a 3-point attempt. Then Teague hit a floater after the free throws. Morrow responded with a 3-pointer and another jumper before finding
Kris Humphries
for a layup to get the crowd at The Rock rocking again and cut the lead to 100-95 with 58.7 seconds left. Morrow hit another three with four seconds left that put New Jersey within three.
LIVING AND DYING BY THE 3:
Atlanta's bigs sucked the Nets into the paint, which left the 3-point line wide open for
Vladmir Radmanovic
and Teague. Radmonovic, who started in place of injured
Marvin Williams
, made 4 of 11 from three. Teague hit all three of his attempts.
BROOKS AS A STARTER:
Rookie
MarShon Brooks
was impressive in his second career start with 19 points and 10 rebounds while filling in for
DeShawn Stevenson
, who was a last-minute scratch with a sore left knee. Brooks gave the Nets a lift in the third quarter with 11 points, making three treys. In his first start, against Boston on Jan. 4, he scored 15 of his team-high 17 points in the first half.
D-WILL:
Atlanta gave the Nets point guard
Deron Williams
different looks, guarding him with Teague and sometimes 6-7 forward
Joe Johnson
. But Williams picked his spots on offense, ran defenders off multiple screens and continued to trust his wing players from the 3-point line. He record his second straight double-double of the season with 15 points and 14 assists, while shooting 6-for-17.
UP NEXT:
The Nets head out to start a grueling four-game West Coast road trip, starting in Denver on Wednesday. Then New Jersey will play back-to-back games Friday and Saturday against Phoenix and Utah, before matching up with the Los Angeles Clippers on Monday.
December, 27, 2011
12/27/11
2:08
PM ET
By
Mike Mazzeo
| ESPNNewYork.com
The Nets will play their final home opener in New Jersey on Tuesday night when they take on the Hawks at Prudential Center.
Here's what we'll be watching for:
BOO THE HUMPTY HUMP?
How will
Kris Humphries
be received by the home crowd? You would think the 26-year-old power forward be cheered, but the way the Knicks and Wizards fans treated him, who knows? We figure if Humphries has another 21-point, 16-rebound game, the fans will shower him with praise.
O-WILL
: D-Will his his nickname, but
Deron Williams
is clearly going on the offensive this season. The 27-year-old superstar hoisted up 21 shots in Monday night's victory over Washington. For his career, he's averaged 13.4 shots per contest. The Nets clearly want him to look for his shot, even though he's always been a pass-first point guard.
A STEP UP
: The Hawks are like a better version of the Wizards.
Al Horford
and
Josh Smith
are both athletic and can rebound. The Nets struggled at times against the Wizards' quickness and athleticism -- especially in transition. It'll be up to
Damion James
and Humphries to slow them down a bit. If that's even possible.
STRONG START
: The Nets were horrendous in the first quarter on Monday night. They turned the ball over on their first three possessions, missed 12 of their first 13 shots and found themselves trailing 26-13 after the opening 12 minutes. Coach
Avery Johnson
won't be thrilled if it happens at home against the Hawks.
BRING IN MO
: The Nets struggled to close out games last season, but they outscored the Wizards 24-10 in the final 10:51 of regulation on Monday night and amped up the intensity on the defensive end during that stretch. Let's see if they can repeat that performance in the closing minutes Tuesday night.
A JOKE NO MORE?
According to a Tweet from the YES Network, the Nets-Wizards opener on YES Monday night did a .81 HH rating, the best rating for a Nets opener since 2007 and highest-rated Nets telecast period since December, 2009.
You can follow Mike Mazzeo on Twitter.
December, 7, 2010
12/07/10
9:50
PM ET
By
Mike Mazzeo
| ESPNNewYork.com
Recap
|
Box score
|
Photos
WHAT IT MEANS:
The Nets still haven't won a road game in ages. They lost their eighth straight game away from home -- and fifth straight overall -- Tuesday night, 116-101, to an Atlanta Hawks squad that was without All-Star swingman
Joe Johnson
. The Nets (6-16) have now dropped 16 of 20 and currently find themselves in the basement of not only the Atlantic Division, but also the Eastern Conference. And for the record, they're now a 2-10 road team.
SECOND-QUARTER WOES:
For the second straight game, the Nets were done in by a dismal second quarter. They led by as much as 38-31 with 7:30 left in the second, but the Hawks closed the stanza on a 29-9 run to take a 13-point edge to the break. It seems impossible really, that a team could score 29 points in that short amount of time, but Atlanta did. And it did so with seemingly everyone on its roster contributing -- most notably high-flyer
Josh Smith
, who finished the evening with a season-high 34 points on 14-for-16 shooting. Meanwhile, the Nets mustered just four field goals in that stretch, including one in the final 4:20.
New Jersey trailed by as many as 16 in the third quarter before eventually cutting its deficit to as little as five late in the fourth. But the Hawks (15-8) -- who played a much taller lineup with Johnson out, featuring
Marvin Williams
at small forward and ex-Net
Jason Collins
at center -- answered with back-to-back field goals from four-man
Al Horford
to put the game away for good. Atlanta has now won six of seven and improved to 4-1 without Johnson.
STAR OF THE GAME:
For the Nets, we'll give it to a somewhat-deserving
Brook Lopez
. The 22-year-old center put in a team-high 24 points on 8-for-16 shooting after being held to just five points and six rebounds in the Nets' 100-75 drubbing at the hands of the Boston Celtics on Sunday. And it was well-documented that Lopez had drawn the ire of head coach
Avery Johnson
after snagging just two boards in his team's 91-84 overtime loss to the Charlotte Bobcats on Friday night. He only pulled down five in this one, but at least the point production and the aggressiveness on the offensive end was where it needed to be.
SOUTHERN COMFORT:
No. 3 overall pick
Derrick Favors
was one Net ecstatic to be back in Atlanta. Favors grew up there, ultimately attending South Atlanta High School and spending one year at Georgia Tech. He decided to forgo his final three years of eligibility and go to the NBA. The athletic 19-year-old scored four points while adding five rebounds in 24 minutes.
HARRIS LOOKIN' GOOD:
Point guard
Devin Harris
looked like he had much more lateral quickness against the Hawks than he did versus the Celtics. The point guard, who had missed two games with a strained left knee, finished with 18 points and 13 assists in 37 minutes.
WILLIAMS PROMOTED: Terrence Williams
is back. He was promoted up to the big club after spending three games in NBDL purgatory, the result of his punishment for being repeatedly late to practice. He'll join the Nets Wednesday in Dallas. Williams averaged 28 points in the D-League.
UP NEXT:
Johnson gets to make his return against the team he used to coach, the Dallas Mavericks (16-4). The Mavericks, who Johnson led to four consecutive 50-win seasons and an NBA Finals appearance during his tenure there, trail the first-place San Antonio Spurs (17-3) by a game in the Southwest Division.