Brooklyn Nets:

Avery Johnson
October, 25, 2013
10/25/13
11:59
PM ET
By
Mike Mazzeo
| ESPNNewYork.com
Brooklyn Nets
point guard
Deron Williams
doesn't like being called a coach killer.
Before being traded to the Nets, Williams butted heads with Jerry Sloan shortly before the longtime coach resigned.
Last season, Williams appeared to criticize Avery Johnson's isolation-heavy offensive system shortly before Johnson was fired. But Williams said Friday night that wasn't the case.
Asked about the offensive flow of this year's team, Williams responded:
"It's different. Y'all thought I was talking about Avery last year. I never said anything bad about Avery. I just said the way we were playing, it's tough to win like that. It's tough to win -- especially against good teams -- you can't win just holding the ball and going one-on-one. Against the
Chicago Bulls
, you can't win like that. You can't play on just one side of the floor because you play right into what they're trying to do.
"With this team, if we move the ball, if we share the ball, play like we did tonight, have a bunch of assists, it's fun to play that way. And that's the way I like to play."
Under new coach Jason Kidd, the Nets are trying to run an offense more suited for Williams, who thrived in Sloan's "flex offense." Shooting guard
Joe Johnson
has said the Nets run a "freelance" offense based on motion and reads.
The Nets hit 17 3-pointers in their
108-87 victory
over the two-time defending champions, and
Williams made his preseason debut
. They beat Miami 86-62 earlier in the preseason.
Williams, though, isn't putting any stock into that.
"It's the preseason. If we think we're going to come in and beat Miami by 30 every time, then we're crazy," he said. "But we did a lot of good things we can take away from this game, but we saw a lot of things we can work on. We realize if we play like this, we can have a chance to win every night."
The Nets went 0-3 against the Heat last season, losing by an average of 21 points.
LeBron James
owns a personal 17-game winning streak against Brooklyn/New Jersey.
The Nets and Heat meet at Barclays Center on Nov. 1.
• Nets forward
Paul Pierce
and Heat shooting guard
Dwyane Wade
played pretty physical against each other Friday night. In the first quarter, Pierce was posting up against Wade, and Wade put a forearm into Pierce. Wade was called for a hard foul.
"I don't know what y'all talking about," Pierce said. "I didn't feel nothing. You see I didn't even budge."
It felt similar to the last time the two teams met, when Pierce thwarted James on the fast break by lowering his shoulder and delivering a playoff-style foul.
Given all the back-and-forth already between James and Pierce and
Kevin Garnett
, it seems like this is going to be a pretty darn good rivalry going forward.
October, 19, 2012
10/19/12
5:10
PM ET
By
Mike Mazzeo
| ESPNNewYork.com
Nets guard
MarShon Brooks
has said that he wants to win the Sixth Man Award.
Coach Avery Johnson has said he wanted the second-year pro to go into training camp with the goal of becoming a starter -- even if he was likely going to come up short.
[+] Enlarge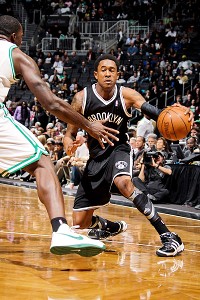 Nathaniel S. Butler/NBAE/Getty ImagesMarShon Brooks
But after an injury-plagued training camp and preseason, Brooks, who made his preseason debut Thursday night, might have trouble getting minutes in Johnson's rotation.
"We're not sure yet," Johnson said when asked about Brooks' role as a possible sixth man prior to Brooklyn's 115-85 loss to Boston. "We're not going to box ourselves in."
Why?
Well, Avery Johnson has had
Joe Johnson
anchoring the team's second unit. The coach also wants to play
Deron Williams
at the two-guard in a small backcourt with reserve
C.J. Watson
.
So how exactly is Brooks going to find minutes? Sure, the 23-year-old can score (12.6 points per game as a rookie) but his defense is sorely lacking.
Also remember, Avery Johnson loves veteran
Keith Bogans
because of his ability to defend and knock down the open 3-pointer.
To get playing time, Brooks is going to have to pick it up fast. He missed the first three preseason games due to tendinitis in his right foot.
He has some work ahead of him.
October, 2, 2012
10/02/12
5:36
PM ET
EAST RUTHERFORD, N.J. -- The Nets practiced for the first time on Tuesday, and coach Avery Johnson liked what he saw.
"We got a lot accomplished. We threw a lot at them today," Johnson said as his team opened up training camp at the PNY Center. "It was more of a defense-focused practice, but we had some pretty good offense, too."
Johnson went into detail about what the Nets need to do to become a top-10 defense.
"First of all, we've got to get back in transition and build our defense, and the only way we're gonna do that is if we have good spacing on offense," Johnson said. "Too many times in the past we've had four guys crashing the boards, which put our transition defense in a bind, so transition defense is No. 1. We've got to get our guys back. We gotta protect the basket. We can't be a team that allows layups in transition and lobs.
"And once we get our defense set, we've gotta make sure that we see man and ball, we've got to guard the ball the first two or three dribbles, we can't get blown by so easily. We've gotta have good defense. And this is a pick-and-roll league, so our pick-and-roll coverage has gotta be sound, knowing that teams are still gonna score 70 or 80 points. ... We tried to take a lot of the gray area out of what we're going to be doing with our pick-and-roll coverage, and defense, we gotta finish our defense with rebounding. I saw an aggressiveness, physical attitude in trying to get defensive rebounds today."
Johnson noted that none of his players asked out of practice due to fatigue. Sounds like his team is in pretty good shape -- not just talent- and depth-wise.
• Rookie guard
Tyshawn Taylor
was limited in practice due to a strained left quadriceps.
• Johnson said that as of now,
Andray Blatche
will be his backup center, while
Mirza Teletovic
will be the backup power forward. Johnson did say that Blatche is obviously capable of playing the four spot as well.
• A slogan in the team's practice facility reads: "It's our time."
"But for it to be 'our time,'" Johnson said, "we gotta put in an enormous amount of work. You can have the newest uniforms. The best slogans. You can talk the talk, but you gotta walk the walk."
• Johnson said he has a "reasonable number" when asked about his rotation, but wouldn't reveal it.
• Bloomberg reports that power forward
Kris Humphries
has signed with agent Arn Tellem. Tellem also represents center
Brook Lopez
and shooting guard
Joe Johnson
.
October, 1, 2012
10/01/12
4:45
PM ET
By
Mike Mazzeo
| ESPNNewYork.com
Avery Johnson wants the
Brooklyn Nets
to have one of the NBA's top 10 defenses.
And the Nets coach is taking significant measures to make sure his team gets there.
According to center
Brook Lopez
, Johnson gave his players a handbook filled with philosophies, ideas and beliefs -- along with the dates of four written tests on defensive principles.
"We're gonna be hitting it pretty hard," Lopez said Monday, at the team's media day inside the $1 billion Barclays Center in downtown Brooklyn. "We want to be a pretty defensive-minded team. I'm just focused on being the guy in the middle that everyone can count on. If they get beat, I'll be back there. We just have to be prepared to help each other out."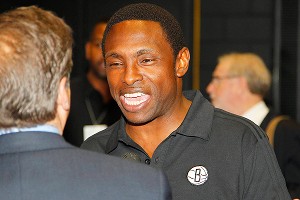 Jim O'Connor/US PresswireYou can't spell Avery Johnson without D.
Lopez is one of several Nets players that have been criticized for lackluster play on D. In their final season in New Jersey, the Nets finished 24th in points allowed per game and 28th in opponent field goal percentage.
"I just visited with the players and we have specific goals and it's written out so they all have it in front of them," Johnson said. "I'm not gonna talk too much publicly about what our goals are, but we must make a major step defensively, we've gotta take a major step in the right direction.
"We've gotta be in the top 10 -- that's one of the barometers for us defensively. We have a certain amount of points we wanna give up this year -- defensive field goal percentage, we know where we want that to be this year. In the last two minutes of a game, I want to see a team that's physically and mentally tough."
Point guard
Deron Williams
said the key for the team's success this year will be playing strong team defense. The Nets don't have any true defensive stoppers, though small forward
Gerald Wallace
is known as a strong defender.
Johnson also pointed out that his team must rebound as a team, too.
"We've gotta improve significantly in rebounding, and that's everybody," Johnson said. "I believe in balance. I had a reputation of being a 'defensive coach' in Dallas, but most of my teams were balanced teams that were good defensively and offensively."
September, 25, 2012
9/25/12
5:58
PM ET
By
Mike Mazzeo
| ESPNNewYork.com
EAST RUTHERFORD, N.J. -- Toward the end of a 44-minute news conference Tuesday, Nets GM Billy King was asked whether he's patted himself on the back yet for a job well done.
"Why?" King responded. "I haven't done anything. I brought players in, but we haven't played a game yet. I did what I was supposed to with my staff in terms of putting together a team, and now (coach) it's (up to) Avery (Johnson) and the coaches. They play the games and we get to evaluate and see if there's any tinkering that needs to be done."
During the offseason, King did everything -- except deliver
Dwight Howard
. Still, the roster he put together for Johnson is a deep and talented one. Or, as King said, a playoff team on paper.
So now it's up to Johnson to make sure the players gel with one another, and, more importantly, buy into his system. During his first two seasons at the helm, Johnson was given a patchwork roster from which to work with.
But now he's got a bunch of puzzle pieces that appear like they should fit together.
Deron Williams
and
Joe Johnson
have both been All-Stars. If healthy,
Brook Lopez
could be one, too.
Gerald Wallace
and
Kris Humphries
are solid fourth and fifth options. And then there's the revamped bench led by
MarShon Brooks
.
Now, it's just a matter of figuring out how to disperse minutes, defining roles and getting his team to defend.
Johnson came to the Nets with the best regular-season winning percentage of any coach in NBA history. Two years later, he no longer holds the top spot.
Johnson is heading into the season in the final year of his contract.
I think he deserves an extension given that he was coaching a team in transition.
But right now, it is what it is, and the pressure is on.
July, 12, 2012
7/12/12
4:04
PM ET
By
Mike Mazzeo
| ESPNNewYork.com
The Nets will be well-represented at Yankee Stadium on Friday night.

Joe Johnson will throw out the first pitch, while Avery Johnson will sit out in right field with the Bleacher Creatures.
December, 18, 2011
12/18/11
11:30
AM ET
By
Mike Mazzeo
| ESPNNewYork.com
Continuing through Dec. 23, ESPNNewYork.com will run a series called "Christmas Countdown" examining a hot topic each day that involves the New Jersey Nets.Today's Hot Topic:
Backcourt breakdown
Last season, only one player in the NBA averaged 20 points and 10 assists per game:
Deron Williams
.
Nets GM
Billy King
pulled off a blockbuster trade so that Williams could anchor his team's backcourt.
The superstar point guard can do it all, from finding an open teammate to finishing at the rim off dribble-drive penetration. He's also capable of playing tenacious defense when he wants to. And most importantly, he's healthy coming off offseason surgery on his right shooting wrist.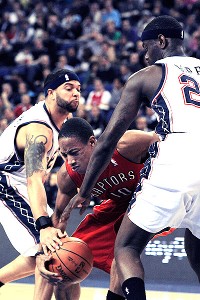 AP Photo/Tom HeveziDeron Williams (left) and Anthony Morrow will be the Nets' starting backcourt.
Joining Williams in the Nets' starting backcourt this season will be
Anthony Morrow
, the second most-accurate 3-point shooter in league history (.465). Only former Bull
Steve Kerr
has a better 3-point field goal percentage than Morrow, who briefly surpassed Kerr for the honor in 2010-11.
Morrow isn't a great defender by any means, but he has the uncanny ability to make shots in crunch time, and opposing defenses won't be able to key in on him late in games because the Nets will also have long-range threat
Shawne Williams
on the floor as well.
The Nets finished 28th in points per game last season, so they'll be looking to rookie
MarShon Brooks
to provide a scoring spark off the bench. Brooks was the second leading collegiate scorer in the nation at Providence last year, and coach
Avery Johnson
wants the 22-year-old to be aggressive -- even at the expense of hoisting up some bad shots.
Brooks loves to create off the dribble and has a potent fadeaway jumper from about 15 to 20 feet. Like Morrow, his defense still leaves much to be desired, but he's young and if there's anybody who can help him improve on the defensive end, it's Johnson.
Jordan Farmar
and
Sundiata Gaines
will serve as the team's backup point guards behind Williams. Farmar or Gaines may also play with Williams on occasion, allowing the two-time All-Star to shift over to the two-guard spot and operate off screens without the ball in his hands. Farmar needs to improve his shot selection, while for Gaines, it's all about consistency.
Johnson was pleased that all three of his point guards played overseas during the lockout, and feels like they'll be ready to play from the start of the 2011-12 campaign.
Given the uncertainly at power forward, there's no question that the guard spot is the Nets' deepest position right now.
March, 12, 2011
3/12/11
1:57
AM ET
By
Mike Mazzeo
| ESPNNewYork.com
NEWARK, N.J. -- The New Jersey Nets have looked like a different team since their two-game London trip. They're making clutch plays, playing as a confident and cohesive unit, and winning basketball games. Close basketball games.
And lately, they've been doing it without their best player.
New Jersey rallied from a 20-point deficit topple the Los Angeles Clippers 102-98 in overtime on Friday night, in front of a sellout crowd at the Prudential Center. The Nets have won four in a row for the first time since Jan. 31-Feb. 7, 2009. And they won the last two without All-Star point guard
Deron Williams
, who is in Dallas with his wife after the birth of their fourth child.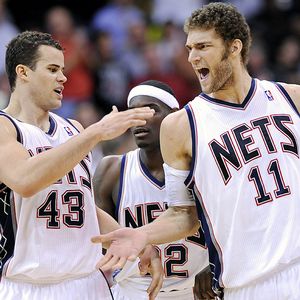 AP Photo/Bill KostrounKris Humphries, Brook Lopez and the Nets are only three wins away from doubling last season's total.
"Our confidence is higher now," power forward
Kris Humphries
said. "I think we're getting more efficient offensively. We were able to bounce back from our awful first half. And potentially we're getting our best player, Deron, back into the mix. We're just trying to move forward and finish this year strong and see where we're at."
Right now, the Nets (21-43) find themselves just 5½ games back of the Indiana Pacers (27-38), who lost their sixth straight game Friday night, for the eighth and final playoff spot in the East with 18 games to play. And while it seems outlandish to believe the Nets will catapult past the three teams ahead of them to catch the Pacers, it's not out of the realm of possibility.
Granted, it seemed that way Feb. 28, following a 104-103 overtime loss to the Phoenix Suns, which dropped the Nets to 26 games below the .500 mark. That Nets team couldn't find a way to notch the W. In fact, that Nets team lost six in a row.
Then they went to London. And they haven't lost since.
"The London trip really brought us all together, getting us away from here for a while," point guard
Jordan Farmar
said. "It was us against the world out there and we spent a lot of time together and just got to know each other."
Behind Farmar and
Travis Outlaw
, the Nets rallied in the third quarter Friday, outscoring the Clippers 31-16. They ended up shooting 65 percent in the stanza, and followed that up by staying right with Los Angeles in the fourth quarter. In all the Nets shot 60 percent in the second half, while getting a fortuitous bounce when
Blake Griffin
missed a free throw with 1.2 seconds left in regulation that would've allowed the Clippers to win.
Instead, the two teams headed for overtime and an eventual Nets victory. Emerging center
Brook Lopez
(24 points, seven rebounds) scored the first four points on interior buckets for the Nets, while Farmar had the final four, including a key 3-pointer with 2:27 remaining that gave his team a 101-96 lead it wouldn't relinquish. Humphries, who finished with 19 points and a career-high 20 rebounds, ended up drawing two critical charges on Griffin in overtime, which helped push the outcome in the Nets' favor.
"We're a pretty gutsy team," Nets coach
Avery Johnson
said. "We've been in two triple-overtime games this year. And the guys just never really quit.
"I just told them I was really disappointed with in the first half. And I didn't have a smile on my face either. But they bounced back and rose to the challenge."
Farmar was scoreless in the first half, but finished with 24 points and seven assists.
"What a second-half performance from Jordan," Johnson said. "He had a really good performance against the Clippers and he really came through. Brook was really big for us down the stretch, demanding the ball and making strong moves, and what can you say about Kris Humphries? Nineteen and 20. Wow."
"Wow" is just about all you can say for the Nets since that Jan. 28 loss. They're 4-0 and scoring 112.3 points per game (inflated by two overtime contests, of course). And they've won their last three games by a combined nine points.
"It shows our growth as a team," Farmar said. "There's no way earlier in the year we win this game; it would've been too hard for us to get back. But we've grown a lot as a group. Just this momentum is carrying and it feels good."
Sellout crowds? Comebacks? Close victories?
Will it be enough for the playoffs? Who knows.
But right now, there's no question about it: The New Jersey Nets have looked like a different team ever since they went to London.
January, 21, 2011
1/21/11
10:56
PM ET
By
Mike Mazzeo
| ESPNNewYork.com
NEWARK, N.J. -- The reporters waited. Then waited some more.
The star of the game had yet to emerge from his shower.
When New Jersey Nets shooting guard
Anthony Morrow
finally did manage to mosey his way into the locker room, one of the reporters asked him what took so long.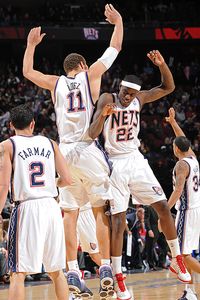 David Dow/NBAE/Getty ImagesBrook Lopez and the Nets were glad to have Anthony Morrow (22) back on the court.
"We've waited 17 games already," the reporter joked.
Everyone burst into laughter.
Had Morrow -- playing for the first time since he strained his hamstring on Dec. 14 against the Philadelphia 76ers -- missed just one more shot after coming up empty on his first four, it would've been no laughing matter.
But with 1.8 seconds remaining in the third quarter, Morrow finally got a 3-pointer to fall. So head coach
Avery Johnson
left him in, then proceeded to run a play for Morrow on the team's second possession of the fourth. He made that one, too. Morrow followed that swish with another 3-pointer off a pass from
Jordan Farmar
.
All of a sudden, the Nets were up 72-62 with 10:40 remaining -- and well on their way to consecutive wins for the first time since Dec. 19-21.
"I was just about to take him out of the game," Johnson said of Morrow, who wound up going 4-for-8 from the field and scoring 10 points in 14 minutes, as the Nets went on to roll past the Detroit Pistons 89-74 Friday night at the Prudential Center.
"Tonight, he was coming up on his minute restriction and he was struggling a little bit getting up and down the floor. But when he hit that 3 I said, 'We'll leave him in there.' I ran a play for him and he hit one. I ran another one and he made it. So it was good that he helped get us a nice cushion."
The Nets (12-31), came in as one of the worst shooting teams in the NBA. Prior to Friday night's game, they ranked 27th in both field goal percentage (.439) and 3-point field goal percentage (.332).
That's why they were elated to have Morrow -- the second most-accurate 3-point shooter in NBA history (.451 career, .411 in 2010-11) -- back in the lineup. And they were even more elated when he finally found his shot, stretching a four-point lead to double digits.
"I just wanted to get the first few shots out of the way and just keep plugging," said Morrow, who went 2-for-3 from beyond the arc. "I'm glad I could contribute and help the team win."
They may not have had Morrow not drained that 3-pointer from the right wing off a pass from
Kris Humphries
, which gave the Nets a 67-60 lead heading into the final 12 minutes.
All of a sudden, his confidence was restored. For most marksmen like Morrow, it only takes one shot.
"It felt good [to get that first one]," Morrow said. "I knew Hump was gonna pass it to me. It was the end of the quarter; gave us some momentum. Anytime you can get a shot to go down when you're a shooter and a scorer and get some momentum going, it's a good thing."
Now the Nets have to hope Morrow stays healthy and continues to rip the chord from the perimeter the way he did on Friday night.
"I'm still getting my game legs under me," Morrow said. "That's gonna take a couple games. But other than that, conditioning wise, I felt great. It's just a matter of getting my timing back."
Johnson said he's going to continue to play Morrow about 15 minutes per game until he's 100 percent.
He's wasn't even going to get that much time had that shot with 1.8 seconds left in the third not gone down.
Luckily for Morrow, it did.
"He basically put the game away for us with those 3-point shots," Johnson said.
January, 6, 2011
1/06/11
12:08
AM ET
By
Mike Mazzeo
| ESPNNewYork.com
Recap
|
Box score
|
Photos
NEWARK, N.J. -- The rookie's first start was all the hype going in.
But the veteran he supplanted was all the talk afterward.
Derrick Favors
' first NBA start was overshadowed by reserve
Kris Humphries
' best performance of the season in the New Jersey Nets' narrow 96-94 victory over the Chicago Bulls.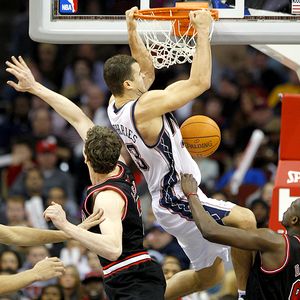 AP Photo/Julio Cortez
The Bulls couldn't match Kris Humphries' energy during his 20-point, 11-rebound night.

Favors finished with seven points in nine minutes. Humphries recorded a season-high 20 points and game-high 11 rebounds in 39 minutes for his 11th double-double, stealing the thunder from the league's youngest player.
"Whatever people's role is, we just gotta accept it and do it to the fullest," Humphries said.
For Humphries, that role used to be starting power forward, the job now held by Favors, who was inserted into the starting lineup prior to the 35th game of the season by coach
Avery Johnson
.
"This has been planned for some time now for [Favors] to start his first game here in the new year at home," Johnson said before the game. "He's had about 34 games to get some experience coming off the bench and he's played against the Bulls before, so we thought this would be a good game for him to get his first NBA start."
Which meant that for the first time since Nov. 9, Humphries would be coming off the bench.
Asked if his "demotion" gave him added motivation, Humphries, a consummate professional, responded: "I'm motivated, but it's not like there's no anger or anything. I'm always motivated -- especially to play against the Bulls. I struggled against them the last time we played. I also used to play with
Carlos Boozer
when I was on Utah so I try to compete against him every time."
By the end of the night, though, Boozer was riding the pine. And Humphries was out there, making it happen.
It started early in the second quarter. First it was a jaw-dropping follow-up slam that got the fans out of their seats. Then it was an emphatic alley-oop finish that forced the Bulls to call a 30-second timeout. And from there, Humphries continued his aggressiveness, snagging all five of his offensive rebounds in the first half.
Favors looked good in the limited action he got after his name was introduced among the starters. He got a layup in transition and was playing with a reckless abandon -- until he picked up two early fouls and was saddled to the bench by the 8:40 mark of the first. He played just six of the opening 24 minutes, finally got it going again at the start of the third with a hook and an alley-oop jam, but was whistled for his fourth foul -- a controversial one that could've gone either way.
"I was a little nervous out there at first, but I'm glad I got it out of the way," Favors said. "I gotta fight through it and pick my spots and just be smarter with fouls."
Still, Favors is pleased to be in the starting five. Even if he is the subject of persistent speculation and trade rumors -- specifically involving Denver Nuggets superstar
Carmelo Anthony
.
"It was was wonderful, really," Favors said. "Coach put his trust in me and I feel like I did a good job."
Humphries did an even better one.
Even if their roles are reversed, the Nets' dynamic duo at the 4 spot remains the same.