Brooklyn Nets:

Brian Shaw
June, 12, 2013
Jun 12
1:31
PM ET
By
ESPN.com news services
Jason Kidd
is in negotiations to become the next coach of the
Brooklyn Nets
, a source familiar with the talks told The Philadelphia Inquirer. But league sources tell ESPN that the team will interview Brian Shaw on Wednesday as scheduled.
ESPN could not confirm or refute the Inquirer report regarding negotiations.
Kidd met with Nets general manager Billy King on Monday and sources said Kidd was impressive.
Click here for the full news story.
June, 7, 2013
Jun 7
1:34
PM ET
By
Mike Mazzeo
| ESPNNewYork.com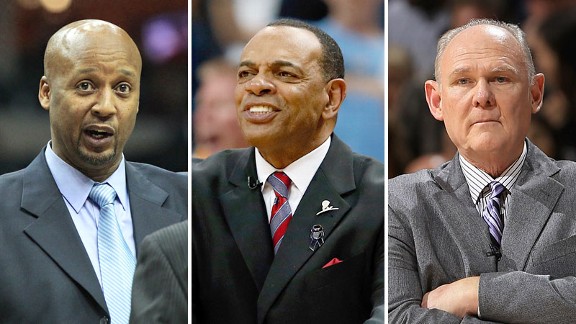 USA TODAY Sports, Getty ImagesBrian Shaw? Lionel Hollins? George Karl? Will any of these guys fulfill the Nets'
five-
two-year plan?
Who will the Nets hire as their next head coach?
Seeing as how the organization has been extremely quiet on that front, let's take a look at where things appear to stand as of now:
Brian Shaw:
Shaw, an assistant in Indiana, is at the top of Brooklyn's list to replace P.J. Carlesimo, according to ESPN and other media reports. Shaw is expected to interview with the Clippers as soon as Monday, and is also seen as a front-runner for their job. While Nets players said on breakup day that they wanted a head coach with experience, Shaw doesn't have any, but he was voted the top assistant in the league in a recent poll of NBA GMs. If the Nets are looking for a "fresh face" as the Daily News reported Friday, Shaw could very well be their guy.
Lionel Hollins:
The Nets have been granted permission to interview Hollins, ESPN.com reported earlier this week, but Brooklyn has not spoken to him. Hollins did a terrific job in Memphis this past season, guiding the Grizzlies to the Western Conference finals. Still, it seems like he's not as high on the Nets' list as Shaw. Hollins could have interest from the Clippers and Nuggets as well.
George Karl:
A league source told ESPNNewYork.com that it's "highly unlikely" that the Nets will reach out to Karl, who won Coach of the Year honors, about their vacancy. Karl's 80-105 career playoff record isn't very intriguing to the Nets, who have their sights set on winning a championship and fulfilling owner Mikhail Prokhorov's five-year plan, which has been reduced to two. Perhaps the veteran coach ends up in Los Angeles or Memphis.
Other big names:
The Nets reached out to Jeff Van Gundy and reportedly Larry Brown, but there doesn't appear to be any traction there.
Shooting for the stars:
The team's coaching search began with a call to Phil Jackson, but the 11-time coaching champion said thanks but no thanks. Then the Nets tried to call the Celtics for permission to talk to Doc Rivers, but were rebuffed.
Mystery candidate:
Maybe the Nets decide to make a run at someone whose name hasn't surfaced yet, perhaps a coach overseas or another assistant like Shaw. At this point, nothing would surprise us. The draft is in two weeks, but the Nets don't feel any pressure to hire a coach by then.
June, 6, 2013
Jun 6
5:13
PM ET
By
Mike Mazzeo
| ESPNNewYork.com
Pacers assistant coach Brian Shaw, a top target of the Nets to replace P.J. Carlesimo, received a ringing endorsement from one of his ex-teammates, Shaquille O'Neal.
"I'd like for him to get the Clippers or Brooklyn job," O'Neal, who played with Shaw for four seasons in Los Angeles,
told the Indianapolis Star
.
Shaq would rather see someone like Shaw get the opportunity than someone who has coached for a long time.
"I'm sick and tired of these coaches getting another chance before these other up-and-coming guys," Shaq told the newspaper. "People need to realize this is a new era and B Shaw speaks that language. He's my age, but he understands how it goes. He knows how the players go, how they tick. All these guys who have losing records come and try to do the same [expletive]. It's not going [to] work."
June, 5, 2013
Jun 5
6:02
PM ET
A source confirmed to ESPN The Magazine's Chris Broussard that the
Brooklyn Nets
were denied permission to speak with
Memphis Grizzlies
coach Lionel Hollins. The source told Broussard the Nets are unsure whether they'll ask to speak to Hollins again.
Hollins is still under contract with the Grizzlies through June 30. Then, assuming he doesn't re-sign with Memphis, Hollins can become a free agent.
Yahoo! Sports reported that the Nets have been granted permission to speak with No. 1 target Brian Shaw about their vacancy.
Click here for the complete news story.
June, 4, 2013
Jun 4
1:17
PM ET
Indiana Pacers
assistant coach Brian Shaw is a serious target for the
Brooklyn Nets
, NBA coaching sources tell ESPN.com's Marc Stein and ESPN The Magazine's Chris Broussard.
The Nets are expected to request permission to interview Shaw now that Indiana has been eliminated from the playoffs. The
Los Angeles Clippers
have already contacted Shaw about their coaching vacancy.
The Nets have also formally requested permission to interview
Memphis Grizzlies
coach Lionel Hollins, who has been given permission to speak with other teams, NBA coaching sources said.
Hollins said Monday that he doesn't want to leave the Grizzlies but will discuss jobs with other teams if he has "no choice."
The Nets also have contacted Jeff Van Gundy about their coaching vacancy, a league source confirmed to ESPNNewYork.com.
The Nets are in search of a replacement for P.J. Carlesimo, but are in no rush, people familiar with their coaching search told ESPNNewYork.com recently.
Information from ESPNNewYork.com's Mike Mazzeo was used in this report.
NBA
NHL
COLLEGE BASKETBALL
NFL