September, 15, 2014
Sep 15
7:49
PM ET
NEW YORK –-
Deron Williams
was expected to flourish with Jason Kidd coaching him from the sideline.
Instead, Williams and Kidd's partnership in Brooklyn lasted just one season, after Kidd departed for Milwaukee in late June.
Williams said the two haven't spoken since Kidd left.
[+] Enlarge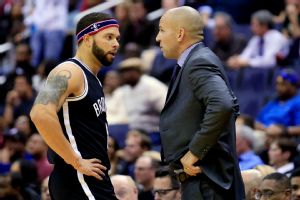 Rob Carr/Getty ImagesDeron Williams, left, said he hasn't spoken to Jason Kidd since the ex-Nets coach abruptly departed.
"I think it surprised everybody," Williams said at his Celebrity Dodge Barrage charity event at Basketball City. "I don't think anybody saw that coming. It was out of nowhere."
A year ago, Williams and Kidd were about to begin their first season together as player and coach. Kidd was supposed to get Williams back to playing like an elite point guard.
Williams, though, was not healthy and had issues with his ankle going into training camp. He would need surgery on both of his ankles after the season.
Williams said he is looking forward to being healthy and ready to go for the start of camp Sept. 27.
"Last year was tough," Williams said. "I missed pretty much all of training camp, most of the preseason. I practiced one time, played nine minutes in a preseason game and was thrown into the fire. I was probably about 60 to 70 percent. It is definitely different this year. I think it's great that I will be able to participate in training camp and I am practicing with the guys right now."
"[Returning to All-Star form is] definitely the plan," he continued. "Anytime you can't walk, you can't run, you can't jump, it's hard to play basketball, especially in this league. The only thing I wish is that I would've gotten surgery earlier. But what can you do? ... I'm ready to go now, and I'm excited about the season."
Williams is looking forward to forging a "great relationship" with new coach Lionel Hollins. But he also wishes Kidd the best.
"I don't even know enough about the situation," Williams said when asked whether he was disappointed to see Kidd leave. "I have heard a lot of different things, as you guys probably have. I don't know what exactly happened, but we are excited about Lionel Hollins being our next coach. We wish J-Kidd the best of luck in Milwaukee, but we are excited about Lionel."
Dodge, duck, dip, dive and dodge --
Williams held his annual Dodgeball charity event, and several of his teammates joined him.
Andrei Kirilenko
,
Mason Plumlee
,
Jarrett Jack
,
Markel Brown
,
Cory Jefferson
,
Sergey Karasev
and coach Hollins were among those who attended the event.