Brooklyn Nets:

Byron Scott
November, 13, 2012
11/13/12
7:02
PM ET
By
Mike Mazzeo
| ESPNNewYork.com
Byron Scott was coaching the Nets when the possibility of moving to Brooklyn was first proposed in 2003.
Nine years later, it finally happened.
"I'm glad that it finally happened for them," said Scott, whose Cavaliers will take on the Nets at the $1 billion Barclays Center on Tuesday night. "Other than that, I thought when it was first proposed, I thought they'd have it done a lot sooner, but I'm glad it happened for them."
Scott coached the Nets from 2000-2004, leading the franchise to its only two NBA Finals appearances (2001-02, 2002-03).
"I was a Nets fan -- until coach Scott left," joked Cavaliers point guard
Kyrie Irving
, who grew up in West Orange, N.J. and starred at St. Patrick's (N.J.) High School.
"I'm really looking forward to playing here tonight. From the outside looking in, it's really nice."
Asked if it was weird playing the Nets anywhere other than some arena in New Jersey, Scott replied, "It's different. This is our first trip here, so we'll see how it goes, but it's definitely noticeable because it was about an hour-and-a-half bus ride just to get here. That in itself is different. We'll see how it goes on the floor."
March, 8, 2012
3/08/12
1:29
PM ET
By
Mike Mazzeo
| ESPNNewYork.com
The Nets made
Kenyon Martin
the No. 1 overall pick in the 2000 NBA draft -- and the high-flying power forward out of Cincinnati didn't disappoint.
In four seasons with New Jersey, Martin quickly became a fan favorite, wowing the crowds at Continental Airlines Arena with his acrobatics above the rim. And when he wasn't finishing off emphatic dunks, he was swatting shots on the defensive end.
"My time in New Jersey holds a special place in my heart," Martin said before playing his final game in the Garden State on Wednesday night, as a member of the Los Angeles Clippers.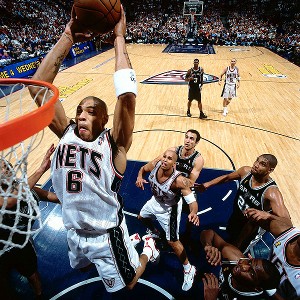 Nathaniel S. Butler/NBAE/Getty ImagesKenyon Martin played above the rim, and the fans loved him for it.
Asked what his favorite memories were when he played there, K-Mart responded, "Being around [GM]
Rod Thorn
, working with [coach]
Byron [Scott]
, and being the No. 1 pick, first and foremost. Two [NBA] Finals runs. Being able to play with a point guard like
Jason Kidd
, arguably one of the greatest point guards of all-time."
Like some of his former teammates, Martin called the Nets' imminent move to Brooklyn, "an unfortunate situation."
"But it's a business," he continued. "Just like it was a business of me leaving, and everything that's transpired here over the years. It's very unfortunate."
Martin never wanted to leave New Jersey. He had just enjoyed the best season of his career in 2003-04, averaging 16.7 points, 9.5 rebounds and 1.3 blocks per game and being named an All-Star. The Nets failed to reach the Finals for the first time in three years, coming up short against Detroit, but Martin figured they'd be back.
The Nets had other plans. They didn't want to commit max money to Martin, and dealt him to Denver in a sign-and-trade.
"Guys like [former owner]
Bruce Ratner
came in and basically destroyed the team," Martin said. "It was a sad day for me, [and] sad day for the Nets of course, but we had to move on unfortunately. We didn't get a chance to revisit going to the Finals again. We had a pretty good team at the time, and we were a couple pieces away I think from really making noise and being crowned champion."
Martin said his most memorable game as a Net was against the Bucks on March 5, 2001, when he recorded his first-career triple-double: 18 points, 15 rebounds and 11 assists.
His favorite dunk is an off-the-backboard, two-handed hammer flush from J-Kidd against the Knicks at CAA. And he loved when the Nets used to take over the Madison Square Garden.
"There was nothing like playing in that city and hearing the crowd cheer for us," he said.
Martin was especially touched by Nets fans when he made his return to New Jersey with the Nuggets on Feb. 13, 2005.
"They showed me love, nothing but love," Martin said. "Everybody had the 'Kenyon Crew' signs up."
Martin said he wouldn't rule out the possibility of returning to the Nets next season.
"I wouldn't mind that if it was a possibility," K-Mart said. "We can always visit it. I can't predict the future, but I wouldn't mind it."
November, 9, 2010
11/09/10
4:07
PM ET
By
Mike Mazzeo
| ESPNNewYork.com
The city of Cleveland may still be bitter over LeBron James' decision to leave the Cavaliers and play for the Miami Heat. But first-year head coach Byron Scott said today he isn't.

"No," Scott said when asked if it's been difficult for him to move on. "I keep stressing this point. When I took this job, I had no emotional ties to LeBron. I never coached him. For me, it's easy to get over. You can't be upset or anything about something that you never had. So for me it's easy to go on day by day and prepare this team and get ready to play."

Scott, who led the Nets to back-to-back NBA Finals appearances when he was their head coach in the 2001-02 and 2002-03 seasons, said it took him about "five to 10 minutes" to get over James' departure. Then he saw the massive Nike billboard featuring James being taken down while he was driving to the team hotel after a training camp practice.

"That's when I was like oh man, that's right," Scott joked.

Six games into this season, however, he doesn't know if his players have put it behind them.

"I think they're over it," Scott said. "They've all moved on; especially the guys that were here with LeBron for a number of years. They've understood from the beginning of training camp it's time to move on."

Of course, that's not been the case for the city of Cleveland itself.

"The city's had a lot of bad breaks," Scott said. "Now I'm getting a history lesson in some of the things that have happened and I think the city feels a little disrespected at times. I've always been a guy who's been the underdog."

The Cavaliers (3-3) wouldn't have been the underdog with James. But without last season's NBA MVP and second-leading scorer, they are, aside from Mo Williams (20.7 points), merely a mix of role players and talented -- yet inexperienced -- youth.

Still, Scott has placed expectations on his team, even if they might sound unrealistic to prognosticators.

"You guys might think I'm crazy -- I have my own numbers in my head that I'll probably tell you when the season's over -- but we have a good team," Scott said. I've said that from day one.

"When I took this job I felt like I was in a win-win situation. With LeBron we were a championship caliber team. Without him, we're still a very good team."

A playoff team?

"A team that wants to win," Scott said. "The players know that and they want that."

Said Williams: "Everything's new. New players. A lot of youth. But we're working extremely hard. And we're reaping the benefits with a few wins."

So has it been hard to move forward, despite being constantly bombarded with LeBron questions before and after every game?

"It's not difficult at all," Williams said. "It's just you guys doing your job and we respect that."

TERRANCE WILLIAMS OUT

Terrance Williams will not play against the Cavs on Tuesday.

Johnson said Williams has been bothered by an abdominal strain. Yesterday, while talking to reporters, he said he felt fine.

The second-year guard out of Louisville has provided a spark for the Nets (2-4) off the bench, averaging 8.7 points, 4.8 rebounds and 3.8 assists in 24 minutes per game.